Our users support our website. Therefore, we sometimes earn affiliate commissions when you click through the affiliate links on our website. Rest assured that all of our recommendations are made whole-heartedly with the intent of helping travelers like you discover the world authentically and responsibly.
Welcome to the world of luxury travel, where every journey is an opportunity to create unforgettable memories. Today, we invite you to embark on a virtual adventure to the vibrant and captivating splendors of Spain. As professionals with extensive experience planning unique and highly curated itineraries worldwide, we are thrilled to share our expertise on this enchanting destination. From the sun-kissed beaches of Costa del Sol to the architectural wonders of Barcelona and the rich cultural heritage of Madrid, Spain offers a tapestry of experiences that will leave you spellbound. Join us as we delve into the hidden gems, exquisite cuisine, and breathtaking landscapes that make Spain a must-visit destination for discerning travelers. 
Let us be your guide as we uncover the secrets of this remarkable country, ensuring that your journey is not only luxurious but also responsible and eco-friendly. Get ready to immerse yourself in the beauty and charm of Spain, where every moment is an opportunity for discovery and indulgence.
Regions in Spain: 
To understand the true splendors of Spain, we must first understand that it is a country with deep regional cultural ties. Spain is rich in history and natural beauty, offering diverse experiences that captivate your senses and offer something unique in each destination.
1. Andalusia:
Andalusia, located in southern Spain, is renowned for its Moorish architecture, vibrant flamenco music, and delicious cuisine. Some must-visit places in this region include the enchanting city of Seville, with its stunning Alcázar and Gothic cathedral; the majestic Alhambra Palace in Granada; and the picturesque white-washed villages of Ronda and Mijas.
2. Catalonia:
Catalonia is known for its unique blend of Spanish and Catalan cultures in northeastern Spain. Barcelona, the vibrant capital, offers architectural wonders like the Sagrada Familia and Park Güell. The charming coastal town of Sitges and the scenic Costa Brava, with its beautiful beaches and medieval villages, are also worth exploring.
3. Basque Country:
The Basque Country in northern Spain boasts a distinct culture, language, and culinary scene. The cosmopolitan city of Bilbao is home to the iconic Guggenheim Museum, while San Sebastian is renowned for its world-class cuisine and stunning beaches. Don't miss the opportunity to visit the charming fishing villages along the coast, such as Getaria and Hondarribia.
4. Madrid and Central Spain:
The vibrant capital city of Madrid is a hub of art, culture, and gastronomy. Explore the world-famous Prado Museum, stroll through the elegant Retiro Park, and indulge in traditional tapas in the lively neighborhoods of La Latina and Malasaña. The capital amplifies what it means to be a splendor of Spain. In central Spain, you can also visit the historic cities of Toledo, Segovia, and Salamanca, each offering unique charm and architectural wonders.
5. Valencia and the Mediterranean Coast:
Valencia, on the eastern coast of Spain, is known for its futuristic City of Arts and Sciences and its lively festivals, such as Las Fallas. The nearby coastal towns of Alicante and Denia offer beautiful beaches and a relaxed Mediterranean atmosphere. Further south, the Costa del Sol is famous for its glamorous resorts like Marbella and the charming town of Nerja.
Spain is also home to several beautiful islands that offer diverse landscapes, vibrant cultures, and a range of activities for travelers to enjoy. Spain even made our list of the top 5 destinations to take a family vacation! However, Spain typically it is easier to visit these on a cruise. 
Notable islands in Spain:
1. Mallorca: 
Located in the Balearic Islands, Mallorca is Spain's largest and most popular island. It is known for its stunning beaches, crystal-clear waters, and picturesque coastal villages. Mallorca also offers opportunities for hiking in the Tramuntana Mountains, exploring charming towns like Valldemossa and Soller, and visiting historical sites such as the Palma Cathedral and Bellver Castle.
2. Ibiza:
Famous for its vibrant nightlife and lively party scene, Ibiza is a popular destination for those seeking a fun and energetic atmosphere. However, Ibiza also has a quieter side, with beautiful beaches, stunning sunsets, and a charming old town, Dalt Vila, a UNESCO World Heritage site. Ibiza offers a mix of relaxation, entertainment, and natural beauty.
3. Tenerife: 
As the largest of the Canary Islands, Tenerife is a diverse destination with something for everyone. It is known for its year-round pleasant climate, stunning volcanic landscapes, and beautiful beaches. Tenerife is also home to Spain's highest peak, Mount Teide, which offers breathtaking views and hiking opportunities. Additionally, the island boasts vibrant resorts, charming towns, and a rich cultural heritage.
4. Menorca: 
Located in the Balearic Islands, Menorca is known for its pristine beaches, crystal-clear waters, and unspoiled natural beauty. The island offers a more relaxed and laid-back atmosphere compared to its neighboring island, Mallorca. Menorca is perfect for those seeking tranquility, outdoor activities like hiking and kayaking, and exploring charming coastal towns such as Ciutadella and Mahón.
These are just a few highlights of the diverse regions and splendors of Spain, each with its own unique attractions and experiences. As your dedicated travel advisors, we will be delighted to curate a personalized itinerary that encompasses your preferences and ensures an unforgettable journey through this captivating country.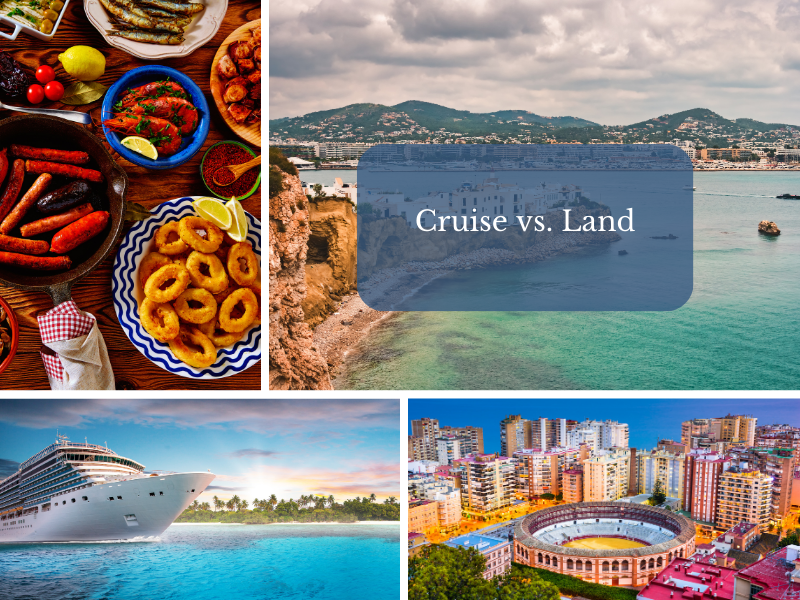 Cruise vs. Land Itinerary: 
Here are some insights regarding the differences between taking a cruise in Spain and doing a land itinerary.
Taking a cruise in Spain offers a unique and convenient way to explore multiple destinations while enjoying the comfort and amenities of a cruise ship. 
Cruise Vs. Land Adventure 
When it comes to exploring the captivating splendors of Spain, travelers are often faced with a delightful dilemma: should they opt for a land itinerary or embark on a luxurious cruise? Each option offers a unique perspective and a distinct set of advantages. A land itinerary allows you to immerse yourself in the rich tapestry of Spanish culture, from strolling through charming cobblestone streets to savoring authentic cuisine in local eateries. You have the freedom to delve deeper into the heart of each destination, uncovering hidden gems and experiencing the vibrant energy of cities like Barcelona, Madrid, and Seville. 
On the other hand, a cruise offers the allure of waking up to a new port of call each day, effortlessly gliding along the picturesque coastlines of Spain. From the sun-drenched beaches of the Costa del Sol to the historic treasures of Valencia and the Balearic Islands, a cruise allows you to explore multiple destinations and indulge in luxurious amenities onboard easily. Be sure to check out our guide on choosing the right cruise for your travel style! This cruise line may differ if you plan on turning your trip to the splendors of Spain into a family trip. 
Whether you choose a land itinerary or a cruise, Spain promises an unforgettable journey filled with cultural immersion, breathtaking landscapes, and the warm hospitality that the country is renowned for. Let us help you navigate this decision and curate a personalized experience that perfectly suits your travel preferences and desires.
Benefits of Cruises:
1. Variety of destinations: 
Cruises often visit multiple ports, allowing you to experience different cities and regions within Spain. This can be particularly appealing if you have limited time and want to see as much as possible without spending significant time in transit.
2. All-inclusive experience: 
Cruises typically include accommodations, meals, and entertainment, making it easier to budget for your trip. You can enjoy various onboard activities and amenities, such as pools, spas, and live performances.
3. Hassle-free transportation: 
With a cruise, you don't have to worry about arranging transportation between cities or dealing with logistics like packing and unpacking. The ship becomes your floating hotel; you can simply relax and enjoy the journey.
Multiple Countries:
When embarking on a cruise to the splendors of Spain, travelers can look forward to exploring the captivating cities and coastal regions of Spain and the opportunity to visit other fascinating countries in the region. Some of the popular countries that cruises to Spain may visit include:
1. Portugal: A neighboring country to Spain, Portugal offers a wealth of cultural and historical treasures, and adventures. From the charming streets of Lisbon to the picturesque Douro Valley and the stunning beaches of the Algarve, Portugal is a destination that seamlessly blends old-world charm with modern sophistication. You could also consider visiting Portugal on the front or back end of your trip to Spain. 
2. France: Many cruises to Spain include stops in France, allowing travelers to experience the best of both countries. From the glamorous French Riviera with its iconic cities like Nice and Cannes to the historic port city of Marseille and the enchanting island of Corsica, France offers a diverse range of experiences.
3. Italy: Some cruises may also include ports of call in Italy, adding an extra layer of Mediterranean allure to your journey. Italy offers a wealth of cultural, culinary, and historical delights, from the eternal city of Rome to the romantic canals of Venice, the stunning Amalfi Coast, and the historic ruins of Pompeii.
4. Morocco: For those seeking a touch of exoticism, some cruises to Spain may include stops in Morocco. From the vibrant markets of Marrakech to the ancient medina of Fez and the coastal city of Casablanca, Morocco offers a fascinating blend of Arab, Berber, and European influences.
These are just a few examples of the countries that cruises to Spain often visit. The specific itinerary will vary depending on the cruise line and the duration of the voyage. Our experienced travel advisors can help you choose the perfect cruise that includes the destinations you desire, ensuring a truly unforgettable journey through the Mediterranean.
Downsides of cruises to consider:
1. Limited time in each destination: 
Due to the nature of cruising, you may have limited time to explore each port. This can restrict your ability to immerse yourself in the local culture and attractions fully.
2. Crowded tourist areas: 
Popular cruise ports can become crowded with tourists, especially during peak travel seasons. This may impact your experience at the splendors of Spain and limit your ability to have a more authentic and intimate connection with the destination. This is one of the reasons we recommend traveling on smaller boutique cruise lines, which typically visit smaller and more authentic ports that the large ships cannot get into.
On the other hand, a land itinerary in Spain allows for a more in-depth exploration of specific regions or cities. 
Benefits of a land itinerary:
1. Flexibility and freedom: 
With a land itinerary, you can customize your trip according to your preferences. You can spend more time in your favorite destinations, discover hidden gems, and have a more immersive experience.
2. Cultural immersion: 
Staying in one place for an extended period allows you to truly immerse yourself in the local culture, interact with locals, and experience the authentic way of life in Spain.
3. Off-the-beaten-path experiences: 
A land itinerary allows you to explore lesser-known destinations and attractions that may not be accessible on a cruise. This can provide a more unique and personalized travel experience.
Downsides to consider on a land itinerary:
1. Logistics and planning: 
Planning a land itinerary requires more time and effort to arrange accommodations, transportation, and activities. It may also involve more logistical challenges, such as navigating public transport or driving in unfamiliar areas. In order to ease the stress of planning your own land itinerary, be sure to work with an experienced luxury travel advisor. 
2. Potentially higher costs: 
Depending on your preferences and the level of luxury you desire, a land itinerary in Spain can be more expensive than a cruise. This is due to factors such as accommodation costs, transportation, inter-country logistics and dining expenses. 
In conclusion, a visit to Spain is an experience that will leave an indelible mark on your heart and soul. From the vibrant cities pulsating with energy to the serene countryside dotted with picturesque villages, this country offers a tapestry of experiences that cater to every traveler's desires. Whether you explore the architectural wonders of Barcelona, immerse yourself in the rich history of Madrid, or bask in the sun on the pristine beaches of the Costa del Sol, Spain has something for everyone. 
Let us help you uncover the hidden gems, indulge in exquisite cuisine, and create memories that will last a lifetime. With our commitment to responsible and eco-friendly travel, you can rest assured that your visit to  the splendors of Spain will not only be luxurious but also leave a positive impact on the environment and local communities. So, pack your bags and prepare to embark on a remarkable adventure in the land of flamenco, tapas, and boundless beauty. Spain awaits, ready to enchant and captivate you at every turn.
—
Boutique Travel Advisors is a full-service, luxury travel agency. We specialize in creating bespoke itineraries for discerning clients around the world. Please visit our website or call 480-787-1477 to speak with a dedicated travel expert. 
Are you planning an international or domestic trip? Check out our other articles to help you come prepared!
We highly recommend the purchase of travel insurance to protect your financial investment and health while traveling internationally. To purchase a policy with our preferred travel insurance company Chubb click here.
At this time, anyone that resides in CA, CO, KS, MN, MO, MT, NH, NY, PA, TX or WA is unable to purchase an insurance policy online. If you would like assistance purchasing a travel insurance policy, please get in touch with a BTA advisor.