Our users support our website. Therefore, we sometimes earn affiliate commissions when you click through the affiliate links on our website. Rest assured that all of our recommendations are made whole-heartedly with the intent of helping travelers like you discover the world authentically and responsibly.
Barcelona is one of the world's most exciting cities, full of culture and history. The city has been an important port and trading center since Roman times when it was known as Barcino. During the Middle Ages, Barcelona became a significant center for Gothic art and architecture and maintained its importance in Europe until modern times. Although you could easily spend days, weeks or even months exploring this city, the Catalan region is also home to other extraordinary attractions. Have a luxury travel agent narrow down your options and find the best attractions to make the most of your trip. Follow along to plan an unforgettable one-week Northern Spain itinerary to Barcelona and Costa Brava.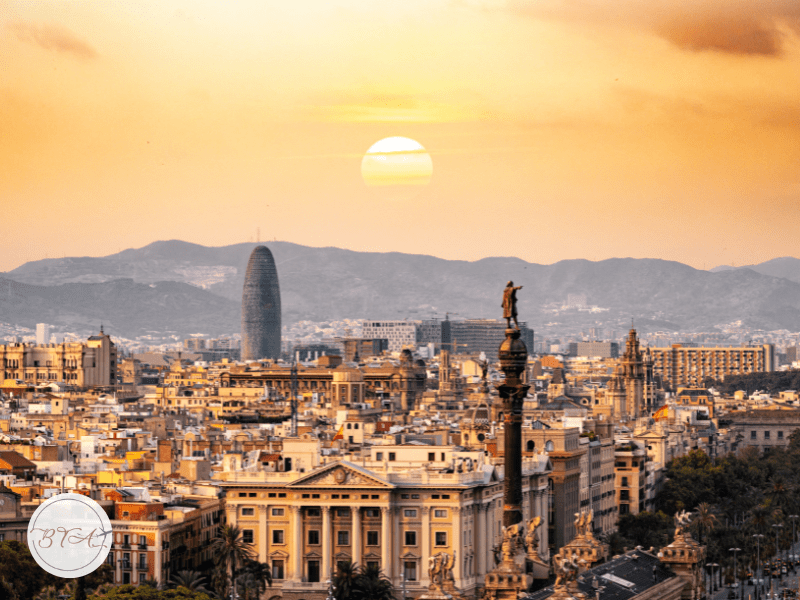 Day 1: Barcelona Gothic Quarter
On day one of an unforgettable one-week Northern Spain itinerary, Barcelona is a must. Barcelona is a vibrant metropolis filled with stunning architecture, from Gaudi designs to medieval buildings like Barcelona Cathedral. Visitors can explore historical sites such as La Rambla (the city's famed promenade) or Montjuïc Castle, which overlooks the city from its hilltop perch.
For those looking for nightlife, Barcelona has plenty to offer with its clubs, bars and restaurants. Gaudi's Park Güell is also a must-see attraction that offers amazing views of the city from its hilltop position.
Plan for a morning arrival to maximize your first day and get a first-look introduction to Barcelona's most beautiful area. 
Today your guide will take you on an unforgettable walk through Barcelona's infamous Gothic Quarter, a must-see for any visitor to the city. This neighborhood features stunning examples of Medieval architecture, with its narrow cobblestone streets and impressive cathedrals. Highlights include La Seu Cathedral, located near Las Ramblas, and Santa Maria del Mar church, one of the most beautiful churches in the city.
The area is also home to many museums, galleries and shops that showcase some of Barcelona's best art and culture. Visitors can explore the area by taking a walking tour or simply wandering around on their own. The lively atmosphere makes it easy to get lost in the history and charm of this iconic district. The Gothic Quarter is truly an experience not to be missed when visiting Barcelona. From its stunning architecture to its vibrant markets and museums, there's something for everyone in this picturesque neighborhood.
No visit to Barcelona would be complete without stopping at Boqueria Market Barcelona, the city's primary food market. This open-air market in La Rambla offers a vast selection of fresh produce, meats and seafood, and traditional dishes like paella and tapas. It's also a great place to sample some of Barcelona's famous sangria. During your private tour, you will stop by some of your guide's favorite spots and sample authentic Spanish tapas. Barcelona will show you why Spain was ranked second in our top five international travel destinations for 2022.


Day 2: Sagrada and Paseo Gracio
Barcelona, Spain, is home to several incredible architectural wonders, and today you will explore the Sagrada Familia and Paseo de Gracia.
The Sagrada Familia is an iconic Gaudi masterpiece under construction since 1882 and remains one of Barcelona's most visited attractions. The church features Gaudi's signature use of curved lines and intricate designs that make it stand out among other structures in the city. This impressive basilica was designed by Spanish architect Antoni Gaudi and is considered a masterpiece of Catalan Modernism. As you explore the interior, admire the beautiful stained glass windows and mosaics that decorate the walls and ceilings. The Sagrada Familia is one of Barcelona's must-see attractions and is worth visiting during your stay in the city. Consider taking a private tour of the Sagrada Familia with an expert guide. This is on our list of the 10 most unforgettable things to do and see in Spain. 
Passeig de Gràcia is a renowned avenue located in the heart of Barcelona, lined with some of Gaudi's most famous works, such as Casa Batlló and La Pedrera. Passeig de Gràcia has been essential to Barcelona's cultural identity since it was built in the late 19th century and remained one of the city's premier shopping destinations. Today, visitors can enjoy walking along this grand boulevard while admiring Gaudi's stunning architectural feats. With its rich history and incredible architecture, Passeig de Gràcia is a must-see for anyone visiting Barcelona.
The Sagrada Familia and Paseo de Gracia are must-see attractions in Barcelona that will leave visitors in awe of this vibrant city's rich history and fantastic architecture. These sites are some of the best on any one-week Northern Spain itinerary.

Day 3: Girona Spain

This morning on your one-week Northern Spain itinerary, you will get your rental car and set off for the Costa Brava, where your local guide will help you explore the best-hidden gems and historical wonders. If you're looking for a charming and historic European city to explore, look no further than Girona, Spain. Girona is a picturesque city filled with centuries of history. Located in Northern Catalonia on the banks of the Onyar River, Girona's Old Town dates back to Roman times when it was known as Gerunda. During its long and eventful history, Girona has seen repeated waves of settlement, sieges, and occupations by the Visigoths, Moors, Franks, Jews, and Catalans. Girona's beautiful old town contains many of the city's most notable landmarks, including Girona Cathedral – a stunning Romanesque-Gothic church built between the 11th and 18th centuries. For an amazing experience, book the Genius of Dalí and Medieval Girona Private Day Tour.
Girona also boasts several iconic bridges over the Onyar River and its medieval wall, which still stands today. Girona is well known for its thriving arts scene and vibrant cultural life due to its rich history and influence from various civilizations that have occupied it throughout time. Visitors to Girona can explore its winding streets lined with colorful buildings or enjoy its many festivals celebrating Girona. 
Here are 10 of the best attractions in Girona's Old Town that you don't want to miss. Follow your knowledgeable local guide and explore these historically significant, beautiful and often spellbinding sights.
1. Placa Independia: This impressive square is located in the heart of Girona's Old Town and is a great place to start your tour. Here you can find the remains of an old Arab wall built in the 10th century. The square also houses a sculpture park and is home to some of Girona's most important monuments.
2. Houses over the Onyar River: The houses that line Girona's Onyar River are some of the city's most iconic sights. These colorful buildings, built in the 18th century, offer stunning views of the river and city below.
3. Sant Felix and Sant Nicolau Churches: These two churches are located in the Placa dels Jurats, one of Girona's most beautiful squares. Both churches are open to visitors and feature impressive Gothic architecture, making them a must-see for any history enthusiast.
4. Monastery of Sant Pere de Galligants: This 8th-century monastery is one of Girona's oldest and most important monuments. The building features an impressive Romanesque bell tower, and its interior is filled with beautiful frescoes.
5. Arab Baths: Located in the heart of the old city, between the city wall, the cathedral and the Church of Sant Felix, these ancient baths were built in the 10th century during the Arab rule of Girona. They were partially destroyed and then rebuilt and have been used for many different purposes over the centuries. During Middle Ages, some rooms were used by the Jewish community as a mikveh, while in the 17th century, they were used by Capuchin nuns as a convent.  The complex is still in excellent condition and offers a fascinating glimpse into the city's history.
6. Cathedral: Girona's impressive cathedral dates back to the 12th century and features Romanesque and Gothic architecture. Visitors can find many works of art, including a famous painting by El Greco.
7. Walk over the Medieval Walls: Girona's medieval walls were built to protect the city and offer stunning views of the surrounding area. Visitors can take a walk on top of these ancient walls and admire the beautiful scenery.
8. Girona Jewish Quarter: It is one of Girona's most historic areas, as it was once home to a sizeable Jewish population. Here, you can see many old synagogues and find some interesting shops selling traditional Jewish items.
9. Rambla: This long pedestrian street is located in the city center and is lined with shops, cafes, and restaurants. During the summer, this area is filled with people enjoying the sunny weather and exploring the city.
10. Eiffel Bridge spans the Onyar River and offers beautiful views of Girona's Old Town. It was designed by Gustave Eiffel, the same architect behind Paris' iconic Eiffel Tower, and is definitely worth a stop on your tour!
Consider spending the night in Girona to make the most of your time in this lovely city.

Day 4:  Costa Brava and Peratallada
The Costa Brava region is known for its stunning coastal scenery, with beautiful beaches that offer great opportunities for swimming, snorkeling, and kayaking. Booking a private snorkeling and kayaking tour is the way to go! The rugged coastline also provides excellent hiking trails. The Cami de Ronda path from Llafranc to Calella de Palafrugell is popular with locals and visitors alike.
This scenic hike follows a 19th-century smugglers' trail along the Costa Brava cliffs and offers spectacular views of the Mediterranean Sea below. While Costa Brava features many charming fishing ports, such as Tossa de Mar, Begur and Palafrugell, one of our favorite non-coastal towns is Peratallada. Peratallada is a must on your one-week Northern Spain itinerary.
Peratallada is a small village located in Costa Brava, Spain. It features medieval architecture and cobbled streets that are incredibly well-preserved. The town's most iconic landmark is the castle, built in the 10th century and served as a fortress during the Middle Ages. There are also several churches and other unique attractions to explore. Visitors can enjoy wandering around the winding streets of Peratallada or exploring its shops and restaurants, where you can sample delicious local seafood dishes.
Visiting Costa Brava and Peratallada is an excellent option for those looking to explore the Mediterranean coast of Spain. With its stunning natural beauty and fascinating history, Costa Brava offers an unforgettable experience for all types of travelers.
Day 5: Private Guided Dali Experience
This morning, on day 5 of your one-week Northern Spain itinerary, you will make your way to Figueres to explore the world of Dali. The Dalí Theatre Museum in Figueres, Spain, is a must-see for any fan of surrealist art. Located in the artist's birthplace, this museum houses some of his most famous works, including Dream Caused by the Flight of a Bee Around a Pomegranate, Hallucinogenic Toreador and Soft Self-Portrait with Grilled Bacon. The museum also holds an impressive collection of Dali's drawings, sculptures, and other essential works from the Surrealist movement. 
The theatre portion of the museum serves as a testament to Dali's theatrical side. Inside, visitors can find costumes and stage props used in his performances, as well as models he used while creating sets for theatrical productions. The museum also hosts several special events and exhibitions, such as lectures, film screenings and art classes.
Visiting the Dalí Theatre-Museum is an unforgettable experience for anyone interested in Dali's work or Surrealism. It offers a unique insight into the mind of one of the most influential artists of all time. We recommend going on the "All things Dali" private tour to make the most of your time. 
Day 6: Private Guided Experience Montserrat 
This morning you will meet your local guide and explore the wonders of Montserrat, Spain. This unique Catalonian mountain range is known for its spectacular landscape and breathtaking views of the surrounding countryside—the mountain consists of many rocky peaks and deep ravines carved by water erosion over millions of years. 
Montserrat has been a popular destination for spiritual pilgrimages since the 10th century when Benedictine Monks from France first established a monastery there. The Santa Maria de Montserrat Abbey is still home to around 80 monks today and welcomes visitors who enjoy its peaceful atmosphere and beautiful architecture.
The area also contains several sacred sites, such as the Black Madonna statue, which attracts thousands of pilgrims yearly who come to pay their respects. With its rugged terrain, lush vegetation, and incredible views, Montserrat is one of Spain's most beautiful places to visit. It is a must-see for anyone exploring Catalonia's natural beauty and rich history.
Montserrat, Spain, is also popular destination for outdoor enthusiasts due to its breathtaking mountain landscape. Grab your hiking poles and get ready to spend some time in nature. The area features numerous hiking trails that offer stunning views of the surrounding terrain. Popular routes include the Santa Cova trail, which leads to a small chapel located in a cave. This 2.0-mile out-and-back trail is generally considered a moderately challenging route. It takes an average of 1 1/2 hours to complete and has an elevation gain of around 900 feet. During the hike, you can enjoy incredible panoramic views of Santa Cova, where the legend says that the image of the Virgin of Montserrat was found. The start of the route can be reached by rack railway, car or cable car.
For a more strenuous option, consider the Sant Jeroni path, which takes one up to Montserrat's highest peak at 1,236 meters above sea level. To explore this 5.8-mile loop trail near Monistrol de Montserrat, Barcelona, plan for around 4 hours.
If you're looking for more extreme adventure, try rock climbing on some of Montserrat's limestone cliffs. There are routes suitable for all levels and plenty of equipment rentals available nearby. Other activities like mountain biking and paragliding provide fun ways to explore the area's rugged terrain. This can be your day of exercising on your one-week Northern Spain itinerary.
This afternoon head back to Barcelona for your last night in the city.

Day 7: Free Day in Barcelona
After a busy week of travel and exploration take a day to relax and enjoy the city. Stroll the boulevards, sample delicious tapas, take in a Flamenco show or simply head to the beach for some R&R.
Day 8: Private Transfer to Airport
Meet your driver in the lobby and head back to the airport. While the trip may be over the memories are just beginning. Also consider extending your one-week Northern Spain itinerary and heading out to explore other regions of Spain.
Where To Stay
There are many great options for luxury hotels in Barcelona. While the options are more limited in the Costa Brava region, there are some wonderful boutique properties and charming villa rentals. Although third-party rentals might seem tempting, be sure you know the risks before booking.
Our Favorite Hotels in Barcelona:
This stunning modern property is operated by the Ritz-Carlton Hotel Company, which is renowned worldwide for its impeccable service and lavish accommodations. The hotel includes 28 duplex penthouses located on the top floors of the hotel. Guests staying in the penthouses receive butler service and the use of a MINI Cooper. The hotel has an exclusive spa, terraced gardens, an infinity-edge pool and a family pool. Dining options offer five restaurants – including the acclaimed two-Michelin-starred Enoteca Paco Pérez, with a wine cellar topping 700 labels.
BTA Guests Receive:
Upgrade on arrival, subject to availability
Daily full breakfast for two guests per bedroom, served in Lokal Restaurant
$100USD equivalent Food & Beverage credit utilized during stay (not combinable, not valid on room rate, no cash value if not redeemed in full, includes taxes but excludes alcoholic beverages. Valid in any of our Restaurants or in Room Service. Mini Bar Products are not included.)
Extra amenities at The Penthouses

Complimentary round-trip private transfer
$100USD Food & Beverage extra credit

Extra amenities for Club Rooms and Suites:

Complimentary private transfer in
Early check-in/late check-out, subject to availability

Complimentary Wi-F
Thanks to its prime location, guests staying at the Almanac are only steps away from architectural masterpieces like the Gaudi-designed Casa Batlló and high-end boutiques. This hotel definitely lives up to its 5-star status with luxury suites, high-tech amenities and marble-clad bathrooms. Deliciously healthy menus curated by Michelin-starred chef Rodrigo de la Calle offer guests decadent dining.  Indulgent spa treatments like the travel recovery massage and wine therapy ritual make it easy to relax and recharge after a long flight. One of our favorite features, however is the Azimuth rooftop that serves seasonal cocktails with panoramic city views
BTA Guests Receive:
Upgrade on arrival, subject to availability
Daily breakfast for up to two guests per bedroom
$100 USD equivalent Food & Beverage credit to be utilized during stay (not combinable, not valid on room rate, no cash value if not redeemed in full)
Early check-in / Late check-out, subject to availability
Complimentary Wi-Fi
If you love  design you will fall in love with the Vividora's 156 residential-style guestrooms and suites (some with private terraces and deep soaking tubs). Feel rejuvenated by the lush greenery and relax with a drink while taking in the sweeping views from the rooftop pool and bar. Easy access to Las Ramblas is a plus to make the most of your stay with close to museums, galleries, markets and restaurants.
BTA Guests Receive: 
Upgrade on arrival, subject to availability
Daily Full Breakfast for up to two guests per bedroom
$100 USD equivalent Food & Beverage credit to be utilized during stay (not combinable, not valid on room rate, no cash value if not redeemed in full)
Early Check-In / Late Check-Out, subject to availability
Complimentary Wi-Fi
Many of these perks and amenities are only available when you book your stay through a Virtuoso travel advisor.
Boutique Travel Advisors is a full-service, luxury travel agency. We specialize in creating bespoke itineraries for discerning clients around the world. Please visit our website or call 480-787-1477 to speak with a dedicated travel expert. 
Are you planning an international or domestic trip? Check out our other articles to help you come prepared!
We highly recommend the purchase of travel insurance to protect your financial investment and health while traveling internationally. To purchase a policy with our preferred travel insurance company Chubb click here.
At this time, anyone that resides in CA, CO, KS, MN, MO, MT, NH, NY, PA, TX or WA is unable to purchase an insurance policy online. If you would like assistance purchasing a travel insurance policy, please get in touch with a BTA advisor.