Are you tired of taking the same trips year after year and looking to expand your horizons? After many months of quarantines and online school, families are anxious to plan a trip of a lifetime. Unfortunately, Instagram, travel magazines, and social media posts have all of us lost in the wanderlust daydream. You see the photos of happy families galavanting through Africa and Asia, babies in tow, teenagers smiling into cameras, all of them seemingly carefree, and for a brief moment, you think, "that could be us"…
As you take a sip of your morning coffee, you imagine yourself scaling Inca Ruins or snorkeling in the crystal clear Mediterranean sea. In your daydream, a handsome captain stands at the helm as you sip a mimosa gazing out over the horizon. But suddenly, you are rudely interrupted as the cereal bowl crashes to the ground. Your three-year-old is throwing a tantrum, while the eight-year-old is whining that she can't find her favorite t-shirt. In the background, your teenager walks by. She rolls her eyes at the mess and laughs at the chaos, all the while texting frantically on her phone. Finally, you realize it's only 8 am, and suddenly, the thought of taking the entire family on a dream trip across the world seems laughable and slightly mad. Better go back to renting the same beach house (again), where at least you know you're only a few hours from home.
Fear Not. You are not alone! We are pretty convinced the photos are staged, or at least the smiles are photoshopped. Just Kidding. While the dream destinations certainly exist, the journey to Shangri-La takes a bit (or a lot) of work. Because we have traipsed the world over with our own small, whiny, needy, and often jet-lagged children, we feel your pain. However, we are here to tell you the dream trip can be a reality. All it takes is a little careful planning, a good attitude, and, most importantly, the right destination!
We have scoured and searched, traveled, experienced, succeeded, and admittedly had some epic fails to bring you our top 5 international trips you CAN and SHOULD take in 2022!

5) BOLIVIA
Additionally, hear us out before you click Next!
Bolivia may not be on your top 5, top 10, or top anything list of travel. Still, the country is a gold mine for adventures, nature, delicious cuisine, life-changing experiences, and ecotourism. The hemisphere's highest, most isolated, and most off-the-beaten-path country. Local tour groups have proliferated, with many offering hikes along the Inca Trails, gliding on remote jungle rivers, or viewing the nesting grounds of hundreds of species of tropical birds.
From the crimson Laguna Colorada, where thousands of James' flamingos gather as though awaiting your arrival, to the incredible rock formations that rise out of the desert and finally to the salt flats, which are an iconic main attraction, this dream-like landscape will leave you speechless and amazed. And while the young ones are easier to impress, EVEN your teenagers may pose for a selfie because this landscape is definitely worth an Instagram Brag!
When to go: February-March.
Where to stay: Contact us for a list of destination specialists who can create incredible experiences while providing fantastic service. *This is a developing country and may not suit families with very young children or elderly companions. 
4) COSTA RICA 
A time-tested, family favorite, this country stole our hearts on our very first visit and has kept us coming back year after year.
There are towering mountains, active volcanos, flowing hot springs, seemingly impenetrable rain forests, world-class rapids, and thousands of miles of coastline for snorkeling for adventure seekers and families with school-age and teen children scuba diving, surfing, and boogie boarding.
There are unspoiled and often empty beaches for families with younger children, friendly and welcoming locals, beautiful and easily accessible hotels and eco-lodges, aromatic coffee plantations, hundreds of yoga shalas, and lazy days at the pool. Although this small but mighty country can take several lifetimes to explore, a 7-10 day itinerary can certainly scratch the surface… but we will warn you that once you've sampled the Pure Vida lifestyle, you may never want to leave.
When to go: December-March is peak season on the Pacific coast with gorgeous sunny days and high prices. June-November is considered green with afternoon showers, lower costs, and lush landscapes. July is regarded as the veranillo ("little summer"), so prices in many areas increase.
What to do:
Corobici River Tour and Las Pumas Jaguar Rescue Get up-close views of nature while you float lazily down the Corobici River in the Costa Rican rainforest!
Aboard a raft with an expert guide, you'll take in the sights of the flora and fauna that flourish in the bio-diverse region – including ospreys, motmots, herons, egrets, iguanas, and monkeys. In addition, your day trip includes a visit to the Las Pumas Jaguar Rescue Center to see various big cats and other wildlife.
Natural Hot Spring with Horseback Riding and Canopy TourThe tour begins with a horseback ride up mountains and through plains. As you ascend, you'll enjoy fantastic views of Guanacaste's Pacific coastline and the Rincón de la Vieja Volcano. Then accompanied by professional guides, you will be flying high through the treetops and zipping across canyons. There are ten cables to ride and an impressive waterfall. This is an excellent location to take pictures or cool down along the pool's crystal-clear waters.
Arenal Volcano and Baldi Hot Springs  It is no coincidence that Arenal Volcano & Hot Springs is one of the most popular tours in the country. Visit one of the most famous areas in Costa Rica and relax in the hot springs is an unforgettable experience!
 Where to stay:  Guanacaste is the most popular tourist area with easy access to many Liberia (LIR) resort towns. The towns of Tamarindo, Playa Flamingos, and Peninsula Papagayo offer a plethora of lodging options, beautiful beaches, and easy access for day trips to waterfalls, hiking, white water rafting, zip-lining, and horseback riding. Other popular areas around the country are accessible via San Jose (SJO) airport and several smaller airports serviced by Sansa and Nature Air.
Hacienda AltaGracia, an Auberge Resort  This luxury resort features estate-size, yet intimate accommodations amongst Costa Rica's mountain tops, overlooking the magnificent "Valle del General."
Designed for guests seeking a private vacation retreat with all the comforts of home and access to world-class Costa Rica dining, an exceptional Spa, Equestrian Center, and a wide variety of recreational activities. Honored as one of the world's best new hotels on Conde Nast Traveler's 2016 Hot List.
Nayara Hotel, Spa & Gardens Built on an unspoiled mountain surrounded by primary rainforest, creeks, and natural springs, the exclusive, award-winning Nayara Hotel, Spa & Garden is a tranquil and tropical five-star oasis. The resort is set among 30 acres of lush gardens and verdant Costa Rican Rainforest overlooking the imposingly active Arenal Volcano. It features 50 private casitas, private outdoor terraces, Jacuzzi tubs and outdoor showers, and 35 Nayara Spring Villas, each pool fed by a mineral hot spring.
The Westin Golf Resort & Spa  Located on the North-Pacific Riviera, between lush forests and the sparkling azure waters of the Pacific. Starwood's first all-inclusive resort, The Westin Playa Conchal, is set on 2400 acres and offers everything you need to revitalize and thrive: a lagoon-style pool, gardens, tennis courts, a championship golf course, the Westin Kids Club®, fine dining, personal concierge service for guests in the Royal Beach Club, WestinWORKOUT® facilities, THE SPA and more.
The Preserve at Los Altos Resort Five-star accommodations in spacious three and four-bedroom suites. Each suite boasts ocean-view balconies, full kitchens, dining and living areas, and more than enough room for everyone to kick back and relax after a long day out. Karola's open-air gourmet restaurant emphasizes fresh, local ingredients, friendly service, and an internationally inspired menu. With the area's largest Private Nature Reserve, exclusive trails offer guests access to incredible nature right on our doorstep and lead down to a wild and natural tropical beach.
Rio Perdido, the 600-acre private reserve centerpiece, is the Rio Perdido, which means "lost river."
This 150-foot, thermo-mineral gorge that draws energy from deep magma flows will cast its spell on anyone that descends to its magical waters for the first time. Spot unique species of mammals, reptiles, insects, and amphibians. Thrill-seekers can zip through the inside of our White Canyon on a carbon fiber line or can hop on a bike and access miles of world-class trails.
Nosara town is our personal favorite. Although it is located 2 hours away from the airport, along a mostly dirt road, it has maintained its charm, kept mass construction at bay, and protected its beaches from development and overcrowding. Hotel options are limited, so contact us for vacation rental options. For families with young children over the age of 3, there is an AMAZING school/camp where you can drop off your kids for the morning or the day knowing they are entertained, cared for, well-fed and engaged, while you take a morning swim, attend a yoga class or have a relaxing walk on the beach. Our children spent two blissful summers at Del Mar Academy and loved every minute).  
3) TURKS AND CAICOS ISLANDS
Our love affair with Turks & Caicos began long ago (over 20 years past). This is where Angie married Adam, and it has become a frequent vacation spot shared with their children, extended family, and closest friends. Our busy lives are put on hold when we commit ourselves to a week in Providenciales ("Provo"), the most famous of the 100 islands and cays of the Turks & Caicos.
Family travelers will enjoy meandering and strolling beautiful Grace Bay Beach, named the #1 beach in the world based on Travelers' Choice, and holds the #2 spot on Trip Advisor's best beaches in the world list. With the most crystal blue waters, your family will spend much time swimming and enjoying marina life.
BTA encourages you to take an excursion or two into the waters. Half-day and full-day excursions with the options of sailing, scuba, snorkeling, water sporting, fishing, and island hopping are available from our excellent partners.
During your time at sea, you will not want to miss a visit to Little Water Cay (Iguana Island). Due in part to extensive conservative efforts, the endangered Turks and Caicos Rock Iguanas (Cyclura carinata) are everywhere on the island.
The warmth of the sea and its calm waves will have even the most hesitant swimmers and mild seasickness sufferers finding themselves exploring these waters. An evening sail on a catamaran is a perfect way to enjoy one of the most breathtaking sunsets you will ever see. The local population is very welcoming to tourists. Embrace the culture by attending the Island Fish Fry every Thursday from 5:30 pm to 9:30 pm at the Bight (Children's) Park. This cultural explosion includes over a dozen local food vendors, entertainers, and cultural acts come together for an evening of "all things TCI." You may even run into special guest DJ Shaquille O'Neil as we did.
What to do: 
Grace Bay Half-Day SnorkelingSpend a relaxing morning or afternoon on the turquoise waters of Providenciales on this half-day snorkeling cruise from Grace Bay Beach. Onboard a comfortable double-decker catamaran, cruise around Grace Bay and neighboring islands like Little Water Cay and Pine Cay. Snorkel with sea turtles on an impressive coral reef, and visit the conch grounds to feast on fresh ceviche. Snorkeling gear, snacks, and beer, rum punch, and drinks are provided.
Island Style Beach Cookout & Snorkeling Enjoy the little things in life! Have a day full of fun in the sun where you will snorkel in breathtaking turquoise water while exploring the cays of the island and enjoy lunch on your private beach with freshly caught fish, lobster, or conch prepared by your captains.
Private Fishing Excursion Cruise along Grace Bay into the untouched cays of the Turks and Caicos archipelago! The well-stocked Caicos Banks is a Fisherman's Delight! Your professional Captains (and Brothers) Pop and Keys hold multiple titles and records on the islands for fishing. Please note this is a bottom fishing tour, not the deep sea.
When to go: The best time to visit is April and May, the weather remains beautiful, the prices are lower, and there are fewer crowds. December through March is peak season. The temperatures average into the high 80s all year-round. Please note hurricanes pose a threat to the Caribbean from June to November.
Where to stay:  With fantastic hotel options to spare, we are personally partial to Villa Palermo, a Tuscan-themed villa with panoramic views of the ocean and Beach Villa Paprika.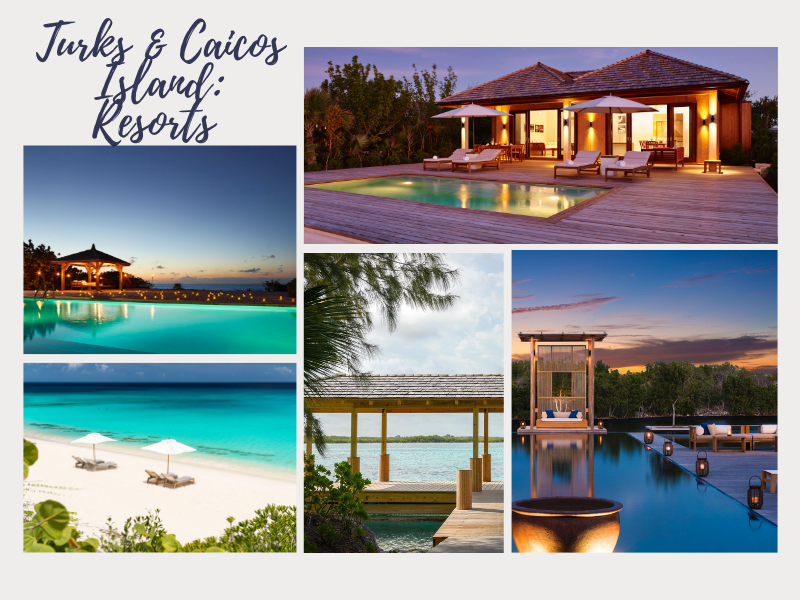 Amanyara Peaceful Place' embraces pristine, white-sand beaches and turquoise waters ideal for water sports and diving enthusiasts. Comprised of contemporary Pavilions and suites, plus fully serviced, private Villas ranging from three to six bedrooms, Amanyara provides the utmost privacy and tranquility.
The New Nature Discovery Centre offers daily activities for guests of all ages to explore the resort's natural wonders. In addition, world-class diving and snorkeling are easily reached just minutes away on Northwest Point Marine Park.
COMO Parrot Cay Private island resort with 1,000 unspoiled acres and a mile-long white beach. Beachside houses and villas have whitewash interiors and chic teak finishing, with many featuring plunge and infinity pools. There are also very large residences available to rent — tucked away in secluded spots on the island but with full access to the resort's many facilities. Daily complimentary yoga, a fully equipped gym, large swimming pool, tennis courts, and excellent jogging routes are all available: water sports, diving, and island excursions complete the COMO Parrot Cay experience for families.
Gansevoort Turks & Caicos This hotel marries the Caribbean cool with urban chic in a way that only New York's hippest hotel mainstay can. Indulgence takes the front seat at our thoroughly modern beachfront retreat, where every room boasts stunning ocean views, and Grace Bay, often touted as one of the best beaches in the world, is quite literally in the backyard.
2) SPAIN
This is another place that stole our hearts and had us daydreaming of buying a one-way ticket and never turning back. Spain is a large and diverse country, comprised of 17 Autonomous Regions, each with its unique culture, language, customs, and cuisine.
From the Gaudi and Dali infused region of Catalonia, to the white villages, vibrant cities, and historic charms of Andalusia, to the world food capital of the Basque region's city of San Sebastian to the manicured gardens and world-famous social scene of the Costa Del Sol and  Marbella our month in Spain barely scratched the surface. So whether your family is interested in history, relaxation, cuisine, art, or outdoor exploration, there are medieval villages, stunning beaches, and delicious food to fit every taste.
The Game of Thrones filming locations may add an entirely new and exciting element to families traveling with teenagers to your family vacation. Some of the famous scenes were shot in Castell de Santa Florentina in the town of Canet de Mar, The Castle of Zafra in Guadalajara, the bullring of the Andalusian town of Osuna, the Alcazar of Seville and Cordoba's Roman Bridge.
Spain is also extremely child friendly, and although many families may be initially taken aback by the midday siestas, late dinners, and relaxed bedtimes, the celebration of families and unhurried pace of life will quickly have you settled in.
What to do: 
As Spain is a large country, each region offers unique experiences, cuisines, and sights. Here is a preview of some of our favorites.
Barcelona; Skip The Line Best of Tour Including La Sagrada Familia  Explore the beauty of Barcelona on this Best of Barcelona Tour, which offers a comprehensive view of this beautiful Catalan city, including a visit to La Sagrada Familia.
Perfect for first-time visitors, the tour will show you the city's most iconic sights and allow you to discover some of Barcelona's best-kept secrets. You'll enjoy skip-the-line access at La Sagrada Familia so that you can avoid the long queues at this popular attraction. You'll also visit the hill of Montjuïc and the Gothic Quarter. On this small-group tour, you'll receive personalized attention from your guide.
Sagrada Familia and Park Guell Private Family Tour  Immerse your kids in the history and culture of Barcelona during this private 4-hour tour specifically designed for families. Start at one of the city's most famous landmarks, the architectural masterpieces La Sagrada Familia. Learn about the cathedral's architect, Antoni Gaudi, and the history and symbolism of the building. Then head to Gaudi's whimsical Park Guell, home to structures and fountains where kids can play as you listen to the guide explain more about the history of Barcelona's famous monuments.
Islamic Seville Guided TourSped half a day on this guided tour to Barrio Santa Cruz, one of the most charming neighborhoods in Seville, and witnessed the fantastic complex of palaces of the Real Alcazar.Lose yourself in the mysterious streets and beautiful courtyards and squares of the old Jewish quarter in Seville; be surprised with their exciting stories and mysterious legends in an authentic Andalusian atmosphere. Meet its narrow streets as "Calle del Beso" and its romantic squares as "Plaza Santa Cruz" or "Plaza Santa Marta."
Seville Private White Villages Guided TourDiscover Andalusia's White Villages, visiting Zahara de la Sierra, Grazalema, and Ronda. Then, join this Private Guided Day Tour from Seville, where you will enjoy these beautiful towns and stunning landscapes and customize the tour depending on your interests.
Granada: Alhambra Private TourLearn about the history of Granada on this 3-hour guided tour of the Alhambra and Generalife summer palace with skip the line ticket. A Specialist and historian guide will lead you around the vast complex, dating back more than 600 years.
Marvel at a magnificent mix of Islamic art and culture. Feel the spirit of the last Muslim bastion in Spain. Yusuf is still here – in essence. So is his father, Ismail I, and his son, Muhammed V. These three sultans were primarily responsible for the Palacio Nazaríes – the 14th-century miracle that shines as the Alhambra's jewel.
When to go: Much of the country enjoys a temperate and mild climate, although Southern Spain does have hot summers. June-August is the busiest tourist season with children off school and many Europeans taking a month off, flocking to beaches to enjoy family time.
Where to stay: Spain has options for every budget and style, including budget-friendly campgrounds, mid-level hotels, and luxurious converted
castles. Contact us for a list of our recommendations and personal favorites in each region.
Mandarin Oriental, Barcelona enjoys a central location on the prestigious Passeig de Gràcia. This hotel is ideally situated for all of the city's major attractions, only minutes away from Gaudi's famous Casa Batlló, within walking distance of Las Ramblas, la Sagrada Família, and the Gothic Quarter.
Alhambra Palace Hotel, The oldest five-star hotel in Spain, opened in 1910 and was inspired by the Alhambra Palace monument itself. Located in one of the most beautiful cities in Europe, the hotel provides easy access to the UNESCO world heritage site that is a must-see!
Hotel Belmond La Residencia Clinging to a hillside in the charming village of Deià, the hotel offers unrivaled views over the Tramontana Mountains and the sparkling waters of the Mediterranean Sea. The late nights are traded for early mornings filled with saltwater swims and hilltop hikes away from the island's party scene.
Puente Romano Beach Resort & Spa Located on the south coast of Spain, on the famous "Golden Mile," between Marbella and Puerto Banus, the resort is surrounded by sub-tropical gardens with over 400 botanical species from across five continents. Low-rise white buildings and paved streets make you feel like you are genuinely in a traditional Andalusian village.
Hotel Alfonso XIIILocated in gorgeous Seville, the open-air pool in the hotel's lush orange-scented garden, spacious terraces that look onto the patio, and beautiful guest rooms provide the perfect respite spot for midday siestas. So after a busy morning of sightseeing and exploration, take time to relish in the simple moments of quiet reflection.
1) ICELAND
The country of Fire and Ice is an adventure-seeking family's ideal destination. It appeases both parents and children by combining the adrenaline-pumping excitement of the tours and sights with relatively easy proximity, many direct flights, English-speaking locals, safety, and well-developed infrastructure.
A winter or spring break trip to the magical kingdom will surely keep everyone entertained, from chasing the Northern Lights, scaling glaciers, exploring ice caves, and riding Icelandic ponies.
As the ice melts and waterfalls start to flow in summer, the landscape turns emerald green. The days of the midnight sun melt away stress, allowing you ample time to reconnect, engage and explore hidden beaches gorgeous trails and cruise the seas in search of puffins and whales.
As the ice melts and waterfalls start to flow in summer, the landscape turns emerald green. The days of the midnight sun melt away stress, allowing you ample time to reconnect, engage and explore. Visit hidden beaches and gorgeous hiking trails and embark on a day cruise searching for puffins and whales.
What to do: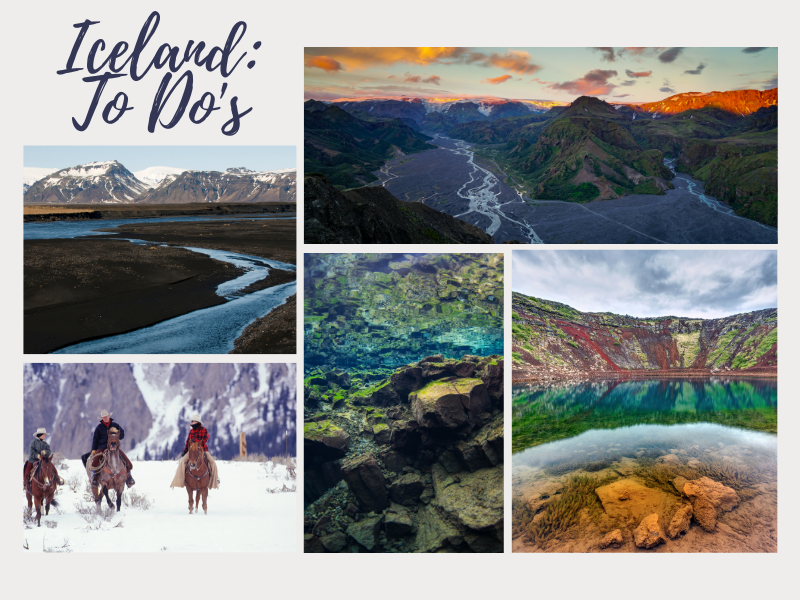 Icelandic Horse RidingFor all those interested in trying the Icelandic horse, a trek on the hardy, the sure-footed Icelandic horse is an experience to remember. Whether you are a beginner or expert, old or young, these friendly horses, with their alert and willing nature, are indeed a pleasure to ride in their natural surroundings.
Day Trip South Iceland Glaciers, Volcanoes & Waterfalls
Your ultimate day trip starts from Reykjavík. Then, enjoy a private minivan drive along the South coast and its magnificent waterfalls, glaciers, black sand beaches, and fantastic ocean views that will leave you with unforgettable memories. Next, a visit to the Sólheimajökull outlet glacier for an exciting and informative glacier hike, where ice climbing is available if the group is up for a little more challenge. This exclusive tour is tailored towards your personal and group's expectations.
Small-Group Snorkeling at Silfra Fissure
Discover the underwater wonderland that glitters beneath the surface of Silfra Fissure in Thingvellir National Park on a snorkeling or scuba diving tour. A certified Padi Dive guide will lead you through the crystal-clear, heavenly blue waters of Silfra Fissure. Explore the fissure, its formation, and beautiful surroundings on this 2-hour small-group experience.
Small-Group Glacier Experience Take advantage of an excellent opportunity to explore the incredible Solheimajokull Glacier in a small group setting on this one-and-a-half-hour glacier hike available directly from Solheimajokull's parking lot. Walk around the glacier and admire the stunning landscape surrounding the ice cap. In addition, this is your chance to explore the glacier's incredible frozen world, such as its crevasses and glacier moulins.
When to go:
Visit late September-March for Northern Lights, ice cave experiences, and glacier climbs. Please note winter weather can be unpredictable and roads impassable, so always check ahead.
Travel from April-September for an opportunity to see Puffins, whales, long days, the midnight sun, warmer weather, and cruising opportunities. Did you know Iceland is the breeding home for around 60 percent of the world's Atlantic puffins?
Where to stay: Reykjavik is the principal city in Iceland and has the most incredible variety of hotel and lodging options. However, the countryside is vast and largely unpopulated outside of the town, so lodging is limited and in high demand. Book early and engage the expertise of a local tour company for the best experience.
—
Boutique Travel Advisors is a full-service, luxury travel agency. We specialize in creating bespoke itineraries for discerning clients around the world. Please visit our website or call 480-787-1477 to speak with a dedicated travel expert. 
Are you planning an international or domestic trip? Check out our other articles to help you come prepared!
We highly recommend the purchase of travel insurance to protect your financial investment and health while traveling internationally. To purchase a policy with our preferred travel insurance company Chubb click here.
At this time, anyone that resides in CA, CO, KS, MN, MO, MT, NH, NY, PA, TX or WA is unable to purchase an insurance policy online. If you would like assistance purchasing a travel insurance policy, please get in touch with a BTA advisor.