BENEFITS OF GROUP TRAVEL

When you embark on a group excursion with BTA travel advisors, coaches, and influential travel connoisseurs, you are voyaging with like-minded individuals who share a passion for exploration and adventure. Our group trips foster a sense of community and camaraderie, rendering even the most highly anticipated trip more gratifying and fulfilling. Enjoy a perfectly streamlined travel experience. Our itineraries are thoughtfully designed and meticulously curated, ensuring that travelers are fully immersed in the destination. With value-added amenities such as exclusive access to attractions and events, private tours, and special discounts, you can be sure your trip will be unforgettable.
EXOTIC DESTINATIONS
Dreaming of visiting far-flung destinations such as Patagonia, Iceland, Antarctica or Africa? Embarking on a group trip to explore remote and exotic places offers a myriad of enticing advantages. Traveling with a group provides a heightened sense of safety and security, particularly in unfamiliar and distant locations. BTA small group trips are led by seasoned travel professionals with extensive area knowledge. Their expertise ensures that every traveler gains a deeper understanding of the local culture and customs, enriching the overall experience. Receive exclusive access to hidden gems and off-the-beaten-path locations that individual travelers rarely encounter.
CONNECTIONS
Taking a small group trip with BTA offers the chance to discover incredible destinations and serves as a platform for cultivating new friendships and connections that can last a lifetime. As the journey unfolds, you will engage in conversations, share stories, and create lasting memories together. The shared adventure of exploring new destinations creates a natural bond with fellow travelers that become a foundation for enduring friendships.
Whether it's engaging in lively discussions during meals, collaborating on exciting activities, or simply spending quality time together, the small group dynamic encourages openness and facilitates building new relationships.
UNIQUE EXPERIENCES
BTA small group trips provide a captivating opportunity for like-minded travelers to embark on unique and tailored experiences based on shared interests and common goals. Whether you are passionate about art and culture, food and wine, or thrilling active adventures, BTA curates specialized group itineraries catering to your passions.
Imagine exploring hidden art galleries with fellow art enthusiasts, savoring delectable culinary delights alongside fellow foodies, or embarking on exhilarating outdoor activities with travelers who share your zeal for adrenaline-pumping experiences. Small group trips create a sense of community as you bond over your shared interests, exchange insights, and create lifelong memories together.
WORRY-FREE TRAVEL
BTA small group trips offer worry-free travel experiences as our expert team works tirelessly behind the scenes to take care of all the logistics, ensuring you can fully immerse yourself in the journey. We meticulously handle all the details, seamlessly coordinating flights, transfers, accommodations, and activities, freeing you to embrace the adventure.
With BTA, you can trust that every aspect of your trip has been thoughtfully arranged to provide a smooth and hassle-free experience. Our commitment to excellence and attention to detail means you can focus on indulging in the destination's wonders, connecting with fellow travelers, and creating cherished memories.
UPCOMING SMALL GROUP JOURNEYS
"We are all travelers in the wilderness of the world, and the best we can find in our travels is an honest friend."

—Robert Louis Stevenson
OAXACA
Join BTA Travel Coach Julie Rose in celebrating one of Mexico's most intriguing — and unusual — festivals in the eclectic city of Oaxaca, where indigenous culture holds strong.
During Day of the Dead (Dia de los Muertos), which takes place at the end of October and early November each year.
Pre-Hispanic traditions honoring the departed merge with Catholic feasts to create a truly unique holiday that draws tens of thousands of visitors each year.
Delve into the bizarre and beautiful spirit of Día de los Muertos, witnessing spectacular street dances, costumes, and altars while discovering the picturesque landscapes and mouth watering flavors of Oaxaca.
This group trip includes professional guides, 6 nights of shared accommodation in hotels, 6 breakfasts and one lunch, and private transportation.
What's not included: international airfare and trip insurance.

If you would like a room to yourself, the cost is an additional $559 USD.
Details
6 Nights Accommodations
7 Meals
Private transportation
Professional guides
Tour Dates: Oct 28, 2023-Nov 3, 2023
PATAGONIA – SOLD OUT!
Experience the unparalleled beauty of Patagonia, a must-visit destination for adventurous souls, with BTA Travel Coach Julie Rose.
To truly embrace this South American region, immerse yourself in its breathtaking landscapes through exhilarating hikes: Explore El Chaltén, where the majestic Cerro Torre mountain awaits, and venture to the awe-inspiring vicinity of the imposing Perito Moreno Glacier.
Patagonia eagerly awaits your arrival, offering a captivating experience and a profound sense of achievement.
For the physically active and healthy traveler: involves high-altitude hikes or more challenging activities, yet accessible to most healthy travelers.
This group trip includes professional guides, 8 nights of shared accommodation in hotels, 8 breakfasts, private transportation, and internal airfare.
What's not included: international airfare and trip insurance.
If you would like a room to yourself, the cost is an additional $779 USD.
Details
8 Nights Accommodations
8 Meals
Private transportation and internal airfare
Professional guides
Tour Dates: Jan 2-10, 2024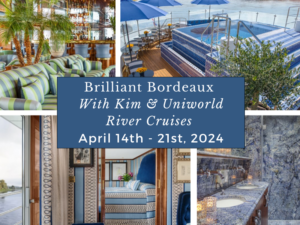 UNIWORLD Brilliant Bordeaux River Cruise
Embark on a truly unforgettable journey with Uniworld's brilliant Bordeaux cruise, expertly curated to showcase the best of this renowned wine region. Not only will you be blown away by Uniworld, but our very own BTA Advisor, Kim Parizek, will be leading this group journey.
This cruise promises an immersive exploration of Bordeaux's rich history, breathtaking landscapes, and world-class vineyards. From the moment you step aboard Uniworld's elegant ship, you'll be treated to unparalleled service, exquisite cuisine, and luxurious accommodations.
Indulge in exclusive wine tastings, visit prestigious châteaux, and savor delectable regional cuisine paired with exceptional wines.
With Kim's expertise and attention to detail, you can trust that every aspect of your journey will be meticulously planned and tailored to your preferences.
Join us on this unforgettable travel experience of Brilliant Bordeaux.
We can also customize a pre-land or post-land experience for you!
Details
Starting at $
3,599
Per Person
Classic Room: $3,599 per person
Deluxe Room: $4,299 per person
French Balcony: $5,199 per person
Suite: $7,999 per person – SOLD OUT
Grand Suite: $10,199 per person – SOLD OUT
Sailing Dates: Apr 14-21, 2024
THAILAND
COMING SOON
ICELAND
COMING SOON
MORE TRIPS
COMING SOON