Spending quality time together as a couple is one of the most important things you can do to strengthen your relationship. Of course, romantic getaways are not just meant for honeymoons and anniversaries. But even if you do not have the time to take an extended multi-city vacation, a quick jaunt to a romantic destination can provide untold benefits.
More and more couples choose to take long weekend romantic getaways to spend time together and keep their relationships healthy. But, unfortunately, for many couples, family commitments and long work hours prevent them from spending sufficient quality time together at home.
While there are hundreds of romantic locations worldwide, very few offer the complete package for a quick getaway.
If you are looking for that perfect romantic long weekend for two, look no further than the top ten romantic destinations below!
1. Sorrento
Located on the Bay of Naples, Sorrento is a haven for romance and couples that want to inject a bit of spark back into their lives. It is a popular location for destination weddings and honeymooners who bask in the rich culture, history, and charming sights. Sorrento offers quaint restaurants, sightseeing along the Amalfi Coast, spectacular vistas, and architectural gems.
Grand Hotel Excelsior enjoys breathtaking views of the Bay of Naples and Mount Vesuvius. It offers couples wanting a special weekend away together unbridled luxury and elegance.
Food and wine are quintessential experiences when traveling in Italy. Check out our guides on What To Eat In Italy and Understanding Italian Wine.
2. Maui, Hawaii
Hawaii is an enchanting state, with plenty to see and do. The culture is different, the lifestyle is sublimely relaxed, and most tourists are drawn into this nonchalant atmosphere. Fantastic little eateries combine traditional Hawaiian food with modern culinary experiences, perfect for a romantic dinner for two!
While there are many islands to explore, Maui stands the test of time for romantic getaways. The options for hotels and resorts are plentiful. So take a surfing lesson, throw on your hiking shoes, test your luck whale watching, or don snorkel goggles and explore the underwater world. Whether you stay for 3 days or 3 weeks, you will never run out of things to do.
Montage Kapalua Bay and Ritz Carlton Kapalua are just a couple of places you can stay. Check out our full guide of the Best Luxury Hotels in Hawaii and How To Choose Your Island. 
3. Monaco
Princess Grace embodied the spirit and charm of Monaco, and her essence still lingers here. Unlike other romantic long weekend destinations, the aura surrounding Monaco is infused with glamour and sophistication. The atmosphere of opulence inspires romantic sojourns, fine dining experiences, splendid shopping opportunities, and lazy days on private yachts. The hotels mirror the wealth of the country too.
 Even in this light, I can tell where your eyes are looking.

Grace Kelly.
Hotel de Paris Monte-Carlo is an iconic palace with ultra-luxurious and spacious accommodations. Take in the majestic views over the Mediterranean Sea, indulge in a couples massage at the well-being center, and dine in one of the three Michelin-star restaurants. While daily life may be hectic, taking a weekend to live in the lap of luxury is a balm that can soothe all romantic desires.
4. Venice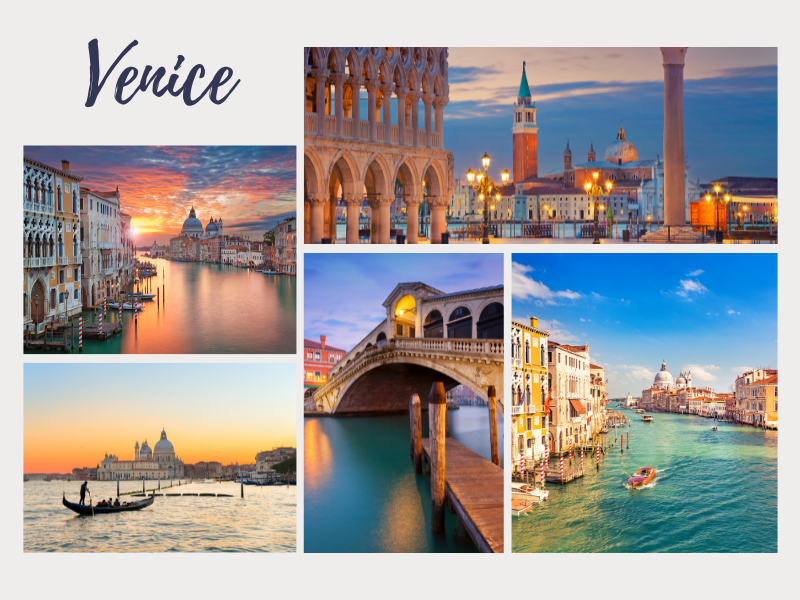 Whether you are newlywed or celebrating fifty years together, there is nothing quite as romantic as taking a private gondola through the canals of Venice. Inject romance and passion into your relationship while admiring the ravishing beauty of the city. Venice offers excellent shopping, dining, arts, and culture.
Countless cafes and restaurants serve excellent food and provide a romantic ambiance. Candlelight dinners for two, dreamy canal-side trattorias, Michelin starred tasting menus, and storied classics satisfy every taste and budget. So, of course, it is no wonder that so many couples choose to get married or honeymoon in Venice.
The iconic Belmond Hotel Cipriani has specialized in romantic weekends with great hospitality since 1958 and has played host to numerous celebrity couples over the decades. If you are interested in a prototypical Venetian experience, make sure to plan your visit for the winter around the Carnival Festival.
5. Paris
Paris is the capital of romance primarily due to the French attitude of joie de vivre. An exulted enjoyment of life, love, and food. For example, the Hôtel de Crillon, a Rosewood Hotel, offers luxury suites designed for romancing your partner. In addition, the concierge will gladly assist with booking tours and restaurants for couples wanting to make the best of their romantic long weekend getaway.
We'll always have Paris

Humphrey Bogart
Of course, you do not need to venture far from the hotel, as the entire city has an air of romance. A couple can eat in the best restaurants, takes boat trips on the Seine, visit museums and stroll hand in hand through the city.
While there is plenty to do, every activity is sweeter when shared with your loved one. So pack a picnic and enjoy the sunset over the Eiffel Tower. If you are interested in exploring other romantic small towns and villages, check out our write-up on The 10 Most Romantic Towns in France.
6. Madrid
As a city dominated by the Renaissance, Madrid is highly romantic. From magnificent historic buildings boasting breathtaking architecture to world-class museums and art galleries, the options in Madrid are boundless. So take a break in the afternoon to savor some tapas and taste delectable Spanish wines. But don't forget, the Spaniards don't sit down for dinner until at least 9 PM.
Since the city is a center for the arts, plan ahead and experience an opera performance or a poetry reading. However you choose to spend your time, there are certainly enough options to ignite passion.
The Mandarin Oriental Ritz is just one of the many hotels you can choose from, most of which offer high-quality service while respecting your privacy.
7. Malta
Malta is an ancient country with much of its original architecture intact. It has a host of markets, parades, and dining establishments to help you sample the culture. The country's natural beauty combined with its rural, friendly nature gives love a chance to blossom without distractions.
The Cugo Gran Macina Grand Harbour Hotel offers endless views of the harbor and extraordinary history to boot. The ancient fortified city of Senglea was built by the Knights of St John across the harbor of the capital city, Valletta. The spot that the luxurious Cugo Gran Macina boutique hotel now occupies, was once the original Macina building. An evocative 16th-century structure.
8. Killarney
Killarney in Ireland may not be the first city that comes to mind when planning a couples getaway, but it is the perfect setting for a romantic long weekend. It is labeled the most beautiful region in Ireland because it offers spectacular natural scenery that should be enjoyed with a loved one. On the shores of Lough Leane, it is a popular stop while driving the picturesque Ring of Kerry. Unlike the bustling city of Dublin, offering multiple entertainments and attractions to visit, it is a quaint area that allows you to slow down and reconnect.
While the Killarney Park Hotel is a boutique property with just 67 rooms, it offers a fantastic spa with a Relaxation Lounge, Elemis treatments, and Caldarium.
9. Marseille
Located in the South of France, Marseille is the oldest French city. It seamlessly blends the historic and the modern while enjoying its enviable position as a gateway to the sea and Provence. Explore lovely beaches and stroll the Corniche Kennedy boulevard while taking in the scenic coastline.
Secure a private tour of the city to learn more about its history, and sample delectable cuisine at any one of the excellent little restaurants. Then, head to the Basilica of Notre-Dame de la Garde and take time to bask in the attentions of your partner while watching the sunset over Marseille.
Enjoy ample privacy while staying at the InterContinental Marseille- Hotel Dieu. With lovely French gardens, an 8,000 square foot outdoor terrace, and a 10,000 square foot spa, you may never want to leave.
10. Florence
If your idea of romance involves strolling down cobblestone streets, exploring priceless art collections, tasting world-renown wine and truffles, then look no further than Florence. This city truly has it all. The architecture, art, and famous Tuscan cuisine serve to heighten your passion and rekindle the romance.
Irresistible cafes, divine bakeries, and bars line the streets and provide good food for various budgets. At the same time, the specialty shops help the city retain an air of relaxed superiority.
 To see the sun sink down, drowned on his pink and purple and golden floods, and overwhelm Florence with tides of color that make all the sharp lines dim and faint and turn the solid city to a city of dreams, is a sight to stir the coldest nature.

Mark Twain
Florence was the birthplace of the Renaissance, and many of the world's most famous artists, including Botticelli, Da Vinci, and Michelangelo, left their indelible marks on the city. Make sure to visit the Uffizi Gallery, Accademia Gallery of Florence, and the Piazza del Duomo. For an ultra special experience, inquire about a visit to Michelangelo's Secret Archive.
If you are looking for a romantic retreat with a storied past, then consider the Villa La Massa hotel, located on the banks of the Arno River in Chianti. This luxurious Medicean Villa is just what you need when embarking on a romantic long weekend for two!
Ultimately, any of the places listed above can help inject a little romance back into your life. So allow yourself to relax and rediscover what is really important. After all, can you really afford to miss out on taking one of the best long weekend romantic getaways?
Boutique Travel Advisors is a full-service, luxury travel agency. We specialize in creating bespoke itineraries for discerning clients around the world. Please visit our website or call 480-787-1477 to speak with a dedicated travel expert. 
Are you planning an international or domestic trip? Check out our other articles to help you come prepared!
We highly recommend the purchase of travel insurance to protect your financial investment and health while traveling internationally. To purchase a policy with our preferred travel insurance company Chubb click here.
At this time, anyone that resides in CA, CO, KS, MN, MO, MT, NH, NY, PA, TX or WA is unable to purchase an insurance policy online. If you would like assistance purchasing a travel insurance policy, please get in touch with a BTA advisor.