Italian cuisine is as famous worldwide as the sights and ancient landmarks that make this country one of the most beloved and visited in the world. However, deciding what to eat in Italy can be a bit perplexing. Many travelers associate Italian food with the legendary pizza and pasta exported and emulated in nearly every Italian restaurant around the globe. However, there is so much more to the countries' gastronomy. Typical Italian dishes exist in silos and vary significantly throughout the many regions, towns and villages. Recipes are still handed down from generation to generation, and many chefs prefer to use locally sourced and grown ingredients. 
Traditional pizza is still considered by many to be the queen of typical Italian dishes. To experience it in its most authentic form, venture to Naples, the city where the modern iteration of this timeless dish was born. The working-class citizens of Naples required functional food that was inexpensive and easy to eat.
Ever popular flatbreads, have existed for centuries and became a desirable dish sold by street vendors and casual restaurants to meet the needs of local residents. Traditional flatbreads were topped with inexpensive garnishes such as cheese, olive oil, tomatoes, anchovies, and garlic. As the dish gained popularity, chefs created more unique combinations. Antica Pizzeria in Port' Alba is widely considered to be the world's first pizza restaurant. It opened its doors in 1738 it is still welcoming visitors today. 
Like pizza, pasta dishes have existed in Italy for centuries. However, the popularity of pasta dishes is only partially due to taste and flavor and primarily due to the cost and accessibility of the ingredients required to make it. The word pasta translates to "paste" and directly references the unleavened dough created from a simple combination of ground durum wheat plus eggs or water. 
Many historians believe that the first noodles arrived in the region with Marco Polo when he transported the Chinese staple during one of his visits.
As a food of the "common people," each Italian region developed its traditional versions of pasta with unique names and preparations. From the famous Orecchiette to the Cime di Rapa of Puglia to the Sicilian Anelli dressed with a hearty meat sauce, the dishes echoed ingredients readily grown by the villagers. 
SICILY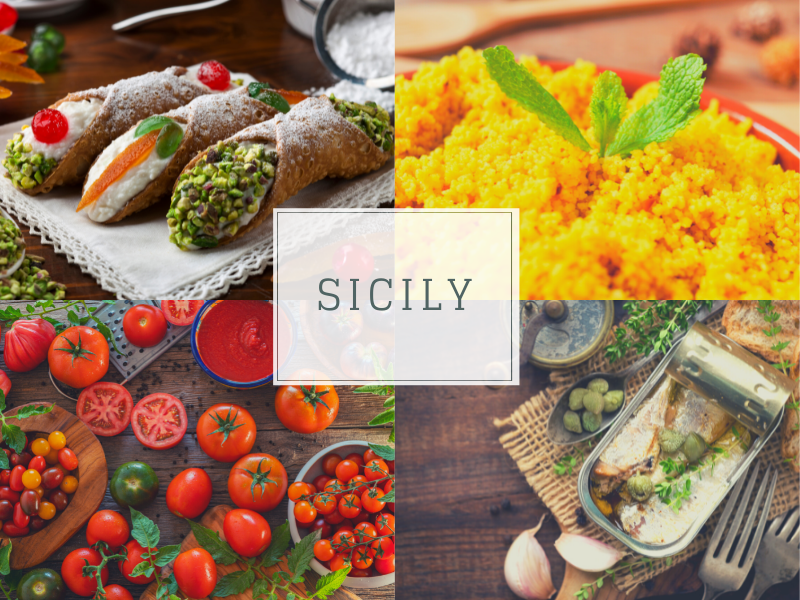 Sicilian gastronomic tradition is one of the richest in Italy. Popular dishes evolved over the centuries due to an amalgamation of cultures that settled there over the millennia.
Cannolo (Cannoli)
Considered the king of Sicilian pastry, cannolo boasts many centuries of history. The dessert consists of a waffle of rolled fried dough filled with fresh ricotta. The filling is enriched with candied orange peel, chopped pistachio, or chocolate chips, depending on the region. Alternatively, the mixture may contain chocolate cream instead of ricotta. If you are ever at a loss about what to eat in Italy you can never go wrong with a Cannoli. 
Cassata
If cannolo is the king of Sicilian pastry, cassata is the queen. The ancient recipe consists of a cake made with fresh sheep's milk ricotta, almond paste (also called royal paste), sugar glaze, and candied fruit decorations. For this typical Sicilian dessert, there is no lack of local variations. A single portion version is called cassatina. 
Arancino
The arancino is a cone or a sphere of stuffed, breaded, and fried rice. The classic method of preparation includes meat sauce and butter, although many variations exist.
Pasta alla Norma
One of the most delicious Sicilian specialties is pasta alla Norma. Characterized by typical Mediterranean flavors, it is prepared with macaroni or other types of short pasta and seasoned with tomato, fried eggplant, salted ricotta, and basil.
Pasta with Sardines
Considered a popular Sicilian first course, pasta with sardines originated in Palermo and has many variations. The most classic recipe includes combining long pasta (bucatini or maccheroni) with fresh sardines, wild fennel, raisins, pine nuts, onion, saffron, oil, salt, and pepper.
Couscous
Traditionally found in western Sicily and North Africa, couscous is commonly found in the area of ​​Trapani. In the local dialect, it is known as cùscusu. 
Couscous is made from durum wheat semolina and steamed in a perforated, glazed pot, combined with various seasonings. Popular variations include fish couscous or vegetable couscous.
ROME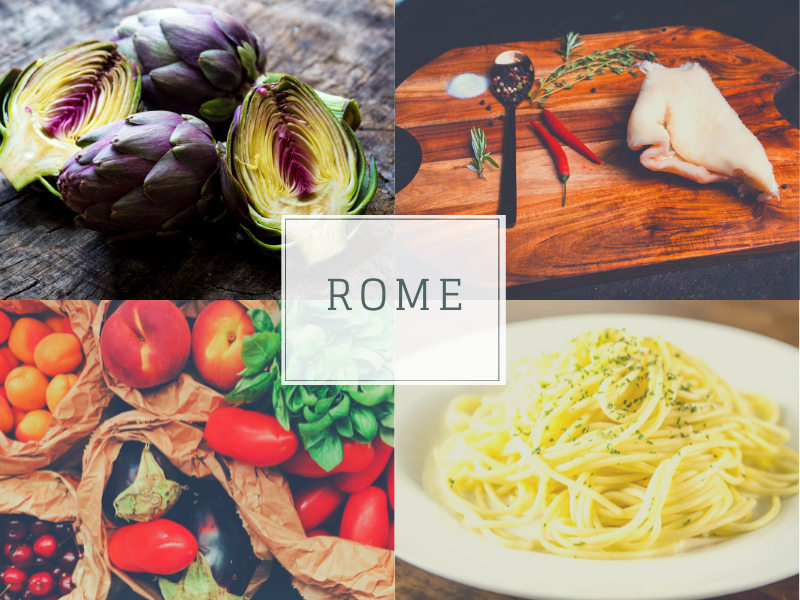 Traditional Roman cuisine consists of simple, easily accessible ingredients and recipes passed down from the kitchens of the working class.
Artichokes Alla Romana
Roman artichokes, which are tender and thorn free are a classic appetizer of Roman-Jewish cuisine. The first step in preparation is to immerse them in water and lemon and then cook the artichokes in a pan with a filling of garlic, parsley, and mint.
Spaghetti Alla Carbonara
A few essential ingredients create this hugely popular dish: spaghetti, eggs, bacon, and pepper. The secret to this pasta is the delicious carbonara sauce made from beating the eggs then tossing them with hot pasta, bacon fat, and topping with pepper. Although Romans and purists demand bacon, pancetta may be used as a substitute if necessary. 
The Quinto quarto: rigatoni with 

pajata and vaccinara tail
Traditionally Quinto quarto (fifth quarter) symbolized the undesirable parts of animals, the internal organs. Once considered the food of the poor today, Quinto quarto ingredients appear in dishes prepared by famous chefs in many of Rome's most excellent restaurants. Popular dishes include; rigatoni with pajata (pasta with the small intestine of the young calf) and Coda alla vaccinara (oxtail cooked for 5-6 hours with celery and bitter chocolate).
Roman-style tripe
Tripe is the lining of a cow's stomach, and the Roman-style preparation is created using a thick sauce, mint, and pecorino cheese. Traditionally eaten on Saturdays, today it is found on many menus throughout the city. For travelers deciding what to eat in Italy, trip would certainly fit the bill for an authentic dining experience. 
Spaghetti Cacio e Pepe 
Spaghetti with cheese and pepper is one of the most timeless Roman recipes. Every household in Rome regularly cooks and eats the simple yet delicious pasta dish. A great dish to order if you are wondering what to eat in Italy when traveling with children, vegetarians or otherwise picky eaters.  
TUSCANY 
Tuscan Cuisine is one of the oldest in Italy. Even today, many of the typical dishes retain their original recipes. Similar to other regional cuisines, Tuscan dishes reflect simple preparations and inexpensive, locally grown ingredients. 
Ribollita
Popular in winter, Ribollita is a soup containing different types of cabbage, beans, onions, and carrots. Essentially a simple peasant soup, Ribollita utilizes stale bread to create a hearty and nutritious dish. The soup is prepared a day in advance, then heated with extra virgin olive oil and boiled again before serving. Top with a drizzle of extra virgin olive oil and a slice of fresh onion for an authentic and delightfully simple meal. 
Castagnaccio
Castagaccio is a dessert made from chestnut flour and enriched with raisins, pine nuts, walnuts, and rosemary. Alternatively, it can be prepared with candied orange peel, rosemary, and pine nuts. Like most traditional dishes, castagnaccio was born as a peasant recipe, when farmers had to make do with the ingredients available, in this case, chestnut flour.
Pappa al Pomodoro
Like many other Tuscan peasant dishes, the main ingredients of the pappa al Pomodoro (tomato soup) consist of stale bread, used to minimize food waste and combined with other simple ingredients such as tomatoes and extra virgin olive oil. 
Florentine steak
A great Florentine steak requires an excellent Porterhouse cut of meat served bloody. 
The steak is grilled over smoldering embers without piercing the flesh, turned once, and salted. Cooking time is approximately five minutes per side. It is served with a sprinkling of ground black pepper and a slice of lemon. If you find yourself in a situation when you cannot decide what to eat in Italy, Florentine steak is always a reliable option. 
Cacciucco
Cacciuccos is a traditional seafood dish found in Tuscan cuisine. Ingredients include lobster, octopus, cuttlefish, and squid. Although it is served in many fine dining establishments today, the original preparation consisted of unwanted fish trimmings and stale bread. Prison sergeants used the soup to feed imprisoned slaves and low-income families before becoming popular with respected chefs and foodies. 
LIGURIA
Ligurian cuisine tends to be light and simply prepared. It is a genuine reflection of the lifestyle led by inhabitants of the Ligurian coast. The main ingredients include fish and seasonal vegetables. Each of the villages and municipalities has its unique specialties, which vary in preparation and flavor. 
Farinata
Chickpea Farinata is a thin unleavened pancake specialty, prepared with chickpea flour, water, extra virgin olive oil, salt, and rosemary. Baked in a hot oven, the pancake has crispy edges and is eaten warm with a sprinkling of ground black pepper.
Focaccia
Prepared from a mixture of water, salt, oil, and flour, Focaccia (flatbread) is crunchy, greasy, and delightful.
Trofie with pesto
One of the main staples of Ligurian cuisine is the Trofie with pesto. This dish is strictly handmade with fresh pasta and pesto made from basil, pine nuts, pecorino cheese, garlic, oil, and salt.
Pansoti
Delicious Pansoti is one of the tastiest first courses in Ligurian cuisine. These large ravioli are stuffed with vegetables and seasoned with walnut sauce.
Pandolce
Pandolce is one of the most ancient Ligurian sweets, created over 1500 years ago. Raisins, wild fennel, pine nuts, and candied fruit are the main ingredients.
Cima Alla Genovese
Cima is an ancient, traditional dish consisting of a veal belly cut to form a pocket, stuffed with different ingredients and then sewn by hand. Once prepared, Cima is boiled in a vegetable broth for several hours. The result is a tasty dish, served in slices and eaten either alone or with bread.
AMALFI COAST
Neapolitan cuisine has ancient historical roots that date back to the Greek-Roman period. Throughout the thousand-year history of settlement and invasion, many cultures have infused the preparation of regional dishes with unique flavors. Neapolitan cuisine has contributed to the popularity of the Mediterranean diet as most recipes contain products such as tomatoes, oil, and vegetables.
Pizza di Scarole
Typically served over the Christmas season, Pizza di Scarole is created from bread or pizza dough stuffed with vegetables combined with olives, capers, pine nuts, and raisins.
Fried anchovies
The Mediterranean Sea is rich in various types of fish, such as anchovies, eaten there for centuries. The residents of Campania incorporated the tiny fish into many of their dishes. Traditionally prepared fried anchovies are served in a cardboard cone.
Parmigiana di melanzane
This delightful and artery-clogging dish is made with fried eggplant filling, layered with cheese and tomato sauce, and then baked. Two variations exist. This first calls for frying the eggplant directly with the oil, while the second requires breading before frying. 
Pastiera
Pastiera is a typical Campania dessert prepared for Easter and Christmas. The main ingredients are wheat, ricotta, eggs, lard, sugar, and candied fruit with a pastry base. 
Casatiello
Casatiello is a nutritious and savory dish, typically prepared for the Easter holiday. The dough is composed of flour, salt, fat, and pepper, stuffed with a mixture of vegetables, cheeses, and boiled eggs. While typically served as an appetizer, it also makes a great accompaniment to salami and salted ricotta. In the provinces of Campania, restaurants serve a sweet variation of casatiello for dessert, covered with icing and sugar.
Mozzarella in carrozza
Simple ingredients are needed to make mozzarella in Carrozza. Stale bread, eggs, a dash of milk, and mozzarella cheese. The cheese is inserted between two slices of bread, dipped into beaten eggs and milk, and fried in oil. 
Sfogliatella
Sfogliatella is a shell-shaped Italian pasty characterized by thin and fluffy layers. Traditional preparation of the filling consists of semolina, limoncello, sugar, and nuts.
Friarielli
Turnips are a vegetable commonly found in the inland areas of Campania. The term friarielli refers to the cooking process. Frijere, which in Neapolitan dialect means frying, is made by taking the tenderest parts of the turnip tops and placing them in a pan with garlic, oil, and chili. In Naples, turnips are a popular side dish served with sausage.
VENICE
Venetian cuisine is bursting with flavor. The main ingredients of the region's gastronomic specialties consist of seafood, vegetables, corn, and gamy meat. 
Baccalà Mantecato 
"Baccalà" is the name that the Venetians give to stockfish. The arrival of this fish in the Venetian tables dates back to the 1500s. The stockfish, which today is an essential element of Venetian cuisine, comes from Norway. 
The secret to an artful presentation of Baccalà is that the fish is cooked in milk and then transformed into a soft mousse served with toasted bread or polenta. According to the original recipe, the only ingredients used to make stockfish include – oil, salt, pepper, garlic, bay leaf, and lemon.
Polenta e schie
Schille (schie in local dialect) refers to tiny lagoon shrimps. Gray in color, they turn pink once cooked. Despite their size, they have a very intense and concentrated flavor and go hand in hand with polenta. They cross the menu, being proudly served both as an appetizer and as a second course. Schille is either fried or boiled for a couple of minutes and then seasoned with oil, garlic, and parsley.  
Venetian mixed fried fish
What could be a better way to discover a new city for a hungry tourist than exploring authentic street food? Italy is one of the world's homelands of street food, and Venice is no exception. One of the most ancient dishes of Venice is the scartosso de pesse (foil of fish): a mix of fried fish and shellfish accompanied by a slice of polenta wrapped in a yellow paper cone (the "cartoccio"). Scartosso's popularity dates back to the 1600s when freshly caught fish was fried and offered to fishermen returning from the sea. Today the scartosso is a favorite with Venetian street food vendors, sold in the classic cardboard cone. Similar dishes exist in other parts of Italy, going by the name of cartoccio. If you are on the go and wondering what to eat in Italy, a quick stop at a food vendor should satiate your hunger. 
Bigoli in salsa
Bigoli in salsa is served as a first course and made with a spaghetti-like pasta (only thicker) in durum wheat, prepared with a special sauce of onions and sardines. Once served as a specialty for Christmas Eve dinner, today, you can order it at any restaurant, at any time of the year.
Sepe with black ink
Sepe is cuttlefish cooked in a pan with oil, garlic, parsley, white wine, and ink. A newer variation with tomato sauce is also excellent and frequently found on restaurant menus.
Risi e Bisi 
Risi e Bisi is a soft risotto prepared with peas and rice. Butter gives the risotto a unique and particularly delicate taste.
Boutique Travel Advisors is a full-service, luxury travel agency. We specialize in creating bespoke itineraries for discerning clients around the world. Please visit our website or call 480-787-1477 to speak with a dedicated travel expert. 
Are you planning an international or domestic trip? Check out our other articles to help you come prepared!
We highly recommend the purchase of travel insurance to protect your financial investment and health while traveling internationally. To purchase a policy with our preferred travel insurance company Chubb click here.
At this time, anyone that resides in CA, CO, KS, MN, MO, MT, NH, NY, PA, TX or WA is unable to purchase an insurance policy online. If you would like assistance purchasing a travel insurance policy, please get in touch with a BTA advisor.
https://travelbta.com/a-regional-travel-guide-to-understanding-italian-wine/