Italy is, without a doubt, one of the most beautiful countries in the world. It attracts millions of visitors to its ancient cities, stunning coastlines, quaint villages, and mesmerizing museums each year. It is also renowned for producing some of the highest quality wines in Europe. Thus, drinking wine is a quintessential part of any Italian adventure. But you do not have to be a connoisseur to enjoy tasting experiences or understanding Italian wine. 
Wine is not just an object of pleasure, but an object of knowledge; and the pleasure depends on the knowledge.

Roger Scruton
Oenophiles could spend a lifetime traversing the vast landscape in search of the perfect blend, best varietal, and perfectly aged vintage. For the rest of us, deciding on the regions to visit and which wines to taste does not have to be complicated. A bit of curiosity, a basic understanding of geography, and deciphering some simple key "code words" enables all travelers to enjoy enhanced tasting experiences. Whether deciding which bottle to order with dinner or which vineyard to visit in the Tuscan countryside, this guide will give you a fresh perspective on the wines you thought you knew and those you may have never heard of. 
While summer is the season of cruise ships, tour buses, and lazy days on the beach, fall is harvest season. It is the best time of year to experience festivals, celebrations, and tastings that bring vineyards to life. Wine festivals in Italy range from small family and local gatherings to finely curated, multi-day international gourmet tasting events.
Although the list of incredible wine festivals around Italy is endless, many wine connoisseurs and casual wine lovers plan their Italian adventures centered around particular events. Here are two of our favorites:
Chianti Classico Wine Festival – This annual celebration takes place on the second weekend of September. The Chianti Rassegno or wine tasting is held in the Piazza of Greve in Chianti.
Merano International Wine Festival – This incredible multi-day affair takes place in November and features over 400 of the best wine producers in the world. Attendees spend their day tasting unique delicacies from culinary specialists, attending lectures and guided tours, and of course, sampling exquisite wines.
HISTORY
Wine production has been part of Italy's tradition, culture, and heritage for over 4,000 years. Many people grew grapes on their land throughout history, producing small batches of wine for personal consumption. Over the centuries, varying microclimates, soil conditions, and farming practices resulted in over 1000 known grape varieties in Italy alone. Given its storied past and frequently changing borders and occupations, Italians identify themselves based on their home region – Sicily, Tuscany, Umbria, etc. Thus, the wine designations follow the regional identity.
Today, there are 20 distinct regions in Italy, each with unique cultures, cuisines, and wines. 
Italy's vast territories offer the perfect soil for cultivating grapes that produce delicious red and white wines. In addition, many Italians continue the tradition of growing grapes and making small batches of wine for personal consumption or local distribution. While there are many nuances and criteria for categorizing the quality of wine, specific designations offer a good hint as to the caliber of wine in the bottle. For example, labels can help you differentiate between generic table wine, good regional wines, and exclusively prestigious wines. Although, of course, any good bottle must also pass a personal taste test.
WINE DESIGNATIONS
VdT- Vino di Tavola/Table Wine 
Often served in a carafe at many local restaurants in Italy, any region can produce daily drinking wines using whichever grapes they wish. Growers have free reign over how the wine is produced, its maturity, and which grape varieties are used. Labeled only by their color – Rosso or Bianco, they are not generally exported out of the country. As a result, these wines are typically low-cost and plentiful. 
IGT- Indicazione Geografica Tipica
Wines with the IGT designation indicate the region from which the wine originates but not necessarily the particular types of grapes used. When first established, the designation intended to provide a tier above the basic house wines. However, today over 120 IGT's exist in Italy, many of them crafting delicious and highly regarded wines such as the so-called "Super Tuscan Wines." These winemakers eschew traditional standards and experiment with unique combinations and varietals forbidden for winemakers following strict regulations of DOC and DOCG. 
DOC –  Denominazione di Origine Controllata 
Wines with the DOC designation must follow specific and strict standards regarding the origin and style of the wine. To qualify as DOC, grapes must originate from a particular zone within a region or province. Furthermore, the wines must be made in the zone, following a strict recipe that dictates the production process, aging, yield, and grapes used. 
DOCG –  Denominazione di Origine Controllata e Garantita
The DOCG designation is the most coveted and respected in Italy. Wines are produced following stringent guidelines, allowing for low yields and requiring a longer aging process. Before bottling, the wine must undergo a taste test by a certified inspector. Each prestigious DOCG bottle is then carefully sealed and numbered with an official government stamp. 
Italy's Wine Regions
ABRUZZO WINE REGION
Montepulciano d'Abruzzo (red)
Sangiovese (red)
Trebbiano d'Abruzzo (white)
Abruzzo is a predominantly mountainous or hilly region known for its charming towns and medieval villages as its fine wines. The most famous grape is the ever-popular Montepulciano, widespread throughout the area producing the highly acclaimed Montepulciano d'Abruzzo DOCG.
From Montepulciano, you also get the rosé Cerasuolo d'Abruzzo DOC. This wine is fruity, fresh, soft, full-bodied, and easy to drink. It is an excellent accompaniment to a variety of dishes.
Trebbiano d'Abruzzo, another DOC of the region, is known for its excellent acidity and is usually used as a cut to give freshness to blends. 
EMILIA-ROMAGNA WINE REGION
Lambrusco (red)
Sangiovese (red)
Albana (white)
The history of vineyards and their wines in Emilia-Romagna dates back to the pre-Roman era. Although this part of Italy may not be considered one of the premier wine regions, the cuisine, scenery, and history make it a worthwhile destination.
In Emilia, Lambrusco varieties of wines which are considered especially valuable, originate in the western part of the region. In the eastern part of the area, Romagna, production is varied, devoted to both dry and sweet red and white wines. 
The most widespread international varieties in Emilia-Romagna are Chardonnay, Sauvignon Blanc, Cabernet Sauvignon, and Merlot. The Albana di Romagna was the first Italian white wine to receive the recognition of the DOCG. 
Lambrusco is a brightly colored grape variety used to make sparkling red wines that align with Emilian cuisine, especially with the typical local salamis. One of the most notable is the Lambrusco Grasparossa di Castelvetro DOC, produced in the hilly areas near the medieval village of Castelvetro in the province of Modena. The best Lambrusco wines are dry and semi-sweet. 
Romagna is famous for the red wine produced with Sangiovese grapes. The name means Blood of Jupiter, believed to be derived from Mount Giove, near Santarcangelo di Romagna, in the province of Rimini. Sangiovese di Romagna was the first red wine in the region to obtain the DOC. It is produced in a vast territory, from the province of Bologna to the eastern coast of the Adriatic Sea.
LOMBARDIA WINE REGION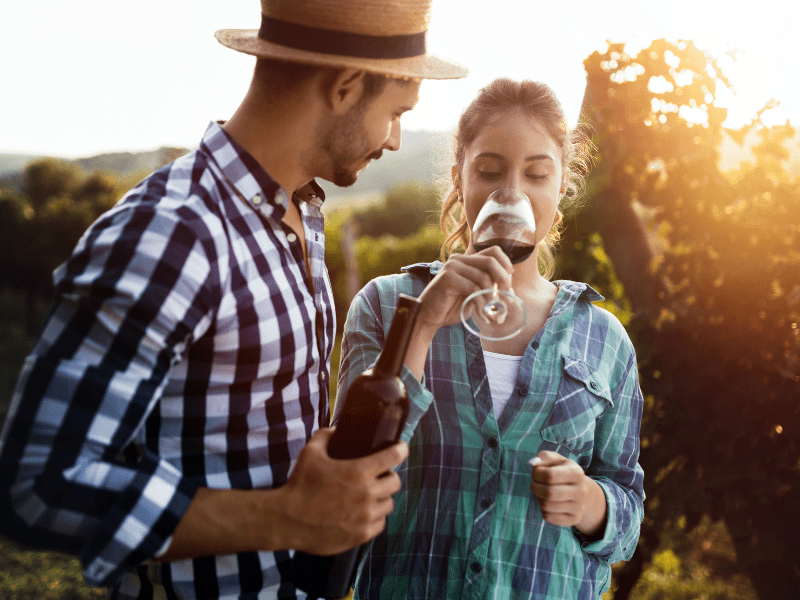 Grumello (red)
Inferno (red)
Sassella della Valtellina (red)
Bonarda (red)
Barbera dell'Oltrepò Pavese (red)
The vineyards of Lombardy are vastly scattered over 30,000 hectares. Valtellina vineyards are located on mountain slopes on the right side of Adda. In this area, the most common type of cultivation is Guyot.
In the Oltrepò Pavese, the most widespread grape is Barbera, followed by Croatina, Bonarda, and Uva Rara. Lake Iseo, Franciacorta, is known for cultivating Pinot Nero, Pinot Bianco, and Chardonnay grapes. Groppello, Barbera, Marzemino, and Sangiovese vines are cultivated in the Garda and Colli Mantovani areas.
PIEMONTE (PIEDMONT) WINE REGION
Barolo (red)
Barbaresco (red)
Gattinara (red)
Ghemme (red)
Nebbiolo (red)
Freisa (red)
Grignolino (red)
Barbera (red)
Dolcetto (red)
Piedmont is one of the largest and most celebrated Italian wine-growing regions. While it is widely renowned for producing phenomenal red wines, excellent white and sparkling varieties are also made.
The production area of Barolo includes five famous towns: Barolo, Castiglione Falletto, La Morra, Serralunga d'Alba, and Monforte d'Alba.
In addition to making excellent wine, each of these towns is charming, historic, and worthy of exploration. 
For years considered the "little brother" of Barolo, Barbaresco is an extraordinary wine made from Nebbiolo grapes. Barbaresco is generally considered more elegant and refined than the nearby Barolo, produced in the localities of Barbaresco, Treiso, and Neive.
The Langhe region is located near the city of Alba and includes the areas of Barolo and Barbaresco. In addition to Nebbiolo, other grapes are cultivated, such as Dolcetto and Barbera. Among the essential areas for Dolcetto are Dogliani and Diano d'Alba.
Monferrato and Asti wine areas located in the south-eastern part of the region are known for Barbera. In Monferrato, the Barbera is slightly sparkling, while in Asti, it produces a still, full-bodied wine.
The Grignolino creates red wines with generally light colors and enjoyable taste. The Freisa black-skinned grape makes various red wines, from dry and sparkling to sweet and still. Those seeking a truly unique tasting experience may enjoy Ruchè wines. A small production red varietal was granted both DOC and DOCG status and found in a few villages around Castagnole Monferrato. It is one of the lowest production varietal wines in all of Italy. 
The famous Brachetto d'Acqui red wine, classified as DOCG, is a sweet, intensely aromatic sparkling wine with low alcohol content. Gavi is a favorite DOCG white wine, distinguished for its highly crisp, floral, and balanced flavor. 
Asti is a lovely town, located approximately 55 km from Turino and famous for the Moscato Bianco and the sweet sparkling wine that bears the city's name. The success of the Asti Spumante is due to Carlo Gancia, who in 1865 decided to make sparkling wine with Moscato Bianco grapes.
The northern area of Piedmont produces red wines from Nebbiolo. While lesser known than those of Barolo and Barbaresco, the wines offer an exciting flavor and texture. Lessona, Bramaterra, Boca, Sizzano, and Fara are the DOC wines of the northern area of Piedmont produced with Nebbiolo grapes. 
PUGLIA (APULIA) WINE REGION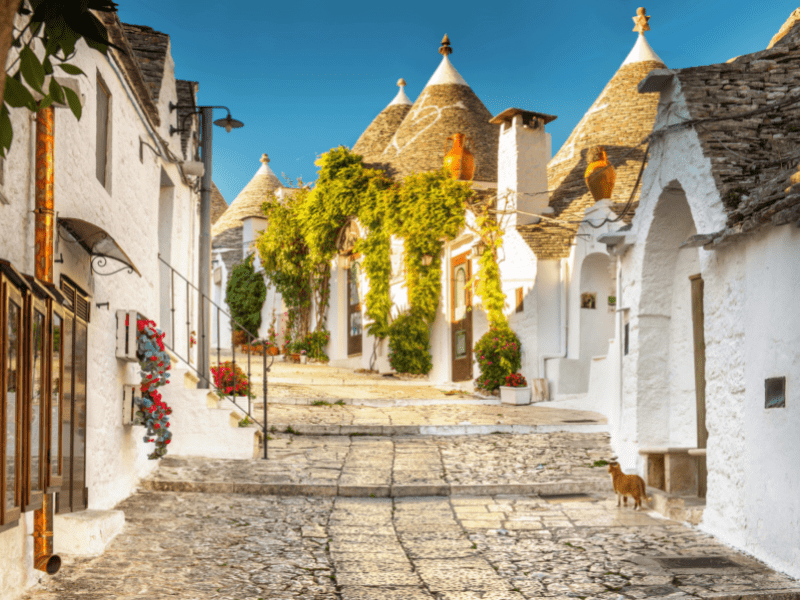 Primitivo di Manduria (red)
Salice Salentino (red)
Puglia produced one the highest quantities of wine in all of Italy. For many years the wine from Puglia destined for other areas of Europe was used as a "cutting" wine to reinforce local wines, giving color, structure, and alcohol. In recent years, the Apulian producers have begun to devote themselves to quality production, as they became increasingly aware of the region's enormous potential. Negro Amaro, Primitivo, and Uva di Troia have gained international prominence in recent years, marking a renaissance of Puglia wines.
In Puglia, wine production is a way of life, blending tradition and culture. Favored by the warm climate and abundant sunlight, vines have been present in Puglia since before Greek colonization. 
Varieties considered indigenous such as the Negro Amaro and Uva di Troia was introduced by the Greeks. As a result, Puglia produces an array of reds, rosés, and exciting white wines. Despite being a grape with no "historical" links with Puglia is, in fact, the most cultivated and widespread white grape of the region. 
SARDEGNA (SARDINIA) WINE REGION
Vermentino di Gallura (white)
Cannonau (red)
Vernaccia (white)
Sardinia has many varieties of native grapes. Central and Northern parts of Sardinia focus on the production of white wines. Southern parts of the island produce mainly red wines.
The largest production areas for wine in Sardinia are Vermentino di Gallura, Cannonau di Sardegna, and Vernaccia di Oristano.
Vermentino grapes produce the most famous light-bodied white wines of Sardinia. This grape produces excellent wines throughout the island, but Gallura is the most classic and representative area in the northern part of the region. Vermentino di Gallura is the only DOCG wine of Sardinia.
Cannonau (the local name for Grenache) is the most famous black grape of Sardinia, cultivated throughout the region but typically found near the city of Nuoro. Vernaccia di Oristano is one of Sardinia's most evocative and ancient wines since the first historical information dates back to the 1300s. Wine production in Sardinia is unique as the maturation and aging process follows ancient traditional methods. 
TOSCANA (TUSCANY) WINE REGION
Chianti (red)
Vino Nobile di Montepulciano (red)
Brunello di Montalcino (red)
Vernaccia di San Gimignano (white)
Of all the regions in Italy, none evoke the same degree of nostalgia and longing as Tuscany. Best known for its famous red wines: Chianti, Brunello di Montalcino and Vino Nobile di Montepulciano excellent white wines such as Vernaccia di San Gimignano are also popular. 
The origins of viticulture in Tuscany dates back to the Etruscan period but gained mass popularity in medieval times when wine became an essential product for commerce. 
Red wines constitute approximately 70% of wine production in Tuscany, including Sangiovese (and its variants), Canaiolo Nero and Ciliegiolo. The most common white grape in Tuscany is Trebbiano Toscano, followed by Malvasia Bianca Lunga, Vernaccia di San Gimignano, and Ansonica. 
Brunello di Montalcino is perhaps the most famous Tuscan wine, prized for longevity, boldness, and balance.
Holding the DOCG classification, many wine critics consider it to be the best wine produced in Italy. Brunello is made with 100% Sangiovese grapes. It requires five years of aging after harvest (six for the reserve), a minimum maturation period of two years in oak, and an additional four months in the bottle.
Chianti wines are generally made using Sangiovese and Canaiolo Nero grapes. However, despite the presence of "international" grapes in Chianti, many producers are still exclusively using traditional local vines keeping the flavor and consistency authentically Tuscan.
The Vernaccia di San Gimignano DOCG is a fine white wine made with Vernaccia grapes in and around the beautiful hill town of San Gimignano.
Vino Nobile di Montepulciano, is one of the six DOCGs of Tuscany. It is produced using the Prugnolo Gentile grape, with the addition of Canaiolo Nero grapes. 
Super Tuscans
The term Super Tuscans was born decades ago out of frustration with Italy's traditional wine production regulations. Ambitious and talented producers wanted the freedom to experiment using different grapes without the constraints of the Italian appellation system, known as DOC. Without strict regulations, Tuscan winemakers have had the ability to alter wines and play around with unique combinations, tastes, and flavors.
Super Tuscans are high-quality Tuscan red wines that do not adhere to traditional blending laws for the region. Chianti Classico wines as an example, are made using a blend of grapes with Sangiovese as the dominant variety.
The creation of the IGT category specifically addressed the need of consumers to be able to identify a non-standard wine of guaranteed quality such as the Super Tuscans.
SICILIA (SICILY) WINE REGION
Marsala (white and red)
Nero d'Avola (red)
Cerasuolo di Vittoria (red)
Sicily is an area rich in natural beauty, alluring beaches, ancient towns, and a superb variety of food and wine. The region produces both fragrant dessert wines as well as robust reds and exciting white varieties. Understanding Italian wine in Sicily requires travelers to also experiences the deeply rooted culinary traditions that are interwoven with history. 
The Sicilian wine territory also includes, in addition to the island itself (the largest in the Mediterranean), the Aeolian Islands and Pantelleria.
The most famous black grapevine is Nero d'Avola, whose wines are characterized by intense aromas. Among the white grapes, the best known is the Zibibbo, used in creating the sweet wines of Pantelleria, today considered among the best in Italy. 
One of the most famous wines in the region, the Marsala, has risen from its humble beginnings to become a well-regarded liqueur produced with Grillo, Inzolia, Catarratto, and Damaschino grapes. Marsala Vergine Stravecchio (with at least ten years of maturation) explosion of aromas and flavors.
VENETO WINE REGION
Amarone della Valpolicella (red)
Breganze Bianco (white)
Bardolino (red)
Soave (white)
Veneto is the leading wine producer in Italy in terms of quantity. Wine stores and restaurants around the world carry the popular wines of Amarone, Soave, Prosecco, Valpolicella and Bardolino. Colline del Garda Veronese and Valpolicella cultivate black grapevines such as Corvina, Rondinella, and Molilnara, which give rise to Bardolino and Valpolicella wines.
Between the Monti Lessini and the Berici Hills, we find the area of Soave and Gambellara, known for its white wines based on Garganega grapes.
The most famous red wines in Veneto come from Valpolicella. Dried grapes of the Corvina, Rondinella and Molinara vines produce the dry wine Amarone. The first wine production area of Prosecco is in the Treviso region, in particular, the location of Conegliano-Valdobbiadene and Montello-Colli Asolani.
Veneto's most famous white wines are produced in Soave, near Verona, using native vines Garganega and Trebbiano di Soave. The classic area includes only two municipalities, Soave and Monteforte d'Alpone.
Deciphering Italian Wine Labels
The first step to understanding Italian wine is reading the label, and this is one of those times when it's ok to "judge a book by its cover." Italy produces hundreds of superb wines each year but deciding which bottle to order can seem overwhelming. 
Although the general information printed on wine labels is fairly standard in Italy, each wine producer creates unique and authentic labels for their brand. Decoding the labels at first glance can therefore be challenging.
To help break it down, we compiled a list of what you're likely to encounter on most Italian wine labels:
VINTAGE YEAR
The vintage year is usually printed towards the top of the label and signifies the year of the grapes harvest. Most countries require that at least 95% of the wine contain grapes harvested from only that year. 
BRAND/NAME OF WINE
In many parts of the world, wine is named after the growing area or appellation where it originated. However, wine is named for the estate in certain regions where vineyards are plentiful, and wine producers want to differentiate themselves and their products. This is especially common in Tuscany, where rolling hills, ideal growing conditions, and centuries of history make wine production a regional staple. Therefore, the brand name must have the largest font and most prominent location on the label to ensure easy recognition.
WINE QUALITY
In Italy, legal rankings often differentiate the quality of the wine – IGT, DOC, and DOCG discussed earlier. This ranking appears on the bottle generally under the growing region. In addition, the word "Riserva" is often used to differentiate wine matured for a certain number of years. The "Riserva" designation is heavily regulated and is another indicator of the wine's quality. 
WINE PRODUCER
In Italy, reputation is everything. It is often the producer's name that sells the wine long before taste tests and seasonal awards. In many regards, the producer's name is the most critical part of the label. Therefore, if you are unsure which bottle to purchase, the safest way to decide is to follow the producer. 
WINE APPELLATION/GROWING REGION
Italy has many growing regions, each with its unique characters, climates, and styles of wine production, which influence taste and flavors. Therefore, appellations are often listed on the label to help buyers identify the likeliest characteristics of the wine.
Whichever region of Italy you choose to visit, rest assured that there will be many wine cellars, growers, and producers to entertain, engage, and guide you. In Italy, wine is as much a part of the culture and history as the sun, the sky, and the sea. Understanding Italian wine is therefore as much about understanding yourself as it is the flavors and aromas bottled inside.
Join The Luxury Travel Inspiration FREE Facebook Group For Insider Secrets and Special Giveaways!
To elevate your experience at any of the above-featured properties, to learn about securing exclusive amenities at our hotel partners, or for assistance planning your next trip to another desirable destination, please contact Boutique Travel Advisors. 
We highly recommend the purchase of travel insurance to protect your financial investment and health while traveling internationally. To purchase a policy with our preferred travel insurance company Chubb click here.
At this time, anyone that resides in CA, CO, KS, MN, MO, MT, NH, NY, PA, TX or WA is unable to purchase an insurance policy online. If you would like assistance purchasing a travel insurance policy, please get in touch with a BTA advisor.
https://travelbta.com/how-to-plan-the-perfect-girls-getaway-and-not-break-the-bank-or-risk-safety/
https://travelbta.com/how-wellness-travel-can-heal-and-restore-2/