We have all coped with the stress in today's world and often find ourselves afflicted with the cliché daydream of teleporting onto a picturesque, tropical beach. An image of beach scenery typically sparks the imagination so mind-blowingly beautiful it makes you question if such an idyllic paradise exists. However, if you have visited Hawaii, you know that it does. So whether you're planning a Hawaii family vacation or a romantic getaway picture yourself leaving delicate footprints on a velvety white sand beach at sunset, or hiking through lush rainforests, motivated by the sweet promise of a blissful refreshment underneath a waterfall. However, since the state is compromised of multiple islands deciding on the best place to visit in Hawaii is a valid concern.
Well, if we have learned anything in the unforeseen reality we are living in today due to the global pandemic, it is this: Life is too short, unpredictable, and delicate to passively sit, wait and wish for the perfect timing to do what you have always wanted to do. As you put your plans and dreams on hold, whether it is at your discretion or not, life speeds by. It speeds right past you, brazenly (almost mockingly! *gasp*), waving at you as you shyly draw circles in the sand with your toes, stalling to decide whether to take action or to succumb to your circumstances.
In due time, before you let any more precious time and opportunity slip through your fingers, and as you decide to take that much-needed, well-deserved Hawaii tropical vacation, finally, there is one decision you must make. Before taking the next step in actively turning your dreams into a reality, you must ask yourself: Which Hawaiian island is the best for me?
Planning a highly anticipated, once-in-a-lifetime vacation is not to be taken lightly, considering the time, money, and energy invested into making it happen. It is a given that each destination can always offer something for someone, but not everything for everyone, and Hawaii is no exception. Planning your trip to Hawaii, consider the seasonality and budget. If finding great Hawaii trip deals for your Hawaii family vacation is a top concern, plan your trip outside of the peak travel seasons of Festive, Spring break, and summer vacations. 
The destination of Hawaii is a world of its own. Each island in the Pacific embodies its unique personality and diverse approach to embracing the U.S. state's natural environment, culture, and beauty. Hawaii consists of 132 islands and six main islands, including Hawaii (the Big Island), Oahu, Maui, Kaua'i, Lana'i, and Moloka'i.
It is essential to compare these six islands' differences to decide which one will best suit you and your travel party's needs and expectations and deliver the ultimate tropical vacation of your dreams. 
Hawaii (The Big Island) – A Nature Lover's Haven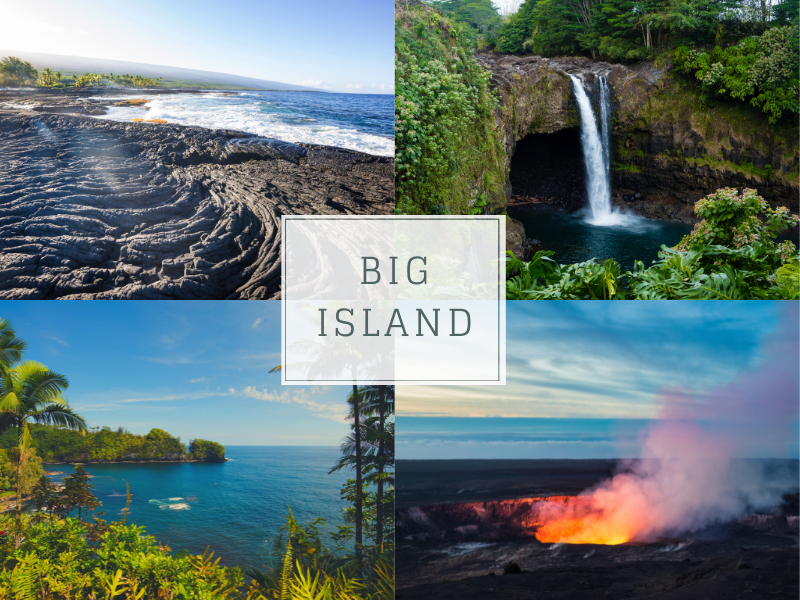 If you debate the best place to visit in Hawaii for nature lovers, the Big Island should be high on your list. The youngest and largest of all the islands, the Big Island has the most diverse climate and natural landscape. Kona, located on the west side of the Big Island, offers a holistic experience for travelers looking for a healthy balance of quiet tranquility and fun adventure. Kona's sheltered and sun-soaked beaches are ideal for snorkeling and scuba diving along the calm, peaceful coast. Fishing in Kona offers a unique experience in a beautiful setting and the chance to catch a trophy fish (Blue Marlin). Kona fishing charters provide everything needed for a successful fishing trip, making it a convenient option for visitors. The Kaloko-Honokohau National Historic Park highlights the extraordinary native marine wildlife and surreal sacred temples along the coast.
East of the island is the lively towns of Hilo and Puna. The warm energy of Hilo makes its local restaurants, cafes, art galleries, and boutiques all the more captivating. For a more nature-driven experience, uncover the hidden oases of bustling waterfalls woven in the luscious depths of tropical rainforests for an actual Hawaii tropical vacation. Journey to the southern tip of the island to Ka Lae and breathe in the fresh, rejuvenating air on leisurely hikes, macadamia nut orchards, coffee bean farms, and of course, the alluring black sand beaches known as Punaluu.
On the south side of Ka Lae is a remote, rural area called Kau, home to the only active volcano in the Hawaiin archipelago, located in the Hawaii Volcanoes National Park. The south tip of the Big Island is also where the ancient Polynesians first settled and named the island Hawai'i.
So whether you are looking for your zen or not, here, you will be sure to relax and relish your senses in the beautiful nature that surrounds you during your stay in a charming B&B or luxuriously quaint boutique hotel. If you are looking for Hawaii trip deals, the Big Island offers a lot of bang for the proverbial buck. With fewer visitors and more open spaces, you can find great Hawaii vacation packages even in peak season, allowing you to stay in one of Hawaii's most beautiful luxury resorts. The Big island is also a great destination for a Hawaii family vacation with school-aged and middle-school children. 
Oahu – The Family-Friendly Heart of Hawaii 
Oh, Oahu! The Heart of Hawaii. Hawaii's most popular and busiest island, the state capital, Honolulu, is located on Oahu. This island is most famous for its iconic attractions, including Pearl Harbor, North Shore, and Waikiki Beach. This island is ideal for families, or any traveler, who can benefit from and appreciate the best of both worlds when it comes to urban big city-island life.
Oahu is the best place to visit in Hawaii if you're looking for action, adventure, and amenities. First, explore the world-renowned surf spots in the North Shore, including the Banzai Pipeline, Waimea Bay, Sunset Beach, and Turtle Bay. Nicknamed "the gathering place" due to the diverse cultures on the island, Oahu is also known to be quite the hub for foodies, offering delicious, gourmet international cuisine throughout establishments across the island. This island also provides frequent Hawaii trip deals owing to its large international airport and a plethora of hotel options to choose from. 
The south side of Oahu in Honolulu and Waikiki offers a lively option for your Hawaii tropical vacation. Entertainment and activities are coupled with tropical weather and the energy of locals. Enjoy a spa day at the beautiful 5-star oceanfront hotels in Waikiki, learn to surf, or take a break from the beach (phew, I know, you are welcome), and treat yourself to the high-end shops, boutiques, and top-tier must-try restaurants lined along the Waikiki strip, Ala Moana and Pearl City. Oahu may be stereotyped as the "party island," but rest assured, there is much more to be offered, experienced, and celebrated with the whole family.  
If you're looking for a more relaxing side of Hawaii, the windward coast of Oahu offers just that. Pick up souvenirs at the Haleiwa Town open-air market, hike through lush tropical forests to Manoa Falls, relax at some of the most serene beaches, explore nearby islands with snorkeling tours, or take a drive to the North Shore for some of the best surf spots in Hawaii. 
Whatever your pleasure, you will always find something special and unique on Oahu that is certain to make your vacation one to remember! So prepare yourselves for an unforgettable Hawaiian adventure, and don't forget your camera.
Maui – Romantic & A Little Bit of Everything 
Known as the Valley Isle, Maui is the second-largest and one of the most popularly visited islands, being a tropical paradise that offers as much R&R as it does adventure. Maui's most popular areas are the island's West and South sides. Suppose you are looking for a luxurious resort and hotel feel, rich history and culture, prime shopping, dining, and thriving nightlife. In that case, the vibrantly spirited towns of Kaanapali and Lahaina on the West side of Maui might be the best place to visit in Hawaii for you. Maui is home to many luxury resorts and hotels and is a great destination for discerning travelers, busy families, and honeymooners.  There are plenty of activities to choose from – explore ancient Hawaiian sites, take a helicopter ride over the coastline, or take a day trip to the neighboring islands of Molokai and Lanai. For some exciting adventures, you can go ziplining, surfing, snorkeling, and deep-sea fishing.
On the south edge of Maui are Kihei and Wailea's towns, which offer a more family-friendly feel and exciting activities for everyone to enjoy. Maui offers many options for both luxurious and budget-conscious Hawaii family vacations. For example, Oneloa Beach, known as "Big Beach, " is on the wonderfully long, stretched coastline," ideal for family beach days or tropical picnics. Fun and exciting for kids and parents to experience authentic luaus, delicious Hawaiin cuisine, a free hula show at the Lahaina Cannery Mall and the Banyan tree park.
Maui's east side is the famous 52 mile Road to Hana, standing as the island's most mesmerizing natural scenery of glorious mountains, lush green rainforests, and dramatic clifftops that cascade into the ocean. In the east area, you will also discover the fantastic series of waterfalls and natural pools known as the Seven Sacred Pools (Ohe'o Gulch) in the Haleakala National Park. The park is one of the most popular attractions in Maui, featuring an immense 10,023-feet volcanic crater that spans over 33,000 acres. This awe-inspiring destination offers visitors breathtaking views and an array of outdoor activities to explore. From hiking the many trails throughout the park to watching a spectacular
Maui can be a perfect honeymoon destination for the adventure-loving, thrill-seeking couple and the ideal destination for an unforgettable family vacation.
If you are looking for Hawaii trip deals, plan your travel in the off-season or shoulder season. Avoiding peak summer dates can save you considerable amounts of money. Want to plan the perfect trip to Maui? We read your mind and wrote an article just for you! 
Kaua'i – The Island for Action + Adventure
If you are looking for a tropical adventure, say Aloha to Kaua'i. As the oldest island housing the most iconic representation of Hawaii, Kaua'i's island is known as the Garden Isle. It is one of the most beautiful islands in the world and offers an environment that has evolved with grace and grit through the years, carving out uniquely spectacular valleys, mountains, and cliffs that do not compare to the other islands. Kaui is perfect for both adult-only getaways (think long walks on the beach, challenging hikes, and lazy days in the hammock) and Hawaii family vacations with children of all ages. 
The town of Poipu in Kaua'i's sunny South Coast is perfect for outdoor activities like surfing, snorkeling, and sunbathing. The town is also home to some of the most beautiful beaches, including Shipwreck Beach and Sheraton Kauai Resort, which offer stunning views of the ocean. For those who prefer land-based exploration, Poipu offers an abundance of biking trails for all levels, horseback riding, and golf courses. 
The North Shore of Kaua'i on the other hand, is home to the spectacular Na Pali Coast, a series of magnificent sea cliffs that are perfect for hiking and exploring. The Kalalau Trail runs along the coast and provides an incredible view of the ocean from above. Visitors can also take boat tours out to sea, where they will be able to observe some of Hawaii's most impressive marine life, including humpback whales, dolphins, and sea turtles. For those looking to relax, charming Hanalei offers plenty of shops and restaurants to explore. Other activities include kayaking on the Wailua River or taking a boat ride around the island to spot some of Kaua'i's majestic waterfalls. 
For those planning a family vacation, Kauai has plenty of activities for the whole gang. With dozens of kid-friendly beaches and waterfall tours in Wailua River State Park, and an Animal Farm with more than 200 animals to interact with, there's something for everyone on Kauai!
The thrill of visiting Kauai comes from adventure-fueled outdoor activities through the island's vastly robust landscape of rainforests, rivers, and waterfalls. Discover what is known as the Grand Canyon of the Pacific, the Waimea Canyon State Park, and prepare to be blown away by this ten-mile, 3,600 feet deep Hawaiian canyon. If you are looking for a place to come alive with a deep, enlivening breath of fresh air, or you need a good excuse to let out a big, healthy "WOO!"… Kauai is the place for you. 
Lana'i – Tiny, Secluded, Private Paradise

The island of Lana'i is known as the Pineapple Isle, and it is a kind of paradise that you do not find in the pages of a travel magazine or on any other of the Hawaiian islands for that matter. This tiny, 90,000-acre island is only accessible by ferry from Maui's island, a mere nine miles away. A chance for a perfect getaway to exclusive small-island life, no mass tourism included.
Lana'i Island houses two excellent resorts, the Royal Lahaina Resort and the Four Seasons, including a world-renowned golf course. This island will nurture the mind, body, and soul with delicious solitude and relaxation. If budget is a concern, and you are looking for great Hawaii trip deals, pair a short stay in luxurious Lanai with more affordable options on the larger islands.
Moloka'i – Authentic + Off-the-Beaten-Path Hawaiian Adventure
Moloka'i's island is perfect for the off-the-beaten-path traveler, as there are no resorts on the island, only smaller, privately-owned accommodations. Just like Lana'i, this island is accessed via ferry from Maui. It offers the opportunity to truly get away and be immersed in a remote, private island life experience while enjoying your Hawaii tropical vacation.
With a population of about 7,000 people and a land area of 260 square miles, this charmingly rustic island is home to some of the region's highest sea cliffs as well as Hawaii's longest fringe reef. Go where the people are not, and you will find yourself moved and beguiled by somewhere otherwordly.
All differences aside, the best, most ideal Hawaiian island for you is that you have the pleasure and privilege of visiting one day. Each Hawaii island offers its magical take on enthralling you and your travel party. In addition, the tropical climate of Hawaii means that it is a destination you can visit year-round, and it is relatively easy to travel to from the United States.
The "one day…" daydream of a Hawaii tropical vacation may offer an illusion of an optimistic, hopeful outlook on your travel aspirations while it actually stands as an empty buffer between your reality and aspirations. However, in trying times of trouble and uncertainty, "one day" is not solely for the wishful thinkers and daydreamers but also for those who have the wisdom, patience, and hope to wait graciously the day that their dreams come true.
The first step lies in wholeheartedly deciding to do just that. That and, of course, the decision on the specific island, accommodations, and flights – but that, my friend, is precisely what Boutique Travel Advisors is here for. So let us plan your next Hawaii tropical vacation and prepare to be awed.
—
Boutique Travel Advisors is a full-service, luxury travel agency. We specialize in creating bespoke itineraries for discerning clients around the world. Please visit our website or call 480-787-1477 to speak with a dedicated travel expert. 
Are you planning an international or domestic trip? Check out our other articles to help you come prepared!
We highly recommend the purchase of travel insurance to protect your financial investment and health while traveling internationally. To purchase a policy with our preferred travel insurance company Chubb click here.
At this time, anyone that resides in CA, CO, KS, MN, MO, MT, NH, NY, PA, TX or WA is unable to purchase an insurance policy online. If you would like assistance purchasing a travel insurance policy, please get in touch with a BTA advisor.
Written by Milica Remetic. All images are courtesy of Getty Images.
https://travelbta.com/blog/your-luxury-travel-essentials-made-simple/
https://travelbta.com/blog/be-transformed-by-the-wonders-of-nature-and-water-in-scandinavia/