All products endorsed by BTA are selected by our team of travel experts based on our personal recommendations. Some of our blogs offer affiliate links. If you make a purchase BTA may earn a small commission. This helps support our website and allows us to continue offering quality content. 
Hawaii might have a small landmass compared to the mainland United States, but it is full of incredible things to do, and amazing places to stay. If you identify yourself as an adventurer, you will find even more to do across the islands of Hawaii. Finding the best adventures in Hawaii is key when planning a trip to the islands.
Whether it be on the rim of a volcano, diving into the deep blue of the island's tropical waters, or delving into the tropical rainforest, there is an adventure waiting around every corner. Here are some of our favorite recommendations for the best adventures in Hawaii.
Our Top 13 Best Adventurous in Hawaii :
1. Hike Among Volcanoes
Hawaii features close access to some of the world's most incredible landforms, volcanoes. Hawaii Volcanoes National Park sits on the Big Island. It includes an active volcano along with miles of lava tubes stretching throughout the Park. There are even ancient petroglyphs in certain parts of the park.
The biggest draw to this park is that it is one of the few places in the world where you can actively witness the creation of land. The active volcanos on this island are currently not considered dangerous, but keep an eye out if that changes.
Another great option for hiking a volcano is available in Maui. Here the infamous dormant volcano, Haleakala, which formed over 1 million years ago has been a sacred location for Polynesian people for centuries. Get an early start and ascend to an elevation of 9,740 feet to witness the sunrise. For those of you who aren't early risers, the sunset hiking tour of Haleakala is equally impressive.
2. Take a Helicopter Tour
The fascinating and unique geology of these islands makes them fascinating to see from above. Helicopter tours will take you above almost any of the islands and oceans that make up Hawaii. 
Maui is arguably one of the best to see from above since it features lush rainforests with hidden gems like waterfalls and hidden pools. In addition, the helicopters usually have six or fewer seats if you want to go with your family or loved ones. It is important to plan any Maui trip during the right seasons, when planning a trip to Maui, we have several tips.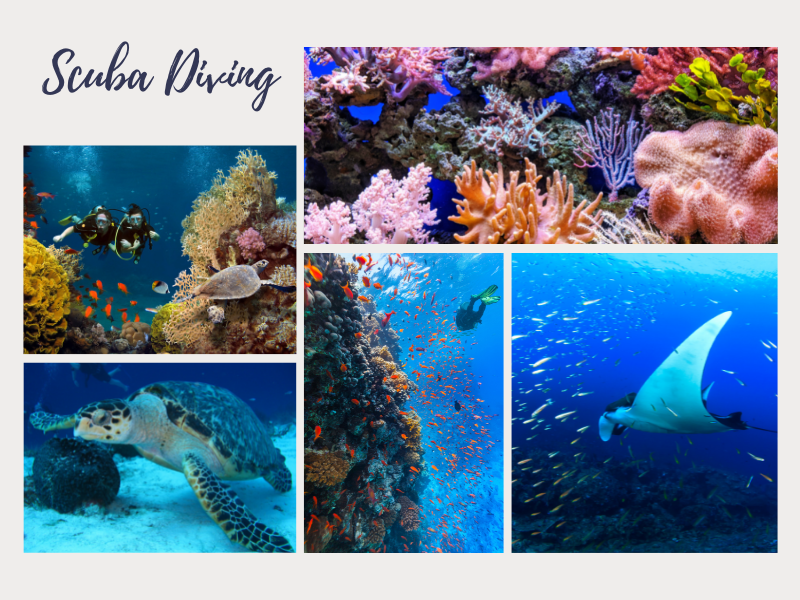 3. Dive with Manta Rays
Manta rays make the area around Hawaii their home for most of the year because of the hordes of plankton present around the Big Island. They specifically frequent a bay north of Kailua-Kona. They come to each night, and snorkelers and licensed divers come nightly to watch them feed, many say this is their favorite of the best adventures in Hawaii.
The local companies have set up spotlights on the ocean floor to attract even more plankton. These spotlights also help make the manta rays even more apparent in the water.
4. Kayak to Secret Waterfall
Kayaking is a beautiful sport to do almost anywhere in the world with lakes or rivers. However, it is even more majestic in a location like Hawaii. Many adventurers recommend heading to Kauai, the garden island, to kayak into some hidden waterfalls.
Many take the route up the Wailua River to take in mountain scenery towards Wailua Canyon. Waterfalls can bring a sense of wellness to travelers, which can be very important during any major vacation.
5. Snorkel with Sea Turtles
Snorkeling is one of the most common of the best adventures in Hawaii, and you can do on almost any island. You don't have to have any training to do this, unlike scuba diving. Maui is a popular snorkeling destination but you can even snorkel among the sea turtles in an area of Kauai called the Tunnels. 
Lava tubes created tunnels and caves under the water. They are home to more than just sea turtles as well, giving you the experience of interacting with all kinds of sea life.
6. Hike the Kalalau Trail
The Kalalau Trail is one of the top 10 things to do in all of Hawaii. On the island of Kauai, the trail is arguably one of the most breathtaking trails in the world. The hike gives you stunning views of the island's coastline and looks down into volcanically formed valleys. Although it is classed as a strenuous hike, it is well worth getting to an otherwise hard-to-reach part of the island.
7. Snorkel in Molokini Crater
One of the other top snorkeling places that we had to call attention to in Hawaii is the Molokini Crater. It is a partially submerged crater of a volcano. The above-water portion forms a stunning crescent that plays into ancient Hawaiian mythology. Nowadays, though, the crater has become one of the world's top snorkeling and diving destinations.
8. Get Your Kicks Racing in the Honolulu Marathon
If you like to wrack up races worldwide, the Honolulu Marathon is one to add to your list. It is one of the top activities on Oahu and will be a star in your running career. It also gives you a great way to explore the island since you run 26.2 miles around it. The race happens every year on the second Sunday in December.
9. Visit the Cat Sanctuary
Visiting cats might not seem like the most adventurous thing you could do on an adventure holiday. However, visiting the cat sanctuary on Lanai gives you the chance to get to one of the tiny islands of Hawaii. In addition, you will find it easier to breathe on the smaller islands since many aren't as visited as the primary islands.
The feral cats have been relocated to the sanctuary to help the population of the island's birds, whom the cats like to hunt.
10. Skydive Over the North Shore
Do you want a more active way to see the island from above, and go on the best adventure in Hawaii? Go skydiving over the North Shore of Oahu. You get to do a tandem dive with your instructor, who will be happy to take you out of the plane with a backflip if you want an extra ounce of adventure. 
11. Cycle on the Big Island
Get your active on with a cycle trip down one of the volcanoes of the mainland. You can choose from several memorable downhill rides or combine trips to go uphill as well as down. Go down Kilauea Volcano to get a view of Volcanoes National Park with the wind in your hair.
12. Go horseback Riding in Tropical Rainforests
There are certain parts of Hawaii's islands that are still essentially inaccessible by road. Take a horseback ride through the rainforest to get to some of the most beautiful and well-maintained natural parts of the islands.
For a unique and eco-conscious experience, take a horseback riding journey in Oahu. Not only will you get the opportunity to discover the historic Gunstock Ranch on a guided horseback tour, but you can also leave your mark by planting your very own Legacy Tree.
13. Have a Shark Encounter
If you love feeling adrenaline, you will likely get quite the satisfying experience from a shark encounter. You can have a shark experience in their habitat about three miles into the sea north of O'ahu's North Shore. It is an experience you won't soon forget, and one of the best adventures in Hawaii. 
Did you know that while Hawaii is an adventure-lovers paradise it is also incredibly romantic and one of the best places for a destination wedding in world?
Boutique Travel Advisors is a full-service, luxury travel agency. We specialize in creating bespoke itineraries for discerning clients around the world. Please visit our website or call 480-787-1477 to speak with a dedicated travel expert. 
Are you planning an international or domestic trip? Check out our other articles to help you come prepared!
We highly recommend the purchase of travel insurance to protect your financial investment and health while traveling internationally. To purchase a policy with our preferred travel insurance company Chubb click here.
At this time, anyone that resides in CA, CO, KS, MN, MO, MT, NH, NY, PA, TX or WA is unable to purchase an insurance policy online. If you would like assistance purchasing a travel insurance policy, please get in touch with a BTA advisor.