The allure of Hawaii never wears off. Travelers get to experience a plethora of activities, beautiful beaches, and the aloha spirit. Spend a day hiking to the top of a gorgeous cliff looking out over the Pacific ocean. Then enjoy an epic adventure on a helicopter ride over an active volcano all while staying at one of the best Hawaii beach hotels. 
For a once in a lifetime experience, take a whale-watching excursion on an evening cruise. And don't forget about the rich and colorful culture steeped into many activities and dining experiences available for all visitors. No matter your vacation style, luxury and Hawaii go hand-in-hand. These tropical islands continue to reign above many others in their hotel and resort experience. Here are 11 of the best luxury hotels and resorts in Hawaii that meet your every vacation and relaxation need.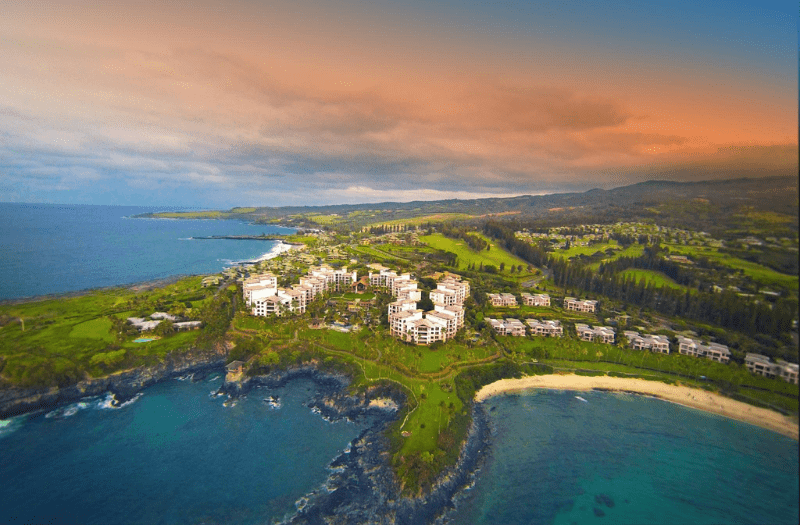 Located on the regal island of Maui, this resort sits on 24 acres, steps away from Kapalua Bay Beach. Montage Kapalua Bay offers residential-style accommodations and is the perfect getaway for all styles of travelers. Families can enjoy the on-site amenities and exciting island activities. Couples looking for a romantic getaway and wedding parties looking to celebrate a union by the calm ocean water will love the ambiance and seclusion. This resort also has a world-renowned spa for guests seeking a peaceful spa experience using local ingredients and treatments. This is truly on the best hotels in Maui on the beach.
It's easy to see why this private oceanfront sanctuary is one of the best luxury hotels in Hawaii. Mauna Lani brings you a one-of-a-kind experience on the big island of Hawaii. While they do offer transformative experiences and excursions (which you can't forget to ask about) to bring you out of your head and into the heart of the island, you might feel just as happy relaxing at the resort.
Gather with your family at Hālau, a village inside the resort with restaurants to try and shops to peruse. You can also meet on their Great Lawn for a drink and a dip in their swimming pools or walk right out to the white sand beach and explore the coastline right near home.
This Maui resort sits at the end of Road to Hana on 66 acres of Hawaiian countryside. The resort offers visitors a chance to stay in an electronic-free room, encouraging them to escape further and recharge during their getaway. You will also be able to explore some of the most beautiful parts of Maui as you'll be close to waterfalls, tropical forests, and revered beaches. If you're looking for one of the best hotels in Maui on the beach without the crowds Hana-Maui resort is an ideal choice.
Another Maui beach hotel treasure, the Ritz-Carlton in Kapalua, is a AAA Five-Diamond resort. It spans 22,000 acres and is home to hiking trails, six pristine beaches, a golf course, and a pool that will leave you in awe. The Ritz caters to your every dining need with six restaurants on the resort grounds to fuel you throughout the day.
Wailea Beach Villas was named by Conde Nast as the #3 Resort in Hawaii in 2019. This oasis offers luxury villas, a gourmet kitchen, a private lanai with a built-in grill, and gardens to peruse as you overlook the Pacific Ocean views. There are also separate adult pools with complimentary cabanas. The hotel concierge can help make your trip even more memorable by arranging babysitting services, spa treatments, and more.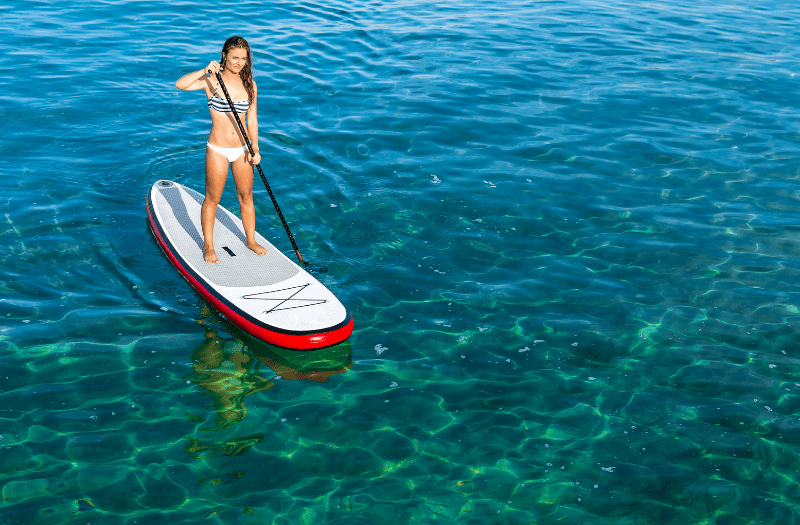 You'll only find one resort on Oahu's north shore, and it's Turtle Bay Resort. It sits on 880 acres of land and gives guests the option of staying in a suite, guest room, cottage, or villa. They also have two landscaped pools, a golf course, a full spa, and a slew of other activities for guests to enjoy, like helicopter rides, mountain bike trails, and a surf school, to name just a few. No wonder Turtle Bay is widely considered one of the best luxury hotels in Hawaii.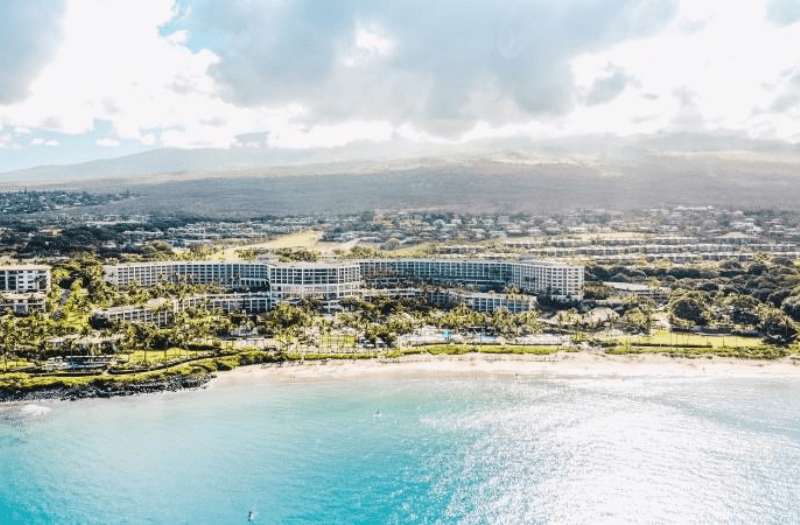 This Maui resort takes luxury to a whole new level. Grand Wailea resort is sophisticated in design and boasts impressive paintings and sculptures for the art enthusiast. Indulge your sense at the 4-Star 50,000 square-foot spa. Then enjoy a dining experience al fresco to capture the magic of a Hawaiian sunset. They also feature a children's camp to enjoy Maui their way, while the parents can sneak off to find a little more relaxation.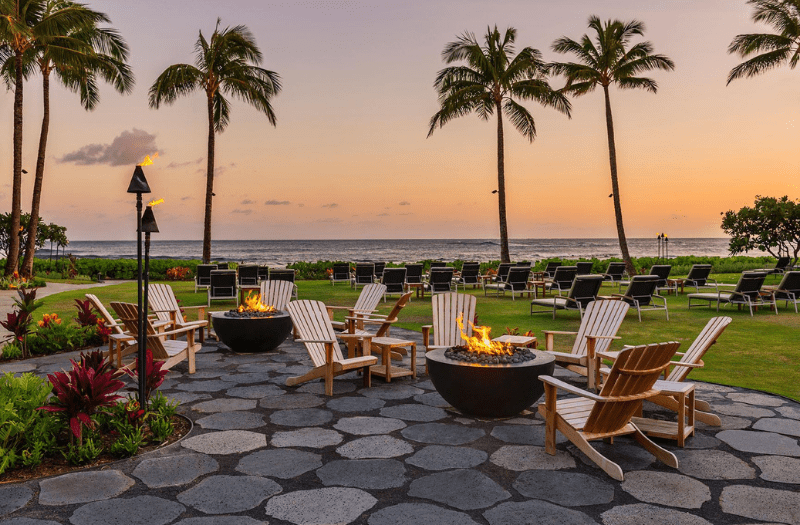 In 2019, this resort was named Travel + Leisure's #1 Kauai Resort & Top Hawaiian Hotel. It's obvious why they were called the winner. Guests have access to award-winning dining experiences, luxury spa services, and a saltwater lava-themed pool that's all seaside and a few feet from the ocean.
Grand Hyatt Resort is located on the sunny side of Kauai island.  It is only 25 minutes from the airport and 5 minutes away from many shopping and restaurant options. The Grand Hyatt Kuai also features a saltwater lagoon, layers of pools for family fun, and a 150-foot mega water slide. Take advantage of the many excursions and activities offered onsite and learn about the beautiful Hawaiian culture at the evening luau.
This new luxury boutique hotel holds 288 rooms and suites for your choosing. They feature a bakery, an eighth-floor pool deck and bar, a large fitness center, and an outdoor terrace for the best views around. Halepuna's serene location on a quiet side street is just steps from the soft white sands of iconic Waikiki Beach and near cosmopolitan shops and restaurants.
Fairmont Kea Lani is another one of our picks for the best luxury hotels in Hawaii. This delightful tropical getaway offers vacation packages and hotel specials for a fully customizable guest experience. The Willow Stream Spa takes ancient traditions and practices and leaves you feeling restored and invigorated again. Polo beach is also just a few feet away, where you can surf, paddleboard, kayak, and scuba dive. Partake in a traditional Hawaiian sunrise chant where locals teach you the basics of paddling and the importance of canoeing for the local people. 
—
Boutique Travel Advisors is a full-service, luxury travel agency. We specialize in creating bespoke itineraries for discerning clients around the world. Please visit our website or call 480-787-1477 to speak with a dedicated travel expert. 
Are you planning an international or domestic trip? Check out our other articles to help you come prepared!
We highly recommend the purchase of travel insurance to protect your financial investment and health while traveling internationally. To purchase a policy with our preferred travel insurance company Chubb click here.
At this time, anyone that resides in CA, CO, KS, MN, MO, MT, NH, NY, PA, TX or WA is unable to purchase an insurance policy online. If you would like assistance purchasing a travel insurance policy, please get in touch with a BTA advisor.
Images & Other Info Provided by the hotels and subject to copyright. 
https://travelbta.com/which-hawaiian-island-holds-the-tropical-vacation-of-your-dreams/
https://travelbta.com/best-luxury-hotels-to-social-distance-in-the-west/