You might think that Paris has dibs on being the most romantic city in France, but the truth is, the country is brimming with some of the most captivating and spellbinding cities in the world.
Below are the 10 most romantic towns in France. So if you are looking for a quiet, authentic, and intimate getaway with your loved one, please read on.
Annecy
If you're seeking a peaceful retreat from your busy life, take a trip to Annecy. This small town in southeastern France is nestled between snowy mountains and the tip of Lake Annecy. The city gives couples a little bit of everything they desire when traveling through France. 
Take a boat ride down the canals reminiscent of Venice, explore the gorgeous lake and charming Pont des Amours, stroll across the bridge of love, and meander down cobblestone streets hand in hand with your love. It's the perfect escape for a couple looking to leave behind the city life for a charming and quaint countryside getaway.
If you've never been to Annecy, it's easy to mistake Paris as the most beautiful city in France.

Elizabeth Wellington
If your idea of a romantic getaway involves a bit of physical activity, throw on your hiking shoes and explore one of the many beautiful trails. The Mont Veyrier Hike offers incredible views over the town and lake. It is moderate difficulty and just over 6 miles long. For a more leisurely experience, check out Semnoz Plateau. This easy hike is around 5 miles long and takes approximately 3.5 hours to complete. On clear days you can even catch a glimpse of Mont Blanc!
Colmar
No list of the most romantic towns in France would be complete without Colmar. This provincial town of half-timber houses, quaint bakeries, flower-filled balconies, and cobblestone streets is considered one of the best-preserved historic towns in Europe. 
This picture-perfect town served as inspiration for the village in Disney's Beauty & The Beast.
Colmar is located in the Alsace region of Northeast France. The area has toggled between Germany and France, who spent centuries fighting for ownership of the city. Therefore, you can find a mix of both country's influences in this region's architecture, gastronomy, traditions, and culture. Rumor holds that during Word War II, the Germans were so enamored with Colmar's beauty that they refused to bomb it. 
For couples, enjoying a boat ride along the canals is the perfect time to relax while you take in the city's sights from a new perspective. Explore nearby villages, scenic vistas, and rich gastronomic traditions.
The Alsace region is also famous for its white wine. Whether you are an avid cyclist or a weekend biker, riding along the Alsace wine route is a favorite pass-time for visitors. Winding roads weave across scenic paths along old railway tracks, meandering through vineyards.
While dozens of vineyards welcome visitors, don't forget to pop into one of the many wine bars in Colmar. Taste-test your way through dry Rieslings, sweet Gewurztraminers, and fruity Pinot Gris. Then, if you want to learn more about the wine culture and production, make an appointment and spend a few hours touring one of the lovely Alsatian wineries. If you are wondering where to stay, there are many wonderful luxury hotels in France, and the Alsace region is no exception. From unique castle hotels to romantic villas, to luxurious private homes, the options are endless. 
Roussillon
The dazzling village of Roussillon is no stranger to high romantic expectations. Located in Provence, where each town oozes charm, it manages to stand out as one of the most romantic towns in France.
Roussillon is located in the heart of one of the largest ochre deposits in the world. The natural pigment infuses every building, giving them an ethereal hue.
France has the only two things towards which we drift as we grow older – intelligence and manners.

F. Scott Fitzgerald
For adventurous couples visiting Roussillon offers the opportunity to experience stunning nature. The village of Roussillon sits at the foot of Monts de Vaucluse, a mountain range of the French Prealps. So put on your walking shoes and follow the Ochre Trails, which take you through earth pillars and hills carved out over the millennia by forces of nature and man. 
The village's beautiful color palette of pink, red, and orange compliments the greenery of the rolling hills and countryside below. The magical hues of the town inspire many artists, and its ochre-washed streets house many galleries and resident painters. Roussillon is indisputably one of the most romantic towns in Provence, France. Unfortunately, many travelers overlook Roussillon, so be sure to add it to your list of places to escape. And if you're wondering about luxury hotels in south of France, worry not, the options are plentiful. 
Étretat
This town in Normandy along the Alabaster Coast was created for lovers and painters. However, Etretat is best known for its massive white cliffs, and rock formations carved out through erosion over time.
Chiselled by wind and waters of the English Channel, the cliffs of Amont, Aval, and the Needle create a spell-binding setting. 
However, the charming period villas and delightful shops beckon travelers to explore a bit deeper. Adventurous couples can attempt to scale the cliffs via a steep path during the day. Then, in the afternoon, head down to the pebble beach and capture magnificent views of the sun setting through the cliff arch.
With such awe-inspiring beauty, it is no wonder that many artists, including Monet, tried their hand at painting the arches and cliffs. As a result, Etretat is one of the most romantic seaside towns in France. 
Eze
Eze is a stunning hilltop village in the French Riviera situated between Nice and Monaco.
What more could you want for a romantic trip than bewitching mountains and seaside views from your perch 14,000 feet above sea level. 
After taking in the sights, stroll with your partner through the medieval town built hundreds of years ago. The oldest building here dates back to the 1300s. 
Before penciling Eze into your itinerary, be sure you're both ok with a lot of walking and stairclimbing. The cobblestone streets are very narrow and run through the village, so pack comfortable shoes and extra water. If you're looking for a place to stay, visit Chateau Eze. The villa affords visitors some of the most beautiful views of the riviera and life below and stunning historical architecture that takes you back in time.
Chambord
There are countless reasons for couples to visit the Loire Valley but none so ravishingly romantic as Chambord. The principal attraction and the crown jewel of this town are undoubtedly the stunning Chateau de Chambord. It is the second most viewed chateau in the world, after Versailles.
In the early 1500s, King Francis I commissioned his team to build his dream castle set in a dense and brooding forest. While no one knows the precise identity of the architect, rumors circle that Leonardo da Vinci inspired the design. 
All magic… all madness is represented in the bizarreness of this palace of fairy kings and queens

Victor Hugo 
While its size and grandeur ensured an architectural masterpiece, the chateau served as a hunting lodge. You can walk or take a 4X4 across the gardens and enchanting trails spanning 20 miles. Then step inside the castle for a chance to explore its 60 different rooms and take in the 360-degree views from the terraces above. 
Carcassonne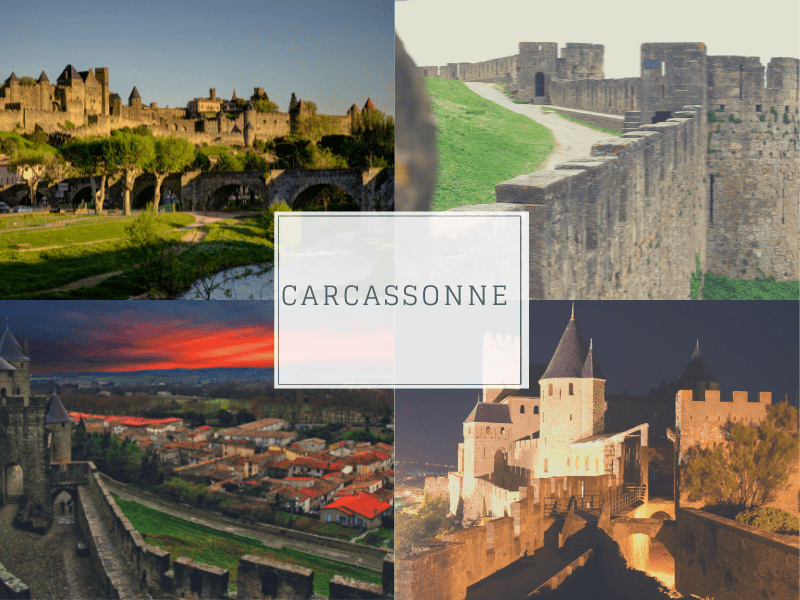 If you and your significant other like exploring castles, the charming town of Carcassonne boasts views of a massive castle sitting atop a hill. Because of the town's complicated history, it's now a French National Monument open to visitors.
For couples wanting to enjoy a taste of award-winning French wine, visit O'Vineyards, one of a few vineyards that cater to English-speaking visitors. For hotels, check out Hotel de La Cité, combining historical features with modern amenities that any luxury hotel will have for their guests.
Saint Jean Cap Ferrat
Another unforgettable location on the French Riviera, Saint Jean Cap Ferrat, sits right on the Mediterranean coast surrounded by lush and wild vegetation as well as crystal clear beaches. Round out your visit with a stay at The Hotel Royal Riviera,  one of the quintessentially beautiful luxury hotels in south of France. 
Couples can enjoy the many trails and walking tours, including the Promenade Maurice Rouvier or the Tour of Cap-Ferrat that boasts an endless view of the seaside.
Saint Jean Cap Ferrat is also an excellent destination for shopping, sunbathing, relaxing, and learning about the history of the French Riviera. This is truly one of the most Romantic towns in south of France.
Rocamadour
Built into the cliffside overlooking the Alzou Canyon lies another medieval village built as a shrine to a Madonna. The shrine became famous for its healing powers and remained a popular destination among tourists for centuries.
The town has one long paved road called the Rue de La Couronnerie lined with medieval houses and gateways. This is a perfect getaway for couples looking to brush up on historical knowledge and visit landmarks like the Notre Dame chapel, Saint Michel chapel, and the Saint-Sauveur Basilica.
Gordes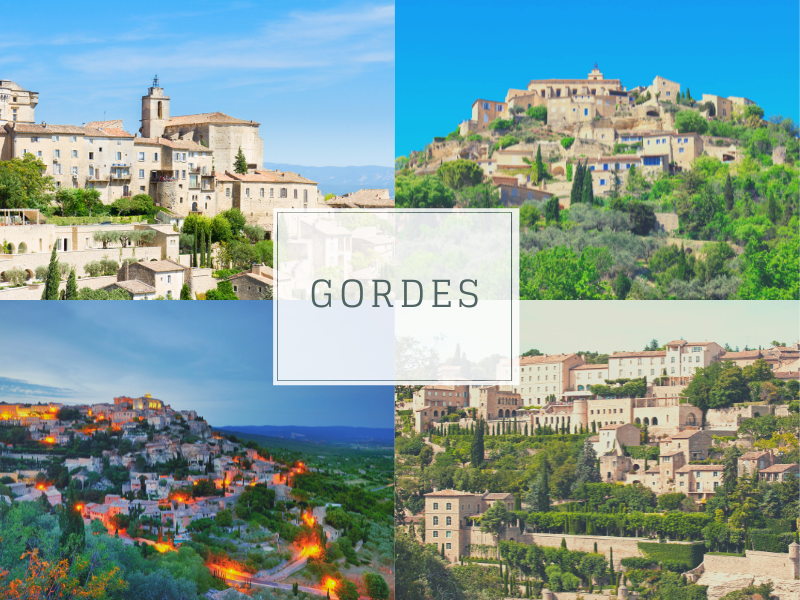 The Village of Gordes is located in Luberon. The area is world-renowned for majestic cliffside villages, fragrant lavender fields, exceptional vineyards, and culture. Don't miss a visit to the Caves of the Palais Saint Firmin. This city was carved out of the rock beneath it during the Middle Ages.
When the Good Lord begins to doubt the world, he remembers that he created Provence.

Frederic Mistral
The gorgeous country markets and boutiques are perfect activities to leisurely pass your time. Enter "Gordes Viewpoint" on your smartphone and locate the ideal place to watch the village bask in the afternoon glow of sunset. It's another great location for strolling, eating, and watching the mesmerizing views of the landscape below.   
If you are planning your trip to France, check out our other articles such as Best Hotels In France for History Lovers and Ideas for Long Weekend Romantic Getaways 
Boutique Travel Advisors is a full-service, luxury travel agency. We specialize in creating bespoke itineraries for discerning clients around the world. Please visit our website or call 480-787-1477 to speak with a dedicated travel expert. 
Are you planning an international or domestic trip? Check out our other articles to help you come prepared!
We highly recommend the purchase of travel insurance to protect your financial investment and health while traveling internationally. To purchase a policy with our preferred travel insurance company Chubb click here.
At this time, anyone that resides in CA, CO, KS, MN, MO, MT, NH, NY, PA, TX or WA is unable to purchase an insurance policy online. If you would like assistance purchasing a travel insurance policy, please get in touch with a BTA advisor.