Our users support our website. Therefore, we sometimes earn affiliate commissions when you click through the affiliate links on our website. Rest assured that all of our recommendations are made whole-heartedly with the intent of helping travelers like you discover the world authentically and responsibly.
Embarking on a cruise line for non-cruisers often involves a dizzying array of travel choices, from commercial flights to scenic train routes. Yet, there exists a travel medium that too often escapes the discerning eye: the cruise line. Typically dismissed by frequent travelers as overly commercial or lacking in authentic experiences, cruises, when carefully selected, offer unparalleled luxury, adventure and the opportunity to explore multiple locales with the utmost convenience. Now, let's explore the 8 Best Luxury Cruise Lines For Ocean Cruises In 2022 and 2023.
"The journey, not the arrival matters."
– T.S. Elliot
For those skeptical of sea voyages, certain cruise lines elevate the experience to such an extent that even the most seasoned globetrotter may find them irresistible. Allow us to guide you through the intricacies of choosing a cruise line for non-cruisers that not only defies preconceived notions but also unlocks access to awe-inspiring destinations in a manner befitting the sophisticated traveler.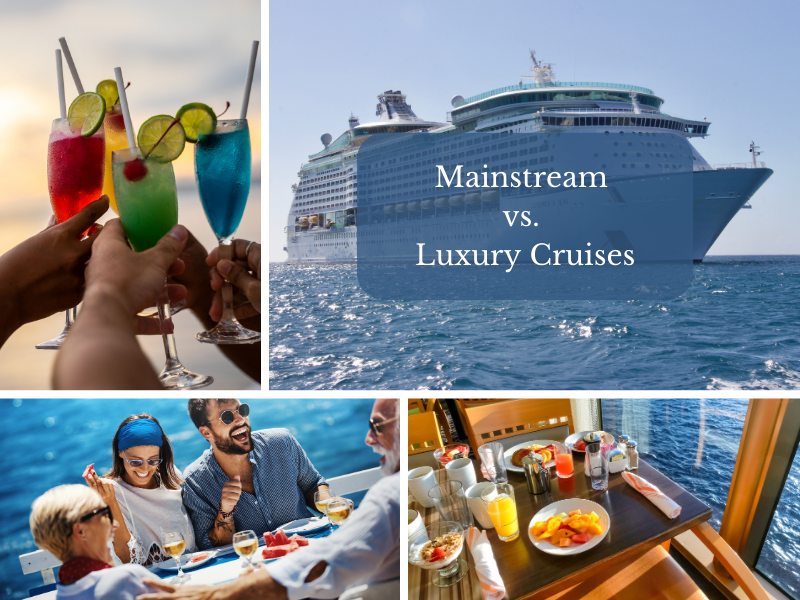 Mainstream vs. Luxury Cruises
"There is nothing more enticing, disenchanting, and enslaving than the life at sea."
– Joseph Conrad
Upon hearing the term "cruise," many individuals immediately conjure images of colossal vessels teeming with thousands of passengers, bustling buffets, and cheesy entertainment options. This perception, primarily shaped by mainstream cruise giants such as NCL and Royal Caribbean, unfortunately eclipses the lesser-known yet infinitely more refined cruise line for non-cruisers available in the market. However, there are exceptional options catering to families, check out our list of the Best Cruise Lines For Families That Adults and Children Will Love.
Smaller ocean cruises, exemplified by companies like Windstar, SeaDream, National Geographic and Explora, provide an ideal cruise line for non-cruisers seeking a more intimate experience. These intimate ships, often carrying fewer than 300 passengers, offer a unique blend of luxury and authenticity beyond the monolithic approach of larger cruise lines. Moreover, luxury cruise lines, often in a category of their own, not only deliver unparalleled comfort but also facilitate the exploration of exotic destinations in a far more personalized manner. Such experiences beckon to those who demand more than just a cursory glance at the world's wonders.
Luxury vs. Niche Cruises
A myriad of options punctuate the travel landscape. Yet, the offerings from niche cruise lines like Windstar, Explora, SeaDream, and Lindblad occupy a singular space distinct from mainstream behemoths and even from their luxury counterparts like Regent, Silversea, and Seabourn. The differentiation is multifaceted, beginning with scale. Unlike large vessels that act as floating cities, niche cruises (with the exception of Explora
 Journeys) focus on a more intimate experience, often accommodating a smaller cadre of passengers. This intimacy lends itself to a customized voyage, replete with opportunities for meaningful interactions and personalized service.
Beyond the tangible differences in size and passenger count, the ethos of these niche cruise lines diverges markedly from others. They cater to travelers with an insatiable intellectual curiosity and sense of adventure, offering a vacation and an educational sojourn. It is common to find expert-led seminars, eco-conscious practices, and experiential activities that dive deeply into local cultures, ecology, and history. 
Meanwhile, luxury lines such as Regent, Silversea, and Seabourn excel in luxury and are designed to meet the desires of travelers seeking refinement and amenities. While they, too, sail to exotic locales, the focus is more on the onboard experience, often likened to a floating five-star hotel. In contrast, niche lines sacrifice none of the comfort but offer a balanced focus between onboard luxury and immersive off-board experiences and provide a unique cruise line for non-cruisers who seek adventure. 
When to Consider a Cruise
"All journeys have secret destinations of which the traveler is unaware."
– Martin Buber
Even for the well-traveled individual who typically eschews cruises in favor of land-based itineraries, there are compelling scenarios where a water voyage offers distinct advantages. Discover how to choose the best one in our guide: How To Choose The Best Expedition Cruise Line For Your Next Adventure. Consider a cruise line for non-cruisers when exploring destinations like the Greek Isles—each island is a unique tapestry of history, culture, and natural beauty. A cruise offers the convenience of exploring multiple islands without the logistical burdens of ferry schedules and accommodation transfers, thus enabling a more comprehensive and relaxed experience. 
Similarly, remote destinations such as Antarctica or the Galápagos Islands are often more accessible and environmentally responsible to visit via specialized expedition cruises. These cruises often collaborate with conservationists and local experts, providing invaluable insights that enrich the journey far beyond the aesthetic allure of untouched landscapes. In such instances, a well-chosen cruise allows the discerning traveler to maximize their exploration and intellectual enrichment without sacrificing comfort or luxury, making it an ideal choice for cruise line for non-cruisers. Learn more about the art of cruising and choosing your perfect cruise in our blog post: The Art of Cruising – Choosing Your Cruise.
Best Cruise Lines for Non-Cruisers: 
In a realm where the conventional boundaries between cruising and yachting blur, SeaDream Yacht Club emerges as the epitome of maritime elegance. Characterized by its intimate scale and a commitment to personalization, SeaDream's twin yachts are less vessels and more like floating boutique hotels. With curated itineraries favoring secluded ports and unique harbors (many of which you may never have heard of), SeaDream offers an intimate escape that is as much about the journey as the destination. Travelers relish what can best be described as 'yachting, not cruising' making it the perfect cruise line for non-cruisers.
1. Fleet Size & Style:
SeaDream's fleet comprises two identical and intimate yachts designed to offer a personal and exclusive experience. The ambiance on board is akin to being on a private boat with understated elegance. Each vessel has 95 crew members and a max of 112 guests
2. Destinations:
Covering the Caribbean, the Mediterranean, and the transatlantic regions, SeaDream focuses on lesser-known ports, allowing for unique exploration and authentic experiences.
3. Onboard Amenities:
SeaDream offers luxury amenities, including a spa, fine dining, and personalized service. Their "Yachting, Not Cruising" philosophy emphasizes informal relaxation.
4. Accommodation:
Staterooms are luxurious but offer a more traditional design. They are equipped with high-end amenities for comfort and convenience.
5. Target Audience:
Catering to those who prefer an intimate, laid-back experience, SeaDream is perfect for travelers seeking privacy and personal attention.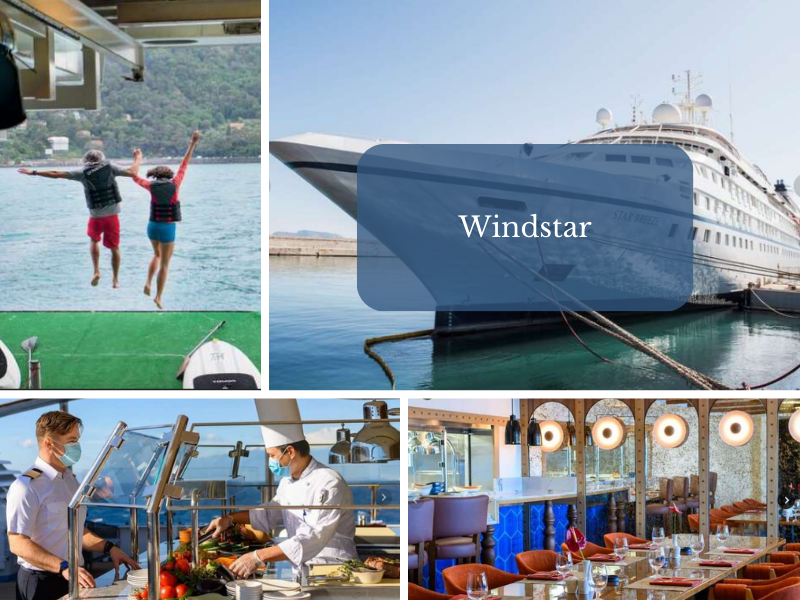 Windstar Cruises takes the concept of sea travel and elevates it into an art form, setting itself apart with a unique combination of small-ship intimacy and casual sophistication. The cruise line's fleet, consisting of both motorized yachts and majestic sailing ships, conveys an ethos of elegance without pretense. Specializing in voyages to less-visited ports and hidden harbors, Windstar allows discerning travelers to explore off-the-beaten-path destinations in an environment that exudes understated luxury.
1. Fleet Size & Style:
Windstar's fleet comprises six small luxury ships with unique charm and character. These ships are designed to provide an intimate and immersive experience, accommodating 148 to 342 guests. They offer two yacht styles — the iconic sailing Wind Class and the all-suite Star Plus Class — with varied journeys that highlight their unique attributes.
2. Destinations:
Windstar Cruises takes you to some of the most captivating destinations around the world while visiting smaller ports and off-the-beaten-path places. From the small islands of the Caribbean to the enchanting ports of Europe and the breathtaking landscapes of Alaska, their itineraries are carefully crafted to offer a blend of iconic landmarks and off-the-beaten-path gems. You can explore charming coastal towns, visit UNESCO World Heritage sites, and immerse yourself in the local culture at each destination.
3. Onboard Amenities:
On board a Windstar cruise, you can expect a range of low-key yet luxurious amenities that enhance your experience. Indulge in high-quality dining with gourmet cuisine prepared by talented chefs, complemented by an extensive selection of fine wines. Relax and rejuvenate at the onboard spa, enjoy live entertainment, or simply unwind on the deck while taking in the stunning views. Additionally, Windstar offers a variety of water sports activities, such as kayaking and paddle boarding, allowing you to make the most of your time at sea.
4. Accommodation:
 Windstar Cruises offers a range of staterooms and suites, ensuring a comfortable stay. Each room is thoughtfully designed with elegant furnishings and modern amenities. Some suites even feature private verandas, allowing you to enjoy breathtaking ocean views from the privacy of your own space.
5. Target Audience:
Windstar Cruises caters to discerning travelers who seek a more intimate and personalized cruise experience. Their target audience includes couples, honeymooners, and individuals who appreciate luxury, authenticity, and the opportunity to explore unique destinations in an intimate and adventurous style. Windstar Cruises is perfect for those who may not traditionally be drawn to larger cruise ships but still desire the amenities and comforts of a luxury cruise. In fact, it's an excellent cruise line for non-cruisers, providing a unique and tailored experience.
Explora Journeys redefines the maritime expedition by presenting what it elegantly refers to as an "ocean state of mind." In curating its unique brand ethos, Explora diverged from traditional cruise line paradigms and sought inspiration from the world of luxury yachts and esteemed hotel brands such as Belmond, Cheval Blanc, and Ritz-Carlton. The result is a seafaring experience that transcends conventional cruising, making it the ideal cruise line for non-cruisers."
1. Fleet Size & Style:
Explora Journeys offers a modern approach to luxury cruising, focusing on sustainability and innovation. The ships are larger than Seadream and Windstar, featuring contemporary design and technology. There are 460 staterooms on board, but with that comes an impressive variety of cuisine more choices for dining, and entertainment. Here is a link to view a video of the ship. 
2. Destinations:
With global itineraries, including Europe, Asia, and the Americas, Explora Journeys emphasizes immersive experiences through curated excursions in various exotic destinations.
3. Onboard Amenities:
Amenities include world-class restaurants, wellness centers, and unique entertainment options. The focus is on modern luxury; they often collaborate with renowned chefs and wellness experts.
4. Accommodation:
Explora's suites are designed with modern elegance, offering spacious layouts, floor-to-ceiling windows, and the latest technology for optimal comfort.
5. Target Audience:
Appealing to the modern and adventurous traveler, Explora Journeys caters to those looking for innovative experiences and a connection to the destinations they visit. 
For the traveler whose quest for knowledge is as insatiable as their desire for adventure, Lindblad Expeditions offers an expeditionary experience unlike any other. Founded on the principles of discovery, education, and environmental stewardship, Lindblad stands as an intellectual haven in the world of maritime travel. Far removed from the bustling activity of large-scale cruise liners, Lindblad's fleet takes you on a sophisticated journey to the world's most pristine and less-traveled terrains, offering an intimate interaction with the wonders of nature.
1. Fleet Size & Style:
Lindblad Cruises operates a relatively modest fleet of expedition ships designed for accessibility and intimacy. They average less 100 passengers. Unlike massive ocean liners, the vessels in Lindblad's fleet are small enough to navigate remote waterways yet sophisticated enough to provide an elevated travel experience. The design philosophy leans toward functional elegance, emphasizing ease of movement and panoramic views, facilitating unparalleled closeness to the natural world.
2. Destinations:
Lindblad specializes in expedition cruises, offering itineraries to some of the planet's most captivating and less-frequented locales. From the icy fjords of Antarctica to the biodiverse archipelagos of the Galápagos to the cultural meccas of Europe, Lindblad's destinations are meticulously selected to appeal to the traveler with an appetite for discovery and an appreciation for the sublime beauty of untouched landscapes.
3. Onboard Amenities:
Though the focus is on external exploration, Lindblad does not compromise on the quality of onboard amenities. Guests can expect a well-curated selection of educational resources, including libraries and expert-led lectures. State-of-the-art equipment for outdoor activities such as kayaking, snorkeling, and Zodiac excursions is also readily available. To complement these, Lindblad provides fine dining experiences that often incorporate local flavors and ingredients, allowing for a culinary journey parallel to the geographical one.
4. Accommodation:
Staterooms on Lindblad ships are designed with an aesthetic that merges comfort and utility. While you won't find the overt opulence associated with traditional luxury liners, there is tasteful attention to detail, ranging from the quality of linens to the layout, which often includes large windows or even balconies for unobstructed views of the surrounding landscapes.
Target Audience:
The Lindblad experience is tailored for the intellectually curious travelers seeking more than mere sightseeing. It caters to those who desire an enriching, educational journey transcending conventional tourism.
In summary, for the erudite traveler who seeks more than just surface-level leisure, the carefully curated experiences offered by niche cruise lines provide a voyage that is as enriching intellectually, adventurous and exciting as it is luxuriously comfortable, setting them apart in a sea of options and these cruise options are perfect for non-cruisers looking for a unique cruise line. Join us in uncovering the hidden gems of luxury cruising in our exploration: Luxury Cruising – Disguised as Luxury when it's Actually a Deal – Sailing with Regent.
—
Boutique Travel Advisors is a full-service, luxury travel agency. We specialize in creating bespoke itineraries for discerning clients around the world. Please visit our website or call 480-787-1477 to speak with a dedicated travel expert. 
Are you planning an international or domestic trip? Check out our other articles to help you come prepared!
We highly recommend the purchase of travel insurance to protect your financial investment and health while traveling internationally. To purchase a policy with our preferred travel insurance company Chubb click here.
At this time, anyone that resides in CA, CO, KS, MN, MO, MT, NH, NY, PA, TX or WA is unable to purchase an insurance policy online. If you would like assistance purchasing a travel insurance policy, please get in touch with a BTA advisor.