Our users support our website. Therefore, we sometimes earn affiliate commissions when you click through the affiliate links on our website. Rest assured that all of our recommendations are made whole-heartedly with the intent of helping travelers like you discover the world authentically and responsibly.
If you have decided that the new year to treat yourself to a luxurious cruise, you are at the right place! We share the best cruise lines for families that adults and children will love in this article! We have covered it all from the world-famous Royal Caribbean to the more adventurous Lindblad Expeditions. After this, we bet that you will be ready to pack your bags and book your dream cruise vacation! These days expedition cruises are becoming very popular, be sure to check out all the options if this seems like the best cruise for your family. 
1. Disney Cruise Line
Disney Cruise Line
Whether you plan a family trip or a romantic vacation with your significant other, you can never go wrong with Disney! Disney cruises are the best way to find a little magic and dive into a world of fairy-tale experiences! The destination options are endless – from the exotic shorelines of Iceland to the endlessly sunny Southern Caribbean, you will find your dream journey! Of course, a fantastic family-friendly cruise must come equipped with fabulous outdoor areas. Parents can sit back and enjoy a day of sunbathing while the kids take full advantage of the themed parties and onboard entertainment.
Although Disney-themed cruises appeal to families with young children, older kids and teens have plenty to entertain them. Every family member will have a blast, from excellent entertainment to fun pools to secluded cool hangout areas with various video games. Then, as the night approaches, head to the restaurant to dive into a world of remarkable cuisine and recap on your day's activities filled with wonder and fantasy!
Expert Tips For Disney Cruises:
Choose the right ship: Disney has five ships: Disney Magic, Disney Wonder, Disney Dream, Disney Fantasy and Disney Wish. Each ship comes with its own unique features and amenities. Consider the size of the ship, the onboard activities, and the destinations when choosing which ship to book.
Book early: Disney cruises are popular and tend to sell out quickly, so it's important to book as early as possible to secure your preferred dates and stateroom.
Take advantage of onboard activities: Disney cruises offer various onboard activities, including character meet-and-greets, Broadway-style shows, and themed parties. Please be sure to take advantage of these activities to make the most of your cruise experience.
Plan ahead for shore excursions: Disney offers a variety of shore excursions at each port of call, but these can fill up quickly. Be sure to book your excursions in advance to ensure availability.
Consider a concierge-level stateroom: If you're looking for a more luxurious experience, consider booking a concierge-level stateroom. These rooms have extra amenities and services, including access to a private lounge and concierge service.
Plan your meals: Each night, there are 2 seating times for dinner that vary based on the itinerary. Main Seating often begins between 5:45-6:00 PM, and the Second Seating begins at 8:00-8:30 PM.
2. Royal Caribbean
As one of the most renowned cruise companies, Royal Caribbean will treat you to an experience of a lifetime! Royal Caribbean cruises take family vacations to the next level. Onboard these miniature floating cities, guests find everything from tennis courts to unbelievable zip line adventures, arcades, enthralling shows and entertainment. While Royal Caribbean itineraries bring travelers to the world's dreamiest destinations, the outstanding ships make Royal Caribbean one of the best cruise lines for families that adults and children will love! Consider booking your Royal Caribbean adventure through a luxury travel advisor for added perks.
Each vessel has a unique theme and offers various incredible adventure experiences on board. For example, if you plan a family trip with young children, you may want to check out Allure of the Seas, Oasis of the Seas, or Freedom of the Seas, which feature the unique Dreamworks Character Parade. However, if you're traveling with teens, we strongly suggest choosing an itinerary that includes the Royal Caribbean private island destination in the Bahamas – CocoCay. This exotic oasis with secluded white sandy beaches and crystal clear turquoise waters is the ultimate getaway experience!
Expert Tips For Royal Caribbean:
Choose the Right Ship: Royal Caribbean offers a variety of ships, each with its own features and amenities.
Plan Ahead: Royal Caribbean offers a wide range of activities and experiences on board, and some popular options may require reservations. Make sure to plan ahead and secure reservations for shows, dining, and any special activities or experiences you want to attend.
Kids Programs and Activities: Royal Caribbean provides excellent kids' programs divided into different age groups. The Adventure Ocean Youth Program offers supervised activities for children from 6 months to 17 years old, ensuring they have a blast while making new friends.
Family-Friendly Dining: Royal Caribbean offers flexible dining options to cater to families. You can choose traditional dining with set seating times or opt for My Time Dining, allowing you to dine at your preferred time. Additionally, specialty restaurants often have family-friendly menus and provide a fun dining experience.
Stateroom Selection: When booking your stateroom, consider the needs of your family. Royal Caribbean offers a variety of room categories, including larger family suites or connecting staterooms that provide more space and convenience for families. Be sure to check the deck plans and stateroom descriptions to find the best fit for your family's needs.
Onboard Entertainment: Royal Caribbean offers an array of entertainment options for all ages. Take advantage of Broadway-style shows, ice-skating performances, aqua shows, and movies by the pool. The DreamWorks Experience is also available on select ships, featuring character parades and meet-and-greets with beloved DreamWorks characters like Shrek and Kung Fu Panda.
Shore Excursions for Families: Research and pre-book family-friendly shore excursions suitable for all ages. Whether it's a beach day, cultural tour, or adventure activity, Royal Caribbean offers a range of excursions tailored to families. Please be sure to look for options that include activities and attractions suitable for children and adults alike.
Stay Organized: Before your cruise, familiarize yourself with Royal Caribbean's online cruise planner. This tool allows you to manage your reservations, book activities, and explore additional options for dining, spa services, and more. Staying organized will help ensure you make the most of your family's cruise experience.
Utilize Kids' Clubs during Port Days: If you plan to explore ports of call on your own, take advantage of the Adventure Ocean kids' program. While in port, the clubs often have special activities and adventures planned for kids, allowing parents to have some child-free exploration time.
Remember, each family is unique, so tailor your Royal Caribbean experience to suit your preferences and interests. With careful planning and these insider tips, you can create lasting memories and a fantastic cruise vacation for the whole family.
3. Ama Waterways
Ama Waterways specializes in river cruises. Have you always dreamed of taking your kids to explore the charming villages of Europe but need help with the logistics and constant packing/unpacking? Why not take a river cruise where you can spend time sailing on the Danube and explore charming cities or enjoying the peaceful scenery of the Rhine? For adventurous families the ancient history of Egypt comes alive on a cruise of the Nile river.  Although many river cruise itineraries cater to an adult audience, Ama Waterways' collaboration with Adventures by Disney makes them one of the best cruise lines for families that adults and children will love!
The company has specifically designed the Ama Lea ship to provide the perfect family cruise holiday. With only 78 staterooms and a total of 156 passengers, guests enjoy a personalized and luxurious cruise experience! What could be better than exploring fairytale villages and storybook settings together with your children on board the Adventures by Disney line! As a bonus, the cruise offers special Disney nights, where guests get to dress up as their favorite character. A massive hit with families for kids and adults.
Expert Tips For Ama Waterways:
Choose the Right Itinerary: AmaWaterways and Adventures by Disney offer various river cruise itineraries that cater to families. Consider destinations and activities that appeal to both children and adults. Look for itineraries that include interactive experiences, family-friendly excursions, and ports of call with attractions suitable for children.
Select the Right Time of Year: Consider the best time to cruise with children, taking into account their school schedule and weather conditions at the chosen destination. Summer and school holidays are popular choices as children have time off, and the weather is generally pleasant for outdoor activities.
Look for Family-Focused Departures: AmaWaterways and Adventures by Disney often have specific departures designed for families. These departures feature additional activities and dedicated Adventure Guides who specialize in engaging children and ensuring they have a memorable experience.
Mix Family and Adult Time: While there are plenty of family-friendly activities, it's also essential to have some adult time during the cruise. Take advantage of the onboard Kids Club or Junior Adventurer activities, allowing children to socialize and enjoy age-appropriate entertainment while parents have some time to relax and explore the ship.
Shore Excursions for Families: AmaWaterways and Adventures by Disney curated shore excursions that cater to families. Look for excursions that include hands-on experiences, interactive tours, and attractions suitable for children. These excursions often provide a mix of educational and entertaining activities for the whole family.
Communicate Your Needs: When booking your river cruise, communicate any specific requirements or special considerations for your family. AmaWaterways and Adventures by Disney are known for their excellent service and attention to detail, so let them know if you have any dietary restrictions, medical needs, or requests that will enhance your family's experience.
4. 
Norwegian Cruise Line
If your idea of a fun family vacation involves a mix of luxury, entertainment, and a plethora of fun experiences, then Norwegian Cruise Line might be your best bet! No matter what your dream cruise holiday looks like, chances are high you will find it on board the Norwegian ships! Book a suite in the Haven for a truly luxurious experience with top-notch service and incredible amenities. Secluded at the top of each vessel, you will find a private world of extraordinary luxury, where guests have access to many intimate experiences, lounges, and sundecks. The Haven suites also come with a personal butler and concierge to indulge your every whim. Working with a travel agency can help secure the Haven experience.
Haven guests receive priority for activities, dining reservations, and shore experiences. However, the Haven is one of many reasons Norwegian is one of the best cruises lines for families. School-age children and teens will enjoy the wide variety of entertainment provided onboard the ship. During the day, you can participate in arts and crafts workshops, rock climbing, or racing on the biggest go-kart track in the sea. However, keep them from tire themselves out too much as it would be a shame to miss the unique music shows, dance competitions, stand-up comedy, and live performances at night.
Expert Tips For Norwegian Cruise Lines:
Choose the Right Ship: Norwegian Cruise Line (NCL) offers a variety of ships, each with its own unique features and offerings. We recommend newer ships, such as the brand-new Viva, that offer state-of-the-art amenities. Look for the year the ship was built or if it has been recently refurbished.
Research Family-Friendly Accommodations: NCL provides a range of accommodation options suitable for families, including interconnected staterooms and suites with multiple bedrooms. Consider the size and layout of the cabins to ensure everyone has enough space and comfort during the cruise.
Look for Complimentary Kids Programs: NCL offers complimentary youth programs called "Splash Academy" for children aged 3 to 12 years and "Entourage" for teenagers. These programs provide age-appropriate activities and supervised entertainment, allowing children to make new friends and have fun while parents enjoy some adult time.
Consider the Family-Friendly Dining Options: Norwegian Cruise Line offers flexible dining options, including specialty restaurants and casual buffet-style dining. Look for restaurants that offer kid-friendly menus and flexible dining times to accommodate your family's preferences.
Check for Onboard Entertainment: NCL is known for its spectacular onboard entertainment. Look for shows, musicals, and performances that are suitable for the whole family. Some ships even have dedicated family entertainment venues or interactive game shows that kids and parents can enjoy together.
Consult with a Travel Agent: If you need clarification on the best options for your family or need assistance with booking, consider consulting a travel agent specializing in cruises. They can provide personalized recommendations, help you navigate the various options, and ensure you get the best value for your family cruise.
5. 
Celebrity
Cruises
As you can expect by its name, the Celebrity Cruise Line offers one of the most upscale sea experiences. This makes it a perfect choice for families traveling with teens and older children. With more than 300 destinations across all seven continents, it would be impossible not to find what you dream of! However, as you are voyaging, Celebrity Cruises will impress you with sophisticated modern, luxurious designs and phenomenal dining experiences.
The well-equipped outdoor areas and spa are so welcoming that you may want to spend your hours soaking up the sun and fully embracing your best vacation self, cocktail in hand. Stopping by the casino, admiring the art collection onboard, and joining a hot glass class are only some other cruise activities that will keep you busy.
Expert Tips For Celebrity Cruise Line:
Research the Ship's Amenities: Celebrity Cruises offer a variety of amenities and activities specifically designed for teens. Look for ships with dedicated teen clubs or hangout areas, sports facilities, video game arcades, and age-appropriate entertainment options.
Check the Teen Program: Explore the cruise line's teen program offerings in advance. Look for engaging and age-appropriate programs, such as teen parties, dance classes, sports tournaments, movie nights, and themed events. This will help ensure that your teens have opportunities to socialize and participate in activities they enjoy.
Connect with Other Families: Participate in the ship's meet-and-greet events or online forums before the cruise to connect with other families traveling with teens. This can allow your teens to meet and socialize with other like-minded individuals during the cruise.
Set Ground Rules: Before the cruise, discuss expectations and set ground rules with your teens regarding curfew, safety precautions, and appropriate behavior. Encourage open communication and remind them to respect other passengers and follow the ship's guidelines.
Flexibility and Independence: Allow your teens some freedom and independence to explore the ship and engage in activities on their own. Cruises offer a secure environment, which can give teens a sense of autonomy and responsibility.
Stay Connected: Celebrity Cruises usually provide internet access on board, so consider purchasing a Wi-Fi package if staying connected is important to your teens. This will allow them to stay in touch with friends, share their experiences, and use online resources.
6. 
Lindblad Expeditions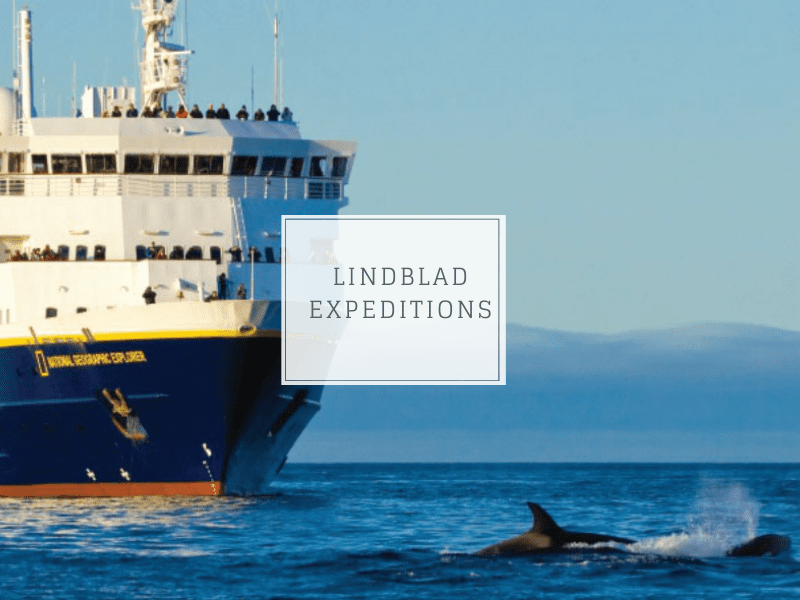 As you may have already guessed, Lindblad Expeditions is the perfect cruise line for adventurous families. Lindblad is calling your name if your children are curious and eager to see the world – from the mysterious Galapagos island to the furthest corner of the Arctic. Their collaboration with National Geographic makes Lindblad Expeditions one of the best cruise lines for families with school-age and teenage children.
Although every Lindblad experience is unique and exciting, families with teenage children and young adults will enjoy participating in the Global Perspective Program. This program is offered on select expeditions inviting guests to interact with and learn from best-selling authors, scientists, world photographers, astronauts, and other fascinating individuals. This one is a great option when choosing the best expedition cruise line for your family.
Are you traveling with curious, adventurous school-age children who want to learn about the world? We recommend sailing with Lindblad to the Galapagos or Alaska with their exclusive family-friendly Global Explorers Programs. The program was created to educate children through fun exploration-based activities both on and off-board the ship about the world we live in!
Expert Tips For Lindblad Expeditions:
Choose the Right Itinerary: Look for Lindblad expedition cruises that offer family-friendly itineraries. Consider destinations with diverse wildlife, interactive activities, and educational opportunities that will captivate and engage children of different ages, such as Alaska or Antarctica.
Research the Expedition Team: Lindblad Cruises have expert naturalists and expedition leaders on board who are knowledgeable about the destinations and passionate about sharing their expertise. Find out if the cruise you're considering has a dedicated family expedition team or naturalists specializing in engaging children. Their enthusiasm and ability to connect with kids can greatly enhance the experience.
Take Advantage of Kid-Friendly Activities: Lindblad offers a range of activities tailored to children's interests and learning. These may include wildlife spotting, nature walks, kayaking, photography workshops, and even Zodiac boat excursions. Encourage your kids to participate and make the most of these opportunities.
Engage in Citizen Science Programs: Lindblad cruises often incorporate citizen science programs, allowing passengers, including children, to contribute to ongoing research and conservation efforts. Kids can learn about marine biology, collect data, and actively participate in scientific activities, creating a deeper connection to the environment.
Pack Appropriately: Make sure you pack essentials for your kids, such as comfortable clothing suitable for the climate and activities, sunscreen, hats, insect repellent, and sturdy walking shoes. It's also a good idea to bring binoculars and a waterproof camera so children can better observe and document their experiences.
Embrace the Educational Aspect: Lindblad expeditions focus on providing educational experiences for passengers of all ages. Encourage your kids to immerse themselves in the learning opportunities, ask questions, and take advantage of the resources available on board, such as books, presentations, and interactive exhibits.
Connect with Other Families: Lindblad expeditions attract families passionate about nature and exploration. Take advantage of opportunities to meet and connect with other families on board. Your children can make new friends, share experiences, and enhance their journey through shared adventures.
7. 
Uncruise Adventures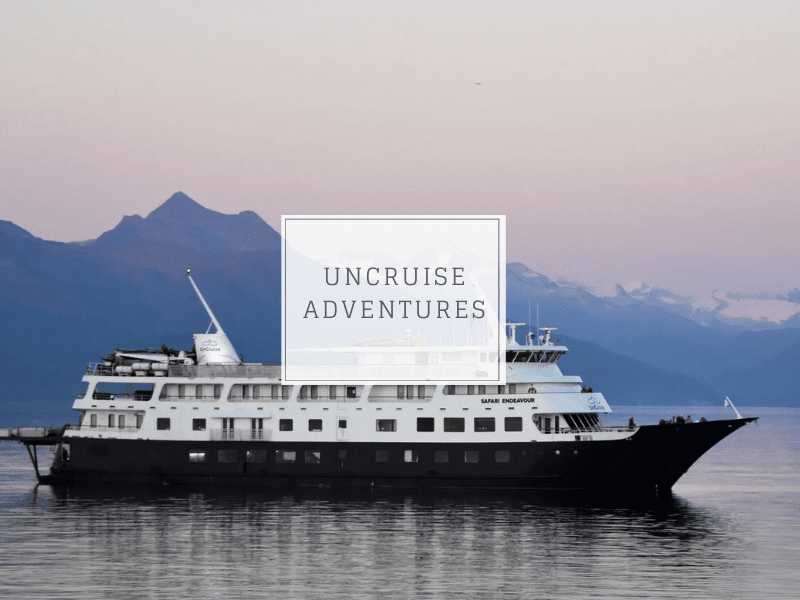 Similar to Lindblad Expeditions, Uncruise Adventures is not for everyone. If you are looking for a large, luxurious cruise with non-stop entertainment for young children, this is not the right cruise line for you. However, if you're looking for something truly adventurous and want to immerse yourself in wildlife and experience new cultures, Uncruise Adventure is the perfect cruise line! As this is an adventure line, they welcome guests 8 years of age and older. This makes it an ideal cruise for families with school-age children and teenagers. Be sure you pack properly for the different adventures on your itinerary. Here are some tips for packing for adventure travel.
Uncruise ships carry 22- 86 guests, making them one of the most intimate and personalized adventure vessels. Still, the views are panoramic, the activities are thrilling, and the experiences are once-in-a-lifetime! In particular, the expedition cruises will take you to places that most large ships cannot enter. With Uncruise Adventure, it is more about the destination than the journey. The size of the vessels also makes them an excellent option for a multi-generational family charter or multi-family adventure. Rent out the entire vessel and create a once-in-a-lifetime experience.
Although the ships are not equipped with rock climbing walls, arcade centers, and ice skating rinks, they appeal to families for their immersive itineraries. These ships have unique access to remote destinations. Onboard the ship, days are spent participating in exciting shore adventures, listening to engaging lectures, and learning about our world. Undoubtedly, You will find yourself having fascinating, in-depth conversations with people that have the same interests as yours. Although there are fewer than 100 people on any sailing, your small group will embark on fascinating adventures. These are things you will remember long after you have gone back home.
Expert Tips For UnCruise Adventures:
Research the Vessel: UnCruise Adventures has various ships in its fleet, each offering a different onboard experience. Research the amenities, cabin options, and family-friendly features of the ship you're considering.
Embrace the Unconventional: UnCruise Adventures focuses on providing an unconventional and adventurous experience. Be prepared for a more active and hands-on approach to exploring the destinations with kayaking, paddle boarding, snorkeling, and hiking. Encourage your family to embrace the spirit of adventure and try new things.
Take Advantage of the Expedition Guides: UnCruise Adventures employs knowledgeable expedition guides passionate about the destinations and wildlife. These guides offer insights and educational programs tailored to different age groups. Engage with them, ask questions, and encourage your children to participate in the learning experiences.
Pack for Outdoor Activities: Ensure you pack appropriate clothing and gear for outdoor activities. Bring layers, rain jackets, sturdy shoes, and sunscreen. Remember essentials like hats, sunglasses, and insect repellent. Being well-prepared will make outdoor adventures more enjoyable for the whole family.
Foster a Sense of Community: UnCruise Adventures cruises tend to have a smaller number of passengers, creating a more intimate and communal atmosphere. Encourage your family to interact with fellow passengers, including other families, and participate in onboard activities together. This can create lasting friendships and enrich the overall experience.
Plan for Screen-Free Downtime: While UnCruise Adventures offers action-packed itineraries, planning for some downtime is also important. Balancing activities with relaxation allows your family to recharge and enjoy onboard amenities like lounges, observation decks, and libraries. Remember, there is no wi-fi onboard, and cell service is often unavailable.
8. 
Princess Cruise Line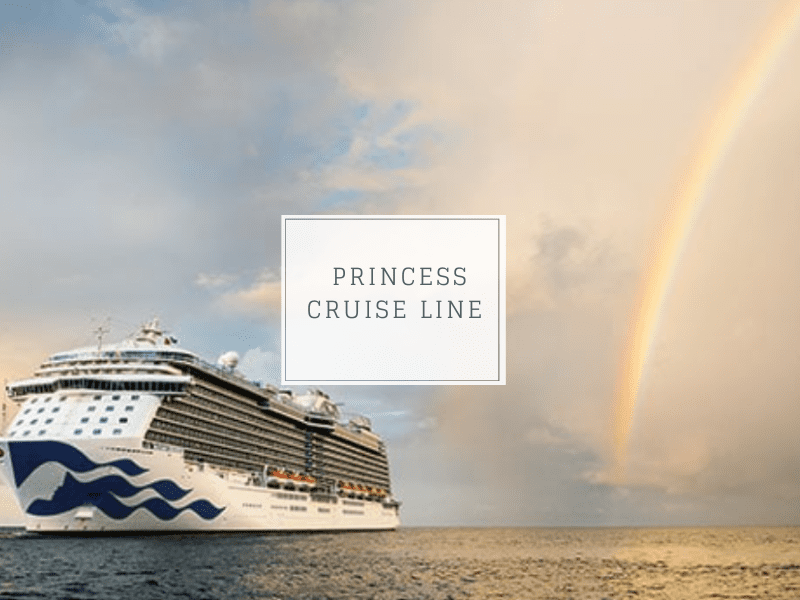 Princess Cruise Line is a great option if you want to get the whole family together and have a large group with varying interests! Their programs and activities make their cruises the perfect multi-generational family vacation. With massive ships sailing worldwide, you can find the best cruise that fits all of your needs.
Additionally, book one of the luxurious suites to escape from the hustle and bustle of onboard entertainment. While the kids will enjoy the pools and entertainment, adults love the gourmet restaurants. Mom and dad can also take a few hours to rejuvenate their minds and bodies in the word-class wellness center while their little ones participate in educational activities through the Camp Discovery Programs. At the end of the day, you will all love gathering together and watching a movie under the stars!
Expert Tips For Princess Cruises:
Check Youth Programs: Explore the youth programs offered by Princess Cruises, such as Camp Discovery for kids and Remix for teens. These programs provide age-appropriate activities supervised by trained staff and allow children to make new friends while enjoying games, crafts, sports, and themed parties.
Dining Flexibility: Princess Cruises provides various dining options to suit different tastes and preferences. Take advantage of flexible dining arrangements, including traditional dining, Anytime Dining, or specialty dining venues. This allows your family to dine together or choose different dining times based on your daily activities.
Attend Family Entertainment: Princess Cruises offers family-friendly entertainment, including Broadway-style shows, movies under the stars, and live performances. Make sure to attend these shows together as a family and enjoy the onboard entertainment options.
—
Boutique Travel Advisors is a full-service, luxury travel agency. We specialize in creating bespoke itineraries for discerning clients around the world. Please visit our website or call 480-787-1477 to speak with a dedicated travel expert. 
Are you planning an international or domestic trip? Check out our other articles to help you come prepared!
We highly recommend the purchase of travel insurance to protect your financial investment and health while traveling internationally. To purchase a policy with our preferred travel insurance company Chubb click here.
At this time, anyone that resides in CA, CO, KS, MN, MO, MT, NH, NY, PA, TX or WA is unable to purchase an insurance policy online. If you would like assistance purchasing a travel insurance policy, please get in touch with a BTA advisor.