The Greek islands inspire images of golden sunsets, crystal clear azure water, endless sandy beaches, and whitewashed buildings romantically perched on hilltops. Those who have visited the islands can attest to their immense, almost surreal natural beauty and boundless charm. All  Greek islands are blessed with extraordinary scenery, yet each one has distinct allure, characteristics, and history. While a few islands attract most tourists, there are dozens of options to choose a crowd-free Greek island where social distancing is part of the experience.
Greek island chains consist of five geographically distinct groups; Ionian, Cyclades, Dodecanese, Saronic, and the Sporades. Throughout the centuries, the regions have been influenced and shaped by settlers and invaders' cultures and traditions. For example, the Ionian Islands showcase their strong Venetian influence, while the Cyclades are classicly Greek.
For travelers deciding on where to take their Greek holidays, the choices seem endless and impossible. Each island offers something purely unique, and the destinations should be chosen based on the traveler's personality and style. However, rest assured that no matter which island you choose, your holiday will be unforgettable.
Ionian Islands
At the western end of the Greek Sea are the magical Ionian Islands, which have been idealized since Homer used them as the backdrop to Odysseus's adventures. The seven main islands that comprise the Ionian chain include Kefalonia, Zakynthos, Lefkada, Ithaka, Corfu, Paxos, and Kythira are many more. While Odysseus hailed from Ithaca, the Venetians staked their claim and forever influenced these lands. The islands were a possession of the Republic of Venice from the mid-14th until the late 18th century, and the grandeur of their maritime empire is undeniable. When their occupation ended, they left behind an architectural treasure trove of mansions, fortresses, and arsenals, which are perhaps best exemplified in the old town of Corfu.
Each of the Ionian Islands has been endowed with beautiful scenery, dazzlingly green hillsides, fishermen villages, and transfixing blue water. Life on many of these islands has remained largely unchanged over the decades, offering truly crowd-free Greek island experiences. Although they are all worthy of admiration and time, Zakynthos is perhaps the crown jewel.
Zakynthos

Zakynthos is one of the most beautiful and photo-worthy Ionian islands. Navagio is the most popular beach in Zakynthos. It is consistently voted as one of the most beautiful beaches in the world. Its unique beauty comes from the contrast of sheer rocky cliffs, crystal blue waters, and dazzling golden sand. While it attracts thousands of visitors a year, the island has maintained much of its authenticity. As most visitors arrive by boat, we recommend seeing the island from a different perspective. Soaring above the clouds on a panoramic helicopter tour will take your breath away and keep you safely social distancing.
The north-western part of Zakynthos is famous for blue caves, where the color of the water is such a vibrant blue it feels as though you have stepped into a painting. Mornings are the best time to visit the caves, which are accessible only by boat.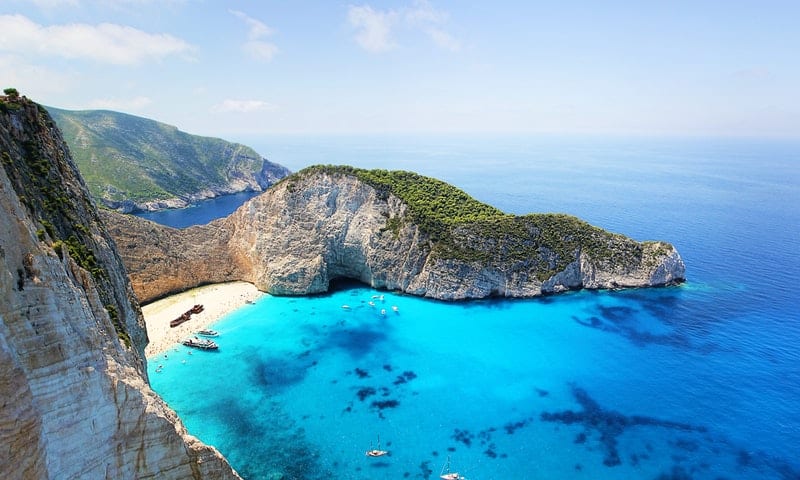 Marathonissi is a small, uninhabited island in the bay of Laganas. Its shape resembles a giant turtle, which is why it is known abroad as a turtle island. It looks like an exotic island because it combines the white sand with the intense vegetation. The famous kereta turtles, which are a protected species, often visit the beach. The seabed in Marathonisi is stunning an excellent destination for diving.
Gerakas is located in the southern part of Zakynthos and belongs to the National Marine Park. At this beach, the Caretta turtles breed and lay their eggs. Although visitors will find a few umbrellas and deck chairs, the beach is ideal for those seeking tranquility.
Zakynthos Town is an ideal destination for those who wish to be close to cafes, bars, restaurants and experience the island's multifaceted culture. Visit the Bertzagio Folklore Museum, the statue of Dionysios Solomos at Solomos Square, the temple of Agios Dionysios, who is also the island's patron saint, and St. Mark's Square.
Cyclades

The Cycladic islands are arguably the most famous holiday destination in Greece. There are 39 islands, of which 24 are inhabitable. All of the islands share similar architectural characteristics with whitewashed buildings and churches, contrasting the sky's deep blue and the sea.
Mykonos, Santorini, Naxos, and Paros are the most popular islands for Greek and foreign tourists. Apart from beautiful hillsides, lovely villages and beaches they offer visitors a wide variety of bars, cafes, restaurants, and nightlife. However, while most tourists and cruise ships descend on these islands in peak season, many of the best islands are left untouched. When the crowds and prices in Mykonos and Santorini feel overwhelming, the lesser-known islands offer a crowd-free Greek island respite.
Antiparos
Antiparos is lovely, romantic, and tremendously charming. This tiny crowd-free Greek island attracts the type of travelers who arrive on their private yacht or sailboat, rent a stunning villa, and spend their days lazily exploring, shopping, and relaxing. The island's big brother Paros has a marina and an airport; Antiparos has neither.
The allure of the island lies partially in its relative inaccessibility. Cruise ships and mainstream travel itineraries skip over the small paradise, leaving it unspoiled and quiet even in peak summer months. Antiparos is renowned for aqua green and blue waters, rural villages, clean beaches, and an attractive shopping district in the capital, Chora. The island is traditionally Cycladic, with delightful whitewashed houses, narrow cobbled streets, and blue-domed churches. Travelers looking for authentic social distancing destinations who visit may never want to leave this crowd-free Greek island.
The beaches are sandy, and the water is incredibly clear. On the southern side of the island, travelers can visit Antiparos cave, a stunning natural wonder full of stalactites and stalagmite.
Folegandros
Tiny Folegandros may well be the Cyclades' best-kept secret. A wildly charming yet sparse and rocky landscape seamlessly blends with ancient ruins, while crumbling paths lead to secretly enchanting Aegean beaches. Folegandros is named after the son of King Minos. Until the early 20th-century, it was used to exile political prisoners. Perhaps because many of the inhabitants are descendants of those past forgotten souls, the island offers quiet, unpretentious authenticity. Lacking the glitz and glamor of famous neighbors, Folegandros's allure lies in the scent of flowers, timeless whitewashed houses with blue doors, and colorful fishing boats lining the docks. Travelers are more likely to encounter donkeys and sheep than scantily clad celebrities, which is precisely what draws the particular type of visitors here. This is your quintessential crowd-free Greek island destination.
Chora, the island's principal town and capital, sits like an aging queen atop her throne perched on a hilltop. Three connected squares boast the few bars, local shops, and traditional tavernas run by 700 or so residents that permanently call the island their home. One of the island's loveliest views is from the church of Panagia, built high up a twisted path that starts at Pounda Square.
Strolling Chora's ancient section provides a glimpse of early life on the island. The town was built to protect residents from foreign pirates.
In the summer, be sure to experience the festivals and cultural events in Chora, Ano Meria, and Karavostasis (the island's port).
Dodecanese
"Dodeka" is the Greek word for twelve, implying that there are only a dozen Dodecanese Islands. However, this archipelago in the southeastern Aegean consists of fourteen main islands and numerous other small isles. The Dodecanese islands of Rhodes, Kos, Symi, and Karpathos remain the most popular tourist destinations, although many small and charming alternatives exist. The islands attract many visitors in the summer to their beautiful beaches and fascinating historical sights. Inhabited for thousands of years, many important archaeological sites, imposing Byzantine structures, and medieval monuments lie scattered throughout the islands. Visit in low season for an authentic crowd-free Greek island experience.
On Rhodes, visitors find a multitude of historical treasures. Medieval walls surround the magnificent Old City with seven gates, while the Palace of the Grand Master is undoubtedly the most impressive building on the island. The well known Street of the Knights is an ideal location for a history lesson or a wooden sword fight.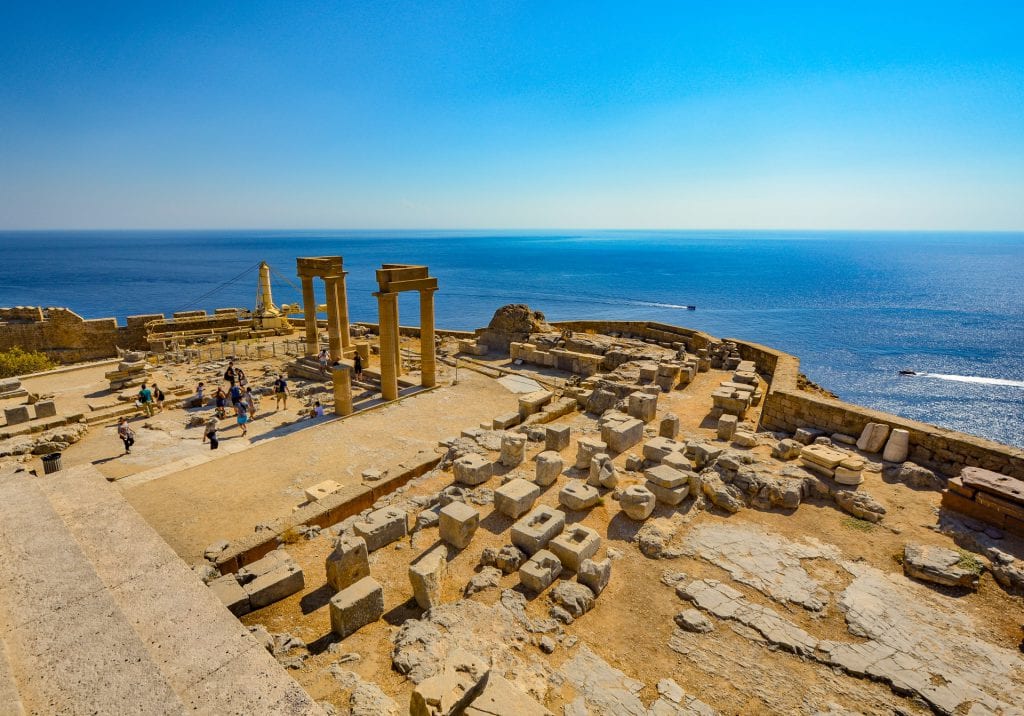 The Dodecanese combines natural beauty with a remarkable history and offers visitors unique travel experiences.
Kalymnos
Kalymnos is a renowned rock climbing destination. With approximately 3,400 routes ranging from F4a to F9a, these existing routes cover only a tiny portion of what is available to climb. Visitors return year after year seeking out the mountains, bays, and an authentic low key vibe. Kayaking and sailing are also top-rated sports. The Kalymnos Kayak Center offers a wide variety of adventure options for all levels.
Sponge fishing has been popular on the island for over 500 years. Capitalizing on this claim of fame, vendors sell sponge souvenirs in gift shops around the island.
The island's capital of Pothia has a lovely museum and a beautiful church dedicated to Christ. Saint Savvas Women's Monastery is also open to the public. Women should be mindful of wearing a skirt and covering their shoulders, and men should wear long pants.
The Village is the island's old capital, where you can visit the castle of Chrysochera, where the Knights of St. John once lived. An acropolis dating back to the 9th century in Pera Castle, and the ruins of a 5th-century temple: "Jesus of Jerusalem" offer other interesting stops.
The tourist resorts of Kalymnos are Myrties, Kantouni, and Vathi, on the east side of the island hidden in a deep bay. Vathi is the greenest, most scenic area of Kalymnos.
Saronic Islands
The Saronikos islands are one of the busiest tourist destinations in Greece. Easy access from Athens makes day trips and weekend getaways popular alternatives to further island destinations.
Aegina is the largest Saronic islands and the closest to the port of Piraeus. Spetses, Poros, and Hydra are slightly further away. The distance between the islands is small, making them wonderful destinations for summer island hopping experiences. Visit in the offseason to experience crowd-free Greek islands in the Saranonics.
Hydra

Hydra is a beautiful island for families and couples looking to unplug. It provides access to a wide variety of dining options and activities for travelers of all ages. The Piraeus port in Athens is one hour away by hydrofoil and two hours by ferry. Hydra is a popular destination for Athenian weekenders and international tourists. As the island is car-free, transportation occurs on foot, by boat, or riding on a donkey. Stroll up Hydras narrow streets and admire the fine architecture and the island's captivating character. The landscape alternates from wild mountains to open fields and serene beaches.
For history and archaeology aficionados, Hydra has many remarkable sights, including the Historical Archive Museum, founded in 1918. It features well preserved navigational instruments, aquatic costumes, and naval weapons. It also houses the sizeable Historical Archive and 18,000 original documents. The Ecclesiastical & Byzantine Museum, the Pavlos Kountouriotis Mansion, and the Lazaros Kountouriotis Museum are also well-deserving of a visit.
Hydra has many beaches distinguished for its crystal clear water. On the rocks outside the island's harbor is Spilia, a rocky beach with beautiful water makes an excellent spot for a picnic lunch. The loveliest part of the island is located next to Hydronetas, in the same area as Spilia.
Following the coastal road, you will come across Kamini, a small and picturesque harbor with fishing boats. Nearby Mikro Kamini, a small pebble beach, is suitable for young children and toys. Although often busy in the summer, travelers can have crowd-free Greek island experiences by visiting in April or October.
Continuing on the dirt road, you will reach Vlychos, a larger beach next to the chapel of Agios Charalambos. Only 20 minutes of hiking will bring you to the seaside area of Palamida, a beautiful and sandy beach.
Whichever Greek islands you choose to visit, remember to keep an open mind and adventurous spirit. Each one has its distinct beauty and magic.
Join The Luxury Travel Inspiration FREE Facebook Group For Insider Secrets and Special Giveaways!
Boutique Travel Advisors is a full service, luxury travel agency. We specialize in creating bespoke itineraries for discerning clients around the world. Please visit our website or call 480-787-1477 to speak with a dedicated travel expert.
Looking for other European travel inspiration? Check out our article on beautiful Portugal.
https://travelbta.com/blog/the-authentic-side-of-portugals-algarve-and-magical-alentejo/