All products endorsed by BTA are selected by our team of travel experts based on our personal recommendations and experience. Some of our blogs offer affiliate links. If you make a purchase BTA may earn a small commission. This helps support our website and allows us to continue offering quality content. 
Top 10 Things to Do in Santorini That Take You Off-The-Beaten Path
The white-washed, blue-domed houses overlooking the endless waters of the Aegean Sea have become a symbol of Santorini! Whether you are visiting just for one day off a cruise ship or spending a week-long holiday, you would want to experience as much of the island as possible. However, as one of Greece's most popular tourist destinations, Santorini can get quite a bit crowded, especially during the peak season, so be sure to book your stay with a knowledgeable luxury travel advisor. Of course, for a truly authentic experience, consider visiting one of the more crowd-free islands in Greece. 
To help you dive straight into the culture and traditions of Greece we have prepared the ultimate list of the top 10 things to do in Santorini that take you off the beaten path! So keep reading, as this is the inspiration you need to start packing your bags! Then, for an easy and hassle-free experience, book the Magnum Private Wine Tour with 5 Wine Estates!
Hike from Fira to Oia
For all our hiking enthusiasts, Santorini offers one of the best and most breathtaking walks along the Aegean Sea! As a 6-mile route, hiking from Fira to Oia is not an experience for everyone. However, if you are looking for the top 10 things to do in Santorini that take you off the beaten path, you would want to add this trail to your travel itinerary! If you are up for this adventure, be sure to look at our essentials when packing for outdoor adventure!
Along the way, you will find some paved and dirt path sections. Luckily, most of the time, you would be heading downhill, and you will be treated to the remarkable views of Oia before your eyes. We suggest booking a guided group tour for those of you tempted by this fabulous adventure but unsure of their navigation and hiking skills.
Wine Tasting Experience
Thanks to the mild Mediterranean climate, rain is not very common in Santorini. Even still, if you are welcomed by a gloomy, rainy day on the island, there is a way to make the most of your day and treat yourself to a fabulous wine tasting experience! Despite the poor soil conditions, the island is well known for its dry white and rose wines. Vinsanto Wines are by far the most popular, and with their rich plum and sun-dried grape flavors, they are perfect for fruity wine lovers!
The unique wine-making process used in Santorini is the bush-training system. It is another reason why a wine tasting experience is one of the top 10 things to do in Santorini that take you off-the-beaten-path and allow you to learn even more about the extraordinary Greek traditions!
Sunset Caldera Private Cruise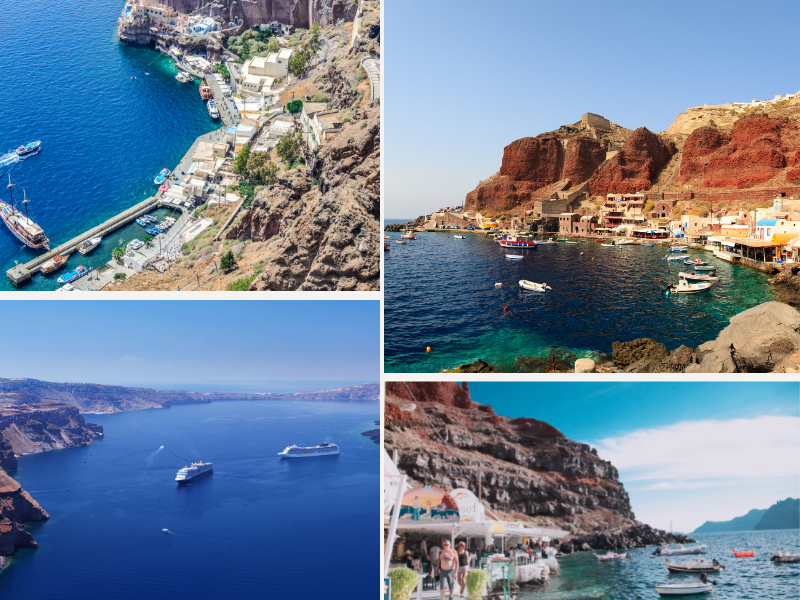 People from all over the world flock to Santorini every year, aiming to catch a glimpse of the island's unique jaw-dropping sunsets of rare rugged beauty! Unfortunately, the uniqueness and tranquility of the evening are overpowered by the groups of tourists. To skip the crowds, we strongly suggest that you hop on board a private catamaran cruise and have an intimate and secluded experience while enjoying the breathtaking vista! It is not just the panoramic views, though. This journey will also take you to the shallow waters at White Beach, where you could go for a swim! If you have even more time to spare, why not book a half-day yacht cruise?! Booking with a travel agency can guarantee these amazing experiences.
The friendly captain and crew will welcome you on board a luxurious and sleek yacht. For the next few hours, you could sit back and relax, enjoy the refreshing breeze. Be sure to try some fishing, sunbathe, or even dive into the waters for a snorkeling adventure! Then, as the day comes to an end, the captain will steer you into the sunset. Allowing for  amazing views of the remarkable landscape!
Discover the Ancient World with an Archaeologist
It will be a shame if you have been to Santorini without learning more about its ancient history! The Akrotiri Archaeological Site is one of the must-do when visiting the island. If you have heard of the mystical city of Atlantis, you would need to stop by Akrotiri. It is believed to be the location of the lost city of Atlantis, as told by Plato. All history buffs would also love admiring the ruins and frescoes at the Ancient Thira at Kamari as a reminder of the power and majesty of the Spartan civilization.
Visiting the Museum of Prehistoric Thera in Fira is another way to learn more about the island's history and heritage. We strongly suggest booking your tours with an archaeologist as you will discover untold, hidden stories and legends as well!
Visit Perissa Black Sand Beach
The volcanic activity and rocky beaches make Santorini's coastline extraordinary! To get a real feel of the beach vibe on the island, you need to visit Perisa Black Sand Beach! Yes, you read that correctly. Perissa is well-known for its unique and usual black-colored sand. It is due to the eruptions of the Santorini Volcano, which caused the sand to mix with the volcanic lava and ashes and create this fabulous beach!
What is even more spectacular, though, is the contrast of the dark sand to the crystal clear blue waters of the Aegean Sea – a scenery worth soaking in! So make sure to pay a visit to the beach and spend some time sunbathing, playing in the water, or even just going for a stroll along the coastline.
Visit a Local Santorini Farm
One of the best ways to get an authentic flavor of Santorini is to immerse yourself in culinary traditions! That is the reason why next on our list of the top 10 things to do in Santorini that take you off-the-beaten-path is visiting a local farm! You are not only going to go for a walk and explore the island's agricultural traditions, but you will also learn the best ways to combine ingredients to cook some of the most delicious local meals.
The entire cooking class with a Greek chef in their private kitchen is the best gastronomical experiences in Santorini! In the end, you will treat your taste buds to explosive flavors, and you will create memories to cherish forever! You will definitely want to add the Santorini Flavors Experience to your itinerary!
Olive Oil and Honey Experience in a Cave
You have probably heard that Greek olive oil is the best in the world! That is the reason why adding an olive oil and honey experience in a cave is one of the top 10 things to do in Santorini that take you off the beaten path! So make sure to book this experience, as you will be taken on a truly fantastic journey through the Greek olive and honey-making traditions! Located in the center of Fira, there are three underground caves, which you would get to visit and be provided with a great selection of authentic Greek Olive Oil and honey! Not only will you get to try the unique taste, but you will also learn more about the honeybees, the different types of honey, and where does it get its flavors from.
Wings over Santorini 
Scrolling down the narrow cobblestone alleys of Santorini is definitely a fabulous way to immerse yourself into the authentic Greek atmosphere. The streets get a bit too crowded during the peak season, though. So we have a suggestion for you! Take a helicopter tour and avoid the crowds. Not only will you get to experience the island in a much more secluded and intimate way, but you will see incredible birds-eye views. This is perfect for any romantic getaway!
The island of Santorini is surrounded by the crystal clear waters of the Aegean Sea. Experience small beaches nestled between rugged steep cliffs. Volcanoes rise high into the sky, while other nearby islands can be spotted along the horizon. There is no better way to take the off-the-beaten path in Santorini than going for a flight over the island!
Visit the Volcanic Island of Nea Kameni
Visiting an active volcano is definitely once in a lifetime experience! That is the reason why the island of Nea Kameni should be on your bucket list! As a small uninhabited island part of the Santorini's archipelago, Nea Kameni is home to a volcano that erupted 70 years ago. Hiking along the volcano's rim will give you a unique perspective of both the crater and the endless waters surrounding it.
The exploration of the island does not end here, though. Take a swim into the hot springs, which were created back in the 1570s after a significant volcano eruption. This is another experience that will allow you to fully immerse yourself in the authenticity and beauty of Nea Kameni!
Sleep in a Luxurious Cave Hotel
If you are lucky enough to spend multiple days in Santorini, plan on sleeping in a luxurious cave hotel! Specifically one situated on top of a hill, overlooking the Aegean Sea.  Canaves Oia Boutique Hotel is one of the top 10 things to do in Santorini. Each suite is elegantly decorated in a modern, minimal style, offering truly sweeping views of the Caldera.
The atmosphere is relaxed yet luxurious and opulent so that you will be treating yourself to a lush overnight stay at the heart of the island. If you plan a romantic getaway with your significant other, you may want to book the River Pool Suite. This suite features its own pool Jacuzzi and private veranda. Of course, this is where you would like to be as the sun is kissing the horizon goodnight!
Are you ready to pack your bags and head to Santorini? Which of these Top 10 Things to Do in Santorini That Take You Off-The-Beaten Path did you already add to your travel itinerary?
Article written by BTA world correspondent
—
Boutique Travel Advisors is a full-service, luxury travel agency. We specialize in creating bespoke itineraries for discerning clients around the world. Please visit our website or call 480-787-1477 to speak with a dedicated travel expert. 
Are you planning an international or domestic trip? Check out our other articles to help you come prepared!
We highly recommend the purchase of travel insurance to protect your financial investment and health while traveling internationally. To purchase a policy with our preferred travel insurance company Chubb click here.
At this time, anyone that resides in CA, CO, KS, MN, MO, MT, NH, NY, PA, TX or WA is unable to purchase an insurance policy online. If you would like assistance purchasing a travel insurance policy, please get in touch with a BTA advisor.