Oh, lovely, charming, romantic Europe. While each country on this continent is worthy of exploration, few places in the world have made as many contributions to literature, poetry, art, philosophy, fashion, and architecture as Italy, Greece, and Turkey. Moreover, the history of these three cultures has immeasurably shaped modern society. 
Italy and Greece beckon travelers to explore their winding streets, ancient castles and fortresses, towering cliffs, award-winning wineries, and world-class museums. Turkey invites visitors to visit the incredible bazaars, Hammam baths, archaeological sites and taste delectable cuisine. 
While the sites and experiences are endless, most travelers have limited time to explore the region. Therefore, a luxury cruise is one of the most efficient and practical ways to travel. However, deciding on the best luxury cruises in Italy, Greece, and Turkey is no simple feat. To help you out, we compiled a list of some of our favorite itineraries. 
Italy is a treasure trove of discovery. From the enchanting canals of Venice to the Medici treasure of Florence, to the mesmerizing Colosseum of Rome, to the jaw-dropping beauty of the Amalfi Coast. 
On the other hand, Greece is known as much for the ancient ruins as the picturesque whitewashed fishing villages that dot the sun-kissed hillsides and waterfronts of the Greek islands. By day historic churches and serene monasteries blend seamlessly with luxury hotels and relaxing beach clubs. Then, after dark, the islands come alive. Cosmopolitan bars and clubs entice beautiful people to dance the night away as the world's hottest DJs battle for supremacy. 
'Istanbul is a magical seal that unites Europe and Asia since ancient times. Without a doubt, Istanbul is certainly the most beautiful place of the world.'

– Gerard De Nerval
Turkey, a country bridging Europe and Asia, is world-famous for stunning natural attractions, historical treasures, and rich culture. Istanbul is a city in the center of the world. It was once the capital of both Byzantine and Ottoman empires. Today it attracts curious travelers from around the globe. Conversely, the sparkling coastlines, pristine beaches, and the otherworldly landscape of Cappadocia attract travelers looking for outdoor adventures. While the ancient port city Ephesus, considered one of the most important historic sites globally, is a beloved destination for history lovers. 
Why Cruise?
Just as each island in Greece and each city in Italy and Turkey has a different ambiance, culture, and heritage, every cruise itinerary has its unique personality. But first, why have cruises become so popular, and are they indeed the best way to explore these countries? 
Cruising in Italy, Greece, and Turkey has several benefits:
Time:

 Cruising saves travelers a considerable amount of time in transit. Cruise ships generally sail at night, arriving at a new destination each morning. In contrast, traveling by land requires spending a significant portion of your trip traipsing between ferry terminals, airports, and train stations. These modes of transportation often experience delays and cause travelers major headaches, aggravation, and lost time experiencing the destination.

Access:

 Traveling on a cruise ship allows you to explore destinations that may otherwise be difficult to reach. Many of the coastal towns and islands in Italy, Greece, and Turkey require several flights, ferries, and train journeys when traveling by land. These distances significantly limit the number of places you can see in one trip.

Logistics:

 Traveling between countries has always posed some challenges, but as the pandemic of 2020 changed, the way countries operate crossing borders became increasingly complex. Cruise lines maintain constant contact with port authorities and government agencies, ensuring that travelers understand the latest regulations and requirements. 

Value:

 Although the upfront costs per person may be a bit higher than an a la carte journey, the inclusivity of meals, transfers, gratuities, and other amenities typically results in substantial cost savings. 
With that said, the quality of the cruise ship, service, dining, and of course, the itinerary is paramount to ensure a great experience. 
Roundtrip Athens
This itinerary is an excellent option for travelers wishing to combine a sea and land adventure. Explore the Greek islands and Turkish ports on board the luxury Seabourn Encore. Then head to Italy for a land-based extension. We recommend flying into Athens one or two nights before the cruise departure date to visit ancient ruins and important archaeological sites such as the Acropolis, Parthenon, and Temple of Olympian Zeus. 
Roundtrip Athens
This one-week cruise explores the Greek islands and the ancient city of Ephesus. Interestingly enough, while currently located in Turkey, Ephesus was once considered the most important city of ancient Greece. Both Silversea and Seabourn are exquisite cruise lines with impeccable food, service, and cabins. Combine the cruise with an extension of Turkey, mainland Greece, or Italy.
Greece – The feeling of being lost in time and geography with months and years hazily sparkling ahead in a prospect of inconjecturable magic

– Patrick Leigh Fermor
Athens to Venice: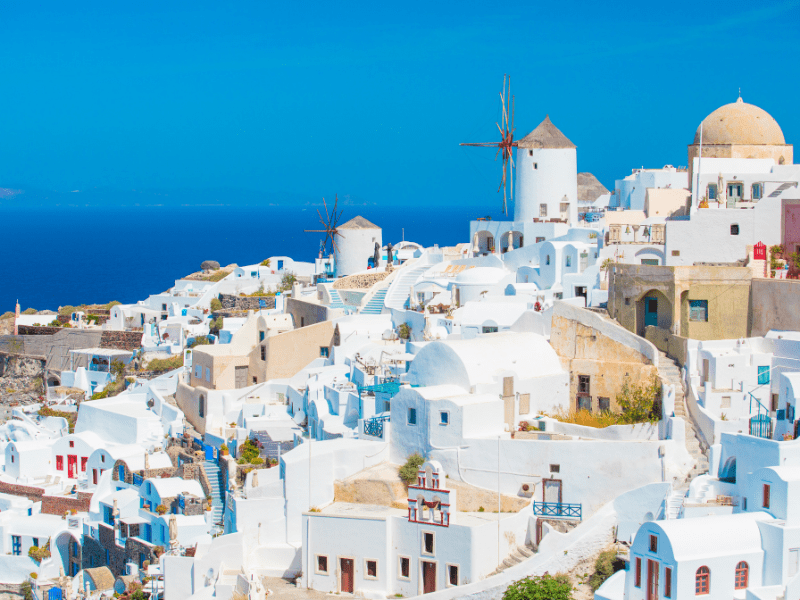 The Azamara Athens to Venice voyage is a lovely cruise on a mid-luxury ship. The Azamara ships are larger than the last three ships mentioned and hold around 700 passengers. However, unlike Seabourn, Silversea, and SeaDream, which boast spacious cabins, windows, and even balconies in their entry category rooms, Azamara cabins vary dramatically. We recommend securing one of the higher-category cabins for a more luxurious experience. The entry category rooms are quite small and windowless. 
This particular itinerary is unique because it starts in Athens and ends in Venice. Travelers looking to explore both countries would therefore avoid having to fly from Athens to Italy. This is truly one of the best luxury cruises in Italy, Greece, and Turkey.
Roundtrip Rome
SeaDream is not so much a cruise line as a luxury yacht that accommodates around 100 passengers. As a result, the experience is a combination of casual sophistication. Perfect for travelers who are interested in an authentic and personalized experience. This 11- night itinerary circumvents Italy, stopping at some of the most beautiful ports in the world. 
Athens to Istanbul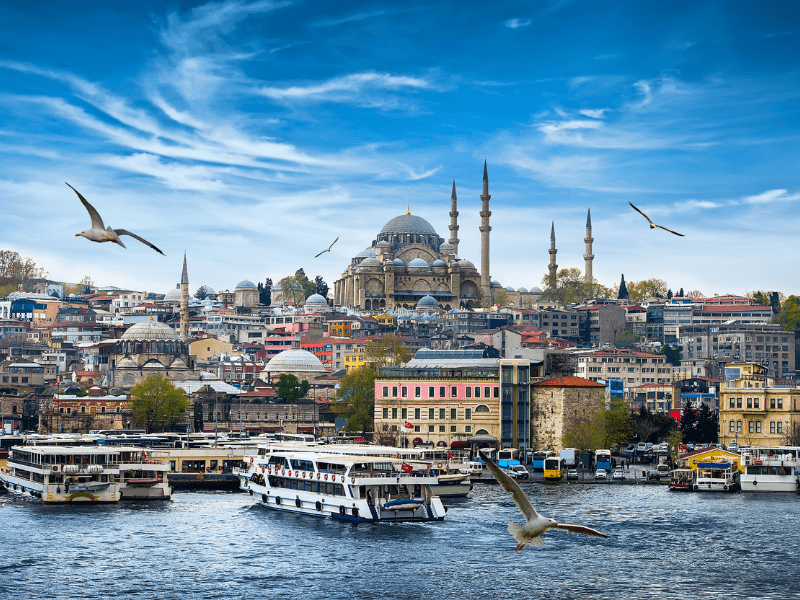 This cruise is a 3-week marvelous adventure of discovery and exploration, bringing travelers to the most beautiful island in Greece and Turkey. Pack and unpack once for an entire 3-week journey and avoid all the hassles of flights, ferry terminals, and moving from place to place. Once the cruise ends, depart for a land-based excursion to Italy. 
The creator made Italy by designs from Michelangelo.

– Mark Twain
Roundtrip Rome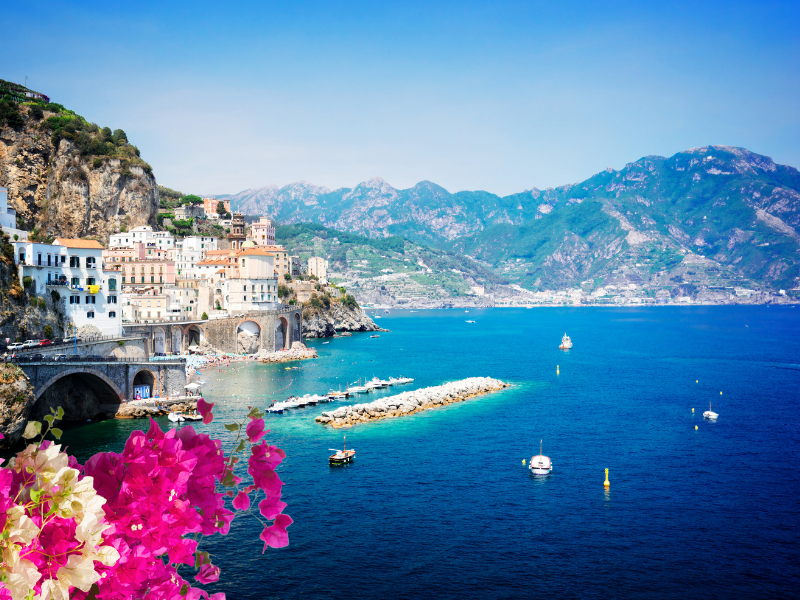 Do you wish to experience all three countries via cruise but are short on time? Then, the Celebrity 11 night itinerary offers exceptional value. While you will not have much time to immerse yourself in each country fully, this cruise gives a delectable taste of the cultures, customs, and history of the most important ancient civilizations still thriving today. Explore the exciting islands of Santorini and Mykonos, the bustling cities of Istanbul and Athens, the coastal charms of Naples and Sicily, and the history of ancient Ephesus. Truly one of the best luxury cruises in Italy, Greece, and Turkey.
For more inspiration, check out:
https://travelbta.com/the-best-time-to-visit-italy-a-seasonal-guide/
Boutique Travel Advisors is a full-service, luxury travel agency. We specialize in creating bespoke itineraries for discerning clients around the world. Please visit our website or call 480-787-1477 to speak with a dedicated travel expert. 
Are you planning an international or domestic trip? Check out our other articles to help you come prepared!
We highly recommend the purchase of travel insurance to protect your financial investment and health while traveling internationally. To purchase a policy with our preferred travel insurance company Chubb click here.
At this time, anyone that resides in CA, CO, KS, MN, MO, MT, NH, NY, PA, TX or WA is unable to purchase an insurance policy online. If you would like assistance purchasing a travel insurance policy, please get in touch with a BTA advisor.