Our users support our website. Therefore, we sometimes earn affiliate commissions when you click through the affiliate links on our website. Rest assured that all of our recommendations are made whole-heartedly with the intent of helping travelers like you discover the world authentically and responsibly.
With its ancient history, picturesque landscapes, and warm Mediterranean culture, Greece offers an ideal setting for a family adventure like no other. Over 10 days, we'll take you on a journey through Athens, Crete, Santorini, and Mykonos, catering to the needs and interests of your entire family. From exploring ancient ruins to relaxing on stunning beaches, this Greek odyssey is designed to create lasting memories for families of all ages. Join us as we uncover the rich tapestry of Greece, a land where history, culture, and natural beauty come together to make your family adventure to Greece an unforgettable experience.
Greece: A Timeless Journey Through History
History: Greece, often considered the cradle of Western civilization, is steeped in a rich history that dates back thousands of years. The birthplace of democracy, philosophy, and the Olympic Games, it has an enduring legacy. The ancient city-states of Athens, Sparta, Thebes, and the Minoan civilization on Crete are just a few highlights. Greece's history spans through the Roman, Byzantine, and Ottoman empires, making it a captivating destination for history enthusiasts.
When to Visit: Greece's Mediterranean climate ensures pleasant weather during spring (April to June) and autumn (September to October), making these the ideal times to visit. Summer (July and August) brings hot temperatures and crowds, while winter offers a milder climate, perfect for exploring ancient sites without the masses.
Currency: The official currency is the Euro (E.U.R.).
Language: Greek is the official language, but English is widely spoken in tourist areas.
Cuisine: Greek cuisine is a delightful mix of fresh ingredients, olive oil, and Mediterranean flavors. Must-try dishes include moussaka, souvlaki, tzatziki, and various fresh seafood. Don't forget to savor Greek salads with feta cheese and olives. Check out our previous blog for a full understanding of the cuisine offered in Greece. 
Costs: Greece offers a range of options to suit different budgets. While it's possible to enjoy a budget-friendly family adventure to Greece, luxury experiences are also available, especially on the islands.
Getting to and from the Islands – Flying vs. Ferry: Greece boasts numerous islands, and getting to and from them is part of the adventure. The choice between flying and taking a ferry depends on your preferences. Flying is quicker and more convenient, but taking a ferry can be a scenic journey offering unique views of the Aegean Sea. Each island is well-connected, and it's easy to find transportation options that suit your travel style.
Destination 1: Athens – Where History Beckons
What Makes Athens Special: Athens is the cradle of democracy and the heart of ancient Greece. It boasts world-famous historical sites like the Acropolis, Parthenon, and the Acropolis Museum. These sites made our list of the top 12 fascinating sites in all of Greece! Athens blend of history, culture, and modern life creates a unique atmosphere for all travelers. 
Important Tips for Travelers: The Athenian sun can be intense, so bring sunscreen and water when exploring ancient sites. Additionally, some sites, like the Acropolis, can be crowded, so visiting early in the morning is advisable. Make sure to pre-purchase tickets to main attractions. 
Recommended Hotels: For exclusive preferred rates and special amenities, contact a BTA advisor
Day 1: Athens – Arrival and Ancient Sites
Morning:
Your family adventure to Greece begins as you touch down in Athens, the historical capital of Greece. Your driver will wait to help you with your luggage and whisk the family away. After a brief check-in to your chosen accommodation, you are ready to embark on your Greek odyssey.
Afternoon:
After dropping off your bags, dive right into exploring this magical city and get to know Athens' heritage by meandering through the enchanting streets of the historic Plaka neighborhood. These charming streets are lined with shops and eateries, making it a wonderful place to discover the local culture.
Day 2: Athens – Ancient Treasures and Modern Wonders
Morning:
Experience the Magic of Mythology at the Acropolis
Getting an early start is one of the best ways to beat the crowds and enhance your enjoyment of the ancient sights. After a delightful Greek breakfast, waste no time and head straight to the Acropolis, where the iconic Parthenon symbolizes the glory of ancient Greece. 
Step back in time to an era when gods and heroes roamed the hallowed grounds of the Acropolis. Join our expert guide, specializing in captivating families, on a Myths and Legends Tour that weaves together the rich tapestry of Greek mythology and history. 
As you ascend the marble steps of this ancient citadel, prepare to be enthralled by tales of gods and titans, of heroes and their epic quests. Your guide's storytelling prowess will transport you to a world where the lines between myth and reality blur. At the Acropolis, the stones themselves seem to whisper the secrets of the past, and your guide will ensure that both young and old are equally captivated. This is not merely a tour; it's a magical journey where the legends of Greece come to life amidst the awe-inspiring ruins of the Acropolis.
Next, continue to the Acropolis Museum, a modern marvel that complements your Acropolis experience. Here, you'll find a treasure trove of artifacts and sculptures from the hallowed grounds you explored yesterday.
Afterward, journey to the Ancient Agora, where you will step into the heart of ancient Athens and become enchanted by the echoes of history and legends. Our Family Adventure in the Ancient Agora invites you to explore an archaeological gem that backdrops tales of gods and heroes. With the iconic Temple of Hephaestus and the fascinating Stoa of Attalos as your backdrop, your guide will transport you to a world where myth and reality intertwine.
Afternoon:
Enjoy a drink and happy hour at one of the beautiful rooftop bars, or take a swim at the hotel pool before venturing out for dinner. 
Destination 2: Crete – Where Mythology Comes Alive
What Makes Crete Special: Crete, Greece's largest island, is steeped in mythology. It's home to the ancient Minoan civilization, with the awe-inspiring Knossos Palace as its centerpiece. The island offers pristine beaches, charming villages, and a unique blend of tradition and modernity, this is why we have placed it as your second stop on your Greece family adventure. 
Important Tips for Travelers: Crete's terrain can be uneven, so comfortable walking shoes are essential. Don't forget to explore local villages and try traditional Cretan cuisine. Renting a car 
Recommended Hotels: For exclusive preferred rates and special amenities, contact a BTA advisor. 
Elounda Gulf Villas

– Great location and sizes for families, 1-3 bedrooms, part of SLH brand, 65 min from ferry

Blue Palace

– Nicest hotel, most $$$, family run, authentic feel, 75 min from ferry

Daios Cove Luxury Villas

– $$$$ – lux and romantic also have large villas, 60 min from ferry

Amirandes – Closer to Heraklion, great for 2-3 night stays if you want to be closer to town, 25 min to ferry/airport.
Day 3: Crete – Arrival in Heraklion
Morning:
Bid farewell to Athens as you board a flight bound for Crete, Greece's largest island. In no time, you'll find yourself in Heraklion, the island's bustling capital. From here, you will rent a car and drive south to your amazing oceanfront hotel.
Afternoon:
Check into your hotel and enjoy the rest of the afternoon at leisure, fully immersing yourself in the Mediterranean ambiance.
Day 4: Crete – Minoan Wonders and Relaxation
Morning:
Knossos Palace Adventure: A Journey into Minoan Marvels
Are you ready for a thrilling family escapade to the legendary Knossos Palace, the heart of the Minoan civilization? Our fun family tour promises an adventure that will leave your young explorers wide-eyed with wonder. As you wander through this awe-inspiring palace, you'll embark on a journey to unlock the secrets of a bygone era. 
With our engaging guide, who specializes in making history fun, you'll hear stories of Minotaurs, mythical mazes, and kings and queens who once ruled these hallowed halls. This is not your ordinary history lesson; it's a hands-on exploration that brings the past to life. Let your family's imagination run wild as you traverse the ruins of Knossos and create memories that will be etched in your hearts forever.
Afternoon:
Your afternoons in Crete are yours to enjoy. Whether you unwind on the island's breathtaking beaches or venture into the charming countryside villages, Crete's natural beauty will leave you awe-struck.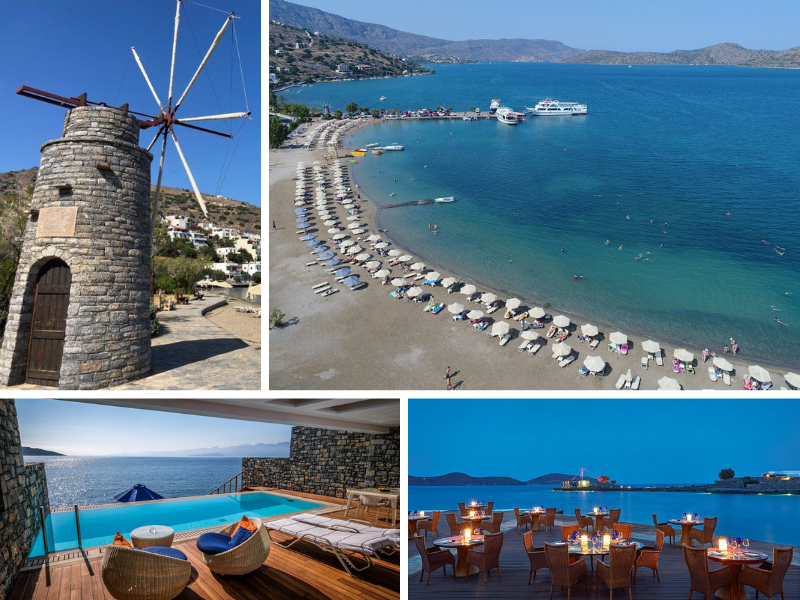 Day 5: Crete- Exploring Elounda
Morning:
In the morning, your family will set out for a day of seaside fun in Elounda, a charming town on the northeastern coast of Crete.
The day begins with relaxing on the beautiful Elounda Beach. Whether you're swimming, snorkeling, or simply basking in the sun, the crystal-clear waters provide ample family enjoyment.
Afternoon:
After a satisfying seaside lunch, explore the picturesque streets of Elounda. Visit local shops, admire the fishing boats in the harbor, and perhaps indulge in some local treats.
Return to the beach for afternoon relaxation or watersports. Let the kids play in the sand, build sandcastles, or try beach games while parents unwind.
As the sun sets, savor the beauty of the Cretan sunset from a seaside café. Elounda offers some of Crete's most captivating sunset views, making it the perfect end to your family's day in paradise. Ensure a good night's sleep, as the following day requires an early start to catch your ferry to Santorini as your family adventure to Greece continues. 
Destination 3: Santorini – Volcanic Escapades
What Makes Santorini Special: Santorini is renowned for its stunning caldera, dramatic landscapes, and breathtaking sunsets in the village of Oia. Although the island offers a romantic and picturesque atmosphere perfect for couples and honeymooners, it's also a great spot for any family adventures to Greece.
Important Tips for Travelers: Santorini's popularity means accommodations can fill up quickly, so booking in advance is wise. Exploring the island is best done on foot, so bring comfortable walking shoes.
Recommended Hotels: For exclusive preferred rates and special amenities, contact a BTA advisor. Note the minimum age, as many hotels are adult-only. 
Mystique

-Oia  $$$$- Beautiful hotel, earth tones, great for spa and wellness and families with older teens and young adults. Minimum age is 14 years old. 

Canaves Oia

– $$$-$$$$ all their hotels are beautiful, suites are most spacious. Minimum age is 13 years old. 

Grace Hotel

-$$$$- Beautiful hotel, Auberge in Imerovigli – Minimum age is 14; children below the age of 14 years old are allowed only in The Villa.

Vedema

-$$- Beautiful hotel with private beach facilities, part of the black-sand beach of Perivolos. Located 15 minutes south of Thira. 
Day 6: Santorini – Arrival in Paradise
Morning:
It's time to set sail for the captivating island of Santorini. From Heraklion, hop on a ferry, and in a few hours, you'll find yourself amidst the dramatic caldera and stunning landscapes of this iconic destination.
Afternoon:
Upon arrival, check into your chosen hotel and immerse yourself in the unique beauty of Santorini. The whitewashed buildings, blue-domed churches, and breathtaking sunsets will take your breath away.
Day 7: Santorini – Relaxation and Adventure
Morning:
Begin your day in the captivating village of Oia, renowned for its picturesque streets and unforgettable sunsets. Stroll through its narrow pathways and enjoy the caldera and sea views. 
Afternoon:
Relax on Santorini's stunning beaches, engage in water sports, or enjoy an optional hike along the caldera. Savor Mediterranean cuisine, fresh seafood, and local wines during your lunches.
Day 8: Santorini – Akrotiri Adventure and Family Delights
Morning:
Set out on an exciting, family-friendly adventure as you explore the unique ancient site of Akrotiri. This archaeological gem, often called the "Minoan Pompeii," will captivate your family with its historical significance and intriguing ruins.
Akrotiri is an exceptional archaeological site that offers a glimpse into the fascinating world of the ancient Minoan civilization. The well-preserved remnants of a Bronze Age settlement reveal a thriving community with sophisticated infrastructure, artwork, and everyday artifacts. The site's preservation under volcanic ash provides a rare opportunity to witness life as it was over 3,500 years ago, making it a captivating and educational experience for kids and adults alike.
After the historical journey, it's time for some beach fun, a little R&R on your family adventure to Greece. Your family will visit a hidden beach on the Santorini coastline. The secluded location offers pristine waters and a tranquil atmosphere, perfect for a refreshing swim or building sandcastles with the kids.
Afternoon:
As the day unfolds, venture to a local farm on the island for a delightful taste of Santorini's flavors. While the kids enjoy an engaging olive oil and honey-tasting experience, mom and dad can savor a wine-tasting session featuring the island's renowned wines.
This family-friendly tour combines history, beach escapades, and culinary delights, ensuring every family member is engaged and delighted throughout the day. It's an unforgettable journey that perfectly captures the essence of Santorini's culture and natural beauty.
Destination 3: Mykonos –Where Timeless Beauty Meets Aegean Bliss.
What Makes Mykonos Special:
Mykonos, a jewel in the Aegean Sea, is renowned for its captivating blend of timeless beauty and vibrant energy. This island embodies the quintessential Greek charm with its iconic windmills, azure waters, and whitewashed architecture. What sets Mykonos apart is its stunning landscapes and effervescent nightlife, making it the ultimate destination for those seeking relaxation and excitement.
Important Tips for Travelers:
Consider renting a scooter or car for a day to explore the island's less crowded areas. You'll discover hidden gems, quaint villages, and scenic viewpoints. Also, reserve accommodations, activities and ferry tickets well in advance. During peak seasons, Mykonos can get crowded.
Recommended Hotels: For exclusive preferred rates and special amenities contact a BTA advisor
Santa Marina – $$$$- 

Best hotel overall and only one with private beach

Mykonos Grand Hotel

–

$$$

-Great option for families and couples, perfect location and great service 

Myconian Imperial – $$- $$$

Great option for families if you don't mind being in Elia, which is around 25 25-minute drive from town.  
Day 9: Mykonos – Arrival in the Island of Windmills
Morning:
It's time to bid farewell to the unparalleled beauty of Santorini and set sail for the lively island of Mykonos. A ferry will take you from Santorini to Mykonos, and in just a few hours, you'll find yourself amidst the vibrant atmosphere of this famous destination.
Afternoon:
Arrive in Mykonos and check into your beautiful hotel. Mykonos Town, also known as Chora, is the island's bustling hub, and it's the perfect place to start your exploration. Stroll through the charming streets, with their whitewashed buildings and colorful doors. Enjoy the town and sea view of the iconic windmills perched on a hill.
Or, if you prefer a relaxing afternoon, head to one of the island's stunning beaches, like Paradise Beach or Super Paradise Beach, known for their lively beach clubs and crystal-clear waters. You can soak up the sun, try water sports, or unwind with a refreshing cocktail.
As the sun sets on your first day in Mykonos, the island's vibrant nightlife comes to life. The town is known for its lively bars, clubs, and restaurants, making it the perfect place to celebrate the beginning of your Mykonos adventure.
Day 10: Mykonos – Private Boat Ride to Renia and Delos
Morning:
Enjoy a leisurely morning on Mykonos, savoring breakfast at your hotel as you prepare for an exciting day of exploration and adventure.
Afternoon:
Embark on a private boat ride to the nearby islands of Renia and Delos. Delos, renowned for its ancient ruins and historical significance as the birthplace of Apollo and Artemis, awaits your exploration. Wander through the old city and marvel at its well-preserved temples. 
Following your time on Delos set sail for Renia, a tranquil and uninhabited island celebrated for its pristine beaches and crystal-clear waters. Take the opportunity to immerse yourself in the Aegean Sea, snorkeling in search of underwater wonders. A delightful picnic lunch featuring fresh Mediterranean flavors will be served on board the boat. Spend your relaxing afternoon either basking on Renia's stunning beaches or venturing into its charming landscapes. As the sun sets, return to Mykonos, refreshed and fulfilled after a day of exploration, swimming, and snorkeling.
Evening:
Conclude your day with a leisurely evening on Mykonos. Your options include dining at one of the island's renowned restaurants, exploring its vibrant nightlife, or simply unwinding and savoring your last moments on this enchanting island. 
Day 11: Bon Voyage
Morning: Enjoy your last hotel breakfast before loading your luggage and children for a return flight home. 
In conclusion, your family's journey through Greece has been an extraordinary adventure. From the ancient wonders of Athens to the sun-kissed beaches of the islands, the rich history, the warmth of the people, and the vibrant culture of Greece will leave a profound impact. As you prepare to depart, you are not only taking souvenirs but also a deeper appreciation for the world's diverse beauty and the importance of exploring it together as a family.
Your Greece family adventure  may be over, but the memories will last a lifetime. 
—
Boutique Travel Advisors is a full-service, luxury travel agency. We specialize in creating bespoke itineraries for discerning clients around the world. Please visit our website or call 480-787-1477 to speak with a dedicated travel expert. 
Are you planning an international or domestic trip? Check out our other articles to help you come prepared!
We highly recommend the purchase of travel insurance to protect your financial investment and health while traveling internationally. To purchase a policy with our preferred travel insurance company Chubb click here.
At this time, anyone that resides in CA, CO, KS, MN, MO, MT, NH, NY, PA, TX or WA is unable to purchase an insurance policy online. If you would like assistance purchasing a travel insurance policy, please get in touch with a BTA advisor.