Our users support our website. Therefore, we sometimes earn affiliate commissions when you click through the affiliate links on our website. Rest assured that all of our recommendations are made whole-heartedly with the intent of helping travelers like you discover the world authentically and responsibly.
Are you planning a retreat for yourselves to Greece? With multiple islands and resorts, it might be challenging to choose. We have prepared a list of the 12 best luxury hotels in Greece with amazing views to make it easier for you! So keep reading and start booking with your luxury travel advisor today!
Canaves Oia Epitome
If you are looking forward to fully immersing yourself in the serene Greek scenery, you should look no further than Canaves Oia Epitome. This brand new stunning hotel will welcome you with its luxurious, contemporary design. Book one of the deluxe suites and wake up every morning to the incredibly amazing views of the sea you can admire straight from your terrace with a private plunge pool. If the sea intrigues you, check out different cruise options, such as the Celebrity Apex Mediterranean Voyage, to add to your time in Greece.
During the day, you can choose between a wide variety of experiences offered by the property. Opt for a full-body massage or a peaceful yoga session at the spa and wellness center to fully relax and rejuvenate your body. On the other hand, the adventure seekers can book a private yachting experience or an extraordinary wine tasting session. Either way, at the end of the day, you would want to head to the world-class Elements Restaurant to treat yourselves to a sophisticated modern meal with traditional local flavors!
Santa Marina – a Luxury Collection Resort Mykonos
The Greek island of Mykonos has become a synonym of world-class experiences and luxury. Mykonos also offers many activities for travelers visiting the island. To take your holiday to Mykonos a step further and thoroughly treat yourselves, you should stay at the Santa Marina Resort. While the guestrooms are incredible with their modern, light, and airy design, nothing could beat booking one of the 13 private villas! One glimpse is enough to be absolutely in awe of your home for the next few days. The magnificently amazing views of the blue sea beautifully contrast with the airy and ultra-chic interior.
With your own butler service, private infinity pool, and fully equipped kitchen, you may want to stay here forever! Offering the traditional Hammam experience of Mykonos, the Gingko Spa is calling your name. Spend an afternoon nourishing and rejuvenating your body and soul! Do not forget to stop by the iconic Buddha-Bar Beach, which serves an incredible fusion of flavors in every dish and cocktail! For additional perks while staying at this amazing resort, be sure to book with a luxury travel agency. 
Amanzoe, Porto Heli
Dramatically perched on a stunning hilltop close to the town of Porto Heli on the east coast of the Peloponnese lies the unfathomably beautiful Amanzoe hotel. This ultra-luxurious property appeals to many travelers, from families to honeymooners, who love luxury and grandeur. We promise you that you have never seen such an incredible hotel! At first glance, you may feel like you are entering an ancient Acropolis but don't worry, this sophisticated hotel comes equipped with all the modern amenities and features you could wish for! For history buffs, staying at one of the pavilions means immersing yourself in unique Greek architecture every day!
Surrounded by views of the endless blue sea and lush green land, your private pool will be tempting you for a dip every morning and night! The inside is equally fabulous as well – sleeping in the comfortable, soft beds in this intimate setting will make you feel like a God/Goddess! And there is even more – the private beach is ideal for families with small children, whereas as promised, the history buffs can head to the nearby archaeological ruins and learn the secrets of ancient Greece! Be sure to book with a luxury travel agency to ensure top selling rooms!
Hotel Grande Bretagne – a Luxury Collection Hotel, Athens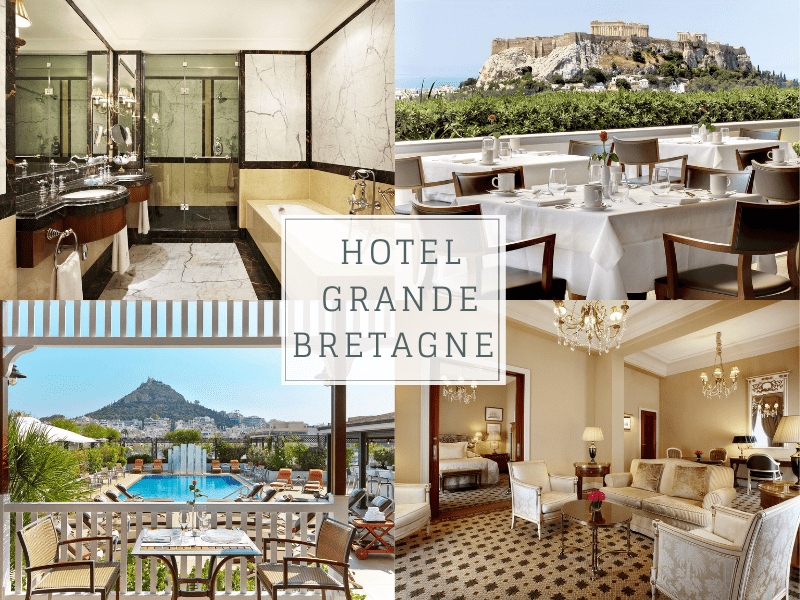 By far one of the must-visit destinations in Greece is Athens. If you're looking for a fantastic hotel in one of the most desirable and walkable locations, we suggest staying at Hotel Grande Bretagne. This property truly deserves its place as one of Greece's 12 best luxury hotels with amazing views! Located right at the heart of the capital, you will find yourselves close to all tourist sights, museums, and attractions. The property's location is not the only reason why you should book it, however.
The impressive 19th-century building only indicates the utmost experience you are about to be treated to. Elegance combines with royal luxury in every room, providing you with sophisticated, ample lodging for your vacation. If you are visiting with your significant other, make sure to book couples massages and treat yourselves to a pampering session before heading for a romantic dinner at the Roof Garden Restaurant. Sweeping views of the Acropolis and the Parliament will be accompanying your Mediterranean fine-dining experience!
Kivotos Mykonos
The 5-star Kivotos resort in Mykonos is not just one of the best luxury hotels in Greece; it is a modern, sophisticated sanctuary offering the highest world-class services. With just a handful of private suites and villas, you will know that you will be treated to an intimate, secluded experience. Each accommodation is individually decorated, yet they all have a contemporary style with unique, stylish elements and artifacts.
Start the day with a yoga session to calm your mind, followed by a traditional massage to unwind your body. In the afternoon, you can choose between the exclusive pool or the private beach – both of which will help you fully dive into the holiday atmosphere. To finish off the day right, stop by the boutique K Bar – order one of the signature drinks and relax to the sounds of soft music!
Mystique – a Luxury Collection Hotel, Santorini
Those of you looking for the most exquisite hideaway in Santorini should consider booking a luxurious suite at Mystique! With smooth curves and arches, all suites have a cave-like style. Inspired by nature, you will be welcomed to a modern and very minimal space, yet truly authentic and luxurious! Overlooking the Caldera, the Mystery Villa is the place for you and your significant other if you are planning a romantic getaway.
Nothing beats admiring the sunset views over the Aegean Sea straight from your private pool! The hotel's goal is to reconnect with nature, and the best spot to experience this is at the Elios Spa. You will be taken on an unforgettable relaxation journey through body treatments using traditional techniques to find your inner peace! Be sure to check out our ideas of things to do in Santorini during your stay.
Blue Palace – a Luxury Collection Resort, Elounda, Crete
Taking you a step further away from the most popular tourist destinations, Blue Palace – a 5-star resort in Crete is one of the best luxury hotels in Greece. This is the place for all of you desiring a more authentic and timeless experience of the Greek traditions and culture. Covering a massive territory of 143 acres on top of a hill and overlooking the endless blue waters, the hotel offers private luxury bungalows, which will treat you to the ultimate secluded, relaxing holiday.
Check out the Haven Collection for the best suites and villas surrounded by nature and equipped with the most exclusive services. From wine tours and private dining to adventure watersports and island activities, you can choose between a wide variety of exclusive experiences only offered to the guests of Blue Palace as well!
Canaves Oia Suites, Santorini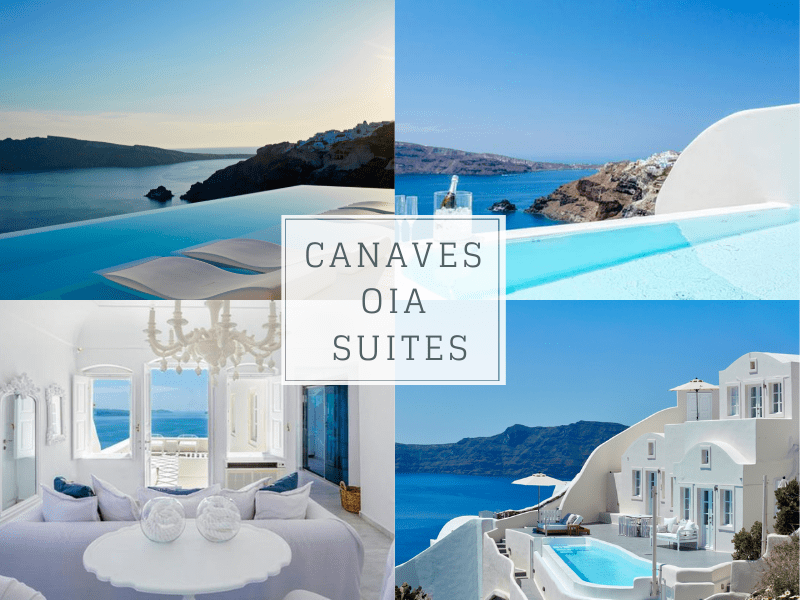 As part of the 12 best luxury hotels in Greece is another Canaves Oia Property. Canaves Oia Suites has a similar design and atmosphere with a unique blend of jaw-dropping vistas and impeccable world-class services. This is the perfect accommodation for those looking for a luxury holiday retreat with an authentic selection of experiences and activities. A private pool and terrace offering panoramic views of the Caldera are part of all suites. The modern, airy interior may tempt you to stay inside, but you do not want to miss the list of experiences on offer. Private dining, yacht sessions, body treatments, and fabulous fine dining experiences await you!
Elounda Gulf Villas
Home to 18 luxurious, stylish villas, Elounda Gulf Villas is a family-owned, award-winning resort and one of the best luxury hotels in Greece! The personalized services and exclusive boutique suites will treat you to the peaceful hideaway you have been dreaming of! The superior suites are perfect for couples with a private infinity pool overlooking the endless blue waters. In contrast, the Mediterranean and Aegean villas can accommodate larger families visiting with their children.
The scenery combined with the comfort of your accommodation will make you never want to leave. The hotel has thought about this, offering an exclusive dining BBQ experience. Culinary masterpieces will be conveniently served in your villa, accompanied by a selection of drinks. Can you think of anything better?!
Katikies Kirini, Santorini
The charming Katikies Kirin Resort looks like a hotel that came out of a fairy-tale! All your dreams of the ultimate luxurious retreat will be exceeded as soon as you step inside the property. Luxury and magnificence take on a whole new meaning at the idyllic, romantic suites. A large veranda takes you to a private pool with panoramic vistas.
The inside is equally stunning as well. Comfortable, king-size beds with an open-plan sitting area and minimal cave-like style are what make the interior modern and captivating! A peaceful sanctuary is waiting for you at the spa center. Here you can choose between a wide variety of soothing and relaxing body treatments. Finally, the Anthos Restaurant is where the sun is setting for the perfect Mediterranean culinary journey!
Myconian Utopia Resort, Mykonos
Widely known as the crown jewel of Mykonos, Myconian Utopia Resort is one of the 12 best luxury hotels in Greece. Contemporary atmosphere and quirky elements blend to create the perfect natural setting for a once-in-a-lifetime sophisticated romantic getaway. With less than 40 suites and villas, you can expect to be treated to an intimate, secluded boutique experience. Choose the Majestic Retreat Suite with a private pool and terrace with sheer, amazing views of Elia Bay.
Unique elements, such as the stone-crafted tub with authentic-looking furniture, contrast beautifully to the modern, white and airy interior. From excursion planning to in-house chef, the hotel offers tailor-made guest services, which will exceed your expectations. Do not forget to head to the Pavilion restaurant as the sun starts to set to admire the incredible views. Additionally, treat your taste buds to an explosion of flavors through the gourmet menu!
Lesante Blu Exclusive Beach Resort, Zakynthos
Last but not least on our list of the best luxury hotels in Greece is Zakynthos. Indulge into the ultimate luxurious 5-star experience at this one-of-a-kind, award-winning hotel. Staying at Lesante will immediately transport you into a world of peace and tranquility. This accommodation offers breathtaking views of the Ionian Sea. The hotel is suitable for couples looking for a romantic, intimate getaway with an adults-only approach.
Each suite offers spectacular sea views with floor-to-ceiling windows. However, nothing can beat the Royal Grand Suite with a private pool. Regardless of your choice, you would want to stop by the Essence Wellness and Spa for an exquisite rejuvenating body treatment. To finish off the day, head to one of the remarkable restaurants. Gaia Restaurant will surprise you with its delicious international meals and theme nights. On the other hand, the Melia A La Carte Restaurant will treat you to a signature fine-dining experience!
Which of these 12 best luxury hotels in Greece would you like to visit first?
—
Boutique Travel Advisors is a full-service, luxury travel agency. We specialize in creating bespoke itineraries for discerning clients around the world. Please visit our website or call 480-787-1477 to speak with a dedicated travel expert. 
Are you planning an international or domestic trip? Check out our other articles to help you come prepared!
We highly recommend the purchase of travel insurance to protect your financial investment and health while traveling internationally. To purchase a policy with our preferred travel insurance company Chubb click here.
At this time, anyone that resides in CA, CO, KS, MN, MO, MT, NH, NY, PA, TX or WA is unable to purchase an insurance policy online. If you would like assistance purchasing a travel insurance policy, please get in touch with a BTA advisor.