Our users support our website. Therefore, we sometimes earn affiliate commissions when you click through the affiliate links on our website. Rest assured that all of our recommendations are made whole-heartedly with the intent of helping travelers like you discover the world authentically and responsibly.
How To Spend 10 Days In Spain
Spain is a country that seems specially designed for lovers of food, art, culture, architecture, and spectacular scenery. But whether this is your first visit to Spain or your tenth, deciding how to spend your time in this magical country can be challenging. So we compiled a list of the top 10 things to see and do in Spain in 10 days. But don't worry, if you fall in love with the country as much as we did and want to extend your trip, we have a few suggestions for incredible extensions. 
1. Explore The World of Gaudi in Barcelona

         
Arguably one of the most beautiful cities in Europe, perched in the very heart of the Mediterranean, lies the jewel of Spain, Barcelona. Although you could spend days simply strolling the charmingly elegant boulevards and meandering through neighborhoods like the Gracia district, you would be amiss to skip out on visiting Antoni Gaudi's most important landmarks. 
Beloved and widely renowned, Gaudí spent a considerable amount of his career constructing the iconic temple, Sagrada Família, in Barcelona. Unfortunately, the structure was unfinished at his death in 1926 and remains a work in process. Schedule a private, skip-the-line tour to Sagrada Familia well in advance to visit this architectural marvel or risk missing out on seeing one of the best sights in Spain. Other notabe Gaudi works in Barcelona include Park Güell, La Pedrera, and Casa Batlló.
Ideally, you would want to fly into or out of Barcelona and spend 2-3 days exploring the city. Make sure to give yourself plenty of time to visit the main attractions as well as some downtime to stroll the quaint neighborhoods, enjoy the cuisine and do a bit of shopping. La Roca Village, The Portal de l'Àngel, Avinguda Diagonal, and Plaça de Sant Josep Oriol are a few favorites.
2. Explore Paseo del Arte (Art Walk) in Madrid
Spain's capital boasts some of the world's greatest cultural attractions, from world-class cuisine to incredible shopping to unique museums. But perhaps the cities crown jewel is the area known as the Art Walk. Along a 1km stretch lie several of the world's most famous museums, including the Prado, Thyssen-Bornemisza Museum, and the Reina Sofía National Art Centre. In July 2021, the area known as the Landscape of Light, encompassing the Paseo del Prado and El Retiro Park, was declared a UNESCO World Heritage Site. 
Once you've had your fill of cultural attractions, grab a bite at one of the city's gastronomic markets, such as San Miguel. If you're a foodie, be sure to go on a private drinks and bites tour in Madrid. Madrid is a great city to fly into or out of, making a great base to explore the region on a 10-day itinerary to Spain. 
3. Experience Authentic Flamenco In Seville
Located in what is arguably the most colorful region of Spain, Andalusia, you find the magical city of Seville. If you have 10 days to spend in Spain, spend a few days exploring the city's magnificent architecture, beautiful parks, and romantic boulevards. Then, take the high-speed train from Madrid to Seville and arrive in under 2 1/2 hours. Be sure to book with a luxury travel advisor to make all your Seville dreams come true. 
Stroll across Triana bridge, sample Spain's famous tapas, climb to the top of the cathedral tower, visit the Real Alcazar, and explore Plaza de Espana. Take a group tour and learn even more about the Seville Cathedral and Alcazar. Importantly, make sure to set aside at least one evening to experience authentic flamenco. Flamenco is a uniquely Spanish style of music and dancing, and Seville is home to tonás and sevillanas, Spain's most famous flamenco palos (styles). Visit one of Seville's "tablaos" (traditional flamenco clubs) that offer a show with dinner. Make sure to secure your tickets ahead of time as seeing a Flamenco show is one of the most popular things to do in Seville. 
4. Travel Back In Time In Toledo
The history of Toledo dates back thousands of years. Once the headquarters of Emperor Charles I, today Toledo is known as both the Imperial City and the "City of the Three Cultures." Blending the histories from centuries of conquests, civil unrest, and peaceful coexistence, the churches, mosques, and Jewish quarter ooze character, and a storied past. If you are a history lover, adding France to a Spain trip could be a great option. France offers many hotels perfect for history fanatics. 
However, if you only have 10 days to spend in Spain, consider taking a private day trip to Toledo from Madrid with a knowledgeable guide and driver. 
5. Explore The Moorish World In The Alhambra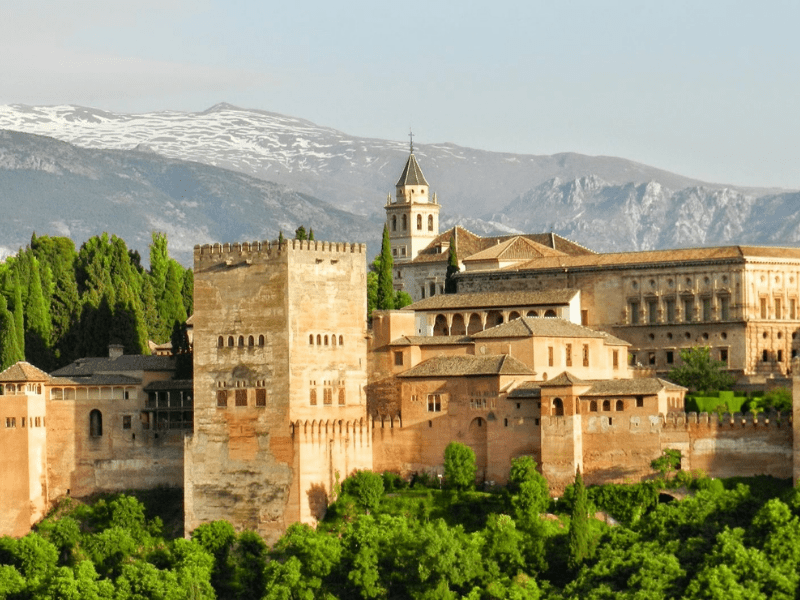 Perched on a rocky hill on the banks of the Darro river, surrounded by mountains and forests, lies the Alhambra. One of the most magnificent and spellbinding sites in the world. The complex is both a spectacular palace and a mighty fortress complex located in Granada, Andalusia, Spain. Designed initially as a military structure, it became the royal residence of the Nasrid Kingdom in the mid-13th century.
To date, it is one of the best-preserved Islamic palaces and one of the most important monuments of Islamic architecture. So it is no wonder that the Alhambra always makes the list of the top 10 things to see and do in Spain. The name Alhambra originates from the Arabic word meaning "red castle" which derives from the construction of the fortress. According to Muslim chroniclers, the Alhambra was built "under the light of the torches." 
While you can easily spend a few days in Granada exploring the old town and strolling the gardens of the Alhambra, travelers short on time can also take a day trip from Seville or Marbella. We recommend a small group tour from Seville or a private Alhambra and Nasrid Palace Tour. If you have 10 days to spend in Spain, make sure to dedicate at least 1 day to the Alhambra. 
6. Take A Yacht Ride Around Majorca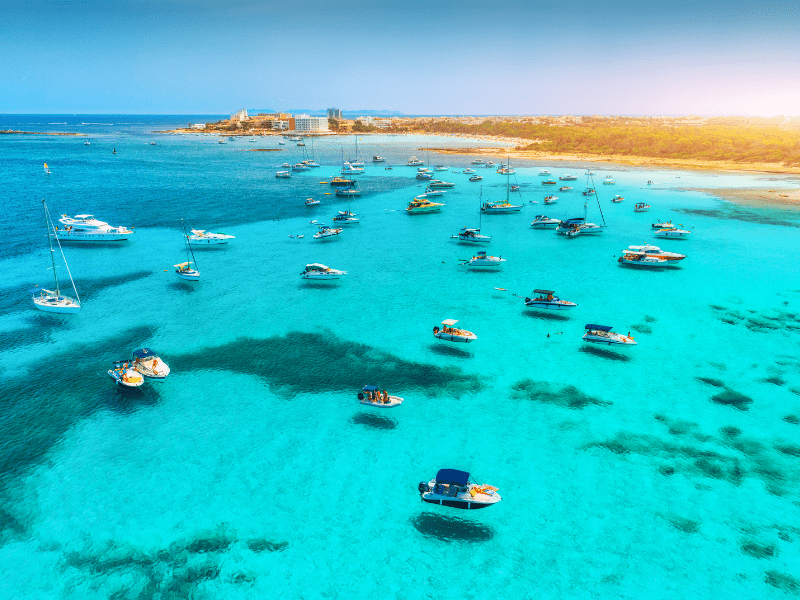 Of all the Balearic Islands of Spain in the Mediterranean, Majorca has reached worldwide acclaim as the holiday destination of the Hollywood elite, billionaires, and royalty. The island is home to magnificent beach resorts, pristine sheltered coves, unspoiled cycling and hiking trails, and Moorish and Roman archaeological remains. 
Palma is the island's capital, complete with fun nightlife, a wide variety of dining options, the Moorish Almudaina royal palace, 13th-century Santa María Cathedral, and quaint shops. Also, make sure to visit the authentic stone villages, including Pollença and hillside Fornalutx.
While there is plenty to do on the island, the best way to take in its splendor is from onboard your private yacht. Rent one for the day or the week and explore the hidden coves and secluded beaches. While you can certainly fit in Majorca in a 10-day itinerary to Spain, we recommend extending your trip to two weeks if you want to experience the island unhurriedly. Spend the first 10 days in Spain on the mainland and cap off the trip with a 3-4 day visit to Majorca. 
If you enjoy time spent on the water, we recommend setting sail on a European river cruise. This will allow you to see multiple countries at once, and spend time aboard.
7. Take A Culinary Journey In San Sebastian
On Spain's magnificent north coast lies the beautiful city of San Sebastian, otherwise known as Donostia, to the local Basque people. Widely considered the food capital of Spain and by some accounts all of Europe, this charming city is home to Michelin-starred restaurants, authentic pintxo bars, food markets, and gourmet shops. 
To fully understand and appreciate the culinary traditions of this Basque city, you need to visit one of San Sebastian's exclusive sociedades gastronómicas. These members-only social clubs are the underground life-blood of the city's culinary scene, and their entire existence is centered entirely around food. Although these culinary clubs have been around for about 150 years, they continue to intrigue the imagination. Because the societies are private, you need a special invitation from a member to get in. Perhaps the most interesting thing about these clubs is that only men are allowed in the kitchen. Women get to sit back, enjoy, and be served but are NOT allowed to work! Ask BTA how to schedule your exclusive experience. 
San Sebastian is a great city to visit for 2-3 days on a 10 day trip to Spain. When planning your itinerary, consider the travel time (we recommend flying) from Barcelona or Madrid. 
8. Attend A Spanish Football Match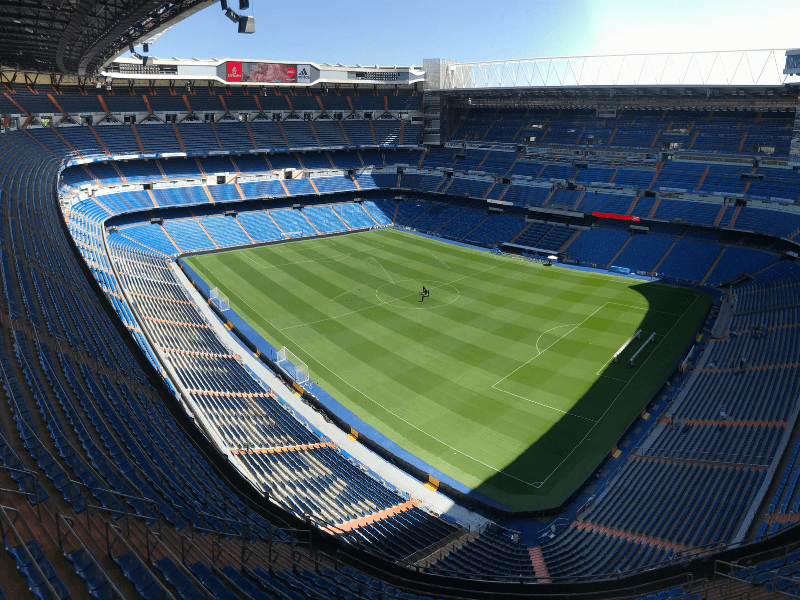 Football is undoubtedly the most popular sport in Europe and Spain is no exception. Football matches are so much a part of the national identity that you have to be careful where you display your team colors. Spain's football league is home to Real Madrid and FC Barcelona, and stars like Lionel Messi and Sergio Ramos are revered as national heroes. Attending a Football Match in Barcelona or Madrid is an incredible way to experience Spain's unique relationship with the sport. So whether you are spending 10 days in Spain or just a week, dedicating an afternoon to a football match will be time well spent. 
9. Experience The Costa del Sol in Marbella 
Marbella is another city backed by the Sierra Blanca Mountains in the Andalusia region to make our top 10 list of things to see and do in Spain in 10 days. While the city's coastline stretches for a glorious 16 miles, most attention goes to the world-famous Golden Mile, a promenade of hip boutiques, palatial coastal estates, and luxury resorts. The Golden Mile leads up to the Puerto Banús marina, where the rich and famous park their luxury yachts. Be sure to spend a  night in Marbella's favorite beach clubs. 
For a more relaxed atmosphere, stroll the charming Old Town home to local boutiques and a plentiful supply of tapas bars and seafood restaurants. If you want to immerse yourself in the cuisine Marbella has to offer, be sure to book a food tour! If you book through a travel agency, they will be able to do this for you. Much like Majorca, Marbella is a great add-on to a 10-day itinerary in Spain. We recommend exploring Barcelona, San Sebastian, Madrid, and Seville on the front end and ending your trip in either Majorca or Marbella for some much-needed downtime and relaxation. 
10. Experience The Surreal World Of Dali in The Costa Brava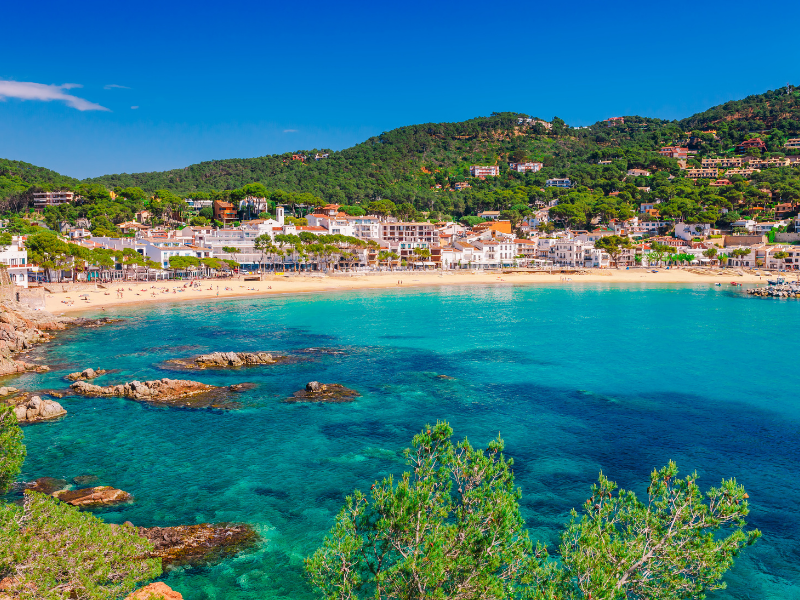 While ardent fans of the revered and often misunderstood artist, Salvador Dalí may know that the surrealist artist was born in the Costa Brava region of Catalonia, Spain, many visitors don't realize that this area is the best place to experience his art. 
Situated in the northeast corner of Spain, the Costa Brava region of Catalonia is famous for beautiful landscapes, beaches, miles of hiking and biking trails, and outstanding cuisine. In this little corner of the world, Dalí drew his inspiration for some of his most famous surrealist works. 
To fully experience Dalí 's art and understand his psyche, visit the Dalian Triangle. This includes the artist's house in Portlligat, the Dalí Theatre-Museum in Dalí's hometown of Figueres, and the sanctuary to his wife Gala at Púbol Castle. 
If you want to extend your 10-day trip to Spain, spend a few days exploring the Costa Brava. The city of Girona is a great base to explore the region. Positioned beside the River Onyar, Girona has well-preserved medieval architecture, a charming walled Old Quarter (Barri Vell), great shopping, authentic restaurants, and the Roman remains of the Força Vella fortress. In addition, nearby towns of Begur,  Pals, Cadaqués, and Calella de Palafrugell boast beautiful beaches and a charming, laid-back atmosphere.
However, if you only have a 10-day itinerary in Spain, consider taking a day trip to Costa Brava. There are many great options for small group or private tours from Barcelona to the Dali museums.
—
Boutique Travel Advisors is a full-service, luxury travel agency. We specialize in creating bespoke itineraries for discerning clients around the world. Please visit our website or call 480-787-1477 to speak with a dedicated travel expert. 
Are you planning an international or domestic trip? Check out our other articles to help you come prepared!
We highly recommend the purchase of travel insurance to protect your financial investment and health while traveling internationally. To purchase a policy with our preferred travel insurance company Chubb click here.
At this time, anyone that resides in CA, CO, KS, MN, MO, MT, NH, NY, PA, TX or WA is unable to purchase an insurance policy online. If you would like assistance purchasing a travel insurance policy, please get in touch with a BTA advisor.