With busy school schedules in full swing and fall holidays just around the corner, many families are beginning to consider their vacation plans. But while all family vacations pose challenges, the idea of planning an international trip often seems extra stressful. There are just so many nuances and logistics! Is it worth all the hassle and expense?
Don't worry, we're here to help. We've rounded up 8 of the most common myths about international family vacations and set the record straight. So read on for everything you need to know about planning the perfect trip for your family.
Our users support our website. Therefore, we sometimes earn affiliate commissions when you click through the affiliate links on our website. Rest assured that all of our recommendations are made whole-heartedly with the intent of helping travelers like you discover the world authentically and responsibly.
We've rounded up 8 of the most common myths about international family vacations and set the record straight to help you plan a perfect trip.
1. International travel is too expensive
One of the biggest myths about international travel is that it's too expensive. And yes, if you're staying in 5-star hotels and eating at the finest restaurants, your trip will cost a pretty penny. However, that doesn't mean that international travel has to be out of reach for most families. The reality is that you can find ways to save money on every aspect of your trip, from airfare to accommodation to activities.
With careful planning, research, and professional guidance, you'll be surprised that the trip's overall cost might be much lower than you first anticipated. Planning out your expenses, including flights, transfers, accommodations, tours, activities, meals, and incidentals, is crucial if you want to stay on budget.
There are plenty of ways to save money on your trip without compromising the overall experience. For example, accommodations in many international destinations such as Europe cater to double occupancy rooms. This makes it necessary to book multiple hotel rooms driving up costs. However, many families don't realize that you can find affordable accommodation options. These include family-friendly hotels that offer "family rooms" and suites and vetted apartments or villa rentals.
When renting an apartment or villa, the initial cost may be slightly higher than a hotel room, but it also comes with added benefits. For example, you can cook all or some of your meals at home. This limits the need to spend a lot of money on restaurants. Staying in a more residential area also provides opportunities to experience local restaurants. These establishments are often less expensive than high-end restaurants that cater to affluent travelers.
Cruises are another excellent way to plan a luxury vacation while sticking to a budget. Since most meals, transfers, and entertainment is included, families can plan how much they are likely to spend. Cruises help avoid experiencing too many financial surprises. You will also save money on transfers, trains and flights between destinations. To fully experience a new destination, take advantage of port excursions that appeal to children of various ages. Some excellent cruise destinations include Alaska, Europe, and the Caribbean. While the Disney Cruise line is an obvious choice for families with younger children, other lines, such as Uncruise Adventures, offer great kid-friendly itineraries to off-the-beaten-path destinations.
And remember, the experiences and memories you'll make on your trip are priceless.
2. You need a lot of time to plan an international trip
Another myth about international travel is that you need months to plan everything. Contrary to popular belief, you don't necessarily need months to plan an international trip. Timing depends on your travel dates and destination. You can often find last-minute deals on flights and accommodation with the right planning and research. However, it helps if you're flexible with your dates. And there's no need to spend hours researching every little detail of your trip. Some destinations are easy to explore on your own. If you're uncomfortable exploring independently, reach out to the hotel concierge to assist with planning a few scheduled activities. A luxury travel agent can also help you plan the most magical adventures.
One of the best ways to plan a last-minute international trip is to book destinations off-season. For example, while many families dream of sandy Caribbean beaches for winter breaks, the best resorts and hotels sell out months in advance. These resorts are also subject to peak season rates, often 2–3x higher than standard prices. However, Europe's best cities, typically packed in summer, are inexpensive and much less crowded in the winter. If the idea of celebrating Christmas in Bruges or Paris while enjoying the authentic Christmas markets, holiday lights, and winter wonderlands made famous in Europe suddenly sound appealing, you're on the right track. While you're at it, why not tack on a few days in London and explore the city's incredible museums, palaces, and rich history while staying at amazingly family-friendly hotels?
A good travel advisor can also offer tailored suggestions and curated activities that the whole family will enjoy. Of course, it's always good to have a general idea of what you want to do and see while on vacation. But don't stress yourself trying to plan every minute of your trip. Just relax and enjoy the ride!
3. You need to be fluent in the language of the country you're visiting
This is definitely not true (most of the time)! While knowing some basic phrases in the local language is helpful, you don't need to be fluent to enjoy your trip. In fact, many people find that they pick up a few words and phrases just by being in the country and immersing themselves in the culture. And with today's technology, it's easy to find translation apps and online dictionaries that can help you communicate if you get stuck.
So don't let the fear of not knowing the language hold you back from planning an unforgettable international vacation for your family. If language barriers are a big concern or if you're traveling to more remote or off-the-beaten path destinations where the locals are unlikely to speak English, it might be a good idea to consider a small group trip for your family. By traveling with an experienced tour operator, local guides and other families, you can delegate the planning and trip logistics to the experts.
4. My child is just too young to appreciate it
Think traveling with infants or toddlers is an impossible task? Think again. Taking an international family vacation with young children can be one of your life's most enjoyable and memorable experiences. Although they may be too young to remember every detail, you will forever cherish the memories. The key is being prepared.
Many parents believe their children are too young to enjoy an international trip. But the truth is that kids of all ages can have a great time exploring new places and cultures. Yes, it may require a bit more planning if you're traveling with very young children. But there are plenty of ways to ensure everyone in the family has a great time.
One option is to look for family-friendly hotels or resorts that offer childcare services. That way, you can take some time for yourself while professional caregivers are entertaining your kids. You can also look for activities and attractions specifically geared towards kids, such as museums, zoos, and theme parks.
A few other tips for traveling with small children include:
Choose the right destination — shorter, direct flights to destinations like Canada, Mexico or the Caribbean are easier with younger children and get them accustomed to international travel and time differences at a manageable rate. The closer you are to home the easier it is to purchase a return ticket in case of emergency.
Bring the right gear, but don't overpack — many hotels offer cribs, toys, pack-n-plays, baby bottles and even baby food.
Consider a family friendly cruise — waves and ocean breezes will have the whole family sleeping like babies. Plus, the child care centers give parents plenty of free time.
Consider a luxury villa rental — the concierge can stock the fridge with food before arrival and even pick up diapers, baby wipes and formula.
Book hotels that are child and family-friendly
So don't let the age of your children stop you from planning an international family vacation — they'll love it just as much as you will.
5. If my child gets sick in a foreign country, we're stuck
As parents, it is our job to protect our children. Having a child get sick while out of the country is a common worry for parents considering an international trip with their kids. But the truth is, if your child does get sick while you're abroad, you're not necessarily stuck. There are plenty of options for medical care, even in countries where the healthcare system may differ from what you're used to at home.
One option is to find a family-friendly hotel or resort that offers on-site medical care. This can be especially helpful if your child has a minor illness or injury. Another option is to visit a local clinic or hospital. The staff can often communicate in English and assist with first aid and primary care needs.
While illnesses and injuries are a valid concern for many parents, it's important to remember that modern medicine has come a long way. And in most cases, minor illnesses can easily be treated with over-the-counter medication. If your child does happen to get seriously ill while on vacation, there are plenty of hospitals and clinics in most major cities that can provide the necessary medical care.
Having the right travel insurance is key to ensuring that if you or your child requires medical attention, you can access the best medical care possible and emergency evacuation assistance.
So while it's always a good idea to be prepared for the worst, there's no need to let the fear of your child getting sick stop you from planning an international family vacation.
6. Vacations have to be all about the kids
Many parents believe vacations must revolve around their children's needs and interests. But the truth is, holidays are for everyone in the family — including you! It's essential to find a destination and activities that will appeal to everyone in the family. That way, everyone can have a great time and create lasting memories together.
One way to do this is to look for kid-friendly hotels or resorts that also offer adult-only activities. That way, you can enjoy quality time with your partner while professional caregivers entertain your children. You can also look for attractions that are child friendly but appealing to adults as well. Just because you're traveling with kids doesn't mean your trip has to revolve around them. Many of the most popular tourist destinations in the world are equally enjoyable for travelers of all ages. Take a look at a few of our favorite family-friendly itineraries, such as Portugal, London, and Paris.
Consider hiring an experienced private guide with families and children to make the trip extra special. For example, imagine seeing the Acropolis of Athens for the first time while listening to stories of the myths and legends of Greek heroes. Or, explore the Louver's treasures while the kids participate in a treasure hunt to locate the museum's "hidden" gems.
Don't be afraid to mix things up and seek the guidance of a travel expert. A travel advisor can assist in putting together an itinerary that everyone will rave about.
7. Kids think art and culture are boring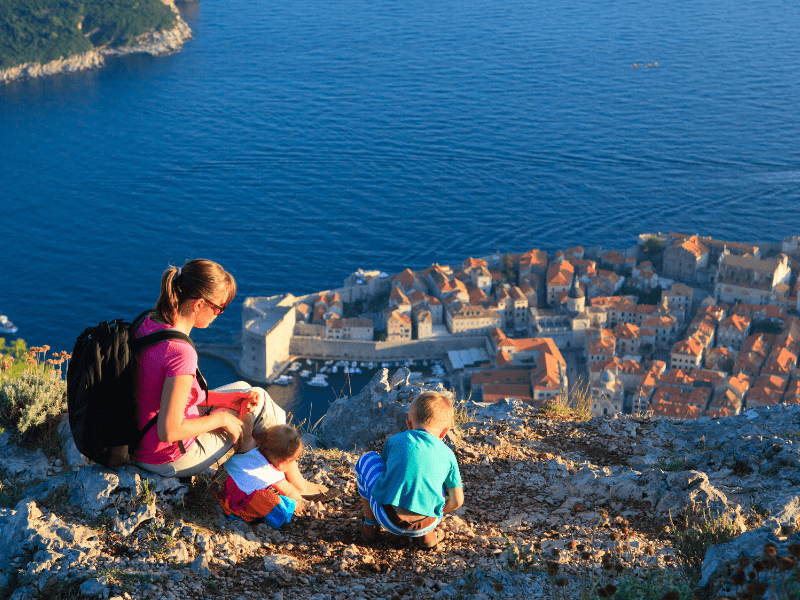 This may be true for some kids, but it definitely doesn't have to be the case. There are plenty of ways to make learning about other cultures fun and interesting for kids. One way is to look for kid-friendly museums and galleries that offer interactive exhibits. You can also take a walking tour of a historic neighborhood or go on a scavenger hunt in a local market.
Planning a successful international vacation with children is about how you structure the experience. Imagine having the children dress up, attend Gladiator school, and listen to stories of ancient heroes while exploring the Colosseum in Rome. Or how about a fun, family-friendly ghost tour through London, taking in the sights while enraptured with tales of betrayal and murder? For children interested in art, a painting class with an Italian artist on the banks of the Arno river in Florence may be their favorite experience of the entire trip.
If your children are interested in fully experiencing a particular culture, consider enrolling them in an immersion program. These programs allow you to spend time with a local host family and learn about their way of life. This is a fantastic opportunity for kids to learn about other cultures and make new friends worldwide.
So don't write off art and culture as being boring for kids. With a bit of creativity, you can find ways to make it fun and educational for the whole family.
8. My kids won't be able to eat anything
One of the most common concerns parents voice while planning an international trip is being able to feed their children and ensure they have the nutrition they need to keep going. Parents of picky eaters find this especially challenging. However, it's important to remember that kids are usually more adventurous regarding food when they're on vacation. They're often open to trying new things when they find themselves in a new place and away from their usual routine. Being around other children trying new foods for the first time serves as positive peer pressure to be a little adventurous.
If you're interested in exposing your children to other cuisines and cultures, consider taking a family-friendly cooking class or embarking on a foodie walking tour. Wouldn't it be fun to learn to make delicious macarons in Paris? Or how about a pizza and gelato making class in Rome?
Of course, it's always a good idea to have some familiar snacks on hand in case your kids get homesick or start to get "hangry". But don't be afraid to let them try the local cuisine. You might be surprised at how much they enjoy it!
Despite what you may think, an international family vacation can be an excellent experience for everyone involved. With some planning and creativity, you can find ways to make it work for your family. So don't let the myths hold you back — start planning your next adventure today! … And don't forget the snacks!
For more inspiration on corporate retreats, check out our blog on the Top 5 Amazing Out of The Box Destinations For Your Next Corporate Retreat. 
Boutique Travel Advisors is a full-service, luxury travel agency. We specialize in creating bespoke itineraries for discerning clients around the world. Please visit our website or call 480-787-1477 to speak with a dedicated travel expert. 
Are you planning an international or domestic trip? Check out our other articles to help you come prepared!
We highly recommend the purchase of travel insurance to protect your financial investment and health while traveling internationally. To purchase a policy with our preferred travel insurance company Chubb click here.
At this time, anyone that resides in CA, CO, KS, MN, MO, MT, NH, NY, PA, TX or WA is unable to purchase an insurance policy online. If you would like assistance purchasing a travel insurance policy, please get in touch with a BTA advisor.