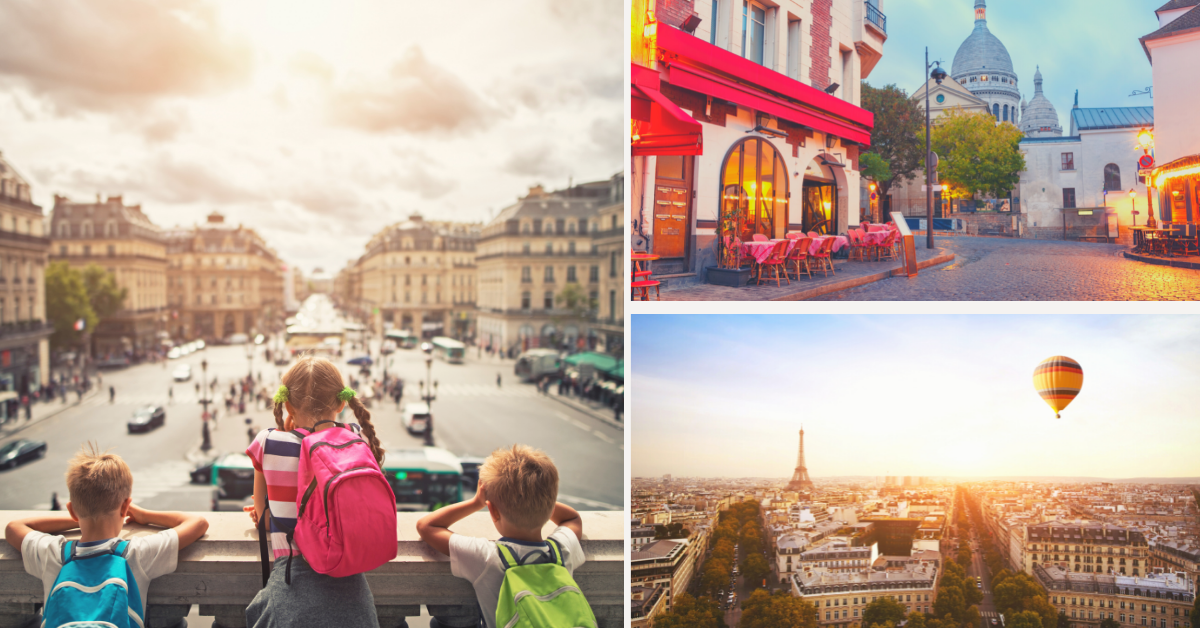 Paris is the City Of Lights, romance, food, culture, and history. It needs no introduction as its sights are some of the most iconic and beautiful worldwide. Yet, despite being the dream destination for millions of people each year, families coming to Paris are often overwhelmed and lost. So, how do you create the perfect Paris itinerary for families that will encompass everything the city offers?
Paris will spoil you with choices of sights, activities, museums, and day trip options. However, narrowing down an itinerary that will entertain the children while engaging the adults is often challenging. For this reason, we have put together a time-tested, week-long itinerary. Explore tours that will astonish and entertain every member of your family.
Day 1:
Arrive at Charles de Gaulle Airport, where your private driver will be waiting to whisk you away to your beautiful hotel.
Where to Stay:
A few of our favorite hotels to suggest for a Paris itinerary for families include:
La Reserve Paris Apartments – This iconic hotel embodies the intimacy and comfort of a private residence.  La Reserve exudes warmth and hospitality for families, from exceptional service to elegant interiors. Guests enjoy all the services of a dedicated personal housekeeper and concierges, room service, a private chef, a relaxing massage, and a car with a driver. It's an easy walk to the Eiffel Tower and many boutiques and cafés in the sixteenth arrondissement.
Hôtel de Crillon, A Rosewood Hotel – Another exceptional hotel, this property enjoys an unrivaled position overlooking Place de la Concorde in the heart of Paris. Proximity to the Champs-Elysées and Jardin des Tuileries and only minutes from the city's most iconic sites allows families to take in Paris while never venturing too far from home.
Kimpton St. Honore, Paris – With its Art Nouveau façade and idyllic location in the city's heart, Kimpton St. Honore is an urban sanctuary dedicated to classic Parisian luxury. Stay in one of the 175 apartment-style rooms and suites boasting balconies, floor-to-ceiling windows, and curated art. Located in the heart of Paris's Opera neighborhood, the hotel offers guests boutique-style incredible views of the city.
After dropping off your bags and settling in, we will acquaint you with this incredible city on a quintessential family-friendly tour. But, of course, every Paris itinerary for families needs to include a Tuktuk. 
Walking tour and Fun-filled Tuktuk Ride Through Paris:
This tour encompasses the best of Paris and includes famous tourist sights and smaller off-the-beaten-path locations. First, meet your fantastic guide at the Notre Dame de Paris and discover the history of one of the world's oldest and most dramatic Gothic cathedrals. Next, head over to the Louvre Museum. Your guide will entertain the kids with anecdotes and stories about the museum's history, imagining life when it served as a royal palace. You will not be visiting the museum today, so enjoy the views and stories. We're saving the Mona Lisa for tomorrow.
From the Louvre, enjoy a relaxed walk at the Tuileries Gardens. This vast and beautiful park takes you to the Place de la Concorde. On the way to the iconic square, you will stop at the Palais Garnier, also known as The Opera. In the 19th century, this ballet and opera hall was responsible for revitalizing the entire surrounding neighborhood. Cafés and shops opened for business, attracting patrons of the arts, musicians, and dancers. Today the district pays homage to its storied past, beautifully blending history and modernization.
Making your way past the opera, you will find yourself in the very heart of Paris, The Place de la Concorde. Your guide will show you which hotels, ministries, or churches are hidden behind the columned facades of historic buildings while entertaining your children with engaging stories. Looking straight ahead, you will see the famous Champs-Elysées avenue and Arc de Triomphe!
Last but not least, your guide is taking you up to Montmartre to see Paris from the best point of view! Drive in a private Tuktuk for a scenic 60 min ride along Paris's most famous streets. The Sacré-Coeur terrace provides an extraordinary panoramic view above Paris.
Finish off your busy day with a relaxing dinner in one of Paris's famous cafes such as Le 52, A hangout for 10th arrondissement locals and other Right Bankers. They love the accessibility of the neo-brasserie format. Then, make sure to grab a spot on the terrace and enjoy another one of Paris's favorite pastimes, people-watching.
Day 2:
Today your day starts with a complimentary breakfast and famous French espresso. Then, enjoy a quiet morning and take in the sights as you head to the Louvre.
Treasure Hunt At Le Louvre:
While the iconic and world-renowned Louvre museum is both the largest and one of the finest in the world, many families are intimidated by its vast halls and infamously long lines.
However, while you may not be able to spend endless hours perusing the thousands of exhibits adorning the walls, floors, and ceilings of the museum, we can make this experience both entertaining and meaningful. With the right guide and a well-planned itinerary, The Louvre can be a fabulous place for children.
Start with skip-the-line passes. Then, as you are whisked past the crowds, your children will be given an important assignment. They will have to unravel a mystery inside the Louvre! Walking the halls of this enormous palace will become an engaging and educational game with an art historian by their side. They will explore Egyptian mythology, Greek Latin Antiques, and Italian art, such as the famous Mona Lisa!
Your guide will give your kids an activity booklet, tailor-made for them, which allows them to use their incredible imaginations and become actors of their tour. First, they will explore the works of art with thought-provoking questions, knowing they will win a clue written on a card with each correct answer. Then, once the whole set of cards is collected and all the clues put together, they will solve the mystery!
Of course, this Louvre for kids tour is not only focused on your children! Everyone in your family will see the principal masterpieces of the museum and will learn fascinating facts from your guide.
Following your tour, enjoy a relaxing stroll through the streets of Paris. 
Afternoon Adventure With The Impressionists 
This combination of visiting another incredible art museum and participating in a fun-filled private hands-on workshop is the ideal way to introduce even the fussiest little travelers to the magic of Impressionism. Today's focus will be on Claude Monet, one of the most well-known Impressionist painters of all time.
Your private art guide will accompany your family to the Orangerie museum (Musée de l'Orangerie), and head straight to see Monet's extraordinary and enormous Water Lilies in all their glory.
With these images still fresh in your minds, take as scenic drive to the artist workshop, where the whole family will participate in the creation of a giant family Impressionist masterpiece using pastels. Each family member will choose a part of the painting they want to work on. At the end of class, you will have your own family reproduction of Monet's Water Lilies.
This masterpiece is yours to keep. Bring it home and find a spot to proudly display your work as a reminder of your time spent in Paris.
Tonight we recommend a fun dinner at Rosa Bonheur. Located in one of the city's largest and most beautiful parks, Buttes Chaumont, this kid-friendly café takes a relaxed approach to dining. The Basque-style menu features classic tapas, so grab a tray and sit outside at any one of the large communal tables under the trees and watch the kids run wild.
Day 3:
In the morning, explore the beautiful and historic area of Le Marais. This Parisian quarter positioned in Paris's 3rd, and 4th arrondissements, has been at the heart of every significant event in French history. The mansions and the powerful families who inhabited them rose and fell with the times. Stroll the streets, stop in the shops, and take it all in. Then explore the Jewish Quarter, where a vibrant community has blossomed and survived for centuries.
Morning Paris Catacombs Surprises
Under the southernmost part of the city lies one of the most incredible and eerie sights in Paris. These underground, multistoried rooms and long corridors became the Paris Catacombs, almost like another city unto itself.
Unlike the catacombs of Rome, Parisian catacombs never served as a cemetery.  Descend 100 steps below street level begin a 2 km route that leads you deep into a land of stones and bones. The bones belong to more than 6 million Parisians who quietly rested in intramural cemeteries until 1786, when the city relocated them for hygienic reasons. While walking, you will see a lot of bones but never placed in the same patterns. Instead, walls of shins, pillars of skulls, and thigh bones are decoratively arranged. This is the kind of unusual architecture you're about to discover.
This catacombs tour in Paris guarantees shivers and hilarious anecdotes. You will learn about the funny Quarrymen Foot-bath's rite. You'll discover which pragmatic reason lies behind the (slightly too) solemn Pedestal of the Sepulchral Lamp or which very fashionable event the Rotunda of Shins hosted in 1897.
Although not appropriate for young children, families with school-age and middle-school-age children thoroughly enjoy this tour.
Optional Afternoon Da Vinci Code Adventure For Teens 
While the best seller inspired the tour, it is unnecessary to read the book to enjoy it. This fun adventure takes place in the Saint Germain district in Paris, where you will meet your guide in front of the Pantheon. Specially designed for teenagers, your family will have to race against time to solve the riddles as the world's fate lies in your hands. An excellent way for everyone to learn about Paris' cultural and historical heritage with a fun twist.
Follow along and explore the final resting place for France's most famous men and women, including Victor Hugo, Marie Curie and Voltaire.
Then continue through the beautiful Luxembourg Gardens, towards Saint Sulpice Church, the largest church in Paris. After a quick look inside follow your guide to Saint-Germain-des-Prés church, one of the oldest in the city.
Day 4:
After a couple of busy days exploring and touring the main attractions, you will want to sleep in and spend a day relaxing and experiencing some of the great pleasures of Paris.
French Pasty Cooking Class:
We know that you've heard of French cuisine's reputation, pastries in particular: macarons, tartelettes citron meringuée, éclairs au chocolate, and so on. It's time now to learn how to make them!
Located in the oldest foodie neighborhood of the city, this fully equipped workshop will be your pastry laboratory! Your pasty chef will share her expertise to help you build your knowledge and then guide you through the process of creating incredible confections. Learn how to make proper cream, line a baking mold with dough, and separate egg whites correctly. After baking, savor your delicious treat while enjoying a warm cup of tea or coffee.
Private Seine River Cruise and Sunset at the Eiffel Tower:
A private cruise on the Seine River is an absolute must-do to make the most of your Paris itinerary for families. Your family will take in the sights and beauty of Paris from the comfort of your luxury pontoon boat.
During this 1.5-hour private cruise, you'll catch glimpses of Notre Dame, the Louvre, the Obelisk on Place de la Concorde, the magnificent Alexandre III bridge, and the Eiffel Tower. The entire family will be entertained with stories and insights from your local guide, while the kids will have their very own booklets with fun riddles to solve on the way.
Following the tour, you will have a chance to visit one of the most iconic sights in the world, the Eiffel Tower. Learn the history, be wowed by the views, and, most importantly, create a life-long love of travel and learning for your children.
Eat dinner at one of the nearby cafes, or for a truly unforgettable experience, make reservations at one of the restaurants in the Eiffel Tower. Jules Verne or The 58 Tour Eiffel.
Day 5:
Versailles palace is one of the tops requested tours for first time and repeats visitors to Paris. An easy ride from the city transports you back in time and brings you to one of the most beautiful castles in the world. Palace Of Versailles
Magical Versailles Place & Gardens:
On our Palace of Versailles Tour, you will experience more than a single visit. Travel back in time and learn the delicate rules of the court and understand why Ladies and Noblemen would have killed to hold a position close to the King. At the start of the tour, parents and children receive a Historical Character Card. With your card, step into the shoes of the courtiers and servants that were living close to the King. Along the tour, your guide will call your card and tell tales of the incredible life of your character!
In the 17th century, many Courtiers visited Versailles to pay tribute to the King, expecting from him favors and promotions. Today, visitors still travel the world to see the Palace of Versailles, the most beautiful castle in France, and learn about Louis.
XIV, the most famous King in French history.
Break for lunch at the famous Ducasse Restaurant before exploring the Versailles Gardens and witnessing the incredible Musical Fountains Show.
For an exceptional experience, inquire about The Royal Serenade in the Hall of Mirrors. Then, make your way from the Royal Chapel's Vestibule to Hercules's Salon through the Hall of Mirrors. The musicians are dressed in magnificent baroque costumes, bringing scenes from this 17th-century court to life.
Adventure seekers and families alike will enjoy a fun-filled bike ride through the Versailles gardens.
Tonight has dinner at the lovely Le Petit Commines:
The Paris restaurant is located near Saint-Germain-des-Prés. Thus, his name is a nod to Jacques Prévert, a fan of word games and famous neighborhood resident. "Philippe Delacourcelle knows how to handle spices like few other French chefs. He also trained with the late Bernard Loiseau and learned the art of French pastry at Fauchon."
Day 6:
After spending several days exploring the main sights in Paris, many visitors are ready to break off and explore other parts of France. For unique experiences in your Paris itinerary for families, we recommend the following options:
Option 1: Day of Champagne and Chocolate:
Set off the mid-morning on a private tour of some of the most beautiful countryside in France. Visit the historically significant city of the Reims and explore its 13th-century Cathedral. The cathedral is larger than Notre-Dame de Paris and housed the coronation of 25 kings of France. It is now a UNESCO World Heritage Site.
Next, head out and enjoy the views of tranquil rolling hills. Then, stop for lunch and a champagne tasting in a private cellar before embarking on a relaxing tuk-tuk ride through the vineyards. In the afternoon, head back to Epernay. Visit the famous Moët et Chandon, which started as the favorite champagne of King Louis XV and retained its reputation for centuries to follow. Everyone wanted a glass of Moët et Chandon from Napoleon to Queen Victoria! Although the tasting is delicious, a walk through the 17 miles of underground cellars is genuinely memorable.
End your tour with a chocolate artisan. Discover their specialty bouchons au Chocolat (chocolate with champagne) before returning exhausted and happy.
Option 2: D-Day History Tour
Today you have an early breakfast and pick up for a big day ahead. Embark on a trip back in time to the D-Day invasion of Normandy by the Allied forces. A crucial period for the outcome of World War II, this tour teaches you history. Reflect on its impact by visiting the iconic sites of the Normandy D-Day Landings. On 6 June 1944, also known as D-Day, the Allies opened up a new front against Germany's Third Reich troops. It was the largest military operation in history. D-day marked the start of the Battle of Normandy, which eventually led to the end of the Second World War.
The tour is a somber reminder of the many lives lost in this war. However, it also offers a beautiful reminder of the willpower and resolve of 150,000 soldiers from America, Britain, Canada, and many other different nations. These soldiers landed by air and sea on several beaches along the Normandy coastline to save Europe. Visit the Pointe du Hoc, Caen Memorial, dedicated to films about World War II, the American Cemetery in Colleville, and the famous Omaha Juno Beaches, where the famed D Day landing occurred.
Day 7:
Enjoy your last espresso and freshly baked croissant this morning and bid adieu to your new friends. Although your time in Paris must come to an end, we know that the memories created will last forever. We hope you enjoyed our Paris itinerary for families and want to learn more about this fascinating city and colorful culture. Au revoir…
 —
Boutique Travel Advisors is a full-service, luxury travel agency. We specialize in creating bespoke itineraries for discerning clients around the world. Please visit our website or call 480-787-1477 to speak with a dedicated travel expert. 
Are you planning an international or domestic trip? Check out our other articles to help you come prepared!
We highly recommend the purchase of travel insurance to protect your financial investment and health while traveling internationally. To purchase a policy with our preferred travel insurance company Chubb click here.
At this time, anyone that resides in CA, CO, KS, MN, MO, MT, NH, NY, PA, TX or WA is unable to purchase an insurance policy online. If you would like assistance purchasing a travel insurance policy, please get in touch with a BTA advisor.