From Tower Bridge to the London Eye, London has some of the most iconic and well-recognized attractions in the world. Millions of people visit the capital of the United Kingdom every year eager to explore English history, visit the city's famous museums, and have fun exploring the family-friendly attractions and sights! 
While planning your itinerary might seem easy with many places worth exploring, choosing the best accommodation can be challenging, especially when traveling with your children. 
Sifting through thousands of online reviews and posts is time-consuming and doesn't guarantee that what works for one family will work for you. For example, many hotels in Europe offer double-occupancy rooms that are not suitable for families with young children requiring families to secure multiple rooms to accommodate their needs. In addition, some hotels guarantee connecting rooms (many do not), making it easy to prop open the connecting door and enjoy privacy and convenience.
Other hotels offer family-friendly suites complete with a separate living area and kitchenette. Families with younger children will want to carefully consider the location of their hotel to ensure easy access to attractions and the Underground. If you want to avoid the costly mistakes of securing the wrong accommodation for your next trip to London, here is our list of the 10 best hotels in London for families! We are sure you will find precisely what you need below, so keep reading. 
Hotel 41
If location, luxury, and service are the key to keeping your family happy, book your stay at Hotel 41. Conveniently situated just a few minutes away from Victoria Station and overlooking the peaceful Royal Mews of Buckingham Palace, this 5-star hotel is truly our favorite hidden gem. With just 30 suites, you will find a luxurious boutique hotel, which will transport you back in time. Every piece of furniture and interior element is carefully selected to provide guests with the most exceptional experience of authentic English style.
While each guestroom is individually designed, the hotel pursues ultimate sophistication through a simple yet elegant black and white theme. While staying at Hotel 41, work with your travel advisor to book engaging and fun family-friendly tours with your private guides. There is a bit of everything for everyone, from private behind-the-scenes tours to great cooking classes! With tours of the Buckingham Palace to the Sealife London Aquarium, the options to keep the whole family entertained are endless. Be sure to choose the best travel advisor for your family. 
Situated in Mayfair, often considered London's heart, Athenaeum Hotel & Residences is a lot more than just an accommodation to stay at during your holiday. As a family-run hotel, this is one of the 10 Best Hotels in London For Families. The design is exceptionally contemporary and clean, yet it gives you the coziness and feeling of home while away from home. Only available to guests, The View is the spot where you want to be as the sun is setting and illuminating the London skyline. So cozy up in the comfortable furniture and soak in the stunning city skyline! 
While treating yourself to a traditional delightful afternoon tea is a must, getting dinner at the 116 restaurants and indulging in the seasonal menu is one of the best fine dining experiences in the city!
Corinthia Hotel London will treat you to an authentic, heritage British style and luxurious modern flavors! While all guestrooms are spacious and fully equipped to meet your needs, nothing is better than extraordinary residential penthouses. The elegant and luxurious design, combined with the private balcony, buttery-soft bed sheets in a comfortable King Size bed, and small signature touches, will make your stay unforgettable. 
If traveling with young children, consider a day touring the Warner Bros Studio and see the set of Harry Potter. Once you are back from exploring, make sure to head to the Kerridge's Bar and Grill. You will be quickly impressed by the cozy and elegant atmosphere. Still, the classic menu with a modern twist created by the Michelin starred Chef Trom Kerridge will take you on an unforgettable culinary journey!
If you want to feel like royals, Kimpton Fitzroy London is the place for you. Enviably positioned in the heart of Central London's stylish Bloomsbury, the property overlooks lovely Russel Square. While the impressive, vintage, authentic exterior awes visitors at first glance, the hotel's interior is even more remarkable! The lobby area, restaurant, and bar perfectly represent sophistication and elegance. However, the guestrooms will surprise you with their contemporary design.
Each guestroom is synonymous with luxury and elegance, from cozy deluxe doubles to luxurious suites. The Fitzroy Suite is one of the best options for families, with interconnecting rooms available. They are all spacious and will provide enough space for your entire family! Before you head back home, do not forget to book a table at the Galvin Bar and Grill, led by not just one but two Michelin-starred chefs!  
Rising high above the River Thames, everyone has heard of the Shard – dreaming to admire the views from there. The only thing that can be even better is staying at the Shangri-La Hotel, between the 34th to 52nd floors of the iconic Shard building. Regardless of whether you choose one of the standard guestrooms or one of the signature suites, you will be greeted by the remarkable uninterrupted views of the London skyline as soon as you wake up in the morning! 
To start the day right, make sure to head to the gym and spa center on the top floor. The infinity pool is perfect for a refreshing dip in the morning, whereas the unique wellness treatments will rejuvenate your body and mind. As the highest bar in the English capital, Gong is the place to be at night. Nothing can beat sipping on delicious cocktails while admiring the glittering lights of London by night!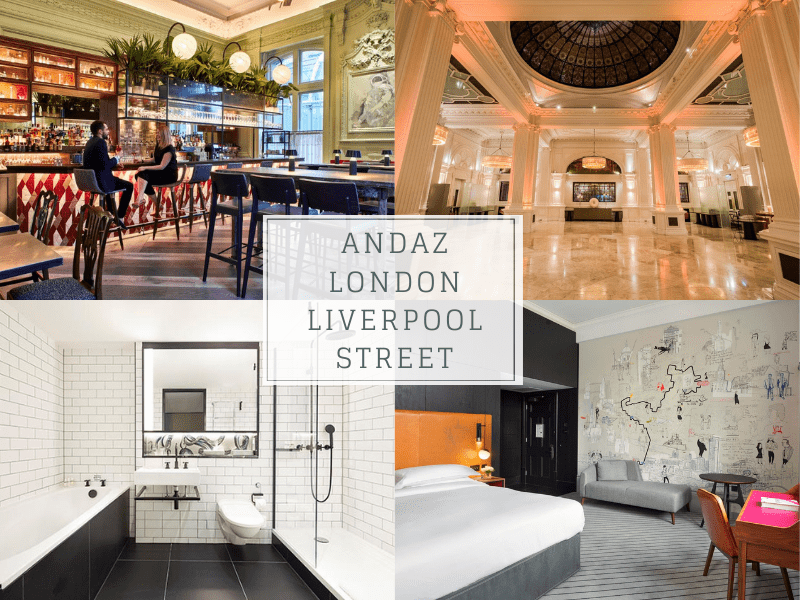 As part of the Hyatt family, Andaz London is a 5-star boutique hotel, which will greet you with its vintage atmosphere as one of the first railway hotels in England. The historic exterior quickly makes room for the contemporary elements, which will provide you with a homey feeling even when away from home, making Andaz London Liverpool Street one of the 10 best hotels in London for families. 
All accommodation options are spacious and well equipped with everything your family would need. However, the large suites will give you the ultimate luxuries experience! If you are a Japanese cuisine fan, make sure to book a table at Miyako and treat yourselves to a sushi platter – a mini sojourn to Asia from the heart of London! 
The vibrant and colorful Mayfair neighborhood in the center of London's most elegant and luxurious districts, the 5-star Brown's Hotel is a fusion between ancient and modern. Sophistication and grandeur blend seamlessly at this iconic hotel that has been the primary choice for celebrities, artists, and politicians throughout the years. 
At the same time, the contemporary 21st-century elements combined with the friendly staff make this property one of the 10 best hotels in London for families. You will feel right at home when staying in one of the spacious classic suites. If you have younger children, the hotel offers fun children's amenities and even babysitting on request, perfect when you want to treat yourselves to a few hours in the spa. End the day at the unique Donovan Bar, which has an impressive menu of 60 signature cocktails perfect for sipping on while enjoying the live jazz music!
If you dream of staying in Mayfair, but Brown's Hotel does not check all the boxes for you, Flemings Hotel definitely will! Still centrally located but slightly off the lively London streets, Flemings Hotel is perfect if you are looking for a more peaceful retreat for your family. Besides the more intimate and tranquil setting, the hotel will also surprise you with its remarkable eclectic design, a combination of old-style Georgian and modern touches. After recent renovations, even the standard double rooms are elegant and spacious.
However, for the ultimate family experience, book the exclusive studio suite, which comes with more space, its own living area, as well as a gin bar and private patio outside. While you will be entirely captivated by your luxurious home-away-from-home, do not miss having afternoon tea at the Drawing Room. Surrounded by elegance and style, you will be able to indulge yourselves in one of the best fine dining experiences in London. If you are a foodie lover, you would also want to have a dinner reservation for the Ormer Mayfair Restaurant, renowned as one of the best restaurants in the English capital. An explosion of flavors awaits you in every meal prepared by the famous Michelin-starred Chef Sofian.
Rosewood London
The incredible combination of the perfect location and simple yet extraordinary personal touches make Rosewood London a top favorite among families traveling to London. Of course, the spacious and modern family rooms are a must when traveling with children. However, what will make your experience unique and special is the attention to detail. While the Rosewood hotel has carefully thought of nearly everything you might wish for during your stay, the staff is more than happy to oblige to the changing needs of families. 
The fully-equipped modern gym is the ideal spot to hit early in the morning for fitness enthusiasts, while those of you looking for some peace and time to rejuvenate your bodies should check out the Sense Spa. Once you finish exploring and experiencing London, head straight back to the Holborn Dining Room and treat your taste buds to the traditional British cuisine served with modern flavors.
Taj 51 Buckingham Gate Suites and Residences, London
Once upon a time, the Taj was the residence for royalty. Now, it is one of London's most luxurious and finest hotels. So if you want to be treated like a real King or Queen, you should stay at Taj 51 Buckingham Gate Suites and Residences, London. Guests are greeted by the warm and hospitable staff and invited to enjoy the historic and authentic charm of the property. The massive presidential suites make Taj 51 Buckingham Gate Suites and Residences one of the 10 best hotels in London for families. Depending on how many members are there in your family, you can choose between 1 to 3 bedroom townhouses, which will immediately make you feel at home with all the unique amenities and their modern, stylish décor. 
The hotel aims to provide its guests with the best spa treatments inspired by the Indian wellness philosophy, so the Jiva Spa should be high on your itinerary. Also, with seven different dining options, you will never be hungry while staying at the Taj. From the Asian-inspired Quilon restaurant to the modern Kona specializing in delightful afternoon teas, there will be a bit of everything for everyone!
Travel Beyond…
Are you looking to combine your London trip with another European destination? Consider taking the Eurostar to Paris and continuing your family adventure in the City of Lights. Check out our articles on a family-friendly Paris itinerary and our favorite hotels to make you feel like a local.  
—
Boutique Travel Advisors is a full-service, luxury travel agency. We specialize in creating bespoke itineraries for discerning clients around the world. Please visit our website or call 480-787-1477 to speak with a dedicated travel expert. 
Are you planning an international or domestic trip? Check out our other articles to help you come prepared!
We highly recommend the purchase of travel insurance to protect your financial investment and health while traveling internationally. To purchase a policy with our preferred travel insurance company Chubb click here.
At this time, anyone that resides in CA, CO, KS, MN, MO, MT, NH, NY, PA, TX or WA is unable to purchase an insurance policy online. If you would like assistance purchasing a travel insurance policy, please get in touch with a BTA advisor.