Best Luxury Boutique Hotels In Paris To Feel Like a Local
The World's Fashion Capital, City of Lights, City of Love – Paris, has received various names throughout the years! Romantic getaway seekers, art enthusiasts, foodie lovers, fashion divas, and history buffs have all visited the French capital. It is a great spot to look for inspiration, creativity, and creating long-lasting memories! 
However, Paris is one of the destinations that you do not just want to visit. You want to truly experience. To do so, you need to fully immerse yourself into the French lifestyle. Be sure to get a real taste of the Parisian vibe and atmosphere. If this is what you are seeking contact your luxury travel advisor and keep reading as our list of the best luxury boutique hotels in Paris will make you feel like a local. Additionally, these hotels will provide you with an experience of a lifetime!
Situated at the heart of the French capital and just a few steps away from the world-famous Louvre Museum, Castille Paris welcomes visitors with a beautiful interior and intimate atmosphere. For a truly memorable experience, book one of the luxurious and spacious suites. There is nothing better than starting your day by waking up in a soft, comfortable King-size bed and sipping a cup of aromatic espresso accompanied by freshly-baked Parisian croissants in your private balcony overlooking the hotel's private peaceful courtyard. 
We are sure that you are eager to get out and explore the attractions around the city! However, before you head out, check out the Chic Picnic experiences exclusively offered to the hotel guests. The staff will prepare a fantastic picnic basket for you filled with delicious lunch bites. Then you may take the goodies along with you and enjoy them at the Jardin des Tuileries! Make sure to book a table for dinner in advance for the L'Assaggio restaurant. Treat your taste buds to an explosion of flavors through the unique "traditionally modern" menu created by the Michelin-starred chef Ugo Alciati!  
With the world- famous Louvre Museum so close, all guests must be sure to visit the wonderful Museum. Home to the famous Mona Lisa, the Louvre is a must see! Be sure to book a private Louvre tour, so a professional can teach you all the important history. For a special experience, book an after-hours tour and enjoy the museum as if you are VIP.
Grand Hotel du Palais Royal
If you have a soft spot for beautiful, classic 18th-century architecture, you will want to stay at Grand Hotel du Palais Royal. It is not just the stunning exterior and facade, though! Step inside the lobby, where you are welcomed by the light and airy, glorious interior with Parisian chick touches! With only 68 rooms, the hotel is a smaller boutique hotel. This hotel is perfect for planning a romantic getaway with your significant other. Guests looking for a bit of a splurge can fully immerse themselves in the peaceful junior suite. 
Enjoy a glass of champagne while taking a bath or sip a signature cocktail on your private balcony with remarkable views of the Louvre in the distance! After your stroll around the picturesque Parisian streets, head to the Holidermie Spa and treat yourselves to rejuvenating facial and body therapies. Incorporating spa time and wellness visits into any Paris trip is a must. This pampering session should be followed by a few glasses of wine or champagne at the hotel's cozy bar!
Hotel Pont Royal
The combination of top-notch location, stunning views, and stylish yet cozy 5-star rooms make Hotel Pont Royal one of the best luxury boutique hotels in Paris. We are certain that this hotel will make you feel like a local! Conveniently situated on the left bank of Seine, the hotel is close to all major tourist attractions and an abundance of art galleries, theaters, and boutiques. The hotel truly represents the artistic and creative Parisian vibe with its intimate, boutique ambiance! While the rooms are cozy and small by US standards, nothing beats the incredible view from the private balcony in the Junior Suites. So if you want to soak in the remarkable vista with the Eiffel Tower in the distance as the sunset is illuminating the skyline in different colors, make sure to choose the Junior Suite. At the end of the day, stop at the L'Atelier Restaurant, led by the world-famous Michelin-starred Chef Joël Robuchon. Choosing the 10-course tasting menu is a real gastronomic journey through authentic French cuisine!
If you dream of going on a morning shopping spree along Champs-Elysées, Hotel San Regis Paris is calling your name! This iconic 5-star hotel is just a few steps away from what is considered the world's most famous avenue! Aiming to provide you with a home away from home, Hotel San Regis Paris offers unique suites. Each suite is designed in a different style to give you the feeling of a private Parisian home! The guest services provided are endless, and nothing is too much for the friendly and professional staff! Child care, car rental, beauty treatments – you name it, and the concierge will organize it for you! 
If you are visiting on a Sunday, you want to book a table for the special brunch menu. Mouthwatering gourmet dishes are served with aromatic herbal teas for an incredible fine dining experience! Even if you are staying during the week, though, you would want to dine at the "Les Confidences" Restaurant for a delightful healthy dinner meal! Choosing a healthier option can be a great way to prevent weight gain from the constant indulging travel brings.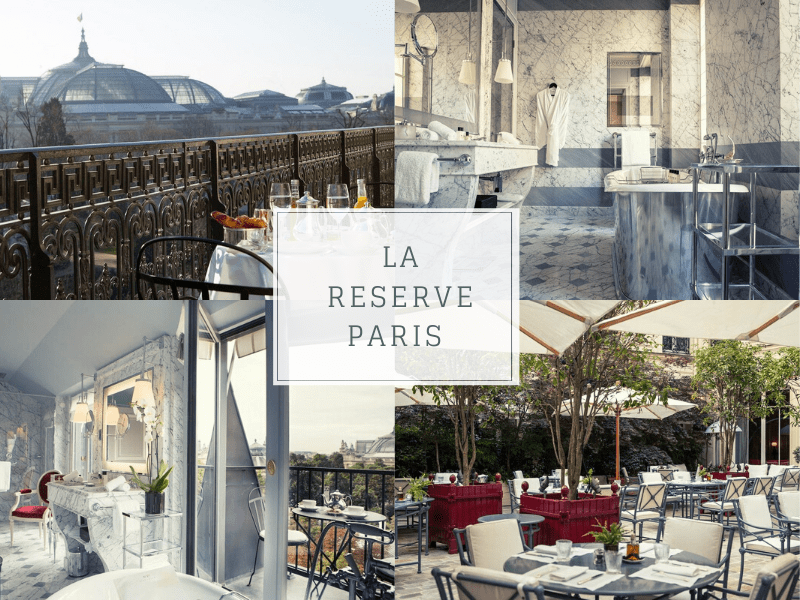 Our list of the best luxury boutique hotels in Paris that will make you feel like a local would not be complete without the iconic La Reserve Paris – Hotel and Spa. You would not be able to find a more intimate, secluded boutique hotel, which only has 25 suites and 15 guestrooms. Everything has been carefully selected, from the drapes to the antique furniture, transporting you back to the Parisian chick from the 19th century! You will be so in love with your room that you might want to spend the entire day lying in the comfortable King-size bed. However, stepping into the spa and fitness center is an absolute must! An indoor pool, rejuvenating body massages, and beauty treatments will recharge both your body and mind. You will recover from any stress and anxiety from daily life fully! 
If you prefer soaking in Parisian culture, stop by the concierge and ask for their favorite neighborhood bistros or local cafe! Exploring the local hidden-gems, learning intriguing untold stories, and taking a glimpse from behind the scenes at major tourist attractions is exclusively available for all guests at La Reserve Paris – Hotel and Spa! Before you head back home, you do not want to miss eating at Le Gabriel Restaurant, rewarded two Michelin stars. You will be served traditional French recipes with a modern twist in beautiful gourmet plates – a truly unique fine-dining experience!
If you are strolling down the quaint Parisian streets, you may never see the truly incredible facade of Pavillion de la Reine. The hotel is nestled in a picturesque green courtyard behind shops and restaurants in what looks like a 17th-century mansion! If you are a history buff or love the traditional, sophisticated French charm, this is the place for you! There are only 56 guestrooms and suites. They are all individually designed and decorated with a mixture of antique furniture and contemporary elements. 
The Family Apartment featuring two bedrooms with King-size beds is perfect if you plan to treat the entire family to a fabulous French vacation! You would want to get an early start to your day and head immediately down for a delightful breakfast. Follow that with a stop at the wellness center. Choose between a huge list of body treatments, which will help you fully relax and unwind. Pavillion de la Reine is also home to the relatively new, yet Michelin-starred Restaurant Anne, which is an absolute must for the end of your day!
Shangri-La Paris
As the former home of Prince Roland Bonaparte, Shangri-La Paris is not just one of the best luxury boutique hotels in Paris that will make you feel like a local – it is the ultimate synonym of Parisian class, elegance, and sophistication! If you want to experience the real French art de Vivre, you should book a stay at the Shangri-La Paris! Home to 100 guestrooms and suites, the hotel overlooks the iconic Eiffel Tower. Therefore, you will most definitely be greeted by an incredible view every morning! Let the tower greet you as you jump out of bed!
The beautiful interior with natural wood elements, French-style furniture, and large windows provide a glimpse into the elegant Parisian lifestyle. However, inspired by Chinese medicine, the health and leisure center is the perfect spot to treat yourself to a rejuvenating and relaxing treatment. The hotel also offers fabulous private tours through the city and exclusive butler services upon request. This provides for an even more luxurious experience. Of course, no visit to Shangri-La Paris would be complete without dining at the Michelin-starred Shang Palace Restaurant! Every tantalizing bite transports you to Southeast China, introducing diners to its great culinary traditions.
Additionally, don't just look at the magnificent Eiffel Tower from your bedroom window, be sure to visit! Booking a tour of the tower is a great way to promise admissions, skip the tourist filled lines, and get priority access. For a spectacular experience, book the Sunset 2nd Lever Eiffel Tower Tour.
Which one of these best luxury boutique hotels in Paris would you like to visit first? We promise they will succeed your expectations, and make you feel like a local!
Boutique Travel Advisors is a full-service, luxury travel agency. We specialize in creating bespoke itineraries for discerning clients around the world. Please visit our website or call 480-787-1477 to speak with a dedicated travel expert. 
Are you planning an international or domestic trip? Check out our other articles to help you come prepared.
Boutique Travel Advisors is a full-service, luxury travel agency. We specialize in creating bespoke itineraries for discerning clients around the world. Please visit our website or call 480-787-1477 to speak with a dedicated travel expert. 
Are you planning an international or domestic trip? Check out our other articles to help you come prepared!
We highly recommend the purchase of travel insurance to protect your financial investment and health while traveling internationally. To purchase a policy with our preferred travel insurance company Chubb click here.
At this time, anyone that resides in CA, CO, KS, MN, MO, MT, NH, NY, PA, TX or WA is unable to purchase an insurance policy online. If you would like assistance purchasing a travel insurance policy, please get in touch with a BTA advisor.