One of the best parts of travel is sampling all the amazing cuisine in the new destinations. After all, what can be better than freshly baked croissants in Paris, home-made pasta in Italy, or paella in Spain? Not to mention the wine, cocktails, and desserts. Healthy eating tips for traveling often go right out the window and when you start adding up the calories it is easy to see why we often return home with more than just photos and memories. However, not gaining weight on vacation is not difficult with a few simple tips and a little advance planning. If you want to enjoy delicious food while traveling without adding extra pounds, these are some simple techniques for cutting calories while on the go.
Advance Planning
Eat well before leaving. It's always easier to resist fattening airport food and drinks if you are not hungry. Enjoy a hearty meal before you set out. If you have an early flight, get up in time to enjoy a breakfast of whole-wheat toast and oatmeal with raisins. This will save you from splurging on calorie-laden muffins, yogurts, and sandwiches in the airport.
Call your hotel. Phone the concierge or the front desk at the hotel where you'll be staying. Ask for their recommendations for nearby places where you can eat light. Research the location of the nearest grocery store. You can save calories by picking up fresh vegetables and fruits to snack on and having healthy snacks readily available.
Do your research. When faced with connecting flights, layovers, and full-day travel schedules it is impossible to avoid eating on the go. Plan ahead by going online to find the best options at the airports and destinations you have planned. Airport websites usually list their restaurants and most have their menu available online. It is also a good idea to research the location you will be visiting to make a list of healthy options such as light ethnic or vegetarian restaurants and farmers markets before you depart.
Reusable water bottles are a must. Bottled water is a traveler's best friend. Staying hydrated helps keep you from feeling hungry. A frozen bottle of water can serve as a cooler to keep your snacks chilled. When it melts, you can drink the water and refill it to use as a free weight for exercising.
Pack your own meals and snacks. Preparing your own meals and snacks will give you more control over your diet. Put together a trail mix of nuts, lightly sweetened cereal, and dried fruits that you can grab on the go and avoid buying fattening snacks like potato chips and candy bars. Fill zip lock bags with cut vegetables or peanut butter on crackers for long flights.
Look for hotels with a gym or plan your walking and running routes before departure. When staying in large cities many hotels offer exercise equipment and some even offer complimentary bicycles.
Choose active tours. Tours and activities are some of the most important factors to consider when planning your travel. By opting to take a biking tour, walking tour or engage in active adventure activities you will enjoy your travel and burn calories throughout the day.
Keep your car stocked with healthy snacks. Many people spend long hours in their cars. Always have water and healthy snacks handy like nuts, dried fruit, and low-fat energy bars.
Eating Away From Home
Control your portion sizes. You can enjoy dining out without feeling guilty or gaining weight. Make a meal out of a couple of appetizers instead of a full-size entree. Cut your entree in half or order smaller portions, weight staff are a great resource and give you a better idea of the size of each menu item. Split a dessert with your travel companion or skip dessert altogether and opt for a healthy sorbet at a gelato shop on your walk home.
Mindfulness. Slowing down and enjoying the moment is a simple and effective way to consume fewer calories. You'll recognize when you're full instead of overeating. Put your fork down in between bites. By eating slowly you will also enjoy the ambiance, conversation, and scenery
Learn to read menus. Wherever you eat, there are some common terms that usually indicate dishes low in fat and calories. Look for red sauces rather than creamy white sauces, steamed mussels rather than deep-fried fish, and pizza with vegetable toppings rather than extra cheese or sausage. Looking up nutrition charts can give you a good idea of how many calories are in each item.
Pack a picnic. When you pack your own food it easier to be intentional and mindful of your choices. Plan an active day kayaking, hiking or cycling in the countryside with a healthy lunch and then enjoy a more sumptuous dinner.
Fill up on healthy side dishes. If you've already consumed a lot of calories for the day, skip the French fries. Order steamed vegetables or a green salad with low-fat dressing on the side. By putting the dressing on your own salad, you can control the quantity and therefore the calories.
Take a cooking class. To truly experience authentic cuisine while traveling and develop an appreciation for the destination taking a cooking class with a local chef will provide you with an amazing experience. Often times, cooking classes involve visiting local markets and shopping for fresh and healthy ingredients, making it easier not gaining weight on vacation. Many cooking classes also allow you to customize the menu and prepare healthier but equally delicious dishes.
Avoid high-calorie drinks. Soft drinks shake, and many cocktails can add to a lot of calories. Drink water with your meals. At the bar, order a small glass of white wine or a vodka soda with a slice of lime instead of calorie-rich cocktails.
Ask for slimmed-down dishes. Many restaurants offer lighter dishes for the health-conscious. You can request that your meal be prepared with olive oil instead of butter, specify that you would like your fish and meat to be grilled instead of fried, and ask for low salt options. You can also ask for sauces on the side or substitute another vegetable for the potatoes.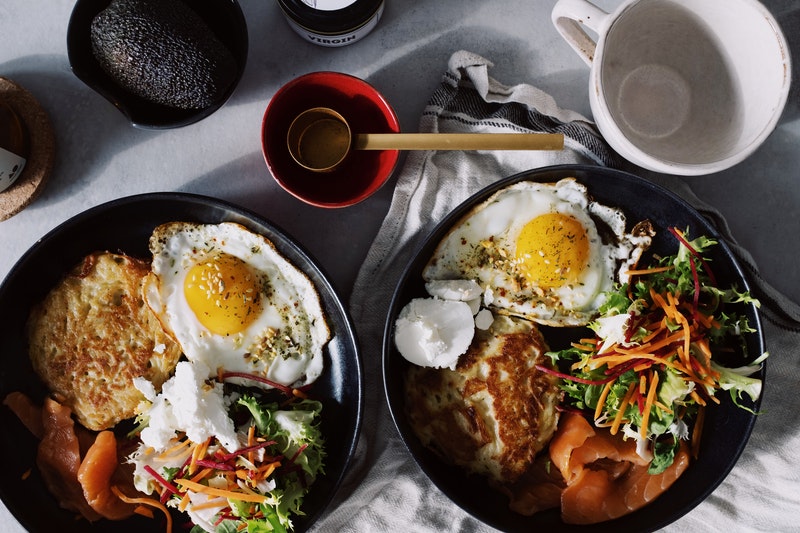 It can be challenging to eat right when you're away from home but these easy healthy eating tips for traveling should keep you on track. Planning ahead will help you avoid being tempted by fast food. A nutritious diet will give you the energy you need to enjoy your travels and return home without any excess baggage, except of course the shoes and handbags you may have splurged on while away.
—
Boutique Travel Advisors is a full-service, luxury travel agency. We specialize in creating bespoke itineraries for discerning clients around the world. Please visit our website or call 480-787-1477 to speak with a dedicated travel expert. 
Are you planning an international or domestic trip? Check out our other articles to help you come prepared!
We highly recommend the purchase of travel insurance to protect your financial investment and health while traveling internationally. To purchase a policy with our preferred travel insurance company Chubb click here.
At this time, anyone that resides in CA, CO, KS, MN, MO, MT, NH, NY, PA, TX or WA is unable to purchase an insurance policy online. If you would like assistance purchasing a travel insurance policy, please get in touch with a BTA advisor.