Sometimes we do not have to fly thousands of miles away to reach a fabulous destination, which will allow us to escape from the busy city life. Certainly, there are many hidden gems located right here in the United States. The properties we will share with you are considered some of the best resorts for families with teens, as each one offers a wide variety of activities, a safe location, sufficient opportunities for independent exploration and lots of outdoor fun. Although traveling with children requires advanced planning and foresight, putting together a great itinerary that will keep your teens entertained takes extra effort.
Furthermore, if you have already started planning your family-friendly holiday and are looking for the best resorts for families with teens in the US, keep reading. It should not be stressful to travel with children, and planning a vacation with teens is a great way to bring the family together. When planning a vacation with teens, we recommend finding resorts that appeal to their unique interests and desires. Remember, teenagers are seeking something new and exciting while craving independence and a bit of freedom. Be sure to provide plenty of stimulating activities that are both enjoyable and educational, and you will create lifelong family memories.
Here is our list of the best luxury resorts for families with teens in the US.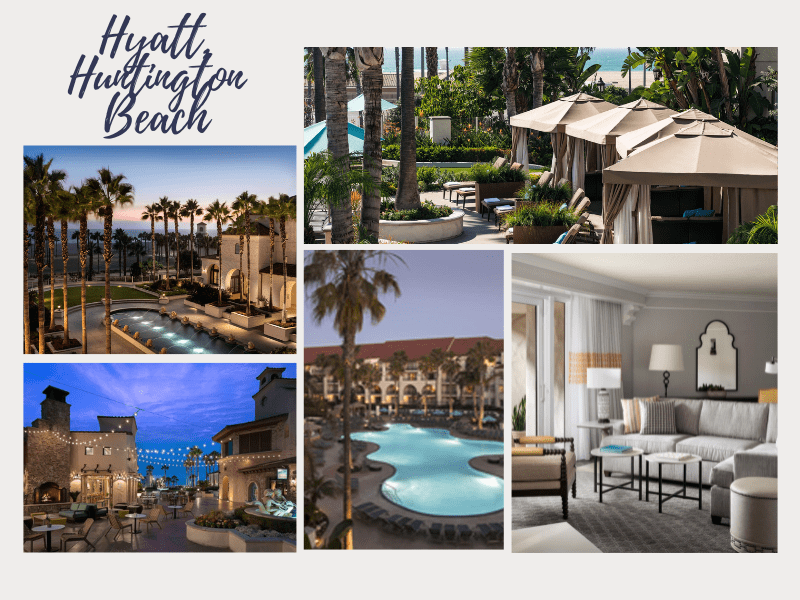 Califonia is one of the first destinations that come to mind when considering the ultimate summer holiday! If you dream of the perfect Californian vacation, book your stay at Hyatt Huntington Beach.  This luxurious resort offers plenty of activities and amenities for teens, such as a full-service spa, outdoor pool, nearby shopping centers and amusement parks.
Fall in love with the resort's chic coastal atmosphere and authentic Spanish decor. Then get pampered and spoiled by all the services and amenities of Hyatt Huntington. From an award-winning wellness center to signature dishes offered at restaurants, it's easy to see why this resort is one of the most popular in the US.
But why is Hyatt Huntington Beach also one of the best resorts for family vacations with teens in the US? Well, the answer lies in its fantastic location and proximity to the most exciting destinations in California.
• Disneyland is just a 30-minute drive away from the hotel
• Universal Studios Hollywood is just over 45 miles away
• Surfing, Paddle-boarding, and Kayaking Experiences can be found on-site

Travelers looking for a more traditional Southern Escape should plan a trip to Montage Palmetto Bluff, which welcomes visitors year-round! Situated along the picturesque May River, this vibrant and luxurious resort will make you feel at home.
The spacious suites are carefully designed to create a cozy, homey feel. But on the other hand, the spa and dining experiences, inspired by South Carolina's tranquility, will allow you to recharge your batteries while away from your hectic busy life. The community of Palmetto Bluff offers unspoiled wilderness and wildlife and various outdoor activities, including golfing, fishing and kayaking.
Of course, teens wishing to experience more independence can simply hop on one of the resort's complimentary bicycles and spend a few hours exploring the stunning grounds. There are also plenty of shopping and dining options if you venture off the resort grounds. Montage Palmetto Bluff provides an experience sure to leave you with lifelong memories.
Additionally, If you are wondering whether Montage Palmetto Bluff is also suitable for a family-friendly holiday, make sure to check the list of experiences offered by the resort below:
• Horseback Riding and Biking
• Paddle-boarding and Fishing
• Kayaking and Yacht Cruises
If you are open to exploring a bit further, Savannah, Georgia, is a beautiful historic city that is only a short 3o minute's drive away from Montage Palmetto Bluff. Enjoy the city's cobblestone streets, lush parks and classic architecture. Take a stroll along River Street in the historic district for breathtaking views of the Savannah River or take a horse-drawn carriage tour to explore the city's timeless charm.
Honestly, it will be a true mistake not to consider Wyoming for those seeking a fabulous luxurious destination. Wyoming is a ruggedly beautiful state, from snow-capped mountain peaks to rushing rivers and lush forests. Brush Creek Ranch is a 5-star all-inclusive resort that will greet you with the countryside's authentic charm and unspoiled natural surroundings. While you can easily fill 5-7 days on the ranch we recommend spending a few days on the front or back end of the trip exploring Wyoming's stunning landscape.
With unique experiences and rustic cottages, the ranch beckons visitors to experience adventure and unwind and relax. It is the unforgettable experiences, though, which make Brush Creek Ranch one of the best resorts for families with teens in the US:
• Hiking, Mountain Biking and Horseback Riding
• Trout Fishing and Archery
• ATV Touring and Rodeo Shows
• Spa Treatments and Yoga Classes.
Unquestionably, there is nothing better than waking up to the warm days of the Sunshine State and the turquoise waters of the Gulf of Mexico. If you are looking forward to mornings like these, you should book a stay at the South Seas Island Resort. This outstanding 4-star hotel will allow you to immerse yourselves into the old Florida feel with its spectacular, private, white-sandy beach and fantastic hotel services.
With an endless list of water activities, we are sure that you are not going to spend the day in your room, despite its modern and cozy vibe. Plan to participate in the plethora of activities offered at the resort. We hope it is clear why South Seas Island Resort is one of the best destinations to vacation with teens in the US:
• Sunny Island Adventures – Parasailing, Surfing, Scuba Diving, etc.
• Golf and Tennis Classes
• Hiking and Biking Tours

As one of Arizona's top Five Diamond Resorts, Scottsdale Fairmont Princess is the ultimate destination for those looking for something less traditional and more extraordinary. Yes, the hotel is situated right at the heart of the Sonoran Desert. Still, the fabulous amenities and services will make you feel like you have found a hidden tropical oasis. For families with teens who enjoy exploring the outdoors we recommend a day trip to nearby Sedona, famous for its red rocks, heart-stopping Pink Jeep Rides, and world-class hiking and mountain biking trails. Of course, no trip to Arizona would be complete without a visit to the Grand Canyon which is one of the  seven natural wonders of the world and a must-see for all travelers.
Although the state is famous for outdoor activities, there are also various cultural experiences and world-class museums. Some of our favorite museums and attractions in Scottsdale for families with teens include the Musical Instrument Museum, Desert Botanical Garden, and Heard Museum.
Of course, there are more than enough activities to entertain your entire family without ever leaving the resort. Spend the day relaxing under a tall palm tree with a signature cocktail in hand and the night in one of the restaurants treating your taste buds to an explosion of flavors. With its list of carefully chosen activities, Scottsdale Fairmont Princess is one of the best resorts for teens in America:
• Desert Hikes and Horseback Riding
• Award-winning Golf Course
• Six Magnificent Swimming Pools
Furthermore, if you are looking forward to the best Hawaiian retreat, you should head to the 5-star Andaz Maui resort. From the fabulous infinity pools to the world-class spa services, running out of things to do in Maui is impossible.
Start your morning with a delicious breakfast served in your luxurious private villa. Then take a dip in the refreshing waters of the swimming pool. In the afternoon, treat yourselves to wellness with a relaxing massage. In the evening, head to the award-winning restaurant with executive chefs, who will take you on a journey through the Hawaiian flavors.
The island of Maui offers families with teens an incredible variety of exciting activities, from world-class surfing spots to astonishing coral reefs. Get your cameras ready and explore the paradise of Haleakala National Park or take a walk through the tropical forest at Iao Valley State Park. Try snorkeling at Ulua Beach or visit the Kealia Pond National Wildlife Refuge lava fields and soak up some sun!
For an even more thrilling experience, take a helicopter ride to the majestic waterfalls, or go zip-lining across tropical green valleys. For those seeking adventure and culture, Maui offers plenty of opportunities. From sunset luaus on the beach to traditional Hawaiian hula lessons, you'll find something for everyone in this paradise. Don't miss out on stargazing at Haleakala, learning about the island's rich heritage at the Bailey House Museum, or visiting the Maui Ocean Center. And no trip to Maui would be complete without a visit to its stunning beaches! Whether you're looking for white-sand beaches and crystal clear waters or rocky coves perfect for surfing and sunset watching, Maui has it all.
If you are planning a family-friendly trip, Andaz Maui will also prove that it is one of the best hotels for family vacations in the US:
• Interactive Activity Programs
• Shopping Facilities
• Water Sports Adventures – paddle boarding, kayaking, surfing, snorkeling, and scuba diving

Widely known as the "First Lady of Waikiki," Moana Surfrider's history dates to 1901. Do not be fooled, though. The hotel will welcome you with its unique fusion of contemporary design blending with Victorian sophistication. In addition, Moana Surfrider is situated right on a pristinely clean, white-sandy beach. Guests to have direct access to the fantastic Hawaiian surf all day and all night.
Besides spending the entire day relaxing on the beach and hitting the waves, the resorts also offer a wide range of activities, which makes it one of the best hotels and resorts for families with teens in America:
• Fitness Studio and Wellness Center
• Honolulu Zoo and Waikiki Aquarium are close to the hotel
• Water Sports Activities for all ages
Last but not least, on our list is the elegant Chatham Bars Inn. What used to be a small hunting lodge in Massachusetts is now a fantastic resort. Some secluded cottages and bungalows even come with private saunas and fireplaces. Chatham Bars is located in the heart of Cape Cod, which is a great spot for families with teens.
Less than a mile away from the Chatham Pier Fish Market, the resort is not a typical luxurious destination. However, it is a fabulous choice if you want to admire breathtaking views of the Atlantic ocean, relax on the private beach and escape from the hustle and bustle of daily life.
What makes it a great family-friendly destination is its array of activities, such as:
• Private sailing lessons
• Paddleboarding and kayak rentals
• Outdoor movie nights with popcorn and candy at the onsite theatre
• Horseback riding along the beach
• Group Activities at the Farm
• Fishing and Sailing
• Harbor Tours and Water Sport Adventures
Have you been to any of these fantastic destinations? What do you think should make the list of the best hotels for families in the USA? Which special activities and signature services did you enjoy the most?
Looking for other ideas for international family travel? Check out our other articles.
Boutique Travel Advisors is a full-service, luxury travel agency. We specialize in creating bespoke itineraries for discerning clients around the world. Please visit our website or call 480-787-1477 to speak with a dedicated travel expert. 
Are you planning an international or domestic trip? Check out our other articles to help you come prepared!
We highly recommend the purchase of travel insurance to protect your financial investment and health while traveling internationally. To purchase a policy with our preferred travel insurance company Chubb click here.
At this time, anyone that resides in CA, CO, KS, MN, MO, MT, NH, NY, PA, TX or WA is unable to purchase an insurance policy online. If you would like assistance purchasing a travel insurance policy, please get in touch with a BTA advisor.