For some winter enthusiasts, the calendar year begins not on January 1st, but with the inaugural opening of ski resorts, where days are measured not by the ticking of a clock but by the accumulation of fresh powder on the slopes. They may revel in the technical nuances of a double black diamond run or the thrill of navigating through snow-draped glades. However, not all who flock to the mountains in winter are seeking the thrill of extreme skiing or snowboarding.
Many among us are searching for an altogether different kind of sanctuary—a place where families can engage in joyful snow play, where ski slopes cater to a variety of skill levels, and where, after a day of outdoor activities, one can indulge in the luxuriant offerings of après-ski. If this resonates with you, allow us to guide you through an expertly curated list of North America's premier family-friendly ski resorts, each chosen to balance recreational snow sports with the cultivated comforts that make for an unforgettable winter vacation.
Runner Up – Keystone, Colorado
Keystone is a small, well-organized, extraordinarily family-friendly, and quaint locals mountain. Unfortunately, it is often overlooked by people seeking a destination ski experience. Located just 90 minutes from Denver airport, Keystone is also one of Colorado's most economically attractive options. Kids 12 and under ski for free when families book two or more nights of lodging with the resort. Although smaller than many other mountains, Keystone offers various terrain options for all skiers, from novice to advanced.
Boasting an average of 235 inches of snowfall a year and over 3000 skiable families with older kids will have a blast skiing at the largest night skiing operation in the world. Those with younger children can enjoy adventure Point tubing. As a bonus, the resort also offers some of the best glade skiing in the country. There are options to fit everyone's needs and budget with group and private lesson options, women's and local kid's programs.
Best For: Families looking for excellent skiing at budget-friendly prices.
5. Vail, Colorado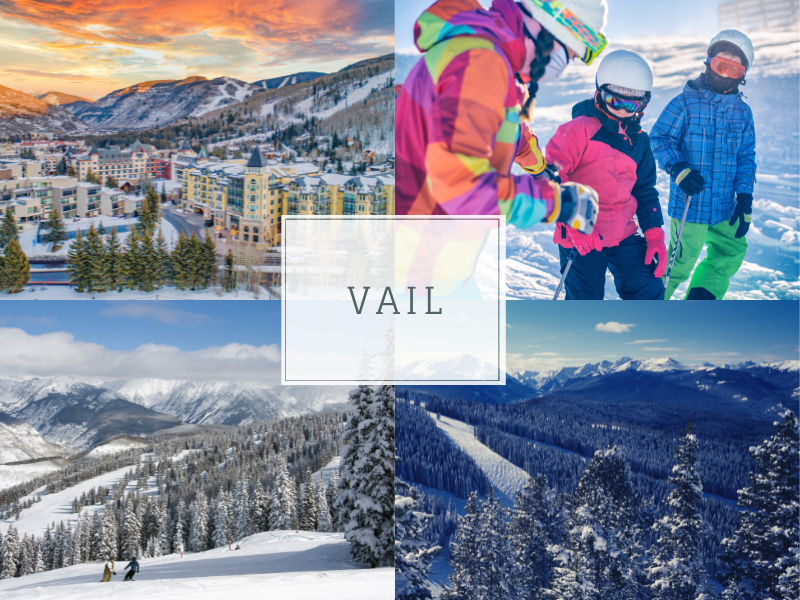 At the heart of Colorado's Rocky Mountains, Vail Resort ascends as a quintessential family-friendly alpine escape, embodying the grandeur and sophistication that have become synonymous with premier North American ski destinations. A tapestry of expansive terrains and picturesque backdrops, Vail offers an unparalleled skiing experience that has captivated families for generations. Yet, it is the intricate weaving of world-class skiing with a host of family-centric amenities that elevates Vail into a class of its own.
Spanning over 5,000 skiable acres, the resort is a veritable playground that caters to all skill levels, from the green circles that introduce novices to the joys of skiing to the adrenaline-pumping black diamonds that offer seasoned skiers a challenging dance with gravity. Vail's commitment to a memorable family experience extends beyond its meticulously groomed slopes. The resort's ski school is noteworthy, offering specialized programs designed to instill skills and profound love for the sport in children and adults alike.
But the allure of Vail transcends the pistes. The pedestrian-friendly Vail Village, modeled after a European alpine town, is awash in a palette of activities and experiences that fill the after-ski hours with enduring memories. From whimsical ice-skating rinks to curated boutique shopping and an array of culinary experiences that span the globe, the village is a microcosm of worldly sophistication. And for those seeking the simple joy of togetherness, the town's open-air firepits provide the perfect setting for a family huddle, hot cocoa in hand, under a star-studded mountain sky.
With its comprehensive offerings that thoughtfully address the desires of each family member, Vail stands as a testament to what a ski vacation should aspire to be. It is not merely a destination but a sublime journey that speaks to the heart of family values, delivering not just a holiday but a treasure trove of cherished moments that beckon families back, season after season.
Best For: Families looking for a luxurious, European-style mountain town, phenomenal skiing, and the amenities available at luxury resorts.
Insider Tips: Vail has a plethora of luxury accommodations to fit the styles and needs of families. For a boutique, quaint experience book a room at The Sebastian and order a hot chocolate delivery to your hot tub. To feel like you're in the Bavarian Alps hotel, look no further than the Sonnenalp Hotel or RockResorts Arrabelle at Vail Square. For an ultra-luxury experience for larger families, the Four Seasons offers 24 private residences ranging from 2-6 bedrooms.
4. Jackson Hole, Wyoming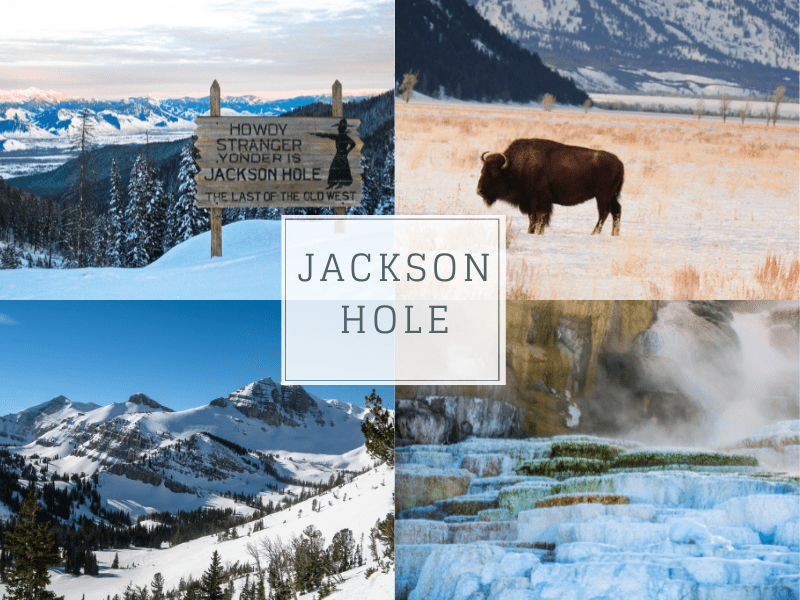 Jackson Hole has evolved far beyond its initial reputation as a mecca for extreme skiers and snowboarders. Indeed, while it retains its allure for those craving high-octane thrills on the slopes, the destination has flourished into an elegant, multifaceted, family-friendly retreat. The meticulously designed and managed Kids' Ranch ski and snowboard program is a case in point, providing a safe and fun learning environment for young enthusiasts.
The topography of Jackson Hole ensures a varied selection of runs, satisfying everyone from the novice to the expert, with over 2,500 acres of skiable terrain and an impressive annual snowfall of 475 inches. But what sets Jackson Hole apart as a family destination is its well-rounded offering of activities and experiences beyond the slopes.
Grand Teton and Yellowstone National Parks are practically at your doorstep, offering a living classroom for children and adults to connect with nature's grandeur. Here, wildlife encounters extend your family's understanding of biodiversity, as you might find yourselves observing elk, bighorn sheep, and perhaps even the elusive bear.
Accommodations are another feather in Jackson Hole's cap. Hotel Jackson offers an elegant stay with a minimal carbon footprint for families seeking proximity to the slopes without sacrificing luxury. Those searching for more secluded opulence might consider the Amangani, an embodiment of unpretentious elegance. If a boutique experience with an array of high-end amenities is your calling, the Caldera House emerges as an excellent option for larger families.
Jackson Hole has masterfully balanced its rugged, adrenaline-charged roots with sophisticated, family-friendly experiences and amenities. It truly serves as an exceptional canvas where families can paint their own unique mountain memories, blending authentic rustic adventures with luxurious comforts.
Best For: Families looking for a blend of the authentic mountain town, phenomenal skiing, and conveniences of luxury resorts.
Insider Tips: Consider staying slopeside at the Hotel Jackson or at the ultra-sophisticated Amangani. Larger families looking for a boutique hotel experience with all the amenities of a 5-star resort should stay at the Caldera House  or the Four Seasons Resort.
3. Park City and Deer Valley, Utah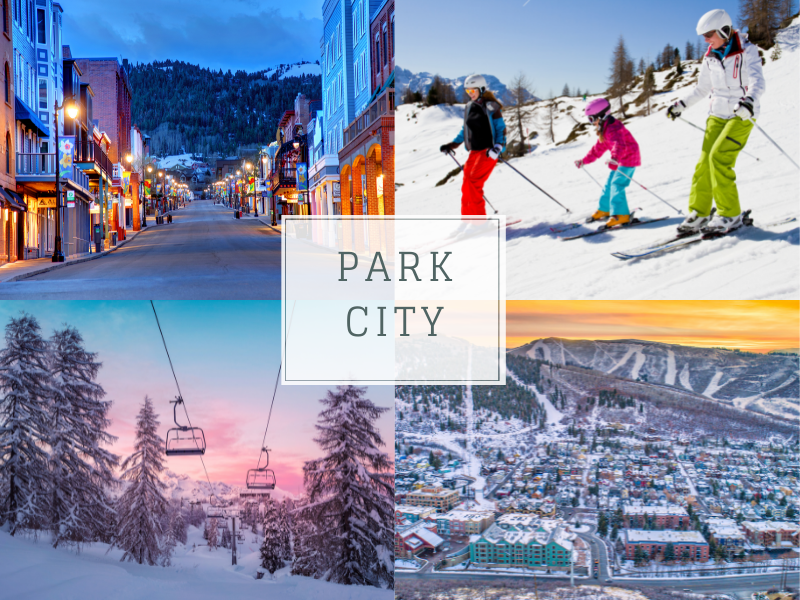 The largest ski resort in the US is also the most accessible. Families can make it from Salt Lake Airport onto the slopes in under an hour. Because Park City offers 7300 skiable acres, the resort is perfect for a weekend getaway or a multi-week retreat. With over 300 trails collectively at Park City's three ski areas, including Deer Valley, Park City Resort Mountain, and the Canyons, families are spoiled for choice and never have to wait long in lines. The trails are well laid out, marked, and thoughtfully interconnected. There are hundreds of trails to choose from, from beginners to experts and 355" of average snowfall to fill them.
Since becoming a part of the Vail Resorts, over $50 million was spent connecting Park city and the canyons via the Quicksilver Gondola. Although easily accessed, fewer skiers venture over to the Canyons, making this a perfect spot for those looking for fresh powder, isolation, and challenging terrain. Park City is truly a great ski resort for families.
Park City boasts one of the best ski schools in the country and offers various lesson options for varying ages and levels. Family lessons, private lessons, children's ski school, adult group lessons, and peak-to-peak guided ski instruction are offered daily throughout the season. Guides and Instructors at Park City Resort Mountain have clear identification. Instructors wear blue, and guides wear red with an "I" on the back of their jackets.
With a quaint and beautiful downtown, an easily accessible airport, dozens of lodging options, fantastic restaurants, and a reputable ski school, Park City is one of the best choices for your family's ski adventure. It deserves a nomination as one of North America's most incredible, family-friendly ski resorts.
Still not convinced? Nestled in the idyllic mountains of Park City, Utah, Deer Valley Resort emerges as the epitome of a family-oriented winter haven. Its prestige in the ski world is well-deserved and widely acknowledged; after all, it consistently ranks among the top ski resorts in North America.
The resort's well-groomed slopes cater to a spectrum of skill levels, but perhaps the most exceptional aspect is the 'skiers only' policy. By eschewing snowboarders, Deer Valley ensures tranquility and continuity in the skiing experience, an undeniable attraction for families with young or inexperienced skiers. The resort also places a cap on daily lift tickets, reducing overcrowding and enhancing the overall quality of the skiing experience.
In summary, Deer Valley doesn't just offer a ski trip; it offers an elevated winter experience where each moment is thoughtfully curated. Families who place a premium on exceptional service, luxurious accommodations, and an array of skiing and non-skiing activities find Deer Valley to be not just a destination but a tradition, worthy of revisiting year after year.
Best For: Families looking for a quick getaway over a long weekend, those wanting to mingle with celebrities over Sundance, and advanced skiers seeking a multitude of options.
Insider Tips: Since Park City is an internationally renowned destination, there is no shortage of luxury accommodation options for families of all sizes. The St. Regis, Deer Valley is a quintessential mountain retreat nestled in the private Deer Crest community. Perfect for families who enjoy their time off the slopes as much as on the slopes, it offers a 14,000 square foot spa to relax and rejuvenate. Likewise, the Montage Deer Valley is a refined hotel set amongst the trees and crowd-free slopes above Park City. In Canyons Village, consider the Waldorf Astoria Park City,  offering slopeside access to the largest ski mountain in the United States.
2. Breckenridge, Colorado
Breckenridge is a perennial favorite for those seeking a top-notch ski experience, authentic mountain village atmosphere, and a consistently excellent chance of powder. The mountain has 2900 acres of skiable terrain, 187 trails, and 34 chair lifts with four terrain parks. On average, the mountain receives over 300" of snow per year.
Stay in the historic downtown (the largest in Colorado), take the free gondola to the mountain village, or stay in the ski resort for ski-in access lodging options.
Lift tickets at Breckenridge are pricey. Therefore, in-the-know travelers purchase season passes and ski as many days as their heart desires. Although Breckenridge offers plenty of options for unforgettable days on the slopes, it is also conveniently located for a day trip to Keystone, A-basin, Vail, and Copper Mountain. So even the most hard-core skiers are spoiled for choice.
However, if you want to be considered one of the best family-friendly Ski Resorts in North America, you must offer more than just great powder. To have the wholesome Breckenridge experience, stop for a Crepe in town. The long lines and visitors huddled together under heat lamps are all part of the charm.
Best For: Families seeking an authentic Colorado old town, plentiful shopping and dining options, and easy access to surrounding resorts.
Insider Tips: Breckenridge sits at an elevation of 9600 feet with a summit elevation of 12,998 feet. Families looking for space and privacy should consider renting a luxury home in town or a few miles from the slopes. If you want a luxury hotel experience, great shopping, and many dining options but worry about the altitude, consider staying in the nearby town of Vail. Although located only 40 minutes away, Vail's base elevation is 8150 feet, while the peak elevation is 11,570 feet.
In addition, since Vail Resorts own both mountains, you can purchase an Epic Pass and ski both mountains.
1. Whistler- Blackcomb, Canada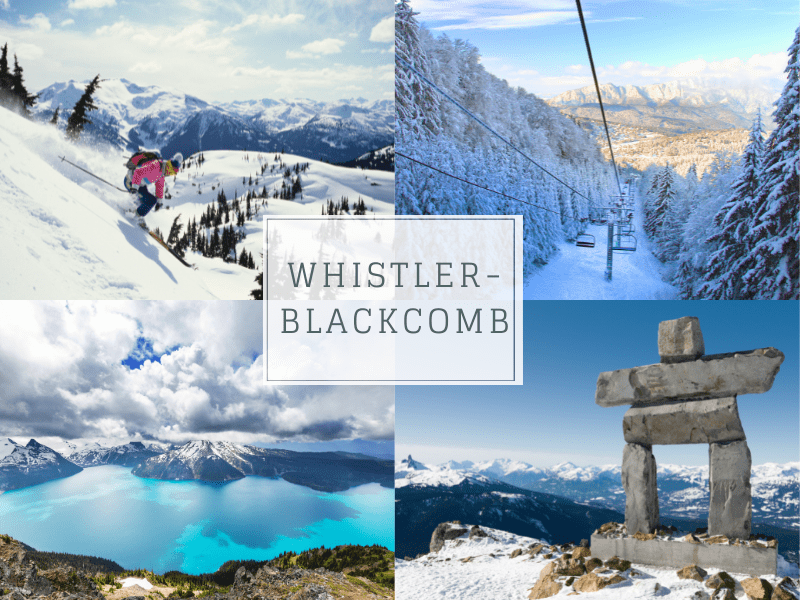 Occupying the pinnacle of North American ski destinations, Whistler-Blackcomb is a veritable titan of the slopes, uniting two colossal mountains via a gondola that holds the record for the highest altitude. Far from being simply a haven for advanced skiers, the resort emanates an endearing charm that is refreshingly unpretentious. Covering a staggering 8,171 acres of skiable terrain, the resort boasts over 200 meticulously groomed runs, supplemented by specialized adventure parks and mini-terrain parks—replete with a tree fort playground designed for younger adventurers.
But the appeal of Whistler extends far beyond the contours of its slopes. The resort is graced with an annual snowfall that averages an awe-inspiring 461 inches, ensuring a consistently high-quality skiing experience. Visitors are often so enamored with Whistler that it becomes a yearly pilgrimage. Financially accessible yet offering uncompromising quality, Whistler is also home to what many consider North America's premier ski school.
The gastronomic landscape is a rich tapestry of culinary experiences, ranging from casual eateries to high-end dining establishments. Beyond the skiing and dining, the mountain village pulsates with life, offering a medley of activities like ice skating and cultural festivals. Each week, the resort stages a dazzling Fire and Ice Show. In this mesmerizing spectacle, athletes perform acrobatic feats through blazing rings of fire, culminating in a firework display that lights up the mountainous canvas. All these elements coalesce to elevate Whistler-Blackcomb to the unrivaled number-one position among family-friendly ski resorts in North America.
Best For: Families who want a fantastic all-around ski experience with plenty of non-ski entertainment options.
Insider Tips: Book your stay at the Fairmont Chateau in Whistler and reserve a day for non-ski activities. For an ultra-luxury experience consider staying at the iconic Four Seasons Resort. From dog-sledding to ice skating, the town has many options to keep everyone in the family entertained.
—
Boutique Travel Advisors is a full-service, luxury travel agency. We specialize in creating bespoke itineraries for discerning clients around the world. Please visit our website or call 480-787-1477 to speak with a dedicated travel expert. 
Are you planning an international or domestic trip? Check out our other articles to help you come prepared!
We highly recommend the purchase of travel insurance to protect your financial investment and health while traveling internationally. To purchase a policy with our preferred travel insurance company Chubb click here.
At this time, anyone that resides in CA, CO, KS, MN, MO, MT, NH, NY, PA, TX or WA is unable to purchase an insurance policy online. If you would like assistance purchasing a travel insurance policy, please get in touch with a BTA advisor.