An African Safari is one of the most incredible adventures that any traveler can have. While visiting any luxury African safari park is sure to be memorable, these are the top 5 best African safari experiences for adventurous travelers.
1. Hot air ball

o

on flight over the Serengeti and Maasai Mara
"I never knew of a morning in Africa when I woke up that I was not happy."
Ernest Hemingway
The magnificent Serengeti ecosystem spans large portions of northern Tanzania and includes the Serengeti National Park and several game reserves. Experiencing this incredible geographical region is high on most avid luxury African safari fans' wish lists. The Serengeti offers some of the best game-viewing opportunities in the world, along with its unspoiled savannah wilderness. Just imagine soaring above an African safari park and witnessing the animals below.
Hot air ballooning over Tanzania's sweeping savannah has to be number one in the list of the best African safari experiences! Rising with the dawn chorus and before the sun has crept over the horizon, your guide will drive you the short distance to the launch pad. Here, soak up the exciting buzz of the balloon being filled and the pilot making his final checks before take–off. 
This once-in-a-lifetime experience allows for game viewing from a different perspective and a journey like no other. Relish the bird's eye view and the sunrise, and see the extraordinary wildlife from above, going about their daily duties undisturbed. You might even get lucky and spot one of the rare rhinoceros as they stroll along the Savanah.  A champagne breakfast awaits your return.
When to go: High season (June-August)
When to plan: You should plan this luxury African safari 12 months in advance for the high season or 6 months in other seasons.
Where to stay: Angama Mara 
2. Walking safari in South Luangwa National Park

 in Zambia
"You know you are truly alive when you're living among lions."
Many experts widely consider The South Luangwa National Park as one of the greatest wildlife sanctuaries in the world. This is due to an extremely high concentration of 60 different animal species and more than 400 birds surrounding the Luangwa River and many lagoons. The Luangwa River is the life-blood of this park.
The South Luangwa National Park is open during both the dry winter season, from April through October and the lush, wet months of summers, in November through March.
A walk in the African bush connects you with the soul of Africa. Your senses are heightened, and your acute awareness of every move and sound is magnified. Knowing there are predators on the prowl and gentle giants roaming makes it even more special and exhilarating.  It is one of the best luxury African safari experiences and a must-do for novice and expert travelers alike. 
South Luangwa National Park, nicked named 'Valley of the Leopard', also has the highest density of hippos compared to anywhere in Africa, is a walking safari dream. In the capable hands of your safari guide, he will show you fresh tracks, tell you stories of fauna and flora, and focus not just on the larger animals but, the smaller ones too that play an essential role in the ecosystem.  
There will be chances to view big games on foot, all in the safety of your trained guide. 
When to go: May to October are the best African safari months in the South Luangwa National Park
When to plan: You should plan this safari 9- 12 months in advance
Where to stay: Lion Camp 
3. Horseback riding in the Okavango Delta

 
 "One cannot resist the lure of Africa."
Rudyard Kipling 
Riding wild alongside buffalo and elephants is an equine lover's dream. There is no better way to absorb the sights and sounds of the Okavango Delta than from horseback. The area is known by many to be the "Jewel of the Kalahari" and is one of the most extraordinary wetlands in all of Africa and the world.
Teeming with game, the wetlands of the Okavango Delta are home to some of Africa's greatest wildlife concentrations.  One-third of the continent's elephants are found here, and a plethora of other animals such as antelope, buffalo, zebra, giraffes, lions, leopards, cheetah, and the rare African wild dogs.
The delta is made up of islands and channels. Every year the floodwaters of the Angolan highlands flow down the mighty Cuito and Cubango Rivers before joining forces to form the Okavango River. As this vast wilderness area is inaccessible to vehicles, the best way to experience its majesty is on horseback!   
Combined with a luxury lodge and bush sleep outs, riding wild really is a memorable adventure for our intrepid travelers, and yet just another awe-inspiring way to be close to the animals without them sensing a human presence.  
To have the best African safari experience, we recommend Big 5 riding safaris for intermediate and experienced riders only. The exclusivity and limitations of this adventure make it one of the most unique African safari experiences. For the best experience, plan this African safari a year or more in advance. 
When to go: May to October is high season although most lodges remain open year-round
When to plan: For the best African safari in the Okavango Delta, plan this safari 9- 12 months in advance
Where to stay: Camp Okavango
4. Canoeing the Zambezi River

 in Zimbabwe 
"Nothing but breathing the air of Africa, and actually walking through it, can communicate the indescribable sensations."
William Burchell 
A canoe safari is becoming one of our most popular safari options in Africa. The Zambezi River is the fourth-longest river in Africa and is commonly referred to as the "River of Life". Experience a unique adventure on one of Africa's world heritage sites, such as the Lower Zambezi to Mana Pools National Park. While you float along the river, be prepared to navigate around the nearly 1200 hippos that reside here and come face to face with crocodiles. This is undoubtedly not your average African safari park experience.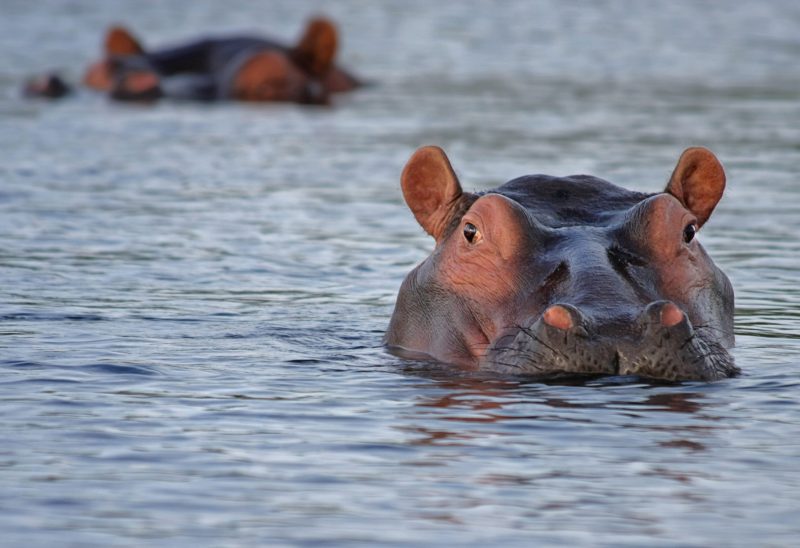 Canoe safaris typically run for 3 to 5 days with overnight stays in fly camps set up along the edge of the river. The days are spent paddling leisurely while exploring different parts of the river, bird watching, and drifting past swimming elephants. Stopping for lunch on the banks and ending the day with a sundowner and dinner over the fire, before falling asleep to the sound of the river rushing past.  
You should only embark on a canoe safari with a licensed professional guide. Guides are required to have a canoe license in addition to the general guide license.
Options for bush walks and fishing are factored in, these safaris are suited to our most adventuresome guests. Drier months of May through mid-November are the most comfortable. However, lodges in the Upper Zambezi offer canoe safaris year-round.
When to go: This canoe safari is best done during the drier months outside of summer, May thru mid-November. However, the Upper Zambezi is available all year round for canoe safaris.
When to plan: For the best African safari in the Zambezi River, plan this safari 9- 12 months in advance
Where to stay: African Bush Camps Nyamatusi Camp
Big 5 Bush Sleep-out

 

 
"To my mind, the greatest reward and luxury of travel is to be able to experience everyday things as if for the first time, to be in a position in which almost nothing is so familiar it is taken for granted"
– Bill Bryson
Sleep under a blanket of twinkling stars in your very own African wildlife safari park. Geared towards the true adventurer and hopelessly romantic, this is one way to experience Africa's nocturnal delights.  
There is an array of bush sleep-out options. Whether it be a luxury glass treehouse, under a mosquito net in a riverbed, or a bedroll on the salt pans, there are various ways to spend a night in the bush.  
Leave the electronics behind, tune out, and into the bush by falling asleep to the sounds of the wild, with only the surrounding nature for the company—an unforgettable safari experience. 
When to go: Lodges offer Sleep-outs year-round, although spring and fall provide more comfortable temperatures.
When to plan: You should plan this safari 9- 12 months in advance
Where to stay: Lion Sands River Lodge
Written by Neil Stuckenberg
Join The Luxury Travel Inspiration FREE Facebook Group For Insider Secrets and Special Giveaways!
For assistance with booking these and many other exclusive VIP experiences in Europe and worldwide, contact BTA. One of our fantastic travel advisors will be happy to help you design your next unforgettable adventure. 
We highly recommend the purchase of travel insurance to protect your financial investment and health while traveling internationally. To purchase a policy with our preferred travel insurance company Chubb click here.
At this time, anyone that resides in CA, CO, KS, MN, MO, MT, NH, NY, PA, TX or WA is unable to purchase an insurance policy online. If you would like assistance purchasing a travel insurance policy, please get in touch with a BTA advisor.
Want to know more about African Safaris? Take a look at our other articles. 
Check out our other articles for adventurous travelers. 
https://travelbta.com/blog/top-5-incredible-experiences-the-vips-take-in-europe/
https://travelbta.com/blog/top-10-reasons-you-need-to-visit-croatia/