An African safari is one of the most exhilarating travel experiences in the world. The continent is full of vast, rugged, and untamed regions where wild elephants roam freely and herds of buffalo drink at the water's edge. The list of incredible things you can see on safari is endless. From watching a pride of lions lazily basking on the rocks to witnessing the thrilling experience of a predator stalking and killing its terrified prey, an African safari is the ultimate adventure travel experience. But before you book your flights and pack your bags, there are some critical things to consider when planning an African safari.
1. When to travel?
The first step in planning an African safari is deciding when to travel. Many first-time safari travelers may not realize that safari camps are spread out throughout the vast African continent. Therefore seasonality varies based on the region.
However, the peak season for travel in most safari destinations is June through to October, the winter season in Africa. Temperatures are generally cool, and the weather is dry. The most popular travel months also coincide with the European and US summer breaks. In addition to couples and groups, families interested in embarking on safari tend to travel over school holidays. 
Travelers with flexible schedules who wish to avoid peak season prices and crowds should consider traveling outside Africa's winter season. One excellent option is to travel during the 'secret' or 'emerald' season, from November through May. While technically labeled as the 'rainy' months, Africa's summer invites a host of migratory birds and other animals to the different areas across Africa. For example, in November, the Liuwa National Park in Zambia's Western Province hosts the blue wildebeest migration. The largest of its kind in the world. 
During the rainy season, the barren bushlands are transformed into lush and green expanses as far as the eye could see. Coincidentally this is one of our favorite times to go on safari! 
Don't be put off by the word 'rainy.' Generally, the rains pass quickly, and when the clouds clear, the sun peeks out from the clouds, creating incredible displays of sunsets over the horizon. 
Top tip: Consider the type of travel experience you want to have and which region you are visiting. For example, Cape Town, South Africa, has incredible beaches, best experienced during the summer months of December to February.
On the other hand, East Africa enjoys warm days, cool evenings, and exceptional game viewing year-round. However, the region experiences two distinct rainy seasons:
April to May brings the 'long rains.'

November to December typically brings the 'short rains.'
2. Is this your first trip, or have you been to Africa before?
Africa offers various safari experiences, from hardcore walking safaris deep within the continent's interior to gentle and luxurious game drives in a private jeep.
If you have not traveled to Africa before, we recommend starting with Botswana's Okavango Delta or private camps within South Africa's Kruger Park. Travelers can easily pair both these destinations with a visit to Cape Town or the mighty Victoria Falls.
For second- or third-time safari-goers, getting off the beaten path in South Luangwa – Zambia, Sossusvlei – Namibia, or the remote and wild Ruaha National Park – Tanzania, would excite even the keenest adventurers.
Top Tip: Diverse cities, exciting nightlife, award-winning wineries, and predictably excellent game drives make South Africa our favorite destination for first-time safari-goers.
3. What is your budget?
A safari is one of the most extraordinary and memorable vacations you will take with your loved ones. We can craft safaris to suit any budget and work closely with you to achieve this, leveraging years of in-country experience without compromising on the details that make a safari special.
Decide on the budget before starting to plan your safari. Having a budget upfront helps identify the best regions, activities, lodges, and travel dates while maximizing your overall experience. Conversely, planning an African safari without a budget in mind will make it more challenging to create the best possible travel itinerary.
Top Tip: Spending more doesn't necessarily ensure a better wildlife-viewing experience. The secret to an incredible safari is local knowledge and relationships. Great guides and trackers can locate wildlife you would never spot on your own and keep you safe while providing extraordinary opportunities to see animals in their natural habitat.
4. How many days do you need for a safari?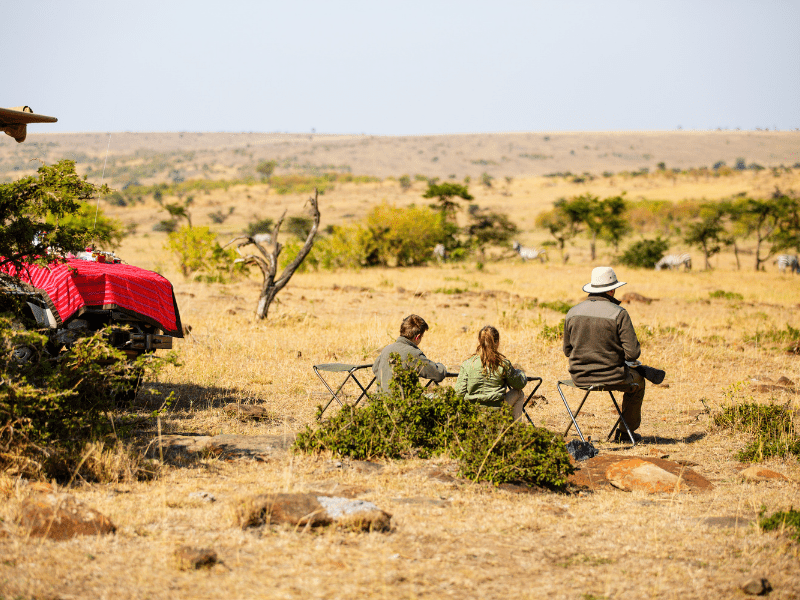 The minimum time for a memorable, action-packed safari that we recommend taking would be nine days plus travel time. In nine days, travelers can experience a bush and beach combination in South Africa or a multi-country adventure. 
Travelers with more flexible schedules should consider spending two weeks or more. Planning an African safari takes time and patience, so don't rush the process. Instead, start planning at least nine months in advance to give yourself plenty of time to assess the options.
Top Tip: Bush and beach combination itineraries supplied by the same collection can offer fantastic discounts.
5. Which destination is right for you?
Depending on how much time you have and your budget, each country in Africa offers its own individual safari experience. When choosing which country to visit, consider the type of animals you hope to see, your travel style, budget, and season. Also, be sure to ask your travel advisor about the health requirements for each country.
Top Tip: Remaining in one country is always less expensive and decreases the odds of experiencing delays at border crossings.
6. What style of safari would you like?
Africa is a vast continent and has many different offerings to suit explorers of all ages. From gorilla trekking in Rwanda to Big Five game drives in Botswana to diving with Manta Rays on the Mozambique coast. The style of safari and accommodation is essential to consider. 
For example, do you wish to stay in a rustic tented camp or a luxury lodge? Are you open to travel by horseback, or perhaps your adventurous spirit seeks a walking safari combined with canoeing experiences? Of course, our favorite type of accommodation is the smaller owner-run boutique camps and lodges.
Top Tip: Knowing which lodge/experiences to combine allows for a unique and memorable safari.
7. What types of cultural immersion experiences can you expect?
Africa is full of diverse cultures, fascinating traditions, and friendly smiles. The customs and traditions of local people are substantially different from US and European customs. Embrace and enjoy the unique experiences of spending time with locals and get to know them personally.
We organize bespoke trips that include spending time with the San Bushmen of the Kalahari, Maasai Village visits in Kenya, and Cape Malay cooking days in Cape Town. We also encourage travelers to consider a philanthropic component. Our team partners with Pack for a Purpose and Not Just Tourists to help bridge the socio-economic gaps and provide much-needed supplies to Africa's incredible residents.
Top Tip: Journey outside your comfort zone and spend a day absorbing these different lifestyles.
8. Are safaris safe?
Africa is safer than its reputation, and safaris, if done right, actually are very safe. We have visited all of the destinations we offer and have spent years building relationships with our suppliers. We are in constant communication with our ground handlers, ensuring you are in safe hands at every step of the journey. Staying connected daily with our partners on the ground allows us to respond swiftly to unexpected situations or concerns.
Top Tip: Only use reputable local travel partners.
9. Should you take out travel insurance?
Travel insurance is vital for any trip to Africa (the US Dept of State agrees) and is affordable. Overseas medical emergencies can be expensive, and ensuring you have access to the proper care throughout your trip is essential. Nothing is worse than losing your travel investment because of unfortunate, unforeseen circumstances just before your departure.
Top Tip: Most travel insurance companies offer incentives when purchasing a policy within 14-21 days of your initial trip deposit.
10. Why should you book with a travel advisor?
Choosing the right travel advisor is the first and best step you can take to ensure an incredible safari! Choose a travel advisor that you trust. Knowing your dream vacation is in the hands of an experienced advisor is worth it. Not only do we have the inside scoop on travel trends and specials, we are on hand 24/7 – WhatsApp, email, and Skype. That's right, no call centers. We are here for you.
We LOVE meeting our clients – in person, over the phone, or via Skype and Facetime. Spending time going over safari presentations and having a good face-to-face chat about Africa, we feel this always helps make our clients safe and comfortable in the knowledge and experience of their advisor.
Top Tip: Talk with your advisor, establish a rapport and trust their advice
For more inspiration, check out:
https://travelbta.com/top-5-most-unique-african-safari-experiences-for-adventurous-travelers/
Boutique Travel Advisors is a full-service, luxury travel agency. We specialize in creating bespoke itineraries for discerning clients around the world. Please visit our website or call 480-787-1477 to speak with a dedicated travel expert. 
Are you planning an international or domestic trip? Check out our other articles to help you come prepared!
We highly recommend the purchase of travel insurance to protect your financial investment and health while traveling internationally. To purchase a policy with our preferred travel insurance company Chubb click here.
At this time, anyone that resides in CA, CO, KS, MN, MO, MT, NH, NY, PA, TX or WA is unable to purchase an insurance policy online. If you would like assistance purchasing a travel insurance policy, please get in touch with a BTA advisor.