A Boutique Travel Advisors Production
Based on a True Luxurious African Safari
Directed by African Travel written by Kim Parizek
ACT 1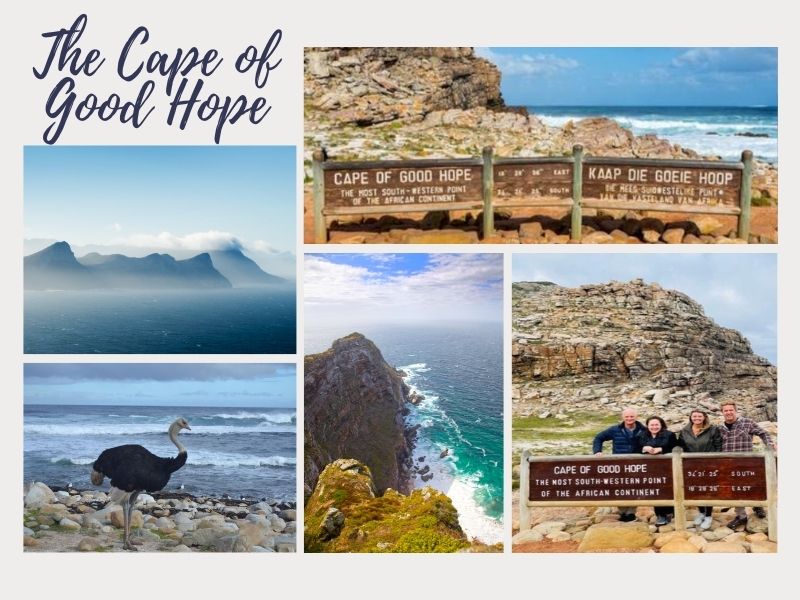 Scene 1: The Start of our Luxurious African Safari: The Cape
The Cape of Good Hope. The Most Southern Point of the African Continent. The best place to begin any luxurious African wildlife safari.
Long ago, the discovery of the Cape of Good Hope was a milestone for the early European sailors to establish trade relations between Europe and the Far East. Today, it still serves as a point of reference in modern voyages because it is where the Indian and the Atlantic oceans meet. 
On our first day, we planned a small outing that included a short hike near the tip of Africa. It was surprising, to say the least. Seeing a local fauna that was like going to the zoo was extraordinary. At first look, one may assume that this is just another rocky beach with a sign. Well, it is…except for the presence of wild ostrich, unfriendly baboons, mongoose playing in the rocks, and several mountain zebra. Although we hadn't even begun our official safari it felt like we were in a genuine animal safari Africa
Scene 2: Boulders on the Beach
There is an absolutely unique stay outside of Simon's Town waiting for any curious traveler who wants to visit a luxurious animal safari in Africa on the water. While in the comfort of the Tintswalo Boulders, a 4-star Boutique Hotel tucked away in an upscale neighborhood, a guest can hear the ocean beating on the rocks below. Then, unexpectedly, another sound comes from below. The kazooing of the resident colony of penguins that fish this beach and sleep on its shores and surrounding areas. However, don't worry. The penguins sleep as well, so the sound dies down at night. 
The hotel also has direct access to a boardwalk that runs adjacent to the beach. So you can go for a nice stroll parallel to the shores and observe the penguins in their natural habitat.  Especially kids would love this!
To be noted, South Africa is famous for its "Sun Downer" hour that involves a sunset and drinks…. A perfect combination!
After having a fabulous dinner made by Chef Dustin, we walked outside and watched the penguins march up the street to their respective nests hidden in neighborhood bushes.  Now that's something you just don't see that every day.
As far as the hotel staff, they went completely out of their way to accommodate us and meet our highest expectations.  Jeantelle, the manager, and her whole team made us feel like family during our stay.  The food and service were outstanding, warm, and inviting.  My biggest regret was not staying at Tintswalo longer. It's a perfect way to relax after a long flight.  

Scene 3: Wine Country
Only a short 1-hour drive separates Tintswalo and the famous wine region of South Africa. Stellenbosch and the surrounding wine-growing valleys have famous rivals such as Napa and Sonoma, California.  The vineyards area beautiful scene and the wine is world-class. For any wine lover planning a luxury safari, a few days to relax in this region is a must.
Before starting our day of wine tasting, we enjoyed a scenic bike ride through the vineyards. However, there are balloon rides, horse trails, hikes and many other outdoor activities to choose from. Making this a site for all ages.
After bike rides….it was time for WINE!  We visited several vineyards and thoroughly enjoyed them all. But, the highlight of the vineyards was Babylonstoren.
The setting is an old cow shed that has been amplified to an edgy and contemporary setting with glass walls overlooking farm-to-fork gardens. Depending on the time of year, the seasonal offerings will be fresh and homegrown. We ordered several charcuterie boards that had products made and grown by Babylonstoren: almonds, amazing chutneys, local honey, fruit, sausages, and cheeses.  
Honestly, its moments like these with your best friends that you just cannot put a price on. Being in a foreign country and experiencing a beautiful day ….as a day in the South African Wine country – Stellenbosch.
Later this same day, we went to the top of Table Mountain, and well…it speaks for itself.
ACT 2 – KAPAMA
Scene 1: Buffalo Camp
We found ourselves in the bush after a leisurely morning traveling to the Cape Town Airport and a short nonstop flight to Hoedspruit. The Kapama Buffalo Camp Reserve sits in the Limpopo province in the fabulous Greater Kreuger National Park area.
Our Kapama guide, Jeffrey, met us at the airport, a small building, and drove us into the reserve with a gated entrance across the street from the airport.  Quite convenient!  The reserve spans over 15,000 hectares of pristine bush. Once at the camp, we were greeted by the pleasant manager staff.  The staff at Kapama were meticulous in keeping everyone covid safe. Upon arrival, they took our temperatures and every day following.  We opted to stay in a tented camp to have an iconic and unique experience.
Scene 1: Luxurious Safari Game Drive Habits
However, while planning game drives, you must note that you will be up early in the morning to view the animals and back at it in the evening to view the animals as they are more active. So, we made a habit of waking up at 6:00 AM every morning to have coffee and a small bite to eat.
It was chilly, as August is winter in South Africa. However, the game driver made sure to pack us blankets and hot water bottles to put under our blankets.  The departure from camp usually happened around 6:30 AM and we would stay out until around 9:30 AM.  At this point, you return to camp and eat a fabulous breakfast.  The rest of the day, until 4:00 PM, was typically spent resting, at the spa, working out, and of course, lunch.  At 4:00 PM, it was time to hop back on the jeeps and go out until approximately 7:00 PM.  Upon return, eating another fantastic meal in a beautiful candlelit hall was phenomenal to end the day.
Scene 2: Every African Safari Question
You may ask, "What did we see on the game drives?" Here is just a sample.
Finale
Scene 1: Shamwari
After leaving the incredible Kapama Buffalo Game Reserve, we had a short flight to Johannesburg, where we overnighted in a hotel and prepared for an early flight the next day to Port Elizabeth, sitting on the Eastern Cape of South Africa. African Travel arranged for our drivers to meet us at the airport and transport us to the game reserve by private car. Our destination was the luxury African Safari 5 star- Game Reserve of Shamwari Long Lee Manor.  This property is a must-stay for anyone planning an animal safari in Africa. 
Shamwari overlooks magnificent plains making every view a postcard picture. Long Lee Manor is the original Manor House that provides newly designed Edwardian-styled suites and a spectacular colossal rim-flow pool. Long Lee Manor is the perfect marriage where elegance and nature come together. The staff is kind and extremely accommodating to us. The food was unique and creative. The Manor House pays homage to the area's heritage and adds adventure, luxury and a bit of romance to any African wildlife safari.

Scene 2: The African Wildlife Safari
To be expected, the best part of a luxurious animal safari in Africa had to be game drives twice a day.  Now, imagine getting up early in the morning to the beautiful sunrise over the hills.  You sip a wonderful cup of latte and bundle up with wool blankets and hot water bottles to make your viewing of nature just right. To begin, you board a jeep privately reserved for your party and drive into the unknown. The crisp cool air, clean and natural, fills your nostrils and the sights of nature begin. Now, one turn to your right, you see a family of elephants where the babies are playing, with mothers nearby, rolling in the dirt to protect their skin from the elements. A kilometer down the dirt road, you come upon a giraffe and her 2-month-old baby grazing at the tree line.  The surprises just keep coming at every turn on your morning path.
Scene 3: The End of our Luxurious African Wildlife Safari: The Guide
One of our highlights of Shamwari was our terrific guide. His name was Mino. The BTA team knew all of the best guides for our activities. You can find him on Instagram on his handle, @IndianRanger.  I highly recommend you follow him if you plan a trip to Shamwari. Any advisor at Boutique Travel Advisors can pre-arrange for a client to request Mino as their guide. I promise they won't be disappointed. He was the "Cherry on Top" with our safari experience. He brought excitement, knowledge, and many years of experience to our visitors.  We were engaged and learned so much.
Shockingly, every game drive was unique and new, keeping us guessing. We went to many different locations on the vast reserve, over 30,000 hectares. The jeeps were very comfortable. Each game drive, morning and night, included a break where we had drinks and appetizers amidst the backdrop flooding with nature. 
Lastly, I would highly recommend this game reserve to everyone planning a luxurious African safari. Boutique Travel Advisors recommendations and planning for South Africa made our safari beyond words. The accommodations were splendid, the food, the staff, the game drive…all was completely out of this world and truly AMAZING!
The End: A Luxurious African Wildlife Safari Story
"Perhaps it was history that ordained that it be here, at the Cape of Good Hope that we should lay the foundation stone of our new nation. For it was here at this Cape, over three centuries ago, that there began  the fateful convergence of the peoples of Africa, Europe and Asia on these shores." 
– Former President Nelson Mandela, during his inauguration speech on May 9, 1994.
Boutique Travel Advisors is a full-service, luxury travel agency. We specialize in creating bespoke itineraries for discerning clients around the world. Please visit our website or call 480-787-1477 to speak with a dedicated travel expert. 
Are you planning an international or domestic trip? Check out our other articles to help you come prepared!
We highly recommend the purchase of travel insurance to protect your financial investment and health while traveling internationally. To purchase a policy with our preferred travel insurance company Chubb click here.
At this time, anyone that resides in CA, CO, KS, MN, MO, MT, NH, NY, PA, TX or WA is unable to purchase an insurance policy online. If you would like assistance purchasing a travel insurance policy, please get in touch with a BTA advisor.