Our users support our website. Therefore, we sometimes earn affiliate commissions when you click through the affiliate links on our website. Rest assured that all of our recommendations are made whole-heartedly with the intent of helping travelers like you discover the world authentically and responsibly.
The quest for luxury need not be confined to extravagant budgets; indeed, luxurious travel can be mastered even when financial considerations are in play. "The Art of Luxurious Budget Travel: Eight Exceptional Destinations That Won't Break the Bank" aims to illuminate this nuanced balance, offering discerning travelers a curated guide to destinations where sumptuousness and affordability coexist.
Whether finding a hidden boutique hotel nestled in nature or a gourmet culinary experience offering exceptional value, the following destinations exemplify the epitome of sophisticated travel without necessitating a king's ransom. Prepare to be captivated by locales that offer a rich tapestry of experiences designed for the sophisticated traveler yet priced for the prudent connoisseur.
*Prices for the following trips will vary depending on seasonality, length of travel, and trip specifics but generally start around $5000/person. 
Patagonia – Untamed Wilderness Meets Affordable Luxury
Patagonia, straddling the southern reaches of Chile and Argentina, presents a compelling case for discerning travelers yearning for a luxury budget travel destination. The region captivates with its extraordinary landscapes, from the iconic Torres del Paine peaks to the expansive Perito Moreno ice fields. These natural wonders offer a kind of inherent luxury that requires no further embellishment. 
Accommodations in Patagonia often align with the concept of eco-luxury, where sustainability meets comfort in boutique lodges and hotels. What makes this even more appealing is that these experiences are available at a fraction of the cost compared to more commercialized destinations. Gastronomically, Patagonia does not disappoint. The region boasts a robust and affordable culinary scene, offering local wines, organic meats, and freshly caught seafood in spectacular settings. 
The adventure activities further augment the luxury quotient; whether it's glacier trekking or wildlife safaris, there are ample opportunities for unique experiences provided by local operators at reasonable prices. Regarding timing, the Southern Hemisphere summer, which spans from December to March, is generally the most favorable time to visit. Patagonia redefines budget luxury travel, demonstrating that the concept is not solely tied to financial extravagance but can also be understood as the grandiosity of the natural world, authentic experiences, and the tranquil solitude of one of Earth's last unspoiled sanctuaries.
When to Visit

: The Austral summer months from November to April are ideal.

Initial Research & Logistics

: Consider flying into Buenos Aires or Santiago before a connecting flight to the region. Accommodations range from boutique lodges focused on sustainable luxury to lavish glamping experiences.

Itinerary Highlights

: Essential experiences include trekking in the Torres del Paine National Park, sailing near the icebergs of Perito Moreno Glacier, and wildlife spotting in Valdés Peninsula.

Gastronomy

: Feast on Argentinian steaks or Chilean seafood. Patagonian lamb and fresh seafood are the stars of the regional cuisine, excellently paired with Malbec or Carménère wines.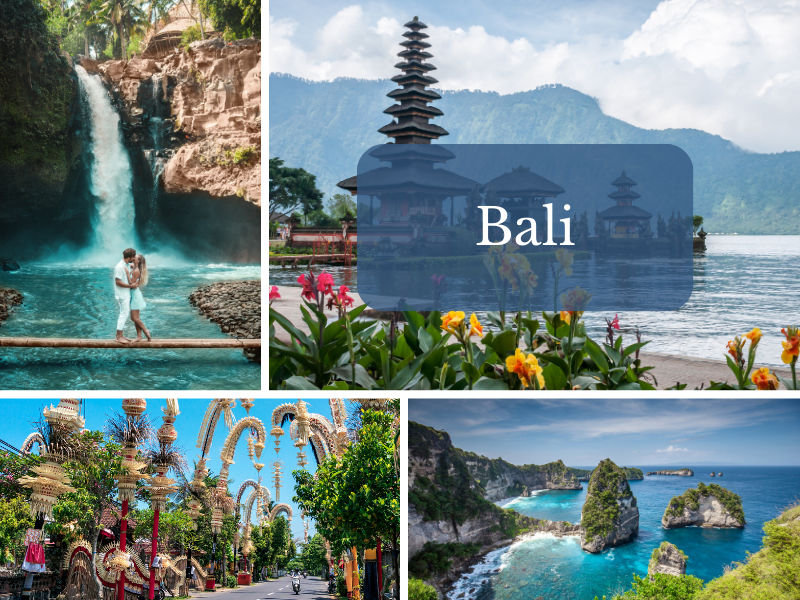 Bali – Serene Luxury, Surprisingly Affordable
Bali is more than a destination; it is a mood, an aspiration, and a tropical state of mind that balances spirituality with breathtaking natural beauty. This destination offers more than emerald rice terraces and golden beaches; its unique Hindu-practiced culture adds a spiritual dimension to the luxury. It truly is a great destination for any traveler looking for the ultimate luxury budget travel experience. 
Bali offers an idyllic juxtaposition of opulent experiences and affordability rarely matched in today's travel landscape. This Indonesian island paradise excels in transformative luxury: cultural richness, spiritual wellness, and natural beauty, all with a sense of grandeur that exceeds the modest costs involved. The concept of luxury here is expansive, encompassing not just material comfort but also the luxury of experience. Imagine staying in a private villa with a personal pool overlooking lush rice terraces, attended by unobtrusive staff, at prices far below what one would expect for similar accommodations in other parts of the world.
The island's distinctive spirituality manifests in its thousands of temples, daily offerings, and intricate ceremonies, all contributing to the sense of peaceful luxury. As for culinary indulgence, the food scene in Bali serves up a diverse array of dining experiences, from beachfront seafood grills to haute cuisine in Ubud's culinary establishments, all significantly more affordable than their Western counterparts.
Adventure activities such as scuba diving, surfing, and trekking can also be experienced in a high-quality yet economical manner. Even wellness, a segment often associated with luxury due to its focus on holistic health, is accessible on a budget in Bali. Yoga retreats, wellness sanctuaries, and spa treatments featuring exotic Balinese techniques are plentiful and reasonably priced.
For the ultimate experience, consider booking a private jet trip to Bali!
When to Visit: From May to October, the dry season presents the island in its most photogenic form.
Initial Research & Logistics

: Direct international flights to Denpasar are convenient. Consider private villas that offer the luxury of space and personalized services.

Itinerary Highlights

: Beyond the beaches, explore the spirituality in Ubud, shop at the upscale boutiques in Seminyak, and dive into Bali's rich marine life.

Gastronomy

: From traditional "Babi Guling" (Balinese roast pork) to world-class international cuisine, Bali is a food lover's dream.
Vietnam – The Exotic Elegance of the East 
Vietnam combines rich history with stunning natural landscapes like Halong Bay. The fusion of French colonial and Vietnamese culture creates a sophisticated atmosphere. Its elusive alchemy of cultural depth, natural splendor, and affordable luxury makes it a compelling choice for discerning travelers seeking luxury without ostentation.
Travelers can partake in what is essentially a form of "accessible extravagance," where the luxury is not merely surface-level but deeply integrated into the fabric of the travel experience. For instance, the country's diverse range of accommodations includes boutique hotels in Saigon and Hanoi, beachfront villas in Da Nang, and luxurious junk boats in Ha Long Bay, many of which offer rates remarkably lower than comparable establishments elsewhere.
Vietnam's culinary landscape is equally alluring. The country offers an array of gastronomic experiences, from street food stalls serving pho and banh mi to upscale restaurants that reinterpret traditional Vietnamese dishes with modern flair. Despite the sophistication of many dining experiences, the cost is often astonishingly reasonable, particularly given the quality and complexity of flavors involved.
Natural wonders like the Mekong Delta, Ha Long Bay, and Phong Nha-Ke Bang National Park provide an opulent playground for cruising, trekking, and cave exploring. Meanwhile, historic cities like Hue and Hoi An serve as lavish backdrops for cultural immersion, offering imperial palaces, ancient pagodas, and tailor shops where custom-made garments can be produced for a fraction of what they would cost in Western countries. Ninh Thuan, Vietnam made our list as one of the most breathtaking destinations. 
When to Visit: November to April – Avoid the bulk of the rainy season and enjoy the pleasant weather.
Initial Research & Logistics

: Land in Hanoi or Ho Chi Minh City; luxurious accommodations are often reasonably priced.

Itinerary Highlights

: Cruising in Halong Bay, exploring Hanoi's Old Quarter, and visiting the ancient town of Hoi An.

Gastronomy

: From Pho to Banh Mi, Vietnam offers a unique and flavorful culinary journey.
Turkey – Where Byzantine Opulence Meets Budget Brilliance
East meets West in Turkey, blending the Byzantine and Ottoman empires' legacies—architectural wonders like Hagia Sophia and natural phenomena like Cappadocia.
Turkey offers an exceptional blend of history, culture, and natural beauty, creating a tapestry luxury budget travel experiences. Istanbul, the country's largest city, is a testament to this duality. Here, visitors can explore opulent palaces and ancient basilicas by day and retire to boutique hotels that offer a high degree of budget luxury without the exorbitant price tag often found in other European capitals. The city serves as a culinary haven, where high-end dining is world-class and often remarkably affordable compared to Western counterparts.
Beyond Istanbul, destinations like Cappadocia offer unique luxury budget travel experiences, such as hot air balloon rides over a landscape of otherworldly rock formations. Staying in a cave hotel, often furnished with sumptuous Ottoman decor, becomes an experience of comfort woven into the landscape. Similarly, the coastal regions of Bodrum and Antalya offer lavish resorts where private beaches and world-class spas are par for the course. Yet, the costs are often less prohibitive than in other Mediterranean hotspots such as Italy, France and Greece.
Turkey's rich historical landscape, embodied by places like Ephesus and Troy, adds another layer of luxury, allowing one to walk through ancient ruins in the morning and enjoy a five-star meal by nightfall. Additionally, the country has a wealth of artisanal crafts, including textiles and ceramics, that offer unique, high-quality souvenirs with a budget-friendly luxury price tag.
If cruising is more your style, consider looking at cruise options to make you journey throughout Turkey easy and extravagant.
When to Visit: Spring and Autumn.
Initial Research & Logistics

: Istanbul is the primary international gateway; consider boutique hotels in historical districts.

Itinerary Highlights

: Balloon rides in Cappadocia, exploring Ephesus, and cruising the Bosphorus.

Gastronomy

: Relish a sophisticated blend of Mediterranean and Middle Eastern cuisines.
Tahiti – Paradise Perfected, Priced Within Reach
Tahiti epitomizes tropical luxury with its crystal-clear waters and idyllic islands. The overwater bungalows and coral atolls set it apart.
Sailing through the resplendent archipelagos of Tahiti aboard Paul Gauguin or Windstar Cruises offers an exquisite yet financially sensible alternative to more conventional luxury travel options in this South Pacific paradise. Unlike a sojourn in an overwater bungalow—a dreamlike experience, albeit often accompanied by a steep price tag—these cruises provide an all-inclusive experience that bundles accommodation, gourmet dining, and excursions, offering notable cost savings without compromising on luxury.
Both cruise lines are designed to navigate the Polynesian islands' shallower waters and narrower passageways, allowing access to ports and secluded bays that larger vessels cannot reach. The ships ' smaller capacities further enrich this intimate experience of the islands, facilitating a personalized service that caters to the discerning traveler. Onboard amenities and services—from rejuvenating spas to fine dining featuring local ingredients—are reminiscent of a luxury resort. Yet, they come without the additional costs often associated with such high-end experiences ashore. Tahiti has become a hotspot for destination weddings and honeymoons. 
Paul Gauguin and Windstar offer numerous excursions for those who marvel at the natural world, from snorkeling in translucent lagoons brimming with marine life to hiking in emerald jungles. These excursions provide the thrill of discovery and the luxury of choice, allowing you to tailor your trip to your interests.
On the front or back end of your cruise, check out some of the best hotels in Tahiti for your stay.
When to Visit: May to October.
Initial Research & Logistics

: Cruises offer a comprehensive, all-inclusive experience.

Itinerary Highlights

: Snorkeling in Bora Bora, visiting a pearl farm in Taha'a, and enjoying water sports.

Gastronomy

: Savor French Polynesian fusion cuisine while taking in ocean views.
Azores, Portugal: Natural Wonders and Epicurean Adventures
The Azores, an archipelago in the middle of the Atlantic Ocean, redefines luxury budget travel as the privilege of space and natural beauty. Here, luxury is the absence of crowds amidst lush landscapes, geothermal pools, and stunning ocean views. Adventure seekers will find a wealth of activities, such as biking, hiking, canyoning, surfing, and whale watching. Culinary enthusiasts will appreciate the region's exceptionally fresh seafood, often caught the same day it is served. 
What sets the Azores apart is that this quality of experience comes without an exorbitant price tag. Accommodations range from quaint inns to upscale resorts for a fraction of the cost we typically find on the mainland of Europe. Additionally, direct flights from Boston and Newark make access both convenient and reasonably priced. The Azores made our list as one of the top international family vacation destinations!
The Azores consist of 9 unique islands.
São Miguel

: The most visited island with the largest international airport. Often dubbed "The Green Island," São Miguel offers a rich tapestry of landscapes from verdant valleys to geothermal springs. 

Terceira

: A historical jewel, Terceira is known for its preserved Renaissance architecture, bullfighting traditions, and captivating lava caves.

São Jorge

: Ideal for the avid hiker, São Jorge features dramatic cliffs and lush "fajãs," fertile landforms at the sea's edge.

Pico

: Home to Portugal's highest mountain, Pico offers an enological paradise with its unique volcanic vineyards and robust wines.

Faial

: Known as "The Blue Island" for its abundant hydrangeas, Faial is a sailor's delight with its world-renowned marina in Horta.

Flores

: Aptly named "The Flower Island," Flores enchants with its emerald lakes and abundant waterfalls, a haven for nature enthusiasts.

Graciosa

: Referred to as the "White Island," Graciosa is recognized for its tranquil beauty, punctuated by vineyards and traditional windmills.

Corvo

: The smallest of the Azores, Corvo is a sanctuary of solitude and unspoiled landscapes, ideal for those seeking quietude and introspection.

Santa Maria

: Known as the "Yellow Island," Santa Maria boasts idyllic sandy beaches and terracotta-hued soils, contrasting with the predominant volcanic landscapes of the archipelago.
Each island offers its unique blend of natural beauty and cultural richness, making the Azores a multifaceted gem in the Atlantic Ocean.
Initial Research & Logistics
Flights:

 Direct flights to Ponta Delgada make the Azores easily accessible. Inter-island flights and ferries are also readily available but should be booked in advance. 

Choose the Islands: 

The Azores consist of 9 volcanic islands, and depending on the allotted time, visitors can easily explore one island in 5-6 days and two or three islands within 7-10 day itineraries.
Accommodations
Consider eco-luxury resorts or cliff-side villas that blend sophistication with natural beauty.
Slovenia and Northern Croatia: A Hidden European Gem
Slovenia and Northern Croatia offer a European experience that is both luxe and affordable. Unlike the throngs of tourists that flood Dubrovnik and southern Croatia, these northern treasures provide a respite for those seeking serenity without sacrificing beauty or adventure. 
The region captivates discerning travelers with a harmonious blend of alpine majesty, crystalline lakes, and emerald-green forests, all punctuated by charming historical towns and the intricate architecture of castles that seem lifted straight from the pages of a fairy tale
The region's vineyards offer oenophils tasting experiences with exceptional wine at reasonable prices in authentically boutique settings. Hotels are also well-priced, especially as compared to neighboring European destinations like Italy and Austria. In Slovenia, crime is rare, and self-driving is a viable option for those looking to navigate the landscape. Travelers seeking a highly curated experience can hire professional drivers and exceptionally knowledgeable guides at a reasonable cost.
Initial Research & Logistics
Flights:

 Both Ljubljana and Zagreb are well-connected European airports. Consider flying in one city and out of the other to maximize your experience.

Transport:

 For a well-heeled experience, you might opt for a professional driver, although Slovenia and Northern Croatia are both perfectly amenable to self-driving. 
Accommodations
Upscale boutique hotels or countryside manors offer both luxury and value.

Popular regions include scenic Lake Bled, cultural Ljubljana and the charming seaside town of Rovinj.

Greece Yacht Adventure: Affordable Nautical Luxury
Chartering a private yacht may be the epitome of maritime luxury, but SeaDream Cruises offers a comparable experience for a fraction of the cost. With a starting price of around $5,000 per person, one can revel in an authentic yacht experience, navigating smaller ports and secluded islands inaccessible to larger cruise ships. 
For guests who prefer an active maritime experience, the Watersports Marina Platform is a highlight as it provides direct access to the ocean, inviting guests to engage in various water sports, such as jet skiing, kayaking, paddle boarding, and snorkeling. It evokes the luxury and convenience usually reserved exclusively for private yacht charters, allowing you to seamlessly move from the comfort of the boat into the open water.
Gastronomy is an elevated affair featuring fine dining that rivals Michelin-starred establishments with customized meal preferences easily accommodated. Servers quickly get to know the guests and will make personalized recommendations with each meal. Unique shore excursions, from private historical tours to boutique wine tastings, offer intellectually and culturally enriching activities seldom found on larger cruises.
Accommodations echo the comfort and design of elite boutique hotels, complete with luxurious amenities and some with private terraces. Overall, SeaDream democratizes maritime luxury, presenting an opulent yet accessible voyage beyond conventional expectations without stretching the purse strings. It truly redefines luxury budget travel.
Initial Research & Logistics
The company owns two identical vessels, and voyages often sell out 12 months or more in advance, so booking early is essential.
The list continues with other exceptional locales, each promising a unique blend of luxury and authenticity. Whether it is the historic tapestry of Turkey, the untamed corners of Patagonia, or the ethereal beauty of the Tahitian archipelago, every destination beckons with its unique form of luxury budget travel. 
–
Boutique Travel Advisors is a full-service, luxury travel agency. We specialize in creating bespoke itineraries for discerning clients around the world. Please visit our website or call 480-787-1477 to speak with a dedicated travel expert. 
Are you planning an international or domestic trip? Check out our other articles to help you come prepared!
We highly recommend the purchase of travel insurance to protect your financial investment and health while traveling internationally. To purchase a policy with our preferred travel insurance company Chubb click here.
At this time, anyone that resides in CA, CO, KS, MN, MO, MT, NH, NY, PA, TX or WA is unable to purchase an insurance policy online. If you would like assistance purchasing a travel insurance policy, please get in touch with a BTA advisor.