Marriage is a beautiful occasion for everyone. It is a union of love bringing together two people destined for each other, with the promise of a lifetime commitment. For most couples, the happiest and the most romantic time after their marriage is the honeymoon, where they learn more about each other and share intimate moments. Everyone expects their honeymoon to be nothing short of perfect; from arranging accommodations to planning romantic evenings, everything should be exactly the way you dreamed it. 
Many honeymooners choose the South Pacific Islands of French Polynesia for their romantic getaway. From Tahiti to Bora Bora and Moorea, these islands are amongst the most enchanting and beautiful. So, if you're in the planning stages and considering French Polynesia as the destination of your choice, then read on. Although Bora Bora is arguably the most famous of the islands and an internationally acclaimed honeymoon destination, the islands of Tahiti and Moorea also have much to offer. This guide will help you plan the perfect Bora Bora honeymoon and show you why you should include Tahiti and Moorea as well in your French Polynesia honeymoon itinerary.
When is the Best Time to Go?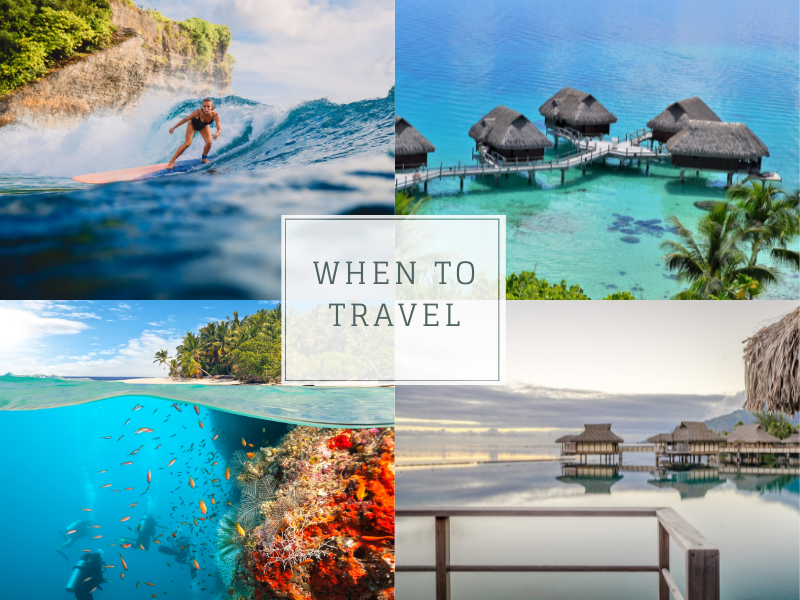 For all three French Polynesian islands, the best time to visit depends on the activities you're hoping to do. 
Tahiti: The weather in Tahiti is dry April-October, so the water is calm, perfect for snorkeling, swimming, and diving. If your top priority is sunshine and water activities, the best time is May to October. Most tourists visit in June and July, so the prices are high at that time of the year. Early April and November offer better prices and fewer crowds.
Moorea: Similar to Tahiti, the weather in Moorea is driest April-October, and most visitors travel from May-October.
Bora Bora: A bit further from the other two islands, travelers can enjoy a Bora Bora honeymoon year-round. The island is blessed with ideal weather from April to November.  But keep in mind that during the summer months of May-October, prices and crowds increase substantially. Therefore, our favorite months to visit are during shoulder season, particularly November and April. These months offer lovely, temperate weather with temperatures from the mid-70s to mid-80s without peak season prices or crowds. 
However, don't worry if your honeymoon falls in the months when the weather is a bit warmer, rainy, or the prices are high. By planning ahead, you can ensure an incredible honeymoon any time of year.
The Itinerary
Arriving in Papeete
Most international flights arrive in Papeete, the capital of French Polynesia, on the island of Tahiti. You will likely arrive tired and ready for a relaxing afternoon if you're traveling from North America. Rather than hop on a ferry or another flight to transit directly to Bora Bora, Moorea, or one of the other islands, spend 1-2 nights in Tahiti. 
Tahiti and Moorea are relatively close, but Bora Bora is quite far from the other two islands. But don't worry! Many Bora Bora honeymoon packages incorporate all three beautiful islands.
If you're staying for a minimum of 9 or 10 days, we recommend visiting all three islands. Spend two nights in Tahiti, 3-4 nights in Moorea, and 3-4 nights in Bora Bora. If you are spending 6-7 nights, we recommend choosing just one or two islands as your home base.
Tahiti:
●   
Traveling to Tahiti
Many hotels are located within a short drive from Papeete, and visitors can book a taxi, arrange a private transfer, or take public transportation. Taking a taxi will get you to town within 10 minutes and cost around $25-30. The bus ride takes 18 minutes and approximately 300-400 XPF (3-4 USD). A private transfer generally includes assistance with luggage, a welcome refreshment, and higher-end service and starts at $50. 
While there are many hotel options for all budgets, we recommend the Inter-Continental Hotel. It is one of the most popular places to stay for honeymooners arriving on the island. The hotel has a lush setting, overlooking an azure lagoon, volcanic mountains, and is only 2 kilometers from the airport. The hotel has gorgeous rooms and suites available, but book the Panoramic view rooms if budget allows. Call ahead of time and tell the staff you're honeymooning and inquire about special packages or amenities they can arrange pre-arrival. After all, it's the little things that count. 
Depending on where you're coming from, the flight could be long and exhausting. This is why we suggest staying in the first night and enjoying dinner at the resort. That way, you can get rid of that pesky jetlag. Then, in the morning, you'll feel refreshed and ready to explore the beautiful island or head on to your next destination.
Here are some activities you can do in Tahiti:
●   
Explore the Lagoon in a Glass Kayak
Tahiti's lagoon is simply breathtaking, and a unique way to explore it is on a glass kayak. This kayak is a popular experience and will give you a view of the sea, unlike anything you've ever seen. You may even encounter marine wildlife!
●   
Snorkel
If you are passionate about water activities, snorkeling in Tahiti is nothing short of spectacular. Swim amongst colorful fish, dolphins, coral reefs, and experience a diverse marine environment. Trust us, snorkeling not only in Tahiti but Bora Bora and Moorea will be one of your favorite island adventures.
●   
Sample The Street Food
While Tahiti has plenty of restaurants, tasting local street food is a fun and authentic experience. Food trucks aren't simply a trend in Tahiti; they are vital to the fabric of the community and perhaps the birthplace of the fun invention. So if you want an immersive and laid-back cultural experience, stop at one of the local roulottes or food trucks in Papeete at Vaiete Square. These trucks serve various dishes from traditional island fare to pizza, Chinese food, and burgers. 
●   
Try Stand Up Paddle Boarding
We do recommend spending at least one day in the water. Stand-up paddleboarding is an exciting activity and will earn quite a few laughs if you're doing it for the first time. Luckily, there are many paddleboarding trainers and guides, so after the first few minutes of treading the water (literally), you'll be going ashore. It's a light way to have fun with your spouse and enjoy the beautiful views.
●   
Hike to Caves and Trail Waterfalls
While there are numerous hiking trails, our favorites include the Ma'raa Cave and Maroto Waterfall.
Moorea
If your Bora Bora honeymoon includes multiple islands, your next stop should be Moorea. You can easily reach Moorea via a 30-minute ferry ride from Tahiti. And that's precisely how you should go. The ferry is a fantastic way to travel to Moorea and gives you more time on the ocean to admire picturesque views and enjoy the fresh sea air.
If you are not acquainted with this island, you may be asking yourself why visit Moorea? Nicknamed the Magical Island," it's all too easy to see why this an island perfect for adventure-loving couples. Indeed Moorea is a poster child for a French Polynesian paradise—dramatic peaks, spectacular beaches, bright blue lagoons, lush waterfalls, and luxurious hotels. 
Moorea has multiple luxurious resorts, including:
●   
Manava Beach Resort and Spa
You might have heard about Manava, a favorite among influencers and celebrities, but do not worry. Despite its popularity, it retains a sense of charm and privacy. The resort is built on water and offers a spectacular stay. 
●   
Hilton Moorea Resort
The Hilton Moorea Resort is another attractive destination worthy of your stay. Their overwater bungalows offer pristine views and impeccable service. 
●   
Sofitel Kia Ora
Sofitel Kia Ora is a luxury hotel and resort in Moorea which provides ample activities, lovely accommodations, and of course, plenty of romance.
Here are some activities you can do in Moorea
●   
Hike to Belvedere Lookout
Belvedere Lookout is a panoramic mountain that stretches over Moorea's Opunohu bays and is one of our favorite hiking points. It's perfect for a day out with your beloved.
●   
Soaking in the Sun At Temae Beach
White sand meets with the turquoise Polynesian water and makes for a relaxing beach date. 
●   
Moorea Dolphin Center
Love dolphins? Head over to the Moorea Dolphin Center, where you get to meet bottlenose dolphins through the Manea dolphin program.
●   
Afareaitu Waterfalls
Another natural wonder, Afareaitu Waterfalls, is located on the southeast side of the island. Although these aren't the highest waterfalls in The Islands of Tahiti, they are still just as beautiful. Admire the watering gently rolling down the side into a calm pool that's perfect for an afternoon dip.
●   
Parasailing
Not in the mood to get wet but still want to stay close to the water? Try parasailing and enjoy an incredible view while cruising over the pristine ocean.
●   
Visit Local Villages
Moorea's charming villages are dotted with pastel-painted houses, surrounded by lush gardens and flowering hibiscus and birds of paradise. The traditional and simple towns warmly beckon visitors and invite honeymooners to soak up the local culture. 
Bora Bora
After spending a few days in Moorea, we recommend ending your honeymoon in Bora Bora. Located nearly 2,500 miles (4,000km) from land in the Leeward Islands, Bora Bora's beauty is no longer a well-kept secret. This famous island has caught the attention of Kim Kardashian and many other celebrities who fill their Instagrams and social media pages with images of this magical place. 
It's no wonder, as Bora Bora is arguably one of the most beautiful islands in the world. Its unique geography, magnificent views, white sand beaches, and luxury accommodations prove the perfect location for a once-in-a-lifetime adventure. Perched on a dormant volcano known as Mt Otemanu, the island is surrounded by a large turquoise lagoon reflecting dizzying arrays of bright blues and greens and a string of coral motus (tiny islands) around its reef. 
To get from Moorea to Bora Bora, you can either book a plane ticket or take one of the inter-island ferries. However, flying is the most accessible and most convenient option. 
Many incredibly romantic luxury hotels and resorts call Bora Bora home. Of course, this comes as no surprise given the island's popularity with honeymooners, destination weddings, and couples celebrating anniversaries.
●   
Intercontinental Bora Bora
The Intercontinental Bora Bora is a top-quality resort, offering several amenities and facilities. The suites overlooking the water are a must for honeymooners.
●   
Four Seasons
The Four Seasons Resort in Bora Bora is even grander than you'd expect, offering various services and facilities. This resort is one of the most luxurious and magnificent honeymoon destinations.
●   
St. Regis
The St. Regis Resort is also built on water and is perfect for those who love the ocean. 
●   
Diving At Tupitipiti Point
Tupitipiti Point isn't only a famous dive site but also a great viewpoint. Admire the beauty of the islands from shore before taking in the enthralling underwater views. Highlights include purple coral beaches, parrotfish, grouper, and stingrays. Snorkeling and diving here are purely paradise.
●   
Purchase Bora Bora Pearls
One way to make the honeymoon even more loving is gifting your spouse a set of exquisite pearls found by the best and most professional jewelers in the exotic waters of Bora Bora. An authentic way to your lover's heart.
●   
Swim With Turtles 
Wherever you're swimming, chances are, you'll find turtles and other cute sea creatures lurking around. Ask a local guide about the best spots for swimming with turtles or take a snorkeling or scuba adventure.
If you have flexibility, we recommend extending your honeymoon so you can enjoy the blissful Polynesian islands. There's so much you can do; don't restrict yourself to just this itinerary, but if we can promise one thing, it's the success of your honeymoon. With this planned guide to Tahiti, Moorea, and Bora Bora, your honeymoon will exceed expectations.
Also, take a look at our article"Ideas For Long Weekend Romantic Getaway."
Boutique Travel Advisors is a full-service, luxury travel agency. We specialize in creating bespoke itineraries for discerning clients around the world. Please visit our website or call 480-787-1477 to speak with a dedicated travel expert. 
Are you planning an international or domestic trip? Check out our other articles to help you come prepared!
We highly recommend the purchase of travel insurance to protect your financial investment and health while traveling internationally. To purchase a policy with our preferred travel insurance company Chubb click here.
At this time, anyone that resides in CA, CO, KS, MN, MO, MT, NH, NY, PA, TX or WA is unable to purchase an insurance policy online. If you would like assistance purchasing a travel insurance policy, please get in touch with a BTA advisor.