Portugal has long been considered one of Europe's best affordable luxury family vacation destinations. For this reason, the country sees millions of visitors every year looking for relaxation, adventure and culture. However, while the country offers a fantastic variety of cultural and natural attractions, many travelers aren't aware that the small islands of the Azores, sitting about 850 miles from the Mainland, are Portugal's best-kept secret. The Azores Islands are a Portuguese archipelago in the North Atlantic Ocean and consist of 9 different islands, all offering unique landscapes, activities, and styles. We explored the island of São Miguel, Azores, for an incredibly adventurous and affordable luxury family vacation itinerary.
We chose the Azores islands for their wild and unspoiled beauty, the plethora of outdoor activities, the mild climate, and easy direct flights from the U.S. This was our first family vacation (with everyone together) in over a year, and I felt we desperately needed a chance to reconnect and discover new experiences together. We also had a few of our family friends join us and found many things we could do together and fun activities we could choose to do separately. It was time for us to unplug from the daily stressors and enjoy much-needed quality time after a hectic year.
We spent 8 days and nights exploring trails with panoramic ocean views, dipping our toes in freshwater lakes, taking boat tours around the island, climbing waterfalls, and finding as many beaches to lounge on as we could. Our family's itinerary below is chock-full of hiking adventures, beach days, and coastal excursions that helped us create lasting memories that we'll cherish for many years. While the island is not known for having extensive luxury offerings, the plethora of activities, gorgeous scenery, adventure options and cuisine met our definition of a luxury family vacation that you can take on a decent budget. But, first, let's dive into how we spent our 8-day vacation on the Azores Islands.
Our users support our website. Therefore, we sometimes earn affiliate commissions when you click through the affiliate links on our website. Rest assured that all of our recommendations are made whole-heartedly with the intent of helping travelers like you discover the world authentically and responsibly.
Day 1: Ponta Delgada and Caloura Beach
We landed in Sao Miguel and hit the ground running. With 9 islands to choose from and the option to island-hop or stay put, you may wonder why we chose this island.
São Miguel is the largest and most populated island of the nine volcanic islands that make up the Portuguese archipelago of the Azores. Located in the North Atlantic Ocean, this beautiful destination offers visitors a variety of breathtaking natural wonders and an abundance of stunning beaches. With its diverse landscape, ranging from lush green pastures to craggy mountain peaks, São Miguel is sometimes referred to as "the Green Island." Visitors can explore thermal springs, stroll along volcanic crater lakes, or wander through old forest habitats. All in all, it was the perfect base for our family, offering enough variety while maintaining the ease of not having to take ferries or inter-island flights. The Azores are one of the best affordable luxury family vacation destinations in Europe.
Our family loves the great outdoors and Azores São Miguel island is a paradise for outdoor enthusiasts looking for hiking, kayaking, swimming, snorkeling and even whale-watching opportunities. Rich in culture and tradition, São Miguel also contains several quaint villages and towns that offer traditional gastronomy and historical landmarks that provide insight into the unique history of this beautiful island. It is relatively affordable compared to similar destinations in mainland Europe, allowing us to have a luxurious family vacation on a very reasonable budget.
After getting our rental car, we checked and made our way to the capital city of Ponta Delgada for a night in the Hotel Marina Atlântico before finding our way to Caloura beach. We spent a few hours soaking in the sun and swimming in warm, crystal-clear water cliff jumping before heading back to explore the town.
Ponta Delgada is the capital and largest city in São Miguel, Azores, located on the island's south coast. It is a beautiful port town with a rich history and culture that dates back to the 15th century. The old town center is filled with picturesque streets lined with colorful houses, monuments, churches, and other historical landmarks. There are many great restaurants and cute shops for purchasing souvenirs.
Day 2: Hiking Trails and Ribeira Grande
Feeling ready to tackle new adventures and further explore the island, we decided to shake off the jet lag and discover the island on foot via the many hiking trails. We were sure to bring comfy hiking shoes on this trip!
We checked out of our hotel and found ourselves on Pedra Queimada – Lomba Da Maia, a 9-mile hiking trail that takes about 5 hours to complete. The popular route is known for bird watching and offers unmatched views of the ocean and city below. The trail starts with rolling hills and traverses through hydrangea-lined roads and small villages. It then circles back down toward town. The first part of our hike had beautiful views, trees, and grassy paths. In the afternoon, we checked in to our next accommodation, the Hotel Verde Mar & Spa, located on Monte Verde beach.
We finished the evening at Santa Barbara beach with our friends to watch the sunset before heading out to dinner. The sandy volcanic beach in the northern town of Ribeira Grande is one of the largest in São Miguel and a popular spot for surfing and boogie boarding.
Day 3: Sete Cidades 
Today, we planned to explore more beautiful spots on the island and get a bit of exercise along the way. Sete Cidades is a stunning volcano crater lake situated in the western part of São Miguel Island and one of the islands' most beautiful natural wonders. Within its inner ring lies two large lakes – Lagoa Verde ("Green Lake") and Lagoa Azul ("Blue Lake"). The lakes are considered one of the 7 Natural Wonders of Portugal, and according to legend, they formed from the tears of a princess and shepherd who shared a forbidden love.
The sides of these lakes are lined with lush vegetation and millions of hydrangeas, offering breathtaking views from every angle. Sete Cidades allows visitors to enjoy nature trails, kayaking tours, and cycling adventures. The area around Sete Cidades is also home to several picturesque villages.
Rising early, we arrived at Sete Cidades around 9 AM for a beautiful morning hike. The area has many trails, and we chose to explore the Rota Circular da Lagoa Das, Sete Cidades. At 12.6 miles, this challenging route takes about 6 hours to complete and offers stunning views. Not wishing to overdo it, we spent about three hours exploring the trail before circling back. We then headed to the lake and spent a few hours kayaking and enjoying the scenery.
Plan ahead if you want to check out one of the fun kayak tours or cycling adventures. If you want a more relaxing experience, consider a jeep tour.
Make sure to stop at Miradouro da Vista do Rei (Kings View) for an incredible view of the lakes.
Day 4: Lagoa do Fogo
One of the most beautiful spots we visited on our trip was Lagoa do Fogo, a stunning lake that is a must-see for any traveler coming to the island. The lake is a short drive from the major centers of Ponta Delgada and Ribeira Grande.
Aptly translating to 'Lake of Fire,' the mysterious and awe-inspiring destination lives up to its name. The picturesque lake, positioned inside a volcanic crater, sits on top of one of the highest mountains on the island. It is the second biggest lake in São Miguel, Azores, surrounded by lush vegetation offering breathtaking views from all vantage points. Swimming is forbidden, but adventurous travelers may choose to hike to the lake.
If you aren't up for the challenge, two viewpoints provide fantastic photo ops with lake views and magnificent countryside in the background. They are conveniently positioned along the main road. The Miradouro da Lagoa do Fogo Viewpoint is closest to the lake. It looks out over the Caldeira do Vulcão do Fogo and is the starting point for the trail down to the beach.
Since the island is an outdoor paradise, we couldn't resist venturing down the Lagoa do Fogo hiking trail. Our entire group successfully completed this moderately challenging route and agreed that the views along the trail were well worth the effort.
After our hike, we headed towards Caldeira Velha, a waterfall of warm iron water located north of Fogo Volcano, where visitors can swim.
Day 5: Private Boating Adventure
We traded our hiking shoes for fins and snorkels and decided to spend our day on the water. We went on a private boat tour exploring the island's south coast, and the landscapes, nature, and marine life reinforced just how incredible this destination truly is.
The waters of the Azores archipelago of Portugal are full of fascinating marine life, offering a treasure trove of aquatic creatures for visitors to observe. You can easily spot abundant fish, crabs, and other sea life along the coastlines and shallow lagoons. Further into open waters, one may find larger marine animals like dolphins, whales and turtles. The diverse array of species is an animal lover's dream come true! You can also try swimming with dolphins  or whale watching and jeep tours.
We hired a private boat, making the experience much more personable and laid back and allowing us to spend as much time as we wished snorkeling and swimming. Our group had an incredible boating experience as we snorkeled around in the Ilhéu de Vila Franca do Campo and explored many hidden coves and secret spots along the island. We spotted hundreds of dolphins and got up close to a pod of sperm whales frolicking in the ocean.
Day 6: Salto Do Prego and Furnas Calderas
The Azores are famous for waterfalls, and we couldn't get enough. Today, we ventured to Salto Do Prego for a beautiful and reasonably easy waterfall hike about a 1-hour drive from our hotel near Faial Da Terra.
The Salto do Prego waterfall hike is a breathtaking experience that follows a winding trail through lush forests and ends with a spectacular view of the 150-meter waterfall. Along the way, we were treated to panoramic views of the stunning volcanic landscape and sightings of exotic birds and other wildlife. An unforgettable sight at the end of the hike is an awe-inspiring cascade of water falling into an emerald-green lagoon below. The hike takes an average of 1 1/2 hours, and visitors are rewarded with a cool dip in the water at the waterfall's base. With its picturesque scenery, the Salto do Prego hike will leave even the most experienced traveler with vivid memories!
After our waterfall adventure, we drove to Furnas. Surrounded by a stunning landscape of lush green hills, bubbling hot springs and geysers, it's no wonder this village has been voted one of the most beautiful places in Europe. Visitors to Furnas can explore the natural wonders of volcanoes and thermal pools, participate in outdoor activities such as horseback riding and fishing, or simply enjoy a leisurely stroll through quaint cobblestoned streets. We explored Furnas's calderas and geysers, including 30 bubblings of calderas and fumaroles of different temperatures. Biking tours are also popular here, combining the Terra Nostra Park with hot springs.
After exploring the town, we had lunch and sampled local corn and Cozido das, Furnas. The dish is one of Portugal's most unique and delicious stews, slow-cooked underground by volcanic heat and famous in Furnas. Our plan after Furnas was to visit the famous Terra Nostra Park and Hot Springs, but we ran out of time and instead headed back to the hotel for an afternoon beach day.
The Terra Nostra Garden Park in Furnas is a living museum of botanical wonders. Spanning over 18 acres, this lush park boasts hundreds of exotic species of plants and trees worldwide. Visitors can stroll through winding pathways surrounded by rich tropical vegetation or take a dip in the Thermal Springs. With this much variety and options for activities the Azores are truly one of the world's best affordable luxury family vacation destinations.
Day 7: Coasteering Adventure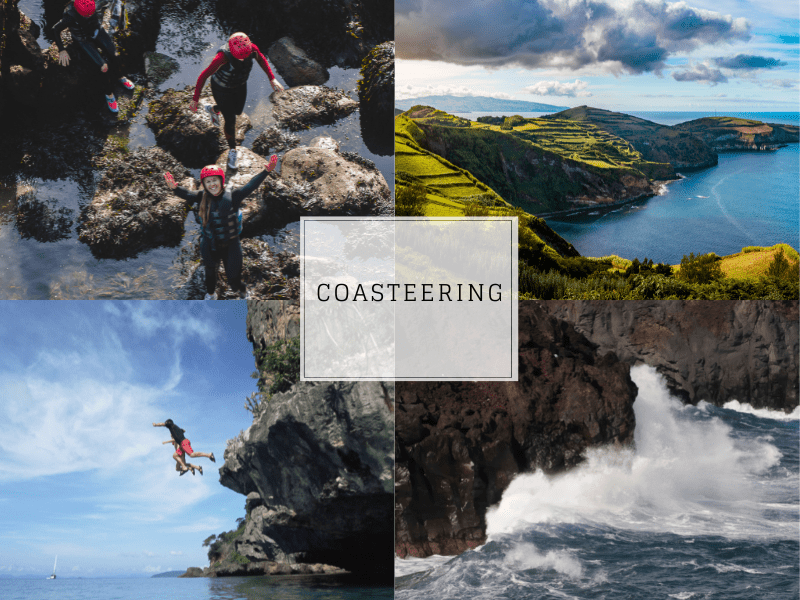 The Azores are an adventure lover's wonderland, and we decided to try something new – coasteering along the coast of São Miguel. We met our guide at 9 AM at Caloura Harbour and headed off on our 3-hour tour. If you are curious about trying it, remember that coasteering is an exciting outdoor activity involving scrambling and exploring sea cliffs and rugged coastlines. It requires a high degree of fitness, agility and strength to skip from rock to rock, jump off rocks into the sea and swim around obstacles in the open ocean. This thrilling adventure allows participants to explore the beautiful and unique coastlines of many different areas, giving them an up-close and personal experience with nature!
Coasteering is suitable for all ages (over 6 years old), but it is essential to follow safety guidelines provided by a qualified instructor before attempting any activities. After thoroughly enjoying this thrilling adventure, we checked into Pestana Bahia Praia, a 4-star hotel with direct access to the Baia de Água d'Alto Beach.
Day 8: Ribeira da Salga Canyoning
Although our entire trip has been an enriching adventure, Day 8 was our most daring experience by far. We embarked on an authentic Azorean canyoning excursion in Ribeira da Salga. If you are unfamiliar with the sport, canyoning is an exciting activity involving exploring a river or canyon by combining climbing, jumping, swimming, and rappelling techniques. It is suitable for all ages and offers the opportunity to explore beautiful natural landscapes from a unique perspective. Depending on where you go, canyoning can offer activities like swimming in crystal-clear pools below waterfalls or rappelling down giant cliffs; these experiences are sure to give you a rush of adrenaline! Families with younger children must pay attention to age requirements, as most locations have minimum age limits.
Be sure you're comfortable getting everything you have wet as you'll spend much time swimming through waterfalls, wading through rivers and jumping off cliffs into deep natural pools. While our tour included some steep paths and hard access points, there are alternatives for rappelling down if you feel uncomfortable jumping off high cliffs.
Day 9: Departure Home
On our last day on the island, we checked out of Pestana Bahia Praia and departed on our way home to the states.
Our trip to The Azores was spectacular, and I highly recommend taking your family to these stunning islands off mainland Portugal for an affordable luxury family vacation. The vibrant landscapes, friendly locals, and delicious cuisine make a perfect family getaway for those willing to embrace their adventurous spirit. If you want to continue your adventure, consider combining the Azores with a trip to Iceland or mainland Portugal. has 
For more information on the islands, attractions and activities, and tips on what to pack for your trip, be sure to check out our website, which has everything you need to plan your unforgettable Azores adventure!
If you would like more ideas for amazing family trips check our or list of the top 10 international family vacation destinations for 2023 and the best family vacation destinations in the US. Think that planning an incredible family trip is too difficult? We're here to debunk the myths of family travel and help you create lifelong memories.
—
Boutique Travel Advisors is a full-service, luxury travel agency. We specialize in creating bespoke itineraries for discerning clients around the world. Please visit our website or call 480-787-1477 to speak with a dedicated travel expert. 
Are you planning an international or domestic trip? Check out our other articles to help you come prepared!
We highly recommend the purchase of travel insurance to protect your financial investment and health while traveling internationally. To purchase a policy with our preferred travel insurance company Chubb click here.
At this time, anyone that resides in CA, CO, KS, MN, MO, MT, NH, NY, PA, TX or WA is unable to purchase an insurance policy online. If you would like assistance purchasing a travel insurance policy, please get in touch with a BTA advisor.