Iceland Day 5 
Up bright and early, once again, we set off for the Glacier Lagoon and Diamond Beach. I have seen Glacier lakes in other parts of the world in the past. However, their tranquil beauty catches my breath every time. The lake was quiet and serene. Birds flew overhead and seal played in the water, their mothers lazily sleeping on large floating pieces of ice.
In summer, Kayaking tours take tourists out into the lake to admire the beauty of the surroundings and catch glimpses of seals. We hiked for about 45 minutes around the Glacier lagoon. Then we walked over to another mesmerizing site, Diamond Lake.
Diamond Lake
Here chunks of ice jagged, broken, and unspeakably beautiful rest on the black sand before being washed away into the sea. When the sun hits the ice on Diamond Lake, it makes them genuinely resemble glittering diamonds, their crisp shades of blues and whites starkly contrasting the deep black sand. You can spend hours walking this beach and photographing each piece of ice and the moody waves breaking nearby.
Rangarping Eystra
After seeing so many spectacular sights, I was not expecting our final stop yet another waterfall to be as incredible as everything else we had seen. But as Nick promised, Rangarping Eystra did not disappoint. From the moment our van pulled into the parking lot, we got our first look at the massive spectacle in front of us. Of course, we were rushing out to snap photos. If you have never experienced the sheer force and power of a large waterfall, you need to start making plans. There are no words to describe how small and powerless one feels when faced with the fundamentally undeniable forces of nature.
This particular waterfall, Rangarping Eystra, has a path with around 500 steps to the top of the waterfall. From there, the route continues winding around the river to more minor but equally incredible falls. We walked for over an hour and could not contain our amazement. On our long ride back to Reykjavik, we asked Nick about other parts of Iceland he likes, and he told us that what we had seen had barely scratched the surface.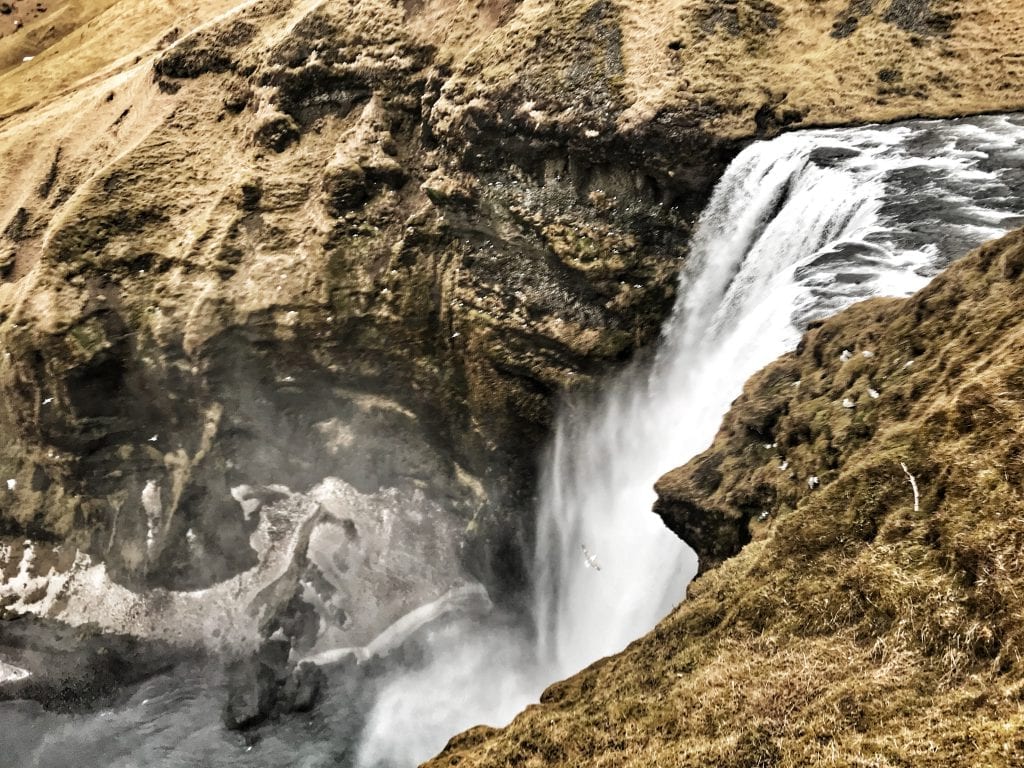 Life Lessons
Yes, Glacier Lagoon and Diamond Beach were incredible. But although we explored the significant sights of South Iceland in whirlwind fashion, we never made it to the fjords, glaciers, rivers, waterfall, lava fields, and beautiful beaches of the West. Nor did we make it to the settings of most Icelandic Sagas, trolls, gorges, and waterfalls in the Vatnsnes peninsula in the North. We also missed out on the farmlands and picturesque towns in the east.
We explored as much as we could in the short six days that we had, but there is still so much more to this incredible gem of a country. Every trip we take is a chance for us to grow and learn. I am so grateful that I had this opportunity to explore a breathtaking country and meet many beautiful people.
My initial purpose in coming to Iceland was to explore a new country, vet hotels, and suppliers and visit the amazing sights. However, the most rewarding part of the trip was the connections I made with the people in our group. I am always amazed and inspired by solo female travelers because as much as I love adventure, embrace the unknown, and want to explore the world. I have never dared to embark on a solo vacation. Truthfully, I was afraid I would get bored, lonely, feel ridiculous requesting a table for one and taking constant selfies.
All of that changed after this trip. The girls I met came from different backgrounds. Each with their own stories, shedding something from their past and looking to change their future. Some needed spiritual recharging, while others simply wanted to explore a new country and did not have the patience to wait for friends to make their plans. They were terrific, and yet they were no different than I was. I had high expectations for this trip and the country but making incredible new friends was the most pleasant surprise.
Check out our other stories about Iceland and follow us along on our international escapades.
How To Snorkel Silfra In Winter and Not Die From Hypothermia
Iceland Golden Circle Main Sighs and Hidden Gems
Iceland's Reynisfjara Beach And Vatnajökull Glacier
https://travelbta.com/blog/money-saving-tips/
Boutique Travel Advisors is a full-service, luxury travel agency. We specialize in creating bespoke itineraries for discerning clients around the world. Please visit our website or call 480-787-1477 to speak with a dedicated travel expert. 
Are you planning an international or domestic trip? Check out our other articles to help you come prepared!
We highly recommend the purchase of travel insurance to protect your financial investment and health while traveling internationally. To purchase a policy with our preferred travel insurance company Chubb click here.
At this time, anyone that resides in CA, CO, KS, MN, MO, MT, NH, NY, PA, TX or WA is unable to purchase an insurance policy online. If you would like assistance purchasing a travel insurance policy, please get in touch with a BTA advisor.