Our first day in Iceland was as I mentioned in the first post one of the COLDEST days of my life. Coming from a girl who was raised in Chicago, I think that says a lot. Between the rain the 40 mph wind getting soaking wet and then having to walk for several hours we were convinced we would end up with pneumonia before the trip was over. When we got back to the hotel Friday night and finally defrosted we were terrified about the prospect of ever stepping outside again not to mention our snorkel Silfra tour, which has one of the most consistently cold water temperatures in the world. Water freezes at 0 degrees Celsius, Silfra is always 2-3 degrees. As we started to anxiously research what we had gotten ourselves into we looked for blogs and articles that would help us prepare. Most seemed to be written in the Summer months, the common theme was LAYERS, LAYERS, LAYERS.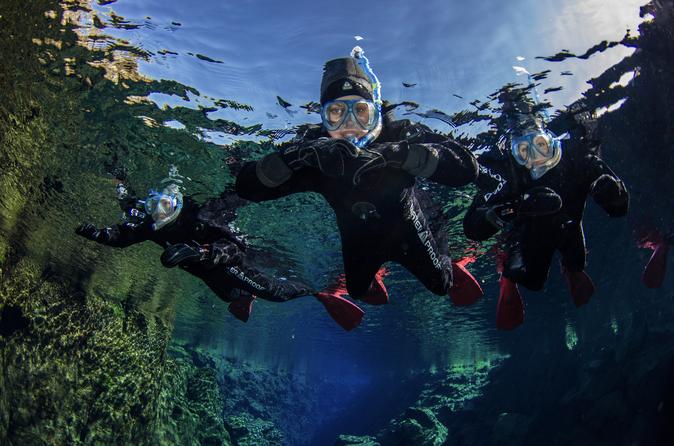 When we woke up our first task of the day was to choose the clothes we would be spending what most bloggers called the "coldest 4 hours of our lives" in. We started going through our belongings laying them out one by one. The full list of what we wore and highly suggest you pack can be found below.
Silfra is located in Thingvellir National Park, a UNESCO World Heritage Site on the Golden Circle, where the two tectonic plates which separate Europe and North America are slowly drifting apart. It is rated as one of the top 10 dive sites in the world for the uniqueness of its location and the incredible visibility of up to 100 meters. The crystal clear glacier water becomes filtered by volcanic rock over a period of 30-100 years as it flows down from the glacier.
Although there are no fish in the water the rock formations and colors are breathtaking and mesmerizing, drawing thousands of visitors per year. The dive and snorkel path follows the ridge from Grynningar shallows, to Silfra Hall to the Kirkjan Cathedral, around the Sand slope into the Silfra Lagoon. Be prepared that while tour is 3-4 hours the actual time in the water is 35-40 minutes, and believe us that is enough!
Although there are tour options which provide transportation, Vanessa and I opted to rent a car for the day in order to visit both Silfra and the Secret Lagoon in one day. It was the best decision we could have made because as we anticipated following a period of several hours when we were freezing cold the 1 hour drive to the hot springs was well worth it! It's also a beautiful if slightly intense drive from Reykjavik to the Golden Circle. 
If you are doing a self-drive tour pay close attention to the meeting point. Most tour operators meet at the parking lot by the Silfra dive site. We had mistakenly read that our meeting point was at the Information Center of Thingvellir and nearly missed our tour. When we arrived, we were taken onto the van and given a briefing. The guide went over the history of Silfra, where we would be going, how long it would take and the safety precautions we needed to follow.
We then exited the van and began the process of getting into our dry suits. First, we had to put on the warm suit (a bunny suit of sorts) which adds another layer of protection from the cold. The drysuit does not actually keep you warm, rather it keeps you dry. Putting on the dry suit was cumbersome but the guides were very helpful. After this whole process which took over an hour we proceeded to walk to the landing area.
This is where I feel Dive.IS and the other tour operators could do a better job organizing their trips.  Groups are separated into 5-6 people with each group having to wait for the other to pass a certain point before they can enter the water.  Dive.IS has two tour times per day a 10 am and a 1 pm. Since there were many 1 pm groups we had to wait on the landing for around 30 minutes before we could enter the water which made us very cold before we even began the tour. It would be much more convenient if they spaced them out in 30 minute increments. Regardless when it was finally our turn and we got into the water it was one of the most surreal experiences of my life.
I did not feel the cold (as the outside temperature was actually colder than the water temperature), until I put my face and hands in. The initial rush of cold water into the gloves feels like picking up large cubes of ice with your bare hands and squeezing them very tightly. After several seconds, however the water begins to warm in the gloves, the lips go numb and the face gets accustomed to the temperature. This is why its so important for you to not wave your hands around but rather to keep them either directly in front of you or at your sides.The water was crystal clear and the colors danced in the light changing to various shades of blue. The visibility was incredible and the rock formations created when the plates shifted and the continents separated were the stuff of legends. Yes, it was extremely cold and by the time we exited the water, I could not feel my fingers, my face, my ears or my toes. This is why you must layer. We exited the water right as the sky turned dark and it began to hail, yes HAIL and made the 10-15 minute walk back to the parking lot.
This walk was excruciating and the pain in my hands was a combination of feeling like they were being set on fire and dipped in frozen water. We made it back and had to proceed with the coldest portion of the entire tour, which involves removing the gloves, dry suit and warm suit, all of which is done outside. When my hands became exposed to the cold it felt like being stabbed with hundreds of needles, alternating between numbness and tingling and complete loss of feeling. The guides handed us hot chocolate and herded us into the van where I immediately put on my jacket, boots, hat and gloves. I looked around the van and Vanessa looked on verge of tears. Her hands were bright red, swollen and extremely painful as she tried to shakily bring the hot chocolate to her lips. The lady next to her was shaking uncontrollably. She had not put on enough layers and had moved her hands around underwater a bit too much. I checked on her but she was able to talk, put on her gloves and once she drank a few cups of hot liquid she started to perk up.
By the time we got to the car, which is another 10 minute walk and turned up the heat, Vanessa and I were laughing in a slightly mad way. Had we really succeeded in doing this insane activity?! When we finally warmed up and had enough oxygen returned to our brain to debrief we agreed that it was an incredible experience. We felt alive, empowered and able to overcome whatever challenges came our way. It was one of the most physically demanding yet spiritually rewarding experiences I have ever had. Would I want to go back in that water? Probably Not. But would I do it over again? Absolutely!
This is why I travel. To change, to take on new challenges to become stronger and fiercer and embrace the unknown. It proved to me that so many things in our lives are a matter of mindset. We were determined to snorkel in Silfra, no matter how cold it was or how crazy it had seemed, and I am so glad we did!
After leaving Silfra we made the drive to the Secret Lagoon located in Fludir. Although not so "secret" it was nonetheless much quieter and less pretentious than the Blue Lagoon which we experienced later. The drive took approximately 1 hour and we were lucky to have clear weather. Although I learned to drive in Chicago and spent 10 years driving in poor weather, I would not have wanted to drive in the snow or rain of Iceland. The roads are curvy, there are no street lights, the weather changes extremely quickly and there are many pot holes.
We had booked our tickets for secret lagoon in advance because as all tours in Iceland, there are more visitors than spots. Iceland does not seem to have a "low" season as people come year-round in hopes of seeing the glorious natural wonders of each season. We arrived, waited in line for approximately 3 minutes, purchased a cider and proceeded to the locker rooms. For those of you who have not been to Iceland or done the traditional bath experience there are very strict-rules.
You must remove all your clothes (and bathing suit) and shower before being allowed in the hot springs. That does not mean that you bathe in the nude, it simply means that they want you to be completely clean prior to getting in the water. The secret lagoon was moderately crowded but there was plenty of space for us to spread out.
How to book your excursion: Silfra Snorkeling
Travel BTA is a full service travel advisory company. We would love to help you plan your next incredible vacation.