Although most travelers choose to visit Iceland during the peak travel months of June through September, winter in Iceland is a magical and unique experience. With its snow-covered landscapes, frozen lagoons, rugged mountains and majestic waterfalls, there is something special about visiting this beautiful country at this time of year. Imagine being surrounded by the crisp white terrain, breathing in the icy cold air and feeling the soft brush of snowflakes on your cheeks as you explore all that Iceland offers. On our Icelandic winter adventure we took in the sights of glaciers and geysers, relaxed in exquisite hot springs dotted around the country  and explored the unforgettable Golden Circle! Read on to discover our Icelandic winter travel guide and learn more about what you can expect.
During our trip we visited local villages and spoke with the friendly locals. Everywhere we went, locals were more than happy to share their stories, culture, and fascinating insights about their homeland. We also took a dip in the Blue Lagoon, an absolute must-see! The warm, milky blue waters are known for their therapeutic properties and have been used as a natural health treatment for years.
All in all, our trip to Iceland was a delight! Not only did we experience stunning natural wonders and warm hospitality, but we also gained a newfound appreciation for the beauty and richness of this country's culture. We would definitely recommend visiting Iceland to anyone looking for a unique adventure! From breathtaking sights to the jarring cliffs, cascading waterfalls, glaciers, mountains, and raging seas. Iceland is freeing and magnificent.
Despite its increasing popularity in recent years, the entire country still feels like one vast National Park on the verge of discovery. There's no shortage of activities in Iceland. There is something for everyone, from the natural wonders to its vibrant nightlife! We hiked in the national park, tried snorkeling in Silfra(read our guide for how to snorkel safely), and ice climbing on graciers. We also had a chance to try Icelandic cuisine, like traditional dishes like fish.
Game of Thrones fans visiting Iceland will feel like stepping onto a film set, recognizing many familiar backdrops. Nowhere is this more evident than the Golden Circle. There were times we were sure Daenerys would come swooping down on a dragon. If you are interested in planning your own itinerary to Iceland, read our article for a one-week family adventure. 
The Golden Circle
The Golden Circle is the most iconic drive in Iceland and one of the best in the world. We experienced this adventure first hand and discovered much more than the guidebooks could have foretold. Because the country has not been overly developed (yet), no large condo buildings are looming in the background, skyscrapers illuminating the skies, or kitschy salespeople pitching timeshares. There is a natural, untouched beauty that evokes a sense of awe but the main attractions consist of three must-see attractions: theThingvellir National Park, Gullfoss Waterfall,  and Geysir hot springs.
The Þingvellir National Park is a UNESCO World Heritage Site where Iceland's Parliament was founded and is known for its beautiful ravines and stunning views. The Geysir hot springs are one of the top geothermal areas in the world, with fascinating bubbling mud pools and erupting geysers providing a unique show of nature's power. Lastly, Gullfoss Waterfall is an impressive two-tier waterfall cascading into a rugged canyon, showcasing incredible natural beauty. Each one lived up to expectations, and from the rolling landscapes to the thunderous waterfalls, we discovered that Iceland is definitely worth visiting!
Tour Pick-Up Reykjavik
We booked this portion of our journey, a three-day, two-night tour, knowing that we did not want to spend days driving long distances. South Iceland often experiences inclement weather, which leads to flooding and closed-off roads. I will admit that I usually do not take group tours. I find them restrictive. The thought of sitting on a bus with 50 strangers gives me anxiety; however, I wanted to experience the country without the stress of navigation and with a knowledgeable guide.
I chose a local tour operator with years of onsight experience, offering small group tours ranging from 6-18 people. Our tour had 14 people, including myself, my travel companion Vanessa, and our driver Nick.
First-time visitors should be aware that the historic part of the city does not allow vans or buses. Therefore, most tours pick up from designated bus stops, usually a 5-10 minute walk from hotels. Pick-up times range from 30 minutes to 1 hour, with travelers expected to arrive early. Although our pick-up time was 8:30 am, we were instructed us to arrive 30 minutes early. Since the pickup stops are outside, the temperatures are often frigid, and the atmosphere chaotic.
Many tours share meeting spots and start times. The drivers pull up and haphazardly call out passengers' names. It is difficult to hear the drivers and easy to become disoriented. In addition, certain tour operators sub-contract local companies and rent vehicles to run their tours, making the initial encounter rather challenging.
Our driver, Nick, picked us up around 8:40 am in an 18-passenger van. After a few minutes, we knew he would be the perfect fit for our adventure. He was funny, sarcastic, and highly organized. After introducing ourselves to the other people around us, we instantly made friends with three girls. These solo travelers were adventurous, engaging, and proved to be exceptional companions.

Thingvellir National Park
Our first stop on the Golden Circle Tour was the viewing area of Thingvellir National Park. I cannot describe the views and feelings while walking between the towering, jagged rocks. The top viewing areas provide glimpses of magnificent Silfra, snowcapped mountains, and the cliffs formed by ever-shifting tectonic plates. 
Thingvellir National Park is a beautiful, sprawling park in Iceland's southwestern region. It is renowned for its stunning natural beauty, abundant wildlife and historical significance. The park is an important part of Icelandic culture, containing numerous sites of national importance, such as the Law Rock, where the first democratic parliament was formed in the year 930. Other attractions include the breathtaking view of Almannagjá Gorge, geothermal hot springs and picturesque lakes and mountains. The park also contains numerous walking trails and camping grounds, giving visitors plenty of options to explore the area on foot.
Game of Thrones fans will enjoy the filming location where Aria Stark and The Hound walk up to the Veil. We spent about an hour here and could have walked on for another hour or so as the path is quite long. The park is also a Unesco World Heritage Site.
Geyser
Our next stop was the Geyser Geothermal Area. Located in the Golden Circle of Iceland, Geyser Geothermal Area is a stunning natural phenomenon. This vast area is home to numerous geysers, hot springs, and bubbling mud pools born from the volcanic activity beneath the surface. One of its most famous features is the famed Strokkur Geyser which erupts up to 30 meters (100 ft) high every 8-10 minutes. Visitors can explore the area's many trails and take in its breathtaking views as steam billows from heated vents and mud pools sizzle with boiling water. It features majestic views of rolling hills and lush vegetation and the unique geysers and bubbling mud pools that are its trademark feature. In the distance, you can see steam billowing from heated vents, and if you look closely, you can even watch the Strokkur geyser erupting up to 30 meters (100 ft) high every 8-10 minutes. As you wander around this area, you'll be surrounded by stunning landscapes on all sides, making it a truly memorable experience.
We spent around 45 minutes exploring the area and taking photos. Although this is one of Iceland's most popular attractions and there are plenty of tourists, the site does not feel overly crowded. As a result, visitors have plenty of opportunities to photograph the geyser eruptions.
Gullfoss Waterfall
The following stop on the Golden Circle and one of the most incredible sights in Iceland is the Gulfoss Waterfall, seen from a dizzying height. The two-tiered waterfall plunges an astounding 32m into the Hvita River. Rafting tours are popular in the summer months.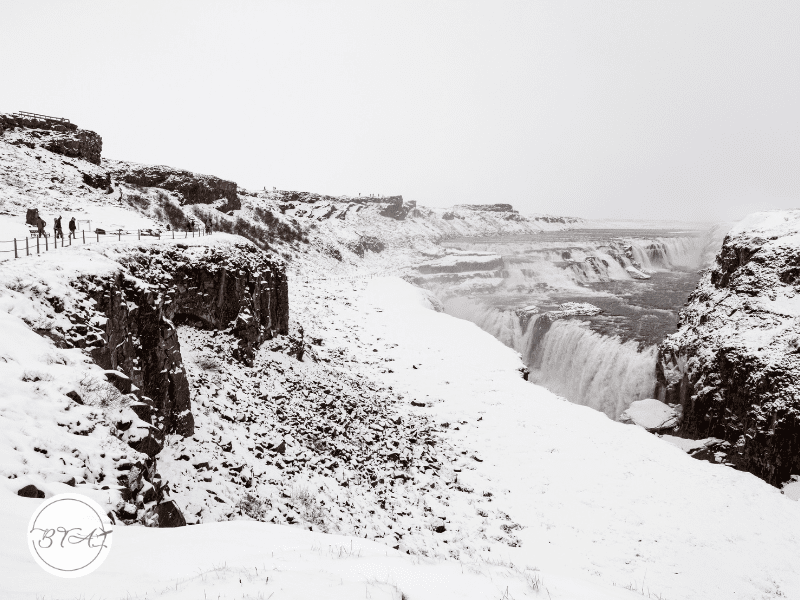 Although we did not see the famous rainbows which dance around in clear skies, we were mesmerized by the coats of icicles, snow caps, and the sheer size of the natural seismic wonder. Give yourself at least 45 minutes to walk around and fully appreciate this immense beauty. Gullfoss Waterfall is one of Iceland's most iconic natural wonders. Located in the Golden Circle area, this stunning waterfall flows down two cascading stairs into a deep canyon below. The sheer power of its roaring waters is simply awe-inspiring, and visitors can take in the magnificent views from various observation decks along the river banks. With powerful mist rising from the thundering falls and rainbows forming with every gust of wind, Gullfoss Waterfall is an unmissable experience for anyone traveling to Iceland.
Icelandic Horses & Seljalandsfoss
After leaving Gullfoss, we stopped along the road to feed some beautiful Icelandic horses. The horses are smaller than other breeds but are one of the oldest and best-tempered in the world. Extremely friendly, they provide a comfortable ride with tours available for riders of all skill levels.
Icelandic horses are genuinely unique in the world of horses. They are a hardy breed, resilient to cold temperatures and able to survive on sparse grazing areas. They are also relatively small compared to other horse breeds, generally standing between 13-16 hands (52-64 inches) high. What really sets Icelandic horses apart from other breeds is their extra gaits – they have three additional gaits known as tölt, skeið and brokk as well as a fifth gait called Íshestar, which is exclusive to this breed! Icelandic horses are incredibly versatile, graceful and intelligent.
Our next stop, Seljalandsfoss, rewarded the group with a spectacular sight of three magnificent waterfalls spilling out over the barren landscape. Seljalandsfoss Waterfall is a stunning and unique waterfall in Iceland's south coast. This iconic attraction provides incredible views of the surrounding landscape, with its thundering waters cascading down a 65-metre-high cliff face. Visitors can also explore behind the mighty falls – follow the walking path and witness this incredible natural wonder from all angles. Seljalandsfoss Waterfall is one of Iceland's most popular attractions, offering spectacular landscapes and unparalleled photo opportunities – a must-see when visiting this magical country!
Although not as outwardly striking at first glance as Gullfoss, we enjoyed this stop more. Fewer tour operators and fewer people allowed our group to get much closer to the falls. Again, we recommend proper waterproof boots, pants, and jackets. We spent a full hour exploring the area, climbed up the rocks, and got wet, peaking at a waterfall hidden behind two giant jagged rocks along the river. Make sure to walk down the entire path length to truly experience the destination.
That evening we checked into one of the small "country hotels" in Myrdalshreppur. Unimpressive at first glance, it proved to be comfortable, quaint and provided decent food and drinks. Full, exhausted, and overwhelmed by the stunning natural wonders of the day, we fell asleep to the sounds of rain dripping on the rooftops. Our next stop on the winter Iceland itinerary was seeing Iceland's Breathtaking Views At Glacier Lagoon, Diamond Beach and Rangarping Eystra
There are only a few hotel options on the South Coast, and luxury outfitters primarily utilize them. In recent years, lodging options in Iceland have not caught up with the influx of tourism, so make sure you have rooms booked several months out.
Looking to combine your Iceland trip with another country? Consider Scandanavia.
Boutique Travel Advisors is a full-service, luxury travel agency. We specialize in creating bespoke itineraries for discerning clients around the world. Please visit our website or call 480-787-1477 to speak with a dedicated travel expert. 
Are you planning an international or domestic trip? Check out our other articles to help you come prepared!
We highly recommend the purchase of travel insurance to protect your financial investment and health while traveling internationally. To purchase a policy with our preferred travel insurance company Chubb click here.
At this time, anyone that resides in CA, CO, KS, MN, MO, MT, NH, NY, PA, TX or WA is unable to purchase an insurance policy online. If you would like assistance purchasing a travel insurance policy, please get in touch with a BTA advisor.