Our users support our website. Therefore, we sometimes earn affiliate commissions when you click through the affiliate links on our website. Rest assured that all of our recommendations are made whole-heartedly with the intent of helping travelers like you discover the world authentically and responsibly.
Most of us have been taking "group trips" our entire lives: starting with our family vacations, college spring break or study abroad, and weekend trips with girlfriends, "the boys," or our significant other. It's a wonderful gift to explore new destinations and try new things with the people close to us!
But have you ever joined a group trip as a solo traveler?
I'm a nomad, and I've been solo traveling full-time since 2020 (and had my first solo trip at age 20!) — and while I love the confidence boost I get from navigating unfamiliar terrain and the complete flexibility in my schedule…
…I also loooove a group tour or a group trip. (Here's a recent experience from the jungles of Mexico!) 
From Patagonia to Egypt to the Galapagos Islands to Iceland, here are several compelling reasons why solo travelers of all ages should consider traveling with a group. Let's count them down.
Reason #6: Safety in numbers
Traveling alone can be exciting, but it can also be a bit nerve racking, especially in unfamiliar locations. On a group trip, you have the added security of traveling with others: people to watch your back, groupthink to help you navigate tricky situations, a sense of community that can be invaluable when you're far from home, and a literal "tribe" of people around you for safety in numbers. 

Reason #5: Access to insider knowledge
On a group tour, especially one with tour guides, experts, and leaders, you have access to insider knowledge that you might not otherwise have. Tour guides, for example, can provide you with valuable insights into the history and culture of the destinations you're visiting, while local experts can show you hidden gems and off-the-beaten-path attractions that you might miss on your own. Plus, traveling with a group can also give you access to special discounts and volume deals that you might not be able to get as a solo traveler.

Reason #4: The chance to meet new people
One of the best things about group travel is the opportunity to meet new people and make lasting friendships. When you're traveling alone, it can be difficult to strike up a conversation with strangers, especially if you're shy or introverted. But when you're part of a group, you'll have built-in social opportunities and a ready-made group of travel companions who share your passion for adventure. Plus, group travel can be a great way to connect with people from different backgrounds and cultures, broadening your horizons and expanding your worldview.
Reason #3: A lower-stress travel experience
Let's face it, travel planning can be stressful, especially if you're trying to coordinate flights, accommodations, activities, and transportation all on your own. (Believe me, I spent a lot of time researching and planning, and one of my least favorite things about a nomadic lifestyle, traveling full-time. It's overwhelming!) When you join a group trip, all of those details are taken care of for you, so you can relax and focus on enjoying your adventure. You won't have to worry about getting lost, missing a bus, or dealing with unexpected challenges — group tours take the pressure off and let someone else do the heavy lifting for a change.
Reason #2: Unique and memorable experiences
Finally, one of the biggest benefits of group travel is the unique and memorable experiences you'll have along the way. Whether you're hiking through the jungle, exploring ancient ruins, snorkeling or waterfall rappelling, or sampling local cuisine, you'll be doing it with a group of like-minded adventurers who share your sense of wonder and excitement. And because group travel often includes activities and experiences that are difficult or impossible to arrange on your own, you'll come away with stories, memories, and even friendships that will last a lifetime.

Reason #1: So you'll actually go ❤️ 
One of the things I hear from my readers and clients is, "I want to travel, but I don't have anyone to go with." And to me, a group tour or group trip is the perfect solution.
Don't wait for somebody to join you. Don't wait for their calendar to open up, for them to be able to afford it, for them to change their mind, for your relationship to improve, or for that love interest to finally show up in your life… GO on your dream trip! YOU CAN, and YOU CAN NOW. 
In summary, while solo travel is invigorating and fulfilling, I believe joining a group trip provides solo travelers with unique and rewarding adventure AND social opportunities when traveling — a phenomenon of which I can attest!
Some of my favorite group tour operators for solo travelers:
G Adventures boasts "the freedom of solo travel. The comfort of a group," and group sizes are small and intimate at 10-16 people. Trips fit all budgets, span all activity levels, and all trip lengths — and circle the globe! The tours on my G Adventures bucket list include Argentina: Hike Patagonia In Depth, The Great Southern Africa Safari, and Spain: Camino de Santiago Encompassed. 
Backroads incorporates an active lifestyle into international travel so you can use the best-in-class equipment and go at your own pace on tours in 50 countries across the world. (I'm definitely one of those people who likes to stay active on vacation and appreciates bonding over breakin' a sweat!)
"Since 1979, we've been doing what we do best: taking people on unforgettable Biking, Walking & Hiking and Multi-Adventure Trips around the world," their website says. "Take it easy or take it up a notch with a range of daily activity levels. It's up to you — do as much or as little as you like with fun people, every day of every trip."
Some of my Backroads bucket list trips include Alaska's Kenai Multi-Adventure Tour, Berlin to Prague Bike Tour, and Galápagos, Andes & Amazon River Cruise Walking & Hiking Tour.
Project Expedition aggregates the best-of-the-best excursions, day trips, and multi-day tours from vetted and highly-rated operators in regions around the world. My shortlist includes this Small Group 9 Day Iceland Complete Adventure and this Africa: 4-Night, 5-Day Best of Kruger Safari.  
If you want to book these trips or any others, contact me!

Did you know… you can also travel with ME?! Join my next group tour: 7 days in Oaxaca for Day of the Dead!
I'm hosting my first group trip from October 28 to November 3, 2023 in Oaxaca, Mexico, during Day of the Dead — a multi-day holiday that combines indigenous traditions with Catholicism to honor and remember deceased loved ones — an event that brings hundreds of thousands of tourists to Mexico each year!
It's a colorful and joyful time of year, reflecting celebration rather than grief, and Oaxaca is far and wide considered the premier destination to take part in the holiday. We'll watch and join the parades and celebrations, take a mole cooking class, and visit the ancient archaeological site of Monte Alban and the beautiful natural phenomenon Hierve el Agua, accompanied by professional guides and myself (an American expat and Mexican travel expert!). 
There are a handful of spots currently available on my 7-day group trip in Oaxaca City, which includes guides, 6 nights of shared accommodation in hotel/s, 6 breakfasts and one lunch, and private transportation — for a total of $1,899 USD per person. What's not included: airfare to OAX and trip insurance. Read G Adventures' full itinerary here!
In order to save your spot in my group, we just need a $350 deposit per person. Email me with 1) your full name as it is on your passport 2) your country of citizenship 3) and your DOB — and I'll send you G Adventures' payment link for the deposit payment of $350. This tour WILL sell out, so I recommend anyone who is interested to act fast. The rest of the tour will be paid closer to departure, but the $350 holds your spot!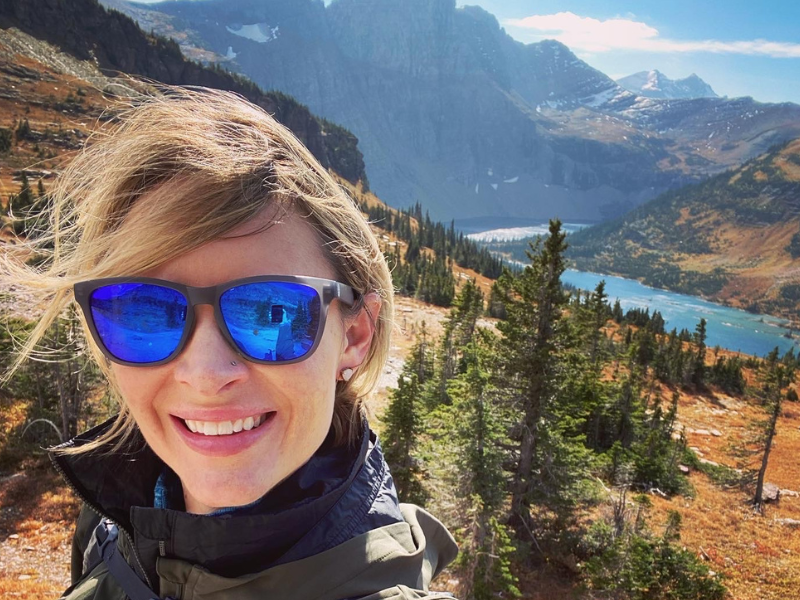 Julie's second group trip: 9 days hiking Patagonia [SOLD OUT!]
As a destination for active travelers, Patagonia is nothing short of iconic… and the very best way to do this South American region justice is to hike all over it. Trek through the crisp air of El Chaltén (with its crazy beautiful Cerro Torre mountain) and then to the area near the imposing Perito Moreno Glacier. In between, marvel at the giant sky, vast views, and big city appeal of Buenos Aires while you revel in a sense of personal triumph. This trip is sold out — Patagonia's ready and waiting!! 
I hope you'll join me in Mexico OR feel inspired to plan your own solo adventure in a group! Contact me to book any of these exciting destinations. Also, fill out this form to be the first to know about other group trips I'll host in the future. Buen viaje, amigos and amigas! ❤️ 
Get to know Julie on her blog:
For more information on upcoming group travel with BTA, check out our Group Travel page!
—
Boutique Travel Advisors is a full-service, luxury travel agency. We specialize in creating bespoke itineraries for discerning clients around the world. Please visit our website or call 480-787-1477 to speak with a dedicated travel expert. 
Are you planning an international or domestic trip? Check out our other articles to help you come prepared!
We highly recommend the purchase of travel insurance to protect your financial investment and health while traveling internationally. To purchase a policy with our preferred travel insurance company Chubb click here.
At this time, anyone that resides in CA, CO, KS, MN, MO, MT, NH, NY, PA, TX or WA is unable to purchase an insurance policy online. If you would like assistance purchasing a travel insurance policy, please get in touch with a BTA advisor.