Pre Travel
Whether we are flying to see family across the country, take a much-needed family vacation, or experience a once in a lifetime trip to remote destinations, airplane travel has become a necessity in most of our lives. For many people, few travel experiences are as stressful and aggravating as going through airport security, checking bags, worrying about missed connections, having unpleasant interactions with other passengers, and battling the airlines about lost luggage. Although many parts of the flying experience are outside our control, we want to show you how to have a stress-free airport experience. 
We want to break it down and show you how to minimize anxiety and improve your chances of stress-free travel by practicing a few key strategies. 
Stress-Free Packing
Between the time you check your luggage in and the time you claim it at your destination, it may have passed through a maze of conveyor belts and baggage carts; once airborne, baggage may tumble around the cargo compartment if the plane hits rough air. Therefore, it is quite remarkable that relatively few bags are damaged or lost despite all this chaos. With some common-sense packing and other precautions, your bags will probably be among the ones that arrive safely.
How you pack your bags has a lot to do with whether they arrive safely. Remember that checked luggage will be searched, and unfortunately, not all bag handlers are trustworthy. Avoid packing clothing items, shoes, or handbags that are worth over $100-$200. Designer purses and accessories are high-risk items as they are easily recognizable and can be quickly resold. If you are bringing jewelry or electronics on your luxury world cruise, do not pack them in your checked luggage. Never put the following items in your checked bag.
Small valuables: cash, credit cards, jewelry, cameras.
2. Critical items: medicine, keys, passport, tour vouchers, business papers.
3. Irreplaceable items: manuscript, heirlooms, small children. 
4. Fragile items: eyeglasses, glass containers, liquids (check the latest rules on fluids as they change frequently).
Carry all essential items on-board in your purse or packed in a carry-on bag that will fit under the seat. Baggage delays lasting one to two days are not uncommon, especially with missed connections or re-routed itineraries, If you are unprepared, a delay can cause a lot of aggravation and worry.  
It is wise to put items that you will need during the first 24-48 hours of any trip in a carry-on bag. Toiletries and a change of clothes are always a good idea. Feeling prepared will help you have a stress-free airport experience even if you encounter issues.
Be Prepared
Check with the airline before packing your bags to ensure that you comply with limits on the size, weight, or number of carry-on pieces. There is no single federal standard, and international travel requirements can vary greatly. If you are using more than one airline, check each one individually. Unless you are flying first class, do not assume that your flight will have unlimited closet space for carry-on garment bags.
If you plan to go shopping at your destination, and bring your purchases aboard as carry-on, keep the limits in mind. Specialty items such as fragile ceramics and artwork may not comply with the airline's regulations or may get stopped and searched at security. Items packaged in a sealed container for protection, often have to be unpacked for inspection. Professionally ship your important pieces in advance to avoid problems at the airport. If you plan to check these purchases, carry the receipts separately. Filing a claim for lost or stolen merchandise requires a receipt.
Don't put anything into a carry-on bag that could be considered a weapon. Many travelers inadvertently pack household items such as sewing kits, scissors, or even pen knives and forget to check them. Checked baggage is also subject to limits and may incur additional costs. Two checked bags on most domestic and international flights are the maximum allowed per person. You may be subject to additional charges if you exceed the airline's limits on the bags' size, and smaller airlines in remote destinations may refuse you boarding with an oversized bag. On some flights between two foreign cities, your allowance may be based on the bags' weight rather than the number of pieces.
The same two bags that cost you nothing to check when you started your trip could result in expensive excess-baggage charges under a weight system. Ask the airlines about the limit for every segment of your international trip before you leave home, especially if you have a day or two stopovers or are changing carriers.
The bags you check should be labeled- inside and out-with your name, address, and phone number. Add the name and address of a person to contact at your destination if it's practical to do so. Airlines usually locate lost or misplaced bags within a couple of days. With proper labeling, the bag and its owner can usually be reunited within a few hours.
Don't over-pack a bag. This puts pressure on the latches, making it easier for them to pop open. Suppose you plan to check any electrical equipment, glassware, small appliances, pottery, musical instruments, or other fragile items. In that case, they should be packed in a container specifically designed to survive rough handling* preferably a factory-sealed carton or a padded hard-shell carrying case.
Stress-Free Check-in Process
Don't check-in at the last minute. Even if you make the flight, your bag may not. If you miss the airline's check-in deadline, the carrier might not assume liability for your bag if delayed or lost. If you have a choice, you should select flights that minimize the potential for baggage disruption.
The likelihood of a bag going astray increases from #1 to #4 below (i.e., #1 is safest): 1) nonstop flight 2) direct or 'through' flight (one or more stops, but no change of aircraft) 3) online connection (change of aircraft but not airlines) 4) interline connection (change of aircraft and airlines).
When you check-in, remove straps and hooks from garment bags that you are sending as checked baggage. These can get caught in baggage processing machinery and damage the bag. The airline will put baggage destination tags on your luggage and give you the stubs to use as claim checks. Make sure you get a stub for every bag. Please don't throw them away until after you get your bags back and you check the contents. Not only will you need them if a claim is necessary, but you may need to show them to security upon leaving the baggage-claim area.
Each tag has a three-letter code and flight number that show the baggage sorters the specific plane and airport your luggage is destined. Double-check the label before your bags go down the conveyor belt. The airline will be glad to tell you the code for your destination when you make reservations or buy your tickets.
If you must clear customs or take a connecting flight involving two airlines that don't have an interline agreement, your bags will not be checked to your final destination and you will have to recheck it midway. Be sure all of the tags from previous trips are removed from your bag as they may confuse busy baggage handlers.
Stres-Free Airport Experience With Security
When traveling domestically in the United States, having TSA PreCheck and Clear can greatly expedite security. The wait times for PreChecked travelers are generally shorter, and having TSA PreCheck allows you to keep more of your items in your bags and avoid removing your shoes. International travelers should consider applying for Global Entry, which expedites going through customs on your return to the United States. 
Ensure that all your carry-on items comply with regulations before arriving at the airport. Bring an empty water bottle and fill it after going through security. Making a list of your essential items and checking it over after going through the security will help you avoid losing things and forgetting personal items in the bins. 
Where To Sit:
Whether you are flying economy or first class, choosing where to sit on the plane can significantly affect your overall flying experience. Many travelers who are nervous about flying make their seat selection based on their perceived level of risk rather than comfort. A question we commonly get is, "what is the safest seat in an airplane?" The answer is anywhere and nowhere. An issue on an airplane can occur anywhere and at any time. Some people believe that sitting near the emergency exit is safest, but that is not necessarily true. Regardless of where you choose to sit inside the aircraft, you can significantly minimize risks by staying alert and aware of your surroundings. 
Being alert means being watchful and attentive. Note the location of all exits. Listen to all pre-flight and in-flight instructions. Avoid alcohol when flying. Use common sense and try not to do anything that will be detrimental to your own safety and that of others, and you will have a stress-free airport experience. 
Airplane accidents are rare, despite the fears and misgivings surrounding air travel. But if one does occur during the flight, the passenger needs to stay calm and not panic. Fear is a highly contagious disease. Many casualties in accidents result from the chaos and panic that ensues, rather than the accident iteself. In case of an emergency, take a deep breath, keep your voice down, and follow the line.
By following simple, common-sense strategies when preparing to go through the airport, you can avoid much of the stress and worry and make the beginning and end of your travel as pleasant as the vacation itself. 
Stress-Free Airport Experience In Baggage Claim
Many bags look alike. After you pull what you think is your bag off the carousel:
Check the name tag or the bag tag number.
If your bag arrives open, unlocked, or visibly damaged, check right away to see if any of the contents are missing or damaged.
Report any problems to the airline before leaving the airport; insist on filling out a form.
Open your suitcase immediately when you get to where you are staying. Immediately report any damage to the contents or any missing items to the airline by telephone. Make a note of the call's date and time and the name and phone number of the person you spoke to. Follow up immediately with a certified letter to the airline.
Avoid Having Your Luggage Stolen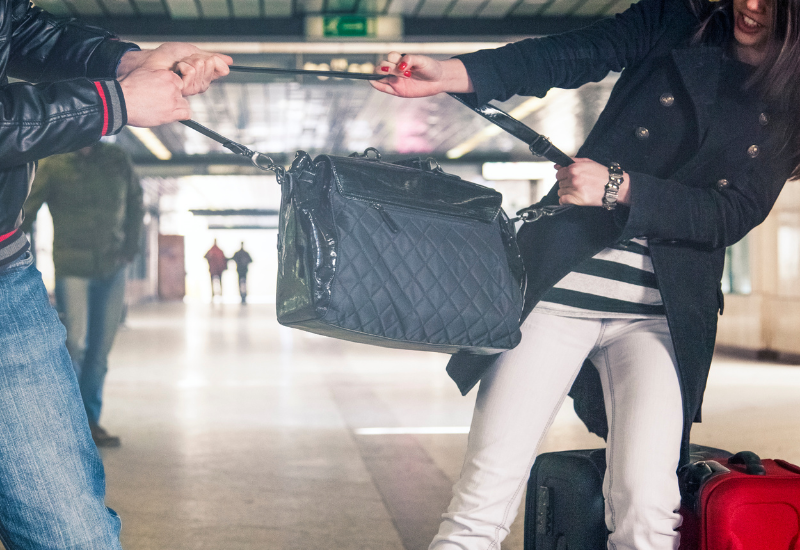 Most people have heard horror stories about lost, stolen, or damaged luggage. Following our common sense, luggage safety tips will help you have a stress-free airport experience.
Have a Backup Plan
Assume that you will have to help yourself. First, purchase travel insurance that covers lost or stolen luggage. Make sure your luggage tags are secure and within plain sight. Bring your luggage tags from home as a backup. Pack a few clothing items in your carry-on, just in case. Clothing is the hardest to replace when traveling, and if you have an extra set, you will save yourself some time and money should the worst occur allowing for a stress-free airport experience.
Be Aware
Government travel restrictions change frequently. Check government websites immediately prior to travel. Always make sure that the items you are carrying are in compliance with the countries' regulations. The best way to avoid run-ins with the TSA is to be aware of procedures and regulations. Never leave your bag unattended, even if only for a few moments. Always ask your travel advisor to pre-arrange a private driver for airport transfers. If you do not have a reputable driving company pre-booked, do not hand over your luggage to anyone. These people often appear to work for the airport or transportation company but, in reality, are illegitimate. People pretending to be affiliated with airports often run luggage schemes in many cities around the world. 
Packing for luxury vacations does not have to be an ordeal. Have a backup plan in case something goes wrong. Pack your valuables safely in your carry on and do not leave them unattended. Be aware of new and changing regulations. The key to a stress-free airport experience is staying informed. 
—
Boutique Travel Advisors is a full-service, luxury travel agency. We specialize in creating bespoke itineraries for discerning clients around the world. Please visit our website or call 480-787-1477 to speak with a dedicated travel expert. 
Are you planning an international or domestic trip? Check out our other articles to help you come prepared!
We highly recommend the purchase of travel insurance to protect your financial investment and health while traveling internationally. To purchase a policy with our preferred travel insurance company Chubb click here.
At this time, anyone that resides in CA, CO, KS, MN, MO, MT, NH, NY, PA, TX or WA is unable to purchase an insurance policy online. If you would like assistance purchasing a travel insurance policy, please get in touch with a BTA advisor.