Our users support our website. Therefore, we sometimes earn affiliate commissions when you click through the affiliate links on our website. Rest assured that all of our recommendations are made whole-heartedly with the intent of helping travelers like you discover the world authentically and responsibly.
Have you noticed that your team is feeling stressed and anxious? Are your rock-star employees burnt out and finding it difficult to focus? Perhaps it is time to treat the team to an escape away from the frenetic pace of daily life! Before planning your next relaxing corporate retreat, take a look at our suggestions for the best luxury resorts in the southwest.
Mindfulness, yoga, and time in nature improve concentration and focus. Team building retreats allow you to connect authentically with your employees and each other. Although extended retreats and week-long escapes are great, what if you only have a few days? A weekend getaway might be precisely what you need, from relaxing your mind to rejuvenating your body. Few places in the US invite relaxation, like the vast open spaces, endless blue skies, and magnificent desert vistas of the Southwest. 
Here is our list of the 8 best luxury resorts for a corporate retreat in the Southwest. 
 1. Ritz Carlton Dove Mountain, Marana, Arizona
 Nestled beneath the dramatic canyon cliffs, Ritz-Carlton Dove Mountain is among the best destinations to unwind and rejuvenate both your body and mind in the Southwest.
Spend your days relaxing and your evenings enjoying the delectable culinary experiences at the Ritz-Carlton Dove Mountain restaurants. With four different restaurants to choose from, you will have plenty of variety:
Grab a table at Core Kitchen and Wine Bar for casual American dining.

For gourmet burgers, stop by Cayton's Burger Bistro.

Cozy up by the fire with a signature cocktail at the Ignite gastropub to wrap up your evening!  
 The spa services are second to none, using special ancient rituals combined with modern techniques to provide you with the most outstanding wellness experience your imagination can conjure! 
2.  
Enchantment Resort, Sedona, Arizona
 Surrounded by magical red canyons and scenic landscapes, Sedona has been widely known as a destination to rejuvenate and recharge your body and spirit. Enchantment Resort is among the best luxury resorts for adventure and relaxation. Offering hiking trips, mountain bikes, specialty wellness programs, and award-winning healing experiences at the Mii Amo spa.
So whether you are hearing about Sedona for the first time or have visited dozens of times, look no further than the Enchantment Resort! This 5-star luxurious hotel will immediately steal your heart with unbeatable views of Boyton Canyon and the unmatched interior design heavily influenced by Arizona's dramatic landscapes. 
Book one of the casitas, and immerse yourself in the mystical magic of the red rocks. Although the rooms are cozy and inviting, you will want to spend most of your time exploring the wide variety of activities offered by the resort, the town of Sedona, and nearby attractions. If you plan on hiking, check out the best kept secret hikes in Arizona, Sedona has a lot to offer.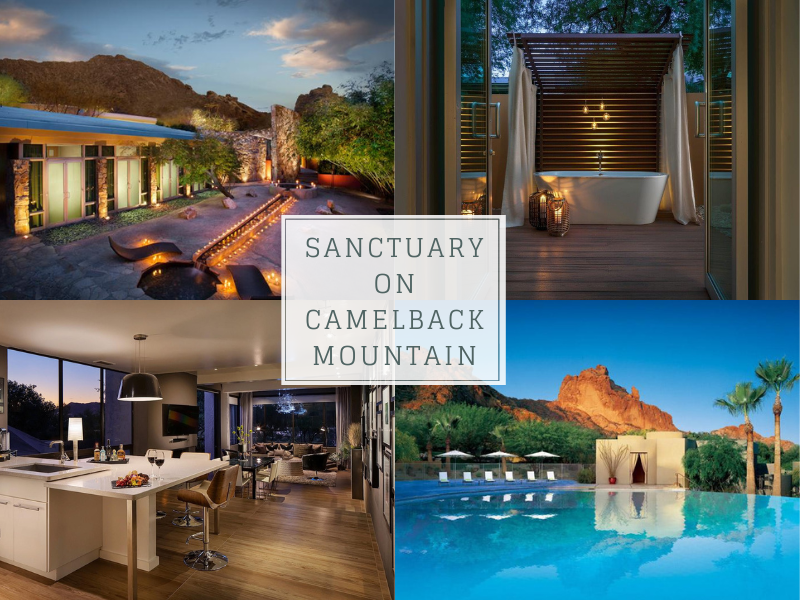 3. 
 Sanctuary on Camelback Mountain, Arizona
 If you are looking for an incredible and intimate experience for your team in Scottsdale, AZ consider staying at the Sanctuary on Camelback Mountain. With just over 100 rooms, this boutique resort is perfect if you want to find a tranquil escape away from the daily routine. However, if you wish to spoil your team, book the mountainside villas featuring a private pool and spacious deck with a fire pit overlooking the spectacular mountains in the distance and a romantic hot tub. For extra behind the scenes amenities to elevate your corporate retreat that much more, book with a luxury travel agent.
The modern, sleek interior is only one of the elements contributing to the sophisticated and luxurious design. The spa service is second to none, with 12 indoor and outdoor treatment locations! Heavily influenced by Asian wellness traditions, visitors can choose between various massages, facials, and body-boosting treatments. You will need just a few hours to understand why Sanctuary on Camelback Mountain is ranked as one of the 9 best luxury resorts to unwind in the Southwest.
Located right in the heart of Phoenix and Scottsdale, feel free to venture off property and visit some of the top cultural attractions of the area. 
4. Rosewood Inn of Anasazi, New Mexico
The Rosewood Inn of Anasazi has long been attracting travelers looking to experience the vibrant and colorful culture of New Mexico. Spend your morning taking your team on a breathtaking journey on a hot air balloon, followed by an afternoon bike ride through the vibrant downtown, before settling in for a tequila tasting and authentic New Mexican cuisine. These team-building activities are sure to engage and help your team form unforgettable connections. 
Team members looking for relaxation should head to the rejuvenating spa room for an aromatherapy massage. With just 58 signature suites, this 5-start boutique hotel is one of the 8 best luxury resorts for a relaxing corporate retreat in the Southwest. The fusion of contemporary interior with rustic, old-style wood elements and the long-kept culinary traditions with a modern twist makes the Rosewood Inn of Anasazi unlike any other resort you have ever been to! 

 5. 
Commodore Perry Estate, Austin, Texas
Texas, the great "Lone Star State," famous for cowboys, BBQ, and sizzling temps, might not be at the top of your list of destinations for your corporate retreat to unwind and relax. However, the Commodore Perry Estate, part of the Auberge Resort Collection, will prove that you can find a contemporary, luxurious estate in Austin, Texas. 
The property welcomes unique artists and connoisseurs and engages the mind, body, and spirit! With 54 extraordinary vintage-style suites, Commodore Perry Estate deserves an extended overnight stay. Make sure to plan according to the hotel's event calendar – from charming, quiet music performances to unconventional exhibits by emerging artists. You will not be disappointed! Also, do not forget to stop by the restaurant, which specializes in rustic American cuisine, taking you on a journey back in time!
6. Amangiri, Utah
If you are looking for an ultra-luxury experience for your senior executives, the remote and exclusive 5-start Amangiri Resort in Utah is calling your name! Despite covering 600 acres at the heart of the Colorado Plateau, the resort only offers 45 accommodation options. The tented pavilions at Camp Sarika might be the most remarkable place you have ever stayed. These spacious, luxurious pavilions with their own patios and swimming pools overlooking the spellbinding canyon walls are the best way to spend a romantic secluded weekend unwinding and relaxing. This resort is ranked amongst the best luxury back to nature hotels in the west. 
Plan for your team to participate in a few unique experiences the resort offers. For example, choose a relaxing hike along the 12 miles of designated trails or explore nearby slot canyons by boat to take in the long expanses of desert vistas, archaeological wonders, and mesas. Of course, true thrill-seekers will want to sign up for the Cave Peak Stairway adventure, Amangiri's take on the infamous Via Ferrata. Take the 120 heart-stopping steps, rising 400 feet, then catch your breath before taking in the panoramic views. 

 7. 
Ritz-Carlton, Rancho Mirage, California
 Without mentioning California, it would be impossible to create a list of the 8 best luxury resorts for a relaxing corporate retreat in the Southwest. The state of California is not only for surf enthusiasts but also for all of you looking forward to spending a weekend getaway recharging and rejuvenating your mind and body. 
If you are looking for a place to stay in California where you can fully immerse yourself into the laid-back, relaxing vibe, look no further than the luxurious 5-star Ritz-Carlton Rancho Mirage. Start the day with a refreshing morning dip in the swimming pool, followed by yoga and meditation sessions. Of course, it would be a shame to miss the fantastic spa services. Make sure to book a complete body treatment during your stay! 
In the afternoon, play a 9 or 18-hole round at one of the world-class golf courses in the area. Finally, as the sun starts to set, head towards The Edge Steakhouse – one of the signature restaurants at the resort. Whether you are a steak lover or prefer a lighter seafood meal, you will be treated to an explosion of flavors. This is the perfect way to end the day!
 
8. Miraval Austin, Texas
Not only will the Miraval Austin Spa Resort impress you with the stunning views of Lake Travis, but it will also transport you into a peaceful natural sanctuary! The world-class wellness services and delightful culinary experiences combine to create the ultimate destination to unwind in the Southwest. This amazing resort is one of the top 9 best luxury resorts and spas in all of North America. 
Furthermore, the resort's motto, "life is better when in balance," will inspire you to join various activities. The resort offers meditation, yoga, biking, hiking, and more. Miraval Austin aims not only to welcome you in its modern yet tranquil accommodation but also to encourage you to take a step further and fully immerse yourself in Austin's vibrant culture. It's no wonder guests claim they return home refreshed and recharged.  
Which one of the 8 best luxury resorts in the southwest is calling your team? Are you already dreaming of the stunning canyon views of Utah, or would you prefer the laid-back atmosphere of California? Let us know!
If your company is based on the east coast, consider checking out our best luxury back to nature hotels on the east coast, these also would make for great corporate destinations.
For more inspiration on corporate retreats, check out our blog on the Top 5 Amazing Out of The Box Destinations For Your Next Corporate Retreat. 
Boutique Travel Advisors is a full-service, luxury travel agency. We specialize in creating bespoke itineraries for discerning clients around the world. Please visit our website or call 480-787-1477 to speak with a dedicated travel expert. 
Are you planning an international or domestic trip? Check out our other articles to help you come prepared!
We highly recommend the purchase of travel insurance to protect your financial investment and health while traveling internationally. To purchase a policy with our preferred travel insurance company Chubb click here.
At this time, anyone that resides in CA, CO, KS, MN, MO, MT, NH, NY, PA, TX or WA is unable to purchase an insurance policy online. If you would like assistance purchasing a travel insurance policy, please get in touch with a BTA advisor.