Our users support our website. Therefore, we sometimes earn affiliate commissions when you click through the affiliate links on our website. Rest assured that all of our recommendations are made whole-heartedly with the intent of helping travelers like you discover the world authentically and responsibly.
Are you headed to Arizona and need to know the best cultural attractions in the valley? Whether you're staying in Scottsdale or Phoenix, there is plenty to keep you entertained.
Arizona is a beautiful state and truly deserves every bit of praise it receives. And while this U.S. state is simply marvelous, the two cities that make it a prime location are Scottsdale and Phoenix. Both cities are located in Maricopa County, in eastern Arizona, and are a popular place for spa lovers and golf enthusiasts. But, beware, while the city is filled with tourists year-round, the winter and spring months are especially popular.
1. MIM – Musical Instruments Museum, Phoenix, Arizona
Perhaps you've been fascinated with musical instruments and music ever since you were little. Or maybe, you're a culture hound, fond of museums, no matter what kind. Whether you're a musicophile or simply someone who enjoys museums, you will love the MIM, Musical Instruments Museum in Phoenix, Arizona. This is one of the best cultural attractions in the Phoenix area. The museum houses over 15,000 musical instruments, and if you're thinking, "this has got to be a record," you'd be right!
The Musical Instruments Museum is the most prominent musical museum in the world and invites guests to check out all that it has to offer. On one of the floors, you'll find yourself surrounded by instruments and the clothes of famous musicians around the world. Some of the exhibits even feature footage of old concerts.
Interestingly, you don't just get to see the instruments on display; the museum has an "Experience Gallery" where visitors can try out a couple of instruments. Additionally, the MIM also offers a unique way to explore musical instruments; on the second floor, instruments are categorized according to their geographical region, so you'll also be able to learn while having fun.

2. Taliesin West
A historical landmark in Scottsdale, Taliesin West is the former residence of the renowned architect Frank Lloyd Wright. If you've been fascinated with historic buildings, you'll know Frank Lloyd Wright was a legend. He initiated several famous architectural works, including community planning designs, and authored a few books. The Taliesin West is the headquarter of the Frank Lloyd Wright Foundation and gives you a glimpse of what the infamous architect considered the perfect spot to live, work and learn.
Located on a portion of the Arizonian desert, Taliesin West features a remarkable combination of contemporary and rustic design; tourists can look at these marvelous designs when they explore the house themselves. When you take a trip to the desert laboratory, you'll find many programs which invite guests to learn about architecture and the works of Frank Lloyd Wright.

3. Heard Museum
Suppose you've always wondered about American Indian history and would like to learn about it from someone who's telling their own story, head over to the Heard Museum in Phoenix. This museum dedicates itself to advancing and promoting American Indian art and is a great place to learn about culture and traditions. The Heard is one of a kind and offers a direct, first-person perspective through its arts and art exhibits.
If you're down in Arizona during the winter, you can make the trip to Heard Museum in November and enjoy the annual El Mercado de Las Artes festival. If you're there in spring, make sure to hit up the Indian Fair and Market annually in March. Trust us. You'll love the rich and colorful experience! If your truly looking to explore the best cultural attractions in the Phoenix area, this is one you cant skip.

4. Phoenix Art Museum
Undoubtedly, Phoenix is a hot spot for culture, and the number of museums it holds proves it. The Phoenix Art Museum is just another in the line of Phoenix museums, but it offers an enthralling experience. The Phoenix Art Museum presents an expansive and gorgeous collection of art throughout the ages; take a walk through history by exploring Victorian art, Renaissance art, and modern and postmodern art pieces. For art enthusiasts and history buffs, the Phoenix Art Museum is a guaranteed way to a satisfactory learning experience.
5. Desert Botanical Garden
You'd think a desert would be too dry to house general flora, but that's where the Desert Botanical Garden surprises you. Determined to showcase the beauty and splendor of the desert, the botanical garden presents you with the finest collection of desert plants, trees, flowers, and shrubs that produce incredible displays of color throughout the year.
From cacti to Brittlebush, the Desert Botanical Garden manages a vibrant garden filled with every desert plant possible. And if you think that desert plants are all shades of green and brown, you'll be surprised to find hues of pink, purple, orange, and even blue, perfectly matching the beautiful sunsets of Arizona. While near the mountains, many travelers love to take hikes. Consider looking at our guide to the Best Kept Secret Hikes in Arizona. 

6. Phoenix Symphony Hall
Perhaps you're one to fall for classical music or would love to hear a musical orchestra perform. If that's the case, you cannot miss the Phoenix Symphony Hall, a gorgeous concert hall in Downtown Phoenix. However, the Phoenix Symphony is not solely catered for musical performances; you'll find it a multi-purpose performing arts venue.
But if you're lucky enough, you might get to hear the Phoenix Symphony Orchestra perform, the only full-time and professional orchestra in Arizona. And the Phoenix Symphony Hall is even perfect for a romantic night out.

7. Cosanti Originals
Sandwiched between the Phoenix Mountains Reserve and Scottsdale, Cosanti Originals is an art gallery in Paradise Valley. But this isn't your average art gallery; instead of simple art exhibitions you'll find in most galleries, Cosanti Originals takes you on an intriguing trip inside the famous Italian-American architect, Paolo Soleri.
Soleri was a student of Frank Lloyd Wright, and it shows; that the gallery is lined with his unique ideas and colored in even brighter designs. You'll be surprised to find Cosanti Originals decorated in earthy tones, showing the architect's flair and interests. Today, you can not only explore the gallery but go home after buying exquisitely designed bells, a Cosanti Originals' area of expertise.

8. Old Town Scottsdale
Old Town Scottsdale is one of Scottsdale's most beautiful and sophisticated neighborhoods.  This area is known for giving visitors a glimpse into Arizona's culture and traditions. Covered with brick buildings designed in the classic style of the Old and complemented by the bright blue sky, Old Town Scottsdale is the perfect place to stroll and explore the culture.
But don't think that this neighborhood is all vanilla; you'll be shocked (and secretly pleased) to know that Old Town Scottsdale has some of the most vibrant nightlife in Arizona! While Old Town is definitely one of the hotspots be sure to check this list of the best neighborhoods in Phoenix to look out for during your stay.

9. Scottsdale Museum of the West
In Old Town Scottsdale, you'll spot the Scottsdale Museum of the West; and yes, it's exactly what it sounds like. The Museum of the West gives you a detailed insight into the history of the age ol' American West; with exhibitions featuring 19 Western American states, the Museum of the West has a lot to offer. Arguably one of the most popular of the best cultural attractions in Scottsdale.
Every year, it rotates between selected exhibits, so you'll be able to learn about the legacies of Lewis & Clark, Bronze Artistry, Charles Bird King, and many more. You can even take self-guided audio tours here, which is perfect for people who have social anxiety or want to explore all on their own. If the west excites you, check out some of our favorite Back to Nature Hotels in the West!

10. First Friday Art Walk
If you're an art aficionado, you'll know what a First Friday Art Walk is. But in case you don't, the First Friday Art Walk is when art galleries throughout an entire neighborhood cast away with closed curtains and reveal new exhibits. In Phoenix, Arizona, you can partake in the First Friday Art Walk and take a literal stroll through galleries large and small.
But a First Friday Art Walk isn't just art pieces and exhibitions; you will be greeted by food vendors, jewelers, and local businesses showcasing trinkets and knick-knacks for sale. In a way, taking part in the First Friday Art Walk is like experiencing a unique festival; if you enjoy immersive cultural experiences, then this is for you!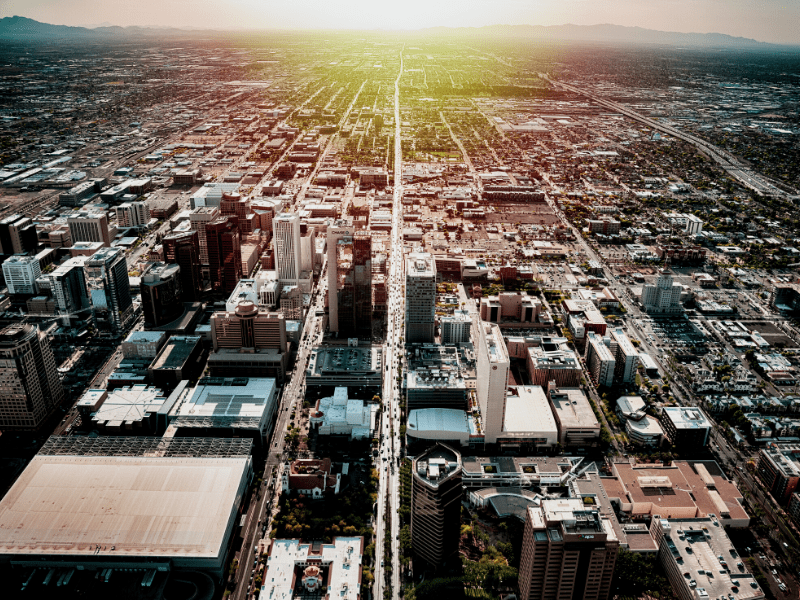 11. Roosevelt Row
By now, you know that Phoenix has a rich artistic side to it, and Roosevelt Row is another way to prove it. Roosevelt Row is located in Downtown Phoenix. It is a collection of creative and vibrant streets with historic buildings that love to show off their style. From art galleries to restaurants, Roosevelt Row is a true historical gem.
12. Arizona Science Center
If you've always loved soaking up knowledge and have been fascinated with facts, you're going to love the Arizona Science Center. This is a place where science enthusiasts thrive. The Arizona Science Center is also perfect for taking kids and eager learners.
At the Arizona Science Center, you'll find an assortment of exciting programs which invite you to learn in an engaging environment. The science center also hosts birthday parties and unique events. A few popular attractions include the Astronaut Exhibition, the Dorrance Planetarium, and an onsite IMAX theatre.

13. Scottsdale Art Walk
Lastly, Scottsdale Art Walk is a popular community art event that attracts visitors, buyers, and artists to its 28 galleries and two museums!
For anyone who's even mildly intrigued by art, the Scottsdale Art Walk is bound to satisfy as one of the best cultural attractions. Scottsdale Art Walk also frequently hosts exciting events to keep its audience engaged.
—
Boutique Travel Advisors is a full-service, luxury travel agency. We specialize in creating bespoke itineraries for discerning clients around the world. Please visit our website or call 480-787-1477 to speak with a dedicated travel expert. 
Are you planning an international or domestic trip? Check out our other articles to help you come prepared!
We highly recommend the purchase of travel insurance to protect your financial investment and health while traveling internationally. To purchase a policy with our preferred travel insurance company Chubb click here.
At this time, anyone that resides in CA, CO, KS, MN, MO, MT, NH, NY, PA, TX or WA is unable to purchase an insurance policy online. If you would like assistance purchasing a travel insurance policy, please get in touch with a BTA advisor.