Giant boulders, imposing mountains, mesmerizing red rocks, the world's largest canyon, beautiful saguaro cacti, and stunning sunsets are just a few of the reasons attracting millions of visitors and locals to experience Arizona's great outdoors. From easy trails to challenging multi-day adventures, Arizona's hiking routes are sure to appease even the most discerning outdoorsmen. Here are a few of our favorite best-kept secret hikes in Arizona.
Trails such as the South Rim Trail of the Grand Canyon, Camelback Mountain in Phoenix, Havasu Falls in Havasupai, Humphrey's Summit Trail in Flagstaff, and West Fork of Oak Creek Trail in Sedona attract the majority of the crowds and receive much attention. However, there are dozens of other beautiful spots to visit throughout the state. Off the beaten path hikes in Arizona allow for reflection, solitude, and privacy.
Easy:
Fossil Creek Waterfall Trail
Located near Camp Verde, Arizona, this lovely 2.6-mile hike has an elevation gain of 249 feet, dog-friendly, and features a beautiful waterfall. Fossil Creek is an excellent secret hike for families looking to escape hot weather in Phoenix or people who are exploring varying trails throughout the state. Hikers are rewarded with views of the waterfall gushing 20,000 gallons a minute at the bottom of a 1,600-foot deep canyon. A large, deep pool at the base of the fall is a popular swimming hole for all ages, making it one of Arizona's best secret hikes.
April – October, printed permits are required to drive up to the trail and park. Using 4×4 vehicles makes the drive much more enjoyable.
Desert Botanical Garden Loop
Located within the Phoenix Botanical Garden, this 2.1-mile loop offers visitors the opportunity to see beautiful native species of plants, trees, and flowers. Of note, there is an entrance fee for the park. Although this not one of the truly secret hikes in Arizona, the loop is perfect for exploring in the low season and on weekdays.
Baldwin Trail
A beautiful, scenic, 2-mile loop trail, the Baldwin Trail gains 216 feet of elevation and affords views of Sedona's beautiful red rocks. Baldwin Trail also connects to several other trails and can be combined to make a longer trek. Popular with families, the trail offers multiple access points for swim spots on Oak Creek.
Purchase a Red Rock permit in the visitor's center for parking and take in the views of the formidable Cathedral Rock. As the shade is limited and summer temperatures can reach triple digits, hikers should bring sufficient water, start early in the morning and check daily highs.
Moderate:
Parson's Trail
This is a 7.3 mile out and back trail, which gains moderately in elevation over 800 feet. The highlight of the Parson's Trail is the beautiful Sycamore Canyon, featuring a river and numerous swimming holes with cliff jumping opportunities for those brave enough to attempt them. 4×4 vehicles are recommended.
Inner Basin Trail
Located near Flagstaff, AZ, and surrounded by the San Francisco peaks, the inner basin trail begins in Lockett Meadow. It is considered one of the most scenic secret hikes in Arizona. The trail is 3.2- miles out and back, steadily gaining 750 feet in elevation, and connects with the Weatherford Trail further down the basin. Snow covers significant portions of the trail from November- May, and the forest service roads are often closed. Fall foliage and stunning displays of bursting colors on the forest's aspen trees attract visitors in September and October, while a hundred shades of emerald green and cooler temperatures provide a welcome respite in the summer months. Visiting in the shoulder seasons provides a great option for social distancing hikes in Arizona.
Horton Creek Trail
Horton Creek is a lovely 8.5-mile trail located just outside Payson, AZ. This trail takes hikers along Horton Creek past numerous pools and waterfalls. It winds through miles of pine forest and provides ample opportunity for quiet reflection. The scenery is so beautiful you will hardly notice the 2400 feet of elevation gain. Horton Creek can be done as an out and back trail or connected with other trails to make a loop.
Difficult:
Indian Maiden Falls via West Clear Creek Trail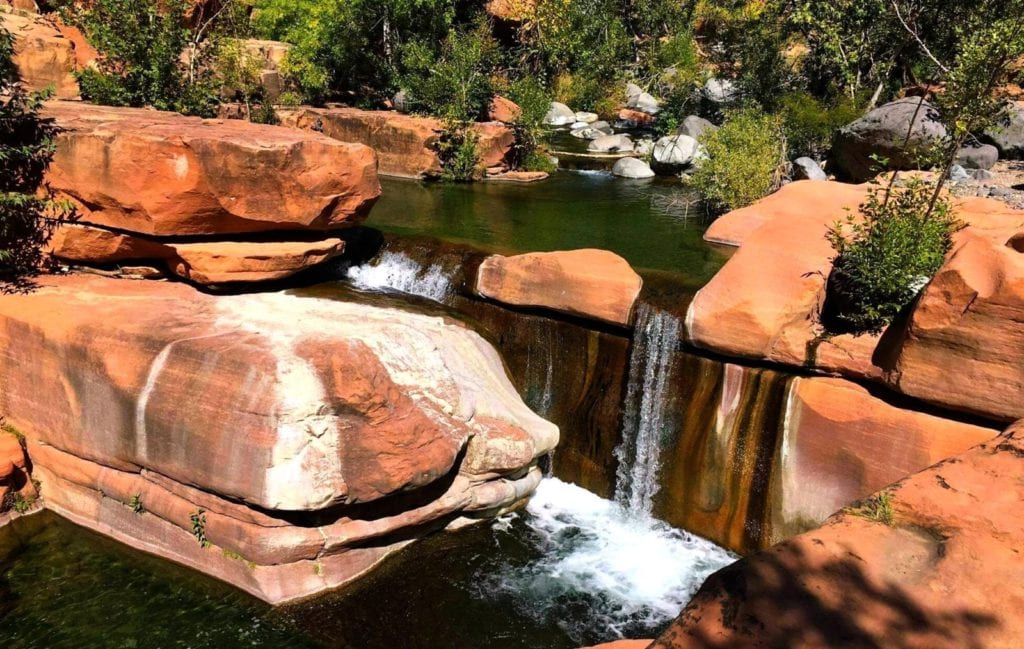 Ambitious and experienced hikers will be rewarded with beautiful views, crystal clear water, canyon swimming, and a waterfall. Miles of Coconino National Forest make Clear Creek Trail a bucket list item for off-the-beaten-path hikes in Arizona. Consider spending the night to enjoy the scenery and solitude as the trail is 9.2 miles out and back and gains 2250 feet in elevation. This one definitely earns its spot as one of the best secret hikes in Arizona.
Bob Bear Trail
Not for the faint of heart! The Bob Bear Trail provides access to the headwaters of the Fossil Creek Wild and Scenic River and the Fossil Springs Wilderness. This trail begins at an elevation of 5,700 feet on Deadman Mesa near the town of Strawberry. It then descends 1,500 feet over 4 miles into the Fossil Creek canyon. The trail offers a remote, backcountry adventure for experienced hikers. This trail is steep and gets very hot during the summer months, but rewards visitors with access to one of Arizona's most spectacular areas.
Be mindful that the first 3.75 miles of the trail provide no water and little shade. With summer temperatures regularly exceeding 100 degrees and poor cell phone coverage visitors must come prepared. Bring a minimum of 1 gallon of water and plenty of food.
—
Boutique Travel Advisors is a full-service, luxury travel agency. We specialize in creating bespoke itineraries for discerning clients around the world. Please visit our website or call 480-787-1477 to speak with a dedicated travel expert. 
Are you planning an international or domestic trip? Check out our other articles to help you come prepared!
We highly recommend the purchase of travel insurance to protect your financial investment and health while traveling internationally. To purchase a policy with our preferred travel insurance company Chubb click here.
At this time, anyone that resides in CA, CO, KS, MN, MO, MT, NH, NY, PA, TX or WA is unable to purchase an insurance policy online. If you would like assistance purchasing a travel insurance policy, please get in touch with a BTA advisor.