Our users support our website. Therefore, we sometimes earn affiliate commissions when you click through the affiliate links on our website. Rest assured that all of our recommendations are made whole-heartedly with the intent of helping travelers like you discover the world authentically and responsibly.
Mexico is one of the most popular destinations for all-inclusive family vacations, with a wide variety of all-inclusive resorts located all over the country. It's easy to see why Mexico has become so popular – it offers some of the world's most beautiful beaches and gorgeous Caribbean ocean views just waiting to be explored. Whether you're looking for a romantic getaway, a family vacation, or an all-inclusive relaxation retreat, Mexico has something for everyone. Mexico is a great place for families and is even on our list of the Top 10 International Family Vacations for 2023. 
When it comes to choosing the best all-inclusive resort in Mexico for families, there are a few key factors to consider. First and foremost, consider the amenities offered onsite. Many all-inclusive resorts offer all sorts of activities and entertainment for all ages – from swimming pools and water sports to mini golf and beach volleyball. Plus, many all-inclusive resorts also offer kids programs with supervised activities such as arts & crafts, music lessons, cooking classes and more. Additionally, you'll want to ensure that your all-inclusive resort offers great onsite and nearby dining options. Lastly, be sure to check out the all-inclusive resort's reviews to see what other families have said about their experience. Take special notice when looking for reviews written by families with children of similar ages to yours. Some resorts are great for families with young children, while others offer fun activities and entertainment for teens and young adults. Traveling as a family is fun. Don't let the myths turn you away from making valuable memories with your children!
Here are 10 of the best all-inclusive resorts in Mexico for families:
1. Grand Velas Riviera Nayarit – This all-inclusive, ultra-luxury family resort offers a wide range of recreational activities and six unique restaurants featuring Mexican and international dishes. The resort caters to sophisticated families but has an unpretentious and laid-back feel. There is a kids club with supervised activities and an entertainment center featuring live shows and performances. Puerto Vallarta is an excellent choice for family vacations, with plenty of things to do and activities to keep everyone entertained. There is no doubt this resort is number one on our list of the best all-inclusive resort in Mexico for families.
Families can explore the region's beaches, participate in watersports, discover underwater caves on a scuba diving excursion, go whale watching during the winter months or just relax at one of the resort poolside bars. There are also plenty of cultural attractions in the area, like museums and galleries showcasing traditional Mexican art and culture or visiting El Malecon – a seaside boardwalk lined with shops, restaurants and performance spaces. For more adventure-minded families, there is ziplining over lush jungle vistas, ATV tours through local villages or parasailing along the shoreline.
Located along Mexico's stunning Riviera Nayarit coastline, the Grand Velas Riviera Nayarit all-inclusive resort has something for everyone! The Riviera Nayarit coastline offers a wealth of recreational activities such as fishing, tennis, watersports and more. Although many family-friendly all-inclusive hotels in Mexico boast beautiful beaches, it's hard to top the waterfront real estate of this hotel. The beach at Grand Velas Riviera Nayarit is perfect for swimming, boogie boarding, surfing, snorkeling and diving in Banderas Bay. For additional peace of mind, parents will be happy to know that the hotels and resorts in the area put up flags when it is unsafe to swim or if there are jellyfish in the water. Whether you're looking for a quiet beach getaway or an exciting family adventure, this resort is for you if you want the highest quality experience.
2. Hard Rock Hotel Riviera Maya – All Inclusive – This all-inclusive family resort features luxurious rooms and suites, world-class amenities and services, 14 dining options, and four gourmet restaurants. Kids will love the fun activities at the all-inclusive resort, such as mini golf, rock climbing wall and water park.
In the evenings, enjoy high-quality, professional live performances and shows. Plus, the all-inclusive package offers unlimited access to water sports and adventure activities like skateboarding, zip lining, snorkeling and kayaking!
If you would like to spend time exploring the region, the Hard Rock Hotel is located near several popular attractions like Xel-Ha natural aquarium and eco-park, Rio Secreto underground river park where guests can explore the ancient Mayan caves and Tulum archaeological site.
3. Grand Velas Riviera Maya – This all-inclusive, family-friendly resort offers a luxury getaway experience unlike any other. From fine dining options featuring international cuisine to stunningly designed guest rooms to a plethora of recreational activities, you will not want to check-out once you check-in. Every detail is carefully curated as a member of the Leading Hotels of the World since 2009 and recognized as AAA 5-Diamond. The resort boasts 539 nature-view, oceanview and oceanfront suites that average over 1,000 square feet and come complete with high-end amenities and exceptional service.
The Grand Velas Riviera Maya is ideally situated in the heart of Mexico's Yucatán Peninsula, surrounded by lush vegetation and pristine white-sand beaches. This exclusive resort boasts world-class amenities, including three swimming pool complexes, seven international cuisine restaurants, and a spa that utilizes indigenous Mayan treatments.
Grand Velas also provides guests with an array of activities such as snorkeling, kayaking, sailing, cooking classes and live demonstrations. When it comes to nearby attractions, there are many opportunities for exploration – from the ancient ruins of Tulum and Chichen Itza to colorful cities and breathtaking natural wonders. Grand Velas Riviera Maya is truly a paradise destination offering something for everyone! Our list of the best all-inclusive resort in Mexico for families wouldn't be complete without this spectacular resort.
4. Hotel Xcaret Mexico – This resort is not just one of the best all-inclusive resorts In Mexico for families but in the whole world. The resort offers the most unique and family-friendly amenities and entertainment. Hotel Xcaret truly reinvented the all-inclusive family vacation when it introduced the All Parks / All Fun Inclusive concept. Located on the Caribbean Sea coast, this family resort offers all parks access to the Xcaret eco-theme park, meals, and plenty of activities like snorkeling tours and swimming with dolphins. Hotel Xcaret Mexico is a luxury all-inclusive resort located in the Riviera Maya. It features luxurious accommodations, world-class cuisine, spa services, and an array of activities for guests to enjoy.
Families with children traveling to hotel Xcaret can participate in adventure activities like rappelling in underground rivers or exploring the region's cultural side with guided tours of Mayan ruins and local villages. The resort also has its own exclusive eco-park where visitors can experience a variety of wildlife up close. Other amenities include several swimming pools, direct beach access, and access to many water sports like kayaking and standup paddleboarding.
All meals are included with your stay, so you won't have to worry about finding places to eat while enjoying your stay. With its diverse offerings and luxurious touches, Hotel Xcaret Mexico is the perfect destination for a family vacation. Whether you're looking for adventure, relaxation or cultural exploration, Hotel Xcaret Mexico has something for everyone!
5. Moon Palace The Grand Cancun – All Inclusive – This all-inclusive family resort offers all meals plus a variety of recreational activities, including golf, tennis and more. Kids will love the onsite water park, mini golf course and day camp.
Located an easy drive from the airport, the resort is well-positioned to explore everything Cancun offers. Cancun is a popular family destination with plenty of activities available for all ages. On the beach, families can enjoy swimming, sunbathing, and various watersports like parasailing, kayaking and snorkeling. For those seeking more adventure, there are guided tours of nearby Mayan ruins or eco-parks where you can explore the area's tropical wildlife. Families can also take part in boat excursions or even deep-sea fishing during their stay. Other attractions include visiting Cancun's many shopping malls and markets.
Families with older and more adventurous children should take the opportunity to explore the most famous Mayan ruins in Mexico at Chichen Itza, one of the world's seven wonders. This archaeological site is home to some of the most impressive structures from the pre-Hispanic era, including El Castillo (the pyramid), the Temple of Kukulkan, and Chichen Itza Ball Court. Families can take part in guided tours that provide insight into how these incredible structures were built over 1,000 years ago. Other activities include visiting nearby cenotes (sinkholes) or Xtampak Cave, where visitors can find remnants of pottery and bones dating back thousands of years. With its intriguing history and stunning architecture, Chichen Itza is sure to provide an unforgettable experience for all the family. This resort is also featured in our blog on the Top Resorts in Mexico for Teens and Children.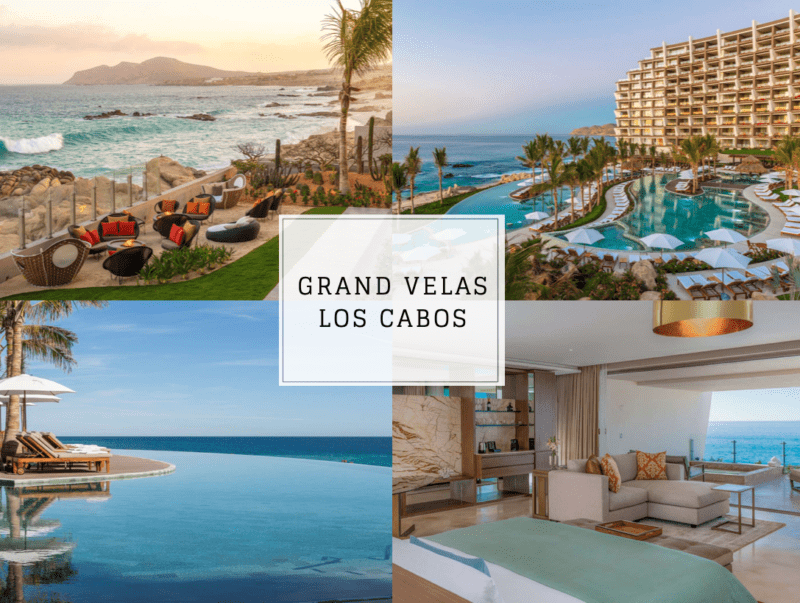 6. Grand Velas Los Cabos – Located on the Sea of Cortez, this all-inclusive family-friendly resort boasts luxury accommodations, eight restaurants featuring international cuisine, plus eight swimming pools and two fitness centers. Kids can enjoy supervised activities such as pool parties and games at the kids club or go snorkeling in the lagoon. While all the hotels in the Grand Velas portfolio are stunning, the Grand Velas Los Cabos resort has taken all-inclusive luxury to a whole new level.
While a family vacation may be all about the kids, a visit to the resort's famous SE spa is a must for parents. Kids can enjoy supervised activities at the kids club, with activities tailored for children ages 4-12, while adults can take time out in one of the Jacuzzis or indulge in a soothing massage, wrap, or facial. Mexican- and pre-Columbian-themed treatments such as tequila cream, coffee exfoliation, chocolate body masks, and ancestral stone massages are specialties at the spa.
7. Palmaïa – The House of AïA Wellness Enclave All Inclusive – Nestled on an oasis in the jungle, this all-inclusive, family-friendly resort offers all meals and spa treatments in the wellness enclave. Families can participate in various activities such as yoga, biking and First Nations cultural experiences. The hotel offers an extraordinary plant-based menu and caters to health-conscious families, vegetarians and vegans.
While you can easily spend a week simply enjoying all the Plamaia has to offer, make sure to schedule a day or two to explore the surrounding areas. One of the best activities for families is a visit to the cenotes. These natural sinkholes filled with underground rivers, stalactites and stalagmites provide perfect swimming spots for the whole family. Children can explore the underground caves and take part in snorkeling to discover incredible wildlife, such as turtles, fish and stingrays. For those looking for a more relaxed experience, float tours allow visitors to drift through the crystal-clear waters at their own pace. Cenotes are great for all ages with stunning beauty and various activities.
8. Nickelodeon Hotels & Resorts All Inclusive Riviera Maya – This all-inclusive family resort is perfect for younger kids and features all meals plus characters from your favorite Nick shows, poolside activities including a splash pad and mini golf course, plus supervised activities at the Nick Clubhouse.
More adventurous families looking to explore the region further will want to take a day trip to the Sian Ka'an Biosphere Reserve. This protected natural area of tropical forests, mangroves, and coral reefs cover over 1.3 million acres in the Riviera Maya region. It has been declared a World Heritage Site by UNESCO due to its unique ecological significance and includes many different habitats such as lagoons, wetlands, savannas, and beaches. It also features an abundance of wildlife, including jaguars, monkeys, crocodiles, sea turtles and hundreds of species of birds. Visitors to the reserve can go on guided tours or choose to explore it independently. There are plenty of activities available for adventurers, like snorkeling and kayaking through the mangrove channels and birdwatching excursions.
9. Dreams Vallarta Bay Resort & Spa – This all-inclusive, family-friendly resort offers all meals plus plenty of watersports like kayaking and paddle boarding. Kids will love the onsite water park with slides, pirate ships and more. Parents wishing to sneak away for some much-needed adult time can take advantage of the supervised activities offered at the Explorer's Club for Kids.
The resort features six different restaurants with cuisine ranging from Mexican to Italian, as well as seven bars and lounges where you can enjoy drinks and snacks throughout the day. Families can also participate in daily activities such as yoga classes, water aerobics, beach volleyball, kayaking and scuba diving lessons. Other onsite amenities include a kids club with supervised activities for children ages 4-12, two pools, four Jacuzzis and a spa.
10. JW Marriott Los Cabos Beach Resort & Spa – Last but not lease on our list of the best all-inclusive resort in Mexico for families is the JW Marriott Los Cabos Beach Resort & Spa. This all-inclusive family resort boasts a variety of luxurious accommodations, all meals included, plus activities such as golf, tennis and spa treatments. Kids can participate in supervised activities at the kids club or swim in one of the five outdoor pools.
Nearby Cabo San Lucas is an ideal destination to spend a day. From swimming with dolphins and exploring the natural caves of Cabo Pulmo to riding ATVs through the desert, there's something for everyone. Families can also enjoy a variety of water sports, such as jet skiing or take a boat tour to visit Lover's Beach or El Arco (the Arch), an iconic landmark in Cabo San Lucas. There are also plenty of restaurants serving delicious Mexican cuisine and exciting nightlife activities in town. With its stunning views and great range of activities, Cabo San Lucas offers a great day trip away from the resort.
No matter which all-inclusive resort you choose in Mexico for your family vacation, you will surely have an amazing time! Just make sure to read reviews from other families who've stayed there and know what amenities are offered before you book, or look for a luxury travel agent that can do it for you. That way, you can be sure that your all-inclusive getaway will be perfect for all of your family's needs. Bon Voyage!
If we haven't sold you on traveling to one of the best all-inclusive resort in Mexico for families, consider looking at our list of the best family vacation destinations in the US. 
Boutique Travel Advisors is a full-service, luxury travel agency. We specialize in creating bespoke itineraries for discerning clients around the world. Please visit our website or call 480-787-1477 to speak with a dedicated travel expert. 
Are you planning an international or domestic trip? Check out our other articles to help you come prepared!
We highly recommend the purchase of travel insurance to protect your financial investment and health while traveling internationally. To purchase a policy with our preferred travel insurance company Chubb click here.
At this time, anyone that resides in CA, CO, KS, MN, MO, MT, NH, NY, PA, TX or WA is unable to purchase an insurance policy online. If you would like assistance purchasing a travel insurance policy, please get in touch with a BTA advisor.