Planning your wedding is one of the most extraordinary and exciting times of your life. A destination wedding is a beautiful way to bring together your closest family and friends and minimize some of the unnecessary expenses and stressors that come with a large wedding. Finding the perfect destination is essential in finding your own romantic escape. However, even destination weddings often come with surprise expenses and unforeseen costs. To make the most of your wedding budget, it is essential to plan ahead.
When you begin the wedding planning process, consider unexpected expenses and set aside a separate budget to prepare for them.
Consider these strategies to help you plan an unforgettable wedding that doesn't break the bank:
1. Consider the destination. Although many destination weddings are more affordable than weddings in your home town, other destinations are pretty expensive. 
If you are on a tight budget, consider destinations that offer all-inclusive options where the cost of the wedding may be discounted or included in the total price. Countries like Mexico, Jamaica, and the Dominican Republic offer gorgeous weather, beautiful resorts, exclusive amenities, and good price points. These destinations offer many luxurious resorts, Mexico especially.
2. Plan for your beauty rituals. Many brides chose to fly their favorite hairdresser and makeup artist out for the wedding. 
If you are going to bring your personal hair and makeup staff from home, consider their travel expenses as well as the cost of their services. Just because you are getting them on "vacation" does not mean that you will not have to pay their standard fees. If your group contract comes with comped rooms, consider giving one of the rooms to your staff to lower your overall expense.
Are you planning on getting a pre-wedding massage for yourself and your bridal party? How about covering the cost of your bridal party's hair and makeup? Will you be getting facials and treatments before the wedding? Your beauty routine expenses can quickly add up, so set aside a budget for the beauty treatments well in advance.
3. Plan for marriage license expenses and officiants.
A marriage license in a different country may come with additional costs. Find out if it makes sense to perform the legal ceremony in the US before your departure and then have a civil ceremony or religious ceremony at the destination.
In addition, if you plan to get married in an exotic location and wish to bring your clergy along, remember to prepare for their travel expenses and fees.
4. Remember the cost of postage.
You may spend hours picking out the perfect wedding invitations and thank you cards, but have you thought about the postage?
If you choose heavy and irregularly shaped invitations and thank you cards, you may have to pay extra for postage. If you are having a destination wedding, consider creating a website with all the travel details and then sending out an Evite instead of printed invitations. 
5. Plan for unexpected last-minute cancellations.
Your caterer and wedding planner will likely charge a per-person fee. Negotiate the deadline for the final headcount as destination weddings are prone to some last-minute cancellations and changes in travel plans. It's essential to plan and decide how to handle this situation.
6. Consider the cost of feeding your wedding party and guests.
When people are traveling thousands of miles to attend your destination wedding, it is customary to hold a welcome reception, rehearsal dinner, and perhaps even an after-wedding brunch. Have you planned for the expenses of extra food and drinks?
To keep expenses down, negotiate a favorable food and beverage budget with the hotel or resort hosting your guests and wedding. For example, consider a low-key rehearsal dinner such as taco night or a pizza beach party. Destination weddings are meant to be more relaxed and informal as it is.
7. Remember taxes and fees.
Depending on your wedding location, you may have to pay a sales tax for some services and items. Have you budgeted for taxes in your wedding plans? Some destinations have incredibly high taxes for hospitality and tourism. Ask upfront before choosing your destination what the tax rate will be.
Your vendors should include taxes in their price estimates. However, some vendors leave it out until the end. You don't want to be surprised by unexpected tax bills. Remember to consider gratuities and ask if they can be included in the total price.
8. Check for overtime charges.
Did you know that videographers and photographers can charge for overtime if your wedding lasts longer than expected? Your vendors and caterers can also have overtime fees and change fees and last-minute cancellations.
Before you're faced with a big wedding bill you didn't expect, check with your vendors for their policies on overtime and changes. Get everything in writing.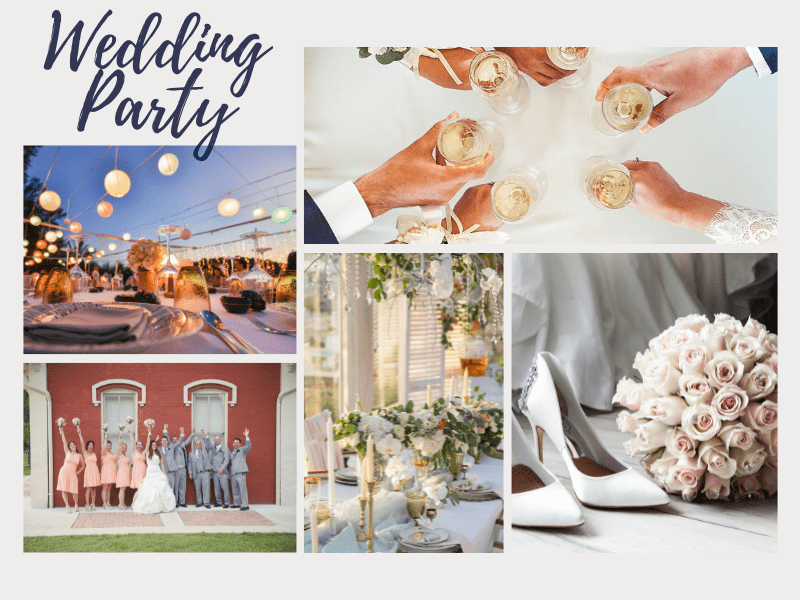 9. Plan for wedding party issues.
How will you handle a bridesmaid who needs replacement shoes on your wedding day because her heel breaks? If you are having a destination wedding on a remote island or in a secluded mountain chalet, unexpected wedding expenses can appear at the worst times.
Your entire wedding party needs to be prepared for emergencies that require trips to the store. Consider bringing a few extra items in your emergency bag and ask the on-site wedding coordinator what they have available as well.
Unexpected expenses can quickly ruin your wedding and cause you significant stress. However, you can work on preventing such surprises or plan solutions so your wedding goes off without a hitch and stays on BUDGET. A destination wedding is one of the most incredible experiences of your life, so make sure to enjoy the planning process!
After every wedding, comes the perfect honeymoon. While we have plenty of top destinations perfect for romantic time with your new spouse, check out why Bora Bora is our favorite.
—
Boutique Travel Advisors is a full-service, luxury travel agency. We specialize in creating bespoke itineraries for discerning clients around the world. Please visit our website or call 480-787-1477 to speak with a dedicated travel expert. 
Are you planning an international or domestic trip? Check out our other articles to help you come prepared!
We highly recommend the purchase of travel insurance to protect your financial investment and health while traveling internationally. To purchase a policy with our preferred travel insurance company Chubb click here.
At this time, anyone that resides in CA, CO, KS, MN, MO, MT, NH, NY, PA, TX or WA is unable to purchase an insurance policy online. If you would like assistance purchasing a travel insurance policy, please get in touch with a BTA advisor.