Our users support our website. Therefore, we sometimes earn affiliate commissions when you click through the affiliate links on our website. Rest assured that all of our recommendations are made whole-heartedly with the intent of helping travelers like you discover the world authentically and responsibly.
Formula 1 racing is the pinnacle of motorsport, known for its high-speed races, cutting-edge technology, and global appeal. With its roots dating back to the 1950s, this sport has evolved into a global phenomenon, attracting millions of spectators and enthusiasts each year.
Our BTA Co-Founder, Angela says, "For a racing enthusiast, there is nothing quite like an F1 race day experience. Monza and Monaco are some of the most requested Grand Prix destinations to combine with highly curated travel itinerary. However, we've also curated this bucket list trip to places closer to home like Miami through our trusted preferred partnerships offering sports entertainment experiences."
Prepare to be blown away by unparalleled VIP experiences, leaving you with unforgettable memories. From the opulent hospitality suites overlooking the tracks to the exclusive access to behind-the-scenes experiences, F1 offers a unique opportunity to indulge in a world of luxury while witnessing the adrenaline-fueled action unfold. Whether you are a die-hard fan or new to the world of Formula 1 racing, this riveting sport is sure to captivate and leave you wanting more. While every F1 race provides its own unique thrills, we have curated a list of races we highly recommend considering for an unforgettable experience.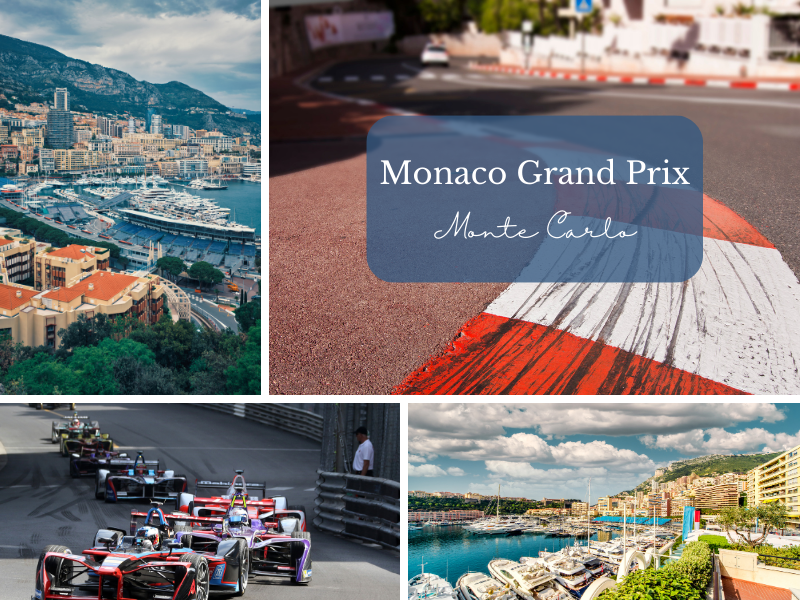 Monaco Grand Prix – Monte Carlo
The Monaco Grand Prix stands as one of the most iconic and prestigious events on the motorsport calendar. Set against the backdrop of the glamorous Monte Carlo, this legendary street circuit at the end of May, offers an exclusive and enthralling experience for both Formula 1 racing enthusiasts and luxury travelers alike. Monaco is also on our list when it comes to romantic destinations, and its location is convent for travelers hoping to visit Nice.
Imagine enjoying the race from a private yacht, strategically positioned for prime views of the circuit and the stunning Mediterranean coastline. Sip champagne and savor gourmet cuisine while witnessing the heart-stopping action unfold just meters away.
Alternatively, there are many VIP package options available. Some packages include a tier system from Bronze up to Platinum, and even a Fan's Club Terrace. Certain exclusive spaces can offer food, drinks, and panoramic views of the track, ensuring you don't miss a single moment of the exhilarating race. Some fans also choose to watch from opulent hotel rooms or terraces overlooking the track, at accommodations such as Hôtel Hermitage Monte-Carlo or Hôtel de Paris Monte-Carlo.
Take note that VIP experiences at the Monaco F1 race are highly sought after and require advance planning. So, act fast!
Italian Grand Prix – Monza
The Italian Grand Prix, taking place at the Autodromo Nazionale di Monza track in the fall, is an incredibly historic Formula 1 race. Located in a stunning park in Monza, the race is known for its high-speed nature, featuring long straights and fast corners. The circuit's layout allows for thrilling wheel-to-wheel racing and overtaking opportunities, which often results in exciting on-track action. Our very own advisor, Jennifer, has planned incredible experiences for our clients attending this race, and they're sure to blow you away.
As Monza is the home race for team Ferrari, some of the most luxurious race-weekend activities are hosted by them. Jennifer says it is extremely difficult to gain entrance into the Ferrari Paddock at this race, as it is by invitation only. These coveted invitations almost never come onto the public market. This experience includes exclusive access to the Ferrari Formula 1 Club, gourmet food and divine beverages, access to pit lane and digital and live experiences.
Another activity Jennifer highly suggests is the Garage Experience. Though these tickets can be pricey, with tickets at $30,000 each, it allows you the incredible opportunity to be below the winning driver standing on the podium, while they spray their victory champagne! Guests with these passes will take a front-row seat, directly in Pit Lane, adjacent to the team garages. Plus, tour the track on an open flatbed truck, attend car presentations, meet and talk with iconic names in Formula 1 racing, indulge in fine dining and so many more VIP experiences!
Jennifer says, "The Monza Formula One event was a lot of fun to plan because I could showcase team Ferrari at their home course in Italy!"
British Grand Prix – Silverstone
Another iconic race in the Formula 1 books, the British Grand Prix, is held annually in the beginning of July at the Silverstone Circuit in Northamptonshire, England. Known as the British home of Formula 1 racing, Silverstone has a rich history and is renowned for its fast and challenging track layout. Experience the ultimate luxury surrounded by passionate fans, an electric atmosphere and an action-packed weekend on and off the track.
An exceptional package being the Starting Grid Exclusive Hospitality package, includes an exclusive or VIP box with a viewing balcony, premium hospitality all day with culinary delights, free-flowing drinks and more. Located on the Hamilton Straight, this more personal experience can be shared with your closest friends and family.
Miami Grand Prix
We can't forget to mention a race right on our home turf. Named as the most-watched race in the US, the Formula 1 Crypto.com Miami Grand Prix is an exhilarating circuit. Taking place on the first weekend of May, culture and passion come together to create a one-of-a-kind event at the Miami International Autodrome on the exterior of Hard Rock Stadium. Vibrant nightlife, a gorgeous backdrop, unmatched entertainment and luxurious accommodations make Miami the perfect place to host a high-class F1 race.
Experience quintessential Miami luxury while aboard a yacht at this dynamic circuit. A spot on The Yachts at the MIA Marina is one of the most exclusive tickets, offering an up-close view of the track in Turns 7 and 8. Guests can lounge on above-deck seating while observing the electric atmosphere, or watch on a television screen in the privacy of their dock-side lounge. These accommodate up to 20 people with a welcome platter and drinks every day.
If you'd rather be on land for this exciting Formula 1 race, The 72 Club offers just as opulent of an experience. This club has an elevated view with box seating and a cooled lounge. Enjoy a premium beverage and culinary experience as well as a concierge for your race weekend needs. This also gains guests access to the VIP Lounge at The Yacht Club, and a Black Car service to and from the track.
Honorable Mention: Las Vegas Grand Prix
The Heineken Silver Las Vegas Grand Prix takes the honorable mention as it is back for the first time in over 40 years. This brand-new circuit takes place in the heart of Las Vegas and even on the famous Strip. November 16-18 will be a highly anticipated weekend for both racers and fans. This thrilling night race will be one of the most luxurious race experiences on the Formula 1 racing calendar.
Indulge in the exclusive F1 VISTA Las Vegas event with McLaren F1. Guests can choose from three different experiences: Private Cabanas, Bungalows or the VISTA Terrace. These VIP packages include premium viewing, kick-off parties, food and beverages, live entertainment, a celebrity host and more. Single-day and 3-day passes are available but will go fast.
With a plethora of posh accommodations, a party atmosphere and lots of buzz around this grand prix, a breathtaking experience awaits!
*Contact our Formula 1 experiences expert Jennifer McCrea here to curate the perfect race weekend today!
—
Boutique Travel Advisors is a full-service, luxury travel agency. We specialize in creating bespoke itineraries for discerning clients around the world. Please visit our website or call 480-787-1477 to speak with a dedicated travel expert. 
Are you planning an international or domestic trip? Check out our other articles to help you come prepared!
We highly recommend the purchase of travel insurance to protect your financial investment and health while traveling internationally. To purchase a policy with our preferred travel insurance company Chubb click here.
At this time, anyone that resides in CA, CO, KS, MN, MO, MT, NH, NY, PA, TX or WA is unable to purchase an insurance policy online. If you would like assistance purchasing a travel insurance policy, please get in touch with a BTA advisor.