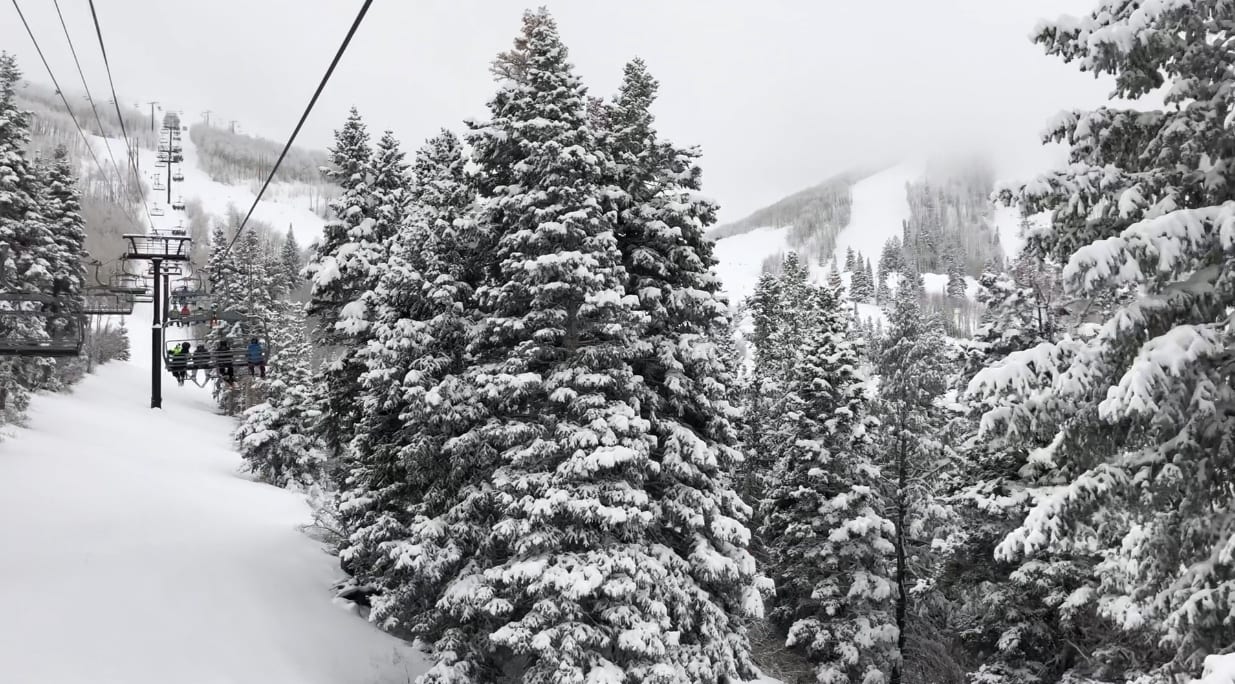 Park City received both national and international attention and acclaim when it became host of the 2002 Winter Olympics, and ever since this once old mining town continues to be a draw for locals and visitors. Park City ski area offers easy access from Salt Lake City, friendly and upbeat charm and vast options for outdoor adventures.
There are over 300 trails collectively at Park City's three ski areas including Deer Valley, Park City Resort Mountain and the Canyons with 9% for beginner, 51% intermediate, 30% advanced and 10% expert.  In more recent years, 2015 to be exact, Vail Resorts, owner of Park City Mountain Resort and the Canyons spent over $50 million connecting these two mountains via the Quicksilver Gondola to make the largest ski area in the United States.  Not as many skiers venture over to the Canyons, making this a sweet spot for locals and tourist in the know.
Neighboring Deer Valley Resort a ski only resort, recently acquired by Alterra Mountain Co.'s owner of twelve other US ski properties, offers upscale and luxurious ski-in ski-out accommodations and avid skiing with a mountain range that is 50% higher.
Over President's day weekend, Angie and her middle school aged son, Carter met up with Angie's sister in-law, Zara and two daughters for an extended weekend of skiing in Utah!  The weekend was also shared with Zara's sister and her family, who reside in this beautiful destination!  While we had the benefits of being guests at Chateau Wright, the home of Zara's sister's family, we spent most of our time skiing and partaking in the charming ski-town of Park City.
Having now visited each major ski market, I can say first-hand that Park City Resort Mountain truly is the most accessible mountain for skiing in the United States. I traveled here for Sundance a few years back, but this is the first time skiing here and I loved it!
Park City's proximity to Salt Lake City International Airport, just 36 miles away, offers an abundance of ease especially for the weekend traveler compared to other ski-towns that we also love like Whistler, Lake Tahoe and Vail.  This element of convenience cannot be overlooked. The risk of missing a flight due to an accident that closes the tunnel or the high probability of excessive traffic delay, which does happen when skiing Colorado (Trust me, it happened to me!!!), is hardly a concern in Park City.  Now, cancellation or change of travel plans due to snow or the desire to accommodate the snow – that's a different story!  Somehow, we convinced ourselves and husbands back home (caring for our other children) that we would likely have problems making our flights and returning home after 14 inches of snow.  The added bonus was a well-warranted extra day to appreciate the fresh powder – that is after shoveling snow so we could be back on the road for more skiing!
We met a lot of first-time visitors as well as locals and annual visitors while skiing Park City Resort, including a couple from Manhattan venturing away from their annual routine of skiing Vail to try something new, a family traveling from the Netherlands and a mother and her two boys visiting from Southern California for their first attempt at snowboarding (for the boys at least).  We also met some young local skiers who have been on ski teams since the age of 5 and typically ski three or four days a week.
There were so many positive comments shared about this wonderful ski-town by fellow travelers, from its ease and proximity to its low-key and casual atmosphere – comprised of a delightful downtown, complete with restaurants and boutique shopping,  that will have you reminiscing of the late 1800s to early 1900s.  Park City is a place appreciated by locals and tourist alike throughout each season  and the appeal has investors developing new and exciting projects in and around and everywhere in between.
Park City is a very family friendly ski-town, as demonstrated by the volume of children skiing from those who can ski very well to others still adapting and improving their craft in ski school.
There were plenty of Guides and Instructors at Park City Resort Mountain.  Instructors wear blue and Guides wear red with an "I" on the back of their jackets, and they also have volunteers working in various capacities.
Aside from the slopes, children were spotted meandering the downtown and populating resort lobbies, restaurants and fire pits with much invite.
The adapted skiing program is impressively organized with strong participation at all ages. For individuals and families needing special assistance, this resource is comforting as well as encouraging.  This program will have anyone with special needs, participating in one of the most invigorating sports which before trying may have seemed impossible.  I spoke with a photographer by trade, who captures photos of skiers participating in the adapted skiing program.  He provides this pro-bono service, to ensure that these once in a lifetime experiences are captured for life.
At the map locations, there were usually one or more guides recommending ski routes and ways to maximize ski-time as we neared the end of the day.  Park City, including the Canyons, does not offer nighttime skiing, so it is important to start your day early.
BTA likes that the beginner and intermediate trails are widely distributed and allow the more cautious skiers to advance well beyond the base of the mountain.  There was a nice variation of skiers and snowboarders at Park City Resort Mountain.  I was quite impressed by the number of snowboarders willing to help me a few times after I had fallen.  For skiers wanting to avoid snowboarders opt for Deer Valley.  The Canyons side offers scenic views of aspens and private residences and is known for being less crowded.
DAY ONE: Skiing at Snowbird
On our first day after flying into Salt Lake City, we decided to ski more local to where we were staying (Sandy, Utah) by going to Snowbird.  This is a great place to acclimate new skiers and is a nice option for a half day of skiing or night-time skiing.  In total, there are 14 ski resorts in Utah, so it will take us awhile to experience them all!
DAY TWO:  Now, it's time to ski – Park City!!!
We avoided traffic heading to Park City.   Upon arrival parking was well directed, and a handful of spots remained available.  Part of the challenge with skiing is figuring out your gear and especially for little ones, carrying it can be daunting too.  Our children were so excited about skiing they lacked (a lot of) patience as we picked up and assembled our gear.   The crew in the ski shop are obviously use to this, and do their best to help with entertaining anxious children.   Also, within the ski shops, there are lockers for your personnel belongings, usually costing a $1 to rent.  But, don't make the mistake of closing the locker until you have everything packed up, because the lockers typically rent for a one-time use.  Also, benches in ski shops usually open up for storing less valuable items such as shoes.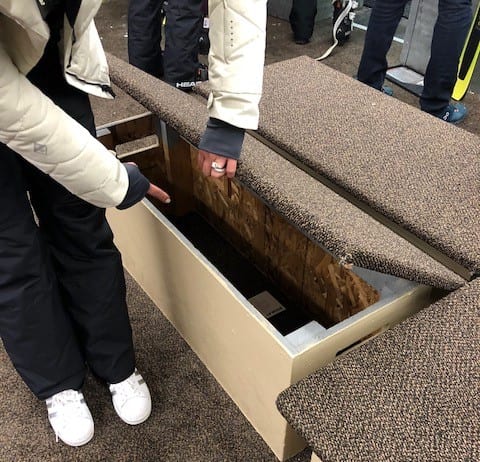 Our party rented gear online for pick up at a location that was onsite at the base of the mountain.  This was a simple process, but not knowing all of our sizes delayed the start of our day, as we needed to be fitted for size.   Our advise is that you know your sizes ahead of time so your gear is ready and waiting your arrival.
BTA can help by pre-ordering your rental equipment from one of our preferred partners.  Also, if you don't know your sizes, plan on visiting a local ski shop back home to have your measurements taken ahead of time.  While you are there, support your local ski shop by buying some essential ski wear.  Ski-gear is very trendy and like most anything today, styles change by the season.
When deciding on where to rent your gear, it is best to choose ski rental shops that offer delivery and/or convenient pickup.  We like to choose ski shops that will hold your gear overnight, including Canyon Mountain Sports, Legacy Sports and Park City Ski & Snowboard School.
Now, that we have our gear, it's time to hit the slopes.  We recommend that you take Payday as your first lift, as Crescent is congested by ski school.  Consider going up further by taking Bonanza.  There are plenty of slopes in this area to tackle before the lunch hour.  If you take Crescent up, you will find black level skiing on both sides of the lift.  We chose to venture further east (by the Canyons) for the afternoon.  The King Con Express lift had us exploring King Con, Shamus and Temptation over and over.  The routes are easily seen on this trail map.
I love the varying narrow paths that zigzagged us down and around the mountains.  Several trails narrow just like this:
A lot of other young skiers, including Carter, had a ball down skiing between trees down pathways known as Adventure Alley.  The Adventure Alley pathways are easily parked.  Pictured is one of our favorites, Blaster.
By the end of the day we were exhausted, fairly hungry and a little sad as we thought this was going to be our last day of skiing.
We ended our day by strolling the glistening snowfall throughout downtown Park City, stopping to visit several local boutiques and ski stores that caught our interest.  A quick dinner at the bar (thankfully, the owner agreed to let our three children sit at the counter as there were no other seats available) was enjoyed at  The Eating Establishment   before heading "home" for sleep.  Taking in the moment, we were a little unaware of how heavy the snow was coming down.  We maneuvered slowly along the roads and highways, more for safety as traffic was manageable.
DAY THREE:  How much snow?  14 inches!!!
What a perfect excuse for one more day in Utah!  We enjoyed a full day of skiing.  With the advice and encouragement provided by an "I" Guide, we ventured over to the Canyon side, a few hours into skiing.  We had the slopes more to ourselves and with all the fresh powder, I tried out mogul skiing, more by accident.   It was a lot of fun for my son and niece to watch my occasional falls.  By the end of the day, I caught the hang of it!
BTA cautions skiers and boarders that while it's a great bonus to be able to travel from, one mountain to the other range, be sure to make your return before the close of Quicksilver or you will end up stranded at the wrong base and will need to wait and ride the bus back to your starting location. Guides and Lift Operators will warn you so pay attention!
Our day ended with a wonderful late afternoon spent at the Waldorf Astoria, enjoying apres ski and the amenities of this spectacular resort.  BTA personally previewed both a one and two bedroom suite, as well as the resort's common areas.  This 5-star property with all its amenities and charm ranks at the top of our "Places to Stay" list below.
Places to Stay:
Park City and Deer Valley offer exquisite ski-lodging accommodations.  Our favorite luxury hotel accommodations include:
Situated at the base of Canyons Village at Park City Resort, Waldorf Astoria Park City is the only Forbes rated luxury hotel with slopeside access to the largest ski and golf resort in the United States, and a magnificent pool that is heated for year-round swimming. Enjoy a thrilling four seasons adventure within a beautiful alpine setting.  One-Bedroom to Four-Bedroom Residences are available.  Book with BTA and receives the following exclusive amenities: full breakfast for two in Powder, $100 spa credit once per stay, premium in-room wi-fi and upon availability, an upgrade, early check-in and late check-out.  Receive an additional $100 credit if booking a suite/villa.
Check out our video touring a Waldorf suite as posted on our Facebook page:
With the feel of an old-world resort and born of the Astor family's traditions and hospitality, The St. Regis Deer Valley combines understated elegance with mountain ambiance. Surround yourself in absolute luxury with ski-in, ski-out access to Deer Valley's impeccably groomed slopes.  In total, there are 169 sumptuous guest rooms, including 67 spacious suites.
BTA offers exclusive amenities for those booking at our Signature rate.  These amenities include a welcome amenity, $100 spa credit per room per stay and continental breakfast for two at J&G Grill, along with an upgrade, early check-in and late check-out subject to availability.  Enjoy a 5th night complimentary this upcoming winter season for stay dates between January 2, 2018 – April 8, 2018.
Montage Deer Valley is an authentic yet refined mountain retreat set amidst the wooded valleys and uncluttered slopes above Park City, Utah. Occupying a coveted location within the Deer Valley Resort (#1 Ski Mountain in North America), this resort offers true ski-in, ski-out access, 220 guest rooms and suites.  BTA is also able to offer exclusive amenities for guest staying at this elegant property.
On this journey, we stayed in a private residence in Sandy, Utah (a peaceful city about 25 minutes south of Salt Lake City about 35 miles southwest of Park City). Staying in a private residence provided a great opportunity for three families of cousins to spend quality time together before and after hitting the slopes.
From our own travel experiences, we have learned that there are benefits to staying in exclusive hotels and resorts but the option to stay in private residences and villas can be a preferred alternative for multi-families to gather.  BTA works with exclusive providers of luxurious condo and villa property rentals.  Please let us know if you would like to secure a condo or villa rental for your next ski trip.  Rent villas with close proximity to the slopes like the one pictured below by booking with us:
Downtown Park City:
Did you know there is a ski lift on Main Street?  Coming down this hill is a little dicey and more for advance skiers, but it is great for people watching and creates a unique "remember where you are" ambiance for the downtown area.  Park City will have you eating, drinking, shopping, drinking and shopping more.
Where to Eat:
We asked around and the consensus is that among Park City's best dining options in the downtown area, are: Riverhorse On Main (for more upscale)  and Chimayo, Fletcher's, No Name Saloon & Grill and High West Saloon .  And, if you happened to be traveling to/from Salt Lake City , we enjoyed fine Italian dining at co-owner and former Utah Jazz player Mark Eaton's Tuscany,  following our day of 14 inches of snow.
Shopping:
We had a lot of fun perusing the shelves of Dolly's Bookstore, some of the boutiques we enjoyed visiting were Prospect and Cake Boutique for fashionable apparel and for home décor we loved Root'd.  Our favorite main area ski shops are Helly Hansen (of course!) and Park City Sport.
Stay Tuned – Sunshine and Summer Time in Park City:
Park City is also a wonderful place to visit in the summer months.  We look forward to writing a future Blog about our journey back to this growing in popularity destination.  Golf, hiking, swim and other adventures await!  Summer views of resorts we recommend:
Boutique Travel Advisors is a full-service, luxury travel agency. We specialize in creating bespoke itineraries for discerning clients around the world. Please visit our website or call 480-787-1477 to speak with a dedicated travel expert. 
Are you planning an international or domestic trip? Check out our other articles to help you come prepared!
We highly recommend the purchase of travel insurance to protect your financial investment and health while traveling internationally. To purchase a policy with our preferred travel insurance company Chubb click here.
At this time, anyone that resides in CA, CO, KS, MN, MO, MT, NH, NY, PA, TX or WA is unable to purchase an insurance policy online. If you would like assistance purchasing a travel insurance policy, please get in touch with a BTA advisor.