Our users support our website. Therefore, we sometimes earn affiliate commissions when you click through the affiliate links on our website. Rest assured that all of our recommendations are made whole-heartedly with the intent of helping travelers like you discover the world authentically and responsibly.
Scotland is a land of legends, rolling hills and deeply proud people. If you wish to experience the best Scotland offers on a 10-day or 14-day itinerary, look no further as we invite you to embark on a luxurious and captivating vacation. You will explore world-class golf courses, majestic castles, and of course, some fine whisky-tasting thrown in for good measure. Come along as we take you across this spectacular landscape while weaving in stories of the country's powerful history and helping you understand the origins of Scotland's profound traditions. On this epic trip road-trip itinerary, we invite you to learn more about what makes one of Europe's most iconic destinations so unique.
We share insider tips on making the most of your trip – from the most iconic places to visit to unique under-the-radar experiences. We will reveal our favorite exceptional boutique accommodations, luxury hotels and some of our favorite restaurants and pubs. So grab a cup of tea (or a finger of scotch) and prepare for an epic journey through royal lands!
*Remember, when traveling from the US, most flights arrive a day after departure. Therefore, a 10 day trip should account for one day of travel and 9 nights in destination. A 14 day Scotland itinerary should account for 13 nights in destination and a day of travel.
 
Day 1: 
To being your Scotland itinerary, arrive in Edinburgh, Scotland's ancient and beautiful capital city. Edinburgh is a richly historic city, with some buildings dating back to the 12th century! Spend your first day exploring on foot and getting acquainted with Scottish hospitality. Sip a pint in the Grassmarket or take an unforgettable tour through Edinburgh's underground vaults. Enjoy an authentic Scottish meal or take an unforgettable night tour through Edinburgh's haunted past. Today is just the beginning of your Scotland 10-day or 13-day itinerary. 
While spending time in the beautiful city of Edinburgh, there are a plethora of hotel accommodations to choose from. Some of our favorites include: Waldorf Astoria Edinburgh – The Caledonian, Cheval The Edinburgh Grand, and The Kimpton Charlotte Square Hotel. These spectacular hotel options offer several outstanding amenities to guests and are sure to meet all expectations.

Day 2: Historical Sights and Proud Heritage
Enjoy a cup of coffee and a scone on the first full day of your Scotland trip as you prepare to embark on an unforgettable day with your mesmerizing professional blue badge guide. Your itinerary to Scotland is just beginning!
Many first-time visitors may not realize that Edinburgh is really two cities in one: Edinburgh Old Town, with its medieval streets, and Edinburgh New Town, the 18th-century masterpiece. Edinburgh's "official" history began over 1,000 years ago when the castle was built. Old Town combines ancient streets, cobbled lanes, and striking architecture. This area includes Edinburgh Castle, St Giles Cathedral and the Royal Mile – a mile-long stretch connecting Edinburgh Castle to Holyrood Palace – which links Edinburgh's old town to Edinburgh's new town. Its name reflects the processional route taken by kings and queens for the last 500 years. The winding streets lined with shops, galleries and cafés make it an ideal place for wandering.
Edinburgh's New Town was built during the 18th-century Enlightenment period. Over 500 Georgian buildings line its elegant boulevards and squares. It is home to some of Edinburgh's best museums, including the National Museum of Scotland, the Art Gallery and various luxury stores and boutiques. Edinburgh's New Town is an ideal destination for architecture enthusiasts, with its imposing sandstone buildings standing proudly in contrast to the city's cobbled streets. Visitors will also fall in love with the area's many cafes, restaurants and bars – perfect for enjoying some traditional Scottish fare or a glass of whisky! After all, this is a Scotland vacation!
This morning your guide will take you on a journey through the Old Town and regale you with fascinating tales of intrigue, ambition, honor and love that shaped much of Scottish history.
Step inside the ancient walls of Edinburgh Castle, perched atop an extinct volcano. This majestic castle has been Edinburgh's most famous landmark since its construction in the 12th century and remains a living testament to Edinburgh's proud history. It is home to Scotland's Crown Jewels, Mons Meg cannon and the Stone of Destiny.
Take your time exploring Edinburgh Castle, marveling at its remarkable architecture. This ancient fortress has overlooked Edinburgh since the 12th century and is one of the city's greatest attractions.
Of course, the day wouldn't be complete without a visit to Edinburgh's iconic Mary King's Close. Built in 1630, the Close is Edinburgh's most famous alleyway and a reminder of its colorful past. The cobbled lanes are lined with 17th-century tenement buildings and showcase how residents spent their days. Mary King's Clos is steeped in history, with connections to Edinburgh's infamous witches Janet Horne and Euphane Maccalzean.
End your day in Edinburgh with a traditional Scottish meal and a pint at the White Hart Inn, believed to be the oldest pub in Edinburgh and the most haunted pub in Scotland. But get some rest. Your journey has only just begun!

Day 3: Exploring Scottish Gin 
Today your Edinburgh adventure takes you to the Edinburgh Gin Distillery, one of Scotland's most popular gin-producing establishments. Edinburgh Gin produces a range of award-winning gin spirits and liqueurs, including Edinburgh Classic, Edinburgh Rhubarb & Ginger and Edinburgh Raspberry Liqueur.
The distillery tour will give you an insight into the process of making Scotland's favorite spirit, from crafting the recipes to carefully distilling each batch. You'll hear about Edinburgh Gin's brand story, explore one of Edinburgh's oldest buildings, see the stills in action and learn more about their unique ingredients.
At the end of your tour, sample some of Edinburgh Gin's award-winning gins and liqueurs and pick up a few bottles for yourself! From Edinburgh Classic to Edinburgh Pink Grapefruit & Rosemary, Edinburgh Gin has something to suit every palate. Edinburgh Gin offers a range of gift sets and hampers, perfect for any gin lover's collection!
Then make your way to Cannonball House, one of Edinburgh's oldest buildings. Cannonball House, located near Calton Hill, was originally a part of the town wall built in 1650 to protect the city from potential attack and is now home to The Cannonball Restaurant & Bar – an ideal spot for dinner with a view of the city skyline. Enjoy traditional Scottish fare with a modern twist before taking in stunning views of Edinburgh's famous monuments, such as Arthur's Seat and Edinburgh Castle.
By the end of your 3-day Edinburgh experience, you will have seen some of Edinburgh's most iconic sights and tasted some of Scotland's best whisky and gin. From Edinburgh Castle to Edinburgh Gin Distillery, there is truly something special around every corner in Edinburgh. But of course, the next leg of your journey is perhaps even more incredible. Tomorrow you will head to the iconic Gleneagles resort. 
*During certain times of the year, visitors to Scotland can enjoy a truly special and unique experience – Royal Edinburgh Military Tattoo.

This mesmerizing event takes place annually on the castle esplanade. It features performances from military bands, pipes and drums, spectacular aerial displays from Royal Air Force planes and traditional Highland dances. Whether you're a Scotsman or an international visitor, Royal Edinburgh Military Tattoo is an unforgettable experience! Tickets for Royal Edinburgh Military Tattoo go on sale in May each year.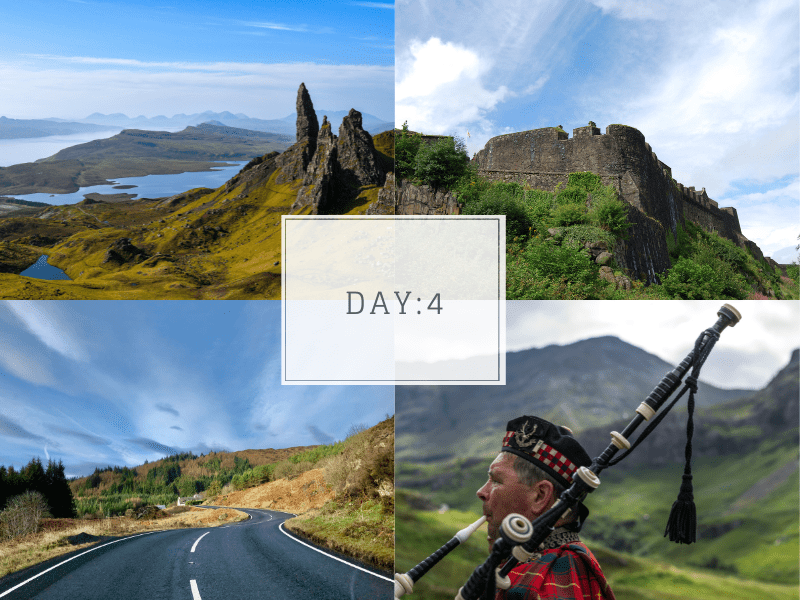 Day 4: Battlefields and Countryside 
Depart Edinburgh and head on to the countryside to explore the stunning regions of Stirling and the Trossachs. The Trossachs National Park is a magnificent landscape of lochs, mountains and forests – perfect for outdoor activities such as walking, biking, kayaking or fishing. Take a few hours to hit the trails and take the vistas from a different point of view. 
'Of all the small nations of this earth, perhaps only the 

ancient Greeks

 surpass the Scots in their contribution to mankind.' – Winston Churchill
Then head over to the town of Stirling, home to the majestic Stirling Castle, one of Scotland's most iconic landmarks.  It has played a pivotal role in Scottish history since before the 14th century, with its strategic location atop an extinct volcano. Climb the Upper Ward to see magnificent views across Stirlingshire and take in the castle's grandeur – from grand halls and cobbled courtyards to secret turrets and gardens. Stirling Castle is also an important site for the Scottish Wars of Independence and was home to Robert the Bruce. Stirling Bridge and the Battle of Bannockburn are two other key battlefields in Stirling's history. Consider booking a private or small group tour of these land marks with knowledgable guides.
Finally, arrive at your final destination for the evening, the incredible Gleneagles Hotel.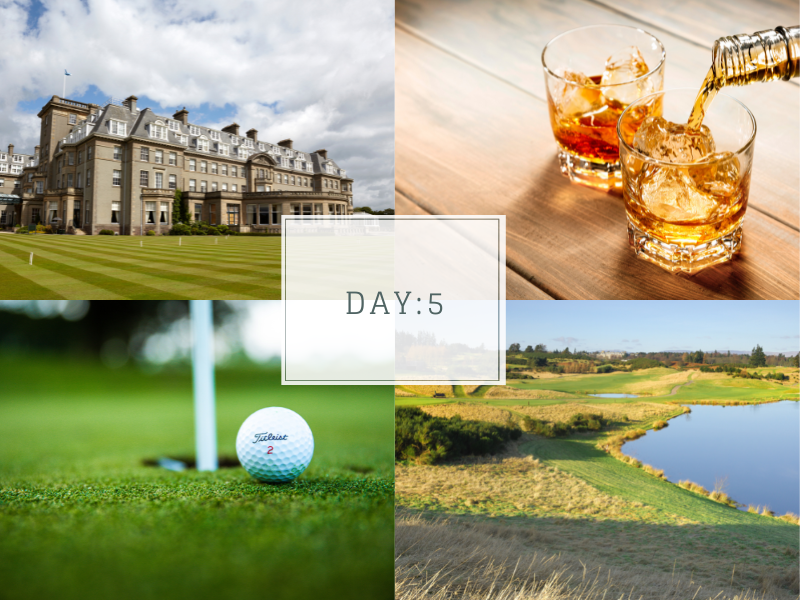 Day 5: Gleneagles Golf
Gleneagles Hotel is a luxurious 5-star hotel in the heart of Scotland's stunning countryside. Gleneagles has been the perfect spot for luxury getaways since 1924, and offers world-class amenities such as golf courses, spa facilities and fine dining experiences.
Golf enthusiasts will spend the day on the greens as Gleneagles Hotel is truly a golfer's paradise. Located in the heart of Scotland, this historic hotel offers an unparalleled golfing experience for all ability levels. It has been voted "Best Golf Resort in the World" by Ultra Travel multiple times, and with three championship golf courses and Scotland's PGA National Golf Academy, you can see that sport is at the heart of the resort's spirit. The renowned courses wind through the rolling hills and weave their way around ancient castles, providing a truly memorable round of golf.
At the same time, those interested in staying off the course can explore Gleneagles' sprawling grounds or participate in thrilling activities like gundog training or horseback riding. Gleneagles also offers extensive whisky tastings, masterclasses, and expertly curated food and wine pairings. End your evening with a sumptuous meal at one of Gleneagle's highly acclaimed restaurants, such as The Strathearn or The Glendevon.

Day 6: Lessons in the Ancient Art of Falconry
Start the day with a walk along the magnificent grounds before meeting your expert Gleneagles hotel Falconer for an authentic Scottish Falconry experience. Falconry is the traditional art and sport of hunting with trained falcons, and falconers use specialist equipment and centuries-old techniques to fly their birds. The sport has a rich history in Scotland, and the Falconer's expertise will help you understand the basics and build your confidence as they share stories of their amazing feathered friends. The experience allows you to get close to these magnificent creatures, interact with them, witness them flying and even have a go at handling one yourself! After your falconry session, take some time to explore Gleneagles' many other attractions before enjoying another fantastic meal. This city is often a highlight on any itinerary to Scotland. 

Day 7:
The Road to The Isles – Sea to Skye 
After saying goodbye to the wonderful staff at Gleneagles, start your day with a leisurely drive along "The Road to The Isles." This spectacular route follows the west coast of Scotland and passes through some of the country's most beautiful landscapes, including Glen Coe, Loch Lomond and Argyll Forest Park. Make sure you take frequent stops to soak up the scenery and appreciate nature at its finest.
Your final stop on this incredible journey is the Isle of Skye. Home to stunning natural landscapes and your next hotel.
By retracing "The Road to The Isles", you will have seen some of Scotland's most stunning landscapes. From ancient battlefields in Stirling to playful falcons in Gleneagles and awe-inspiring views on the Isle of Skye, this journey is guaranteed to leave you with beautiful memories that will last a lifetime. 

Day 8: Exploring the Isle of Skye
The Isle of Skye is a magical place that offers some of Scotland's most spectacular scenery and activities. Discover hidden coves and unspoiled beaches, or take an unforgettable boat trip around the Isle. Visit the Fairy Pools to marvel at its crystal-clear waters and towering cliffs, explore the Quirang for a stunning view of the Isle from above, stop in to admire Dunvegan Castle and Gardens and snap a few photos at the Old Man of Storr rock formation.
For those seeking more adventurous activities, the Isle of Skye is home to fantastic outdoor pursuits. Try rock climbing on dramatic seaside cliffs, deep sea fishing off the coast, or even sea kayaking along coastal inlets. If you prefer something less strenuous, there are still plenty of options, such as local whisky tastings or guided tours through the Isle's stunning landscapes.

Day 9: Head Home or Continue Your Adventure
After exploring the Isle of Skye and participating in some thrilling activities. Depending on whether you are joining in for a 10-day or 14-day Scotland itinerary, it's time to head back home or continue your Scottish adventure. If you are heading home, you will spend the night in Glasgow for a morning departure on day 10.
'Wherever I wander, wherever I rove; the hills of the highland forever I love.' – Robert Burns
If you choose to stay a bit longer, your journey takes you on to Inverness, passing through the Northwest Highlands. This area of outstanding natural beauty has been inspiring visitors for centuries with its captivating views and remarkable wildlife. There is something special for everyone, from dramatic mountain peaks and glacial lochs to rugged coastlines. Follow Glen Shiel and see the majestic "Five Sisters of Kintail", then head to Loch Ness and experience a memorable private boat tour/monster-spotting expedition as you search for poor, misunderstood Nessie.
At the end of this unforgettable day, arrive in Inverness and relax for the evening. When it comes to choosing your accommodation for your time in Inverness, be sure to work with your luxury travel advisor to secure the best options and avoid any rental mishaps. 

Day 10: Inverness and Whiskey 
Today you have the opportunity to explore the city of Inverness at leisure. This vibrant and welcoming city is an excellent spot to wander its streets and discover its fascinating past. Visit the ruins of Urquhart Castle, situated on the banks of Loch Ness, or take a scenic cruise along the Caledonian Canal. After lunch, meet your guide and head out to Speyside Whisky Trail.
The Speyside Whisky Trail is an incredible journey through the heart of Scotland. Start in Elgin, home to some of Scotland's oldest distilleries. Explore your way along cobbled streets and visit a few of the distilleries offering a sampling of their finest single malts, from world-famous brands to small local producers that provide a unique experience to whisky lovers. As well as sampling whisky, you can also discover secret lairs to learn about the history and craftsmanship that goes into making one of Scotland's most famous exports. For those looking for more than just a dram, a trip along the Speyside Whisky Trail offers unparalleled glimpses into Scotland's past. Consider pre-booking one of the many tours of the Speyside Whisky Trail. 

Day 11: Road Trip to St. Andrews
From Inverness, your journey takes you to the mecca of golf and one of the most charming towns in Scotland, St. Andrews. This beautiful town has something for everyone. Visit the iconic St. Andrews Cathedral and stroll around its ancient ruins, explore tide-swept beaches, or challenge yourself to a round of golf on one of the many world-class courses in the area.
The famous 17th-century Swilken Bridge and the magnificent views from West Sands Beach and picturesque castle ruins in nearby Crail are a must-see during your visit. 
Take time out from sightseeing to enjoy some of Scotland's finest seafood restaurants, then afterward enjoy an evening stroll through cobbled streets filled with charming pubs and live music venues. For the true golf aficionado, seeing the famed fairways of the Old Course, including the iconic Swilcan Bridge and the Royal and Ancient Clubhouse, is enough to get your heart racing.
The 5 star Old Course Hotel, Golf Resort & Spa is a great accommodation option for any golf enthusiast looking to stay right at the Old Course. Additionally, St. Andrews's is home to another great gold resort, the Fairmont St. Andrews. Both of these hotels are great options on any itinerary to Scotland!

Day 12: A Day of Golf
While most golfers dream of playing the famed Old Course, the Jubilee Course at St. Andrew's is one of Scotland's most iconic courses. Designed by Harry Colt and opening in 1897, it has since seen some of the most legendary players in the game battle it out on its rolling fairways. With beautiful views of St Andrews Bay and its unique set of challenges, The Jubilee Course is a must for any golfer looking to test their mettle. From strategic bunkers to doglegs, The Jubilee Course offers an exciting round regardless of skill level. It promises a memorable experience that can only be found on the hallowed grounds of St Andrews.
'Fantasy, myth, legend, truth – all are intertwined in the story that is Scotland.' ― Laurence Overmire
If you prefer to play the Old Course, make some friends or get in line. Single golfers must join the singles' line that starts forming early in the morning. Golfers are then slotted into other games where there is space if time permits. No guarantees. This is an essential for any golf lovers itinerary to Scotland. 
This afternoon take care of some last-minute shopping and souvenirs and enjoy your farewell dinner as your adventurous itinerary to Scotland comes to a close.

Day 13: Depart Home 
Your chauffeur will transfer you to the airport in time to check in for your flight, with plenty of memories to take along.
Wether you are looking to plan a 10-day itinerary to Scotland, or a 14-day itinerary to Scotland, be sure to book with a luxury travel advisor for added perks and VIP experiences. 
—
Boutique Travel Advisors is a full-service, luxury travel agency. We specialize in creating bespoke itineraries for discerning clients around the world. Please visit our website or call 480-787-1477 to speak with a dedicated travel expert. 
Are you planning an international or domestic trip? Check out our other articles to help you come prepared!
We highly recommend the purchase of travel insurance to protect your financial investment and health while traveling internationally. To purchase a policy with our preferred travel insurance company Chubb click here.
At this time, anyone that resides in CA, CO, KS, MN, MO, MT, NH, NY, PA, TX or WA is unable to purchase an insurance policy online. If you would like assistance purchasing a travel insurance policy, please get in touch with a BTA advisor.