With an expansive coastline along the Caribbean Sea and a vast inland area comprised of lush tropical rainforests and captivating structures left beyond by the ancient Mayans, Belize is an appealing destination for travelers looking to mix things up.  
The Belize Barrier Reef, located just under 1000 feet from the north and 25 miles from the south, remains the country's top tourist destination.  However, Belize is not just a place to scuba dive and snorkel.  My recent trip to Belize with my very accommodating mother and two children (ages 10 and 13) confirmed that this is a great destination for the entire family.  Adventure, water, history & culture, relaxation and more awaits. 
Things to Do in Belize
Explore Mayan History  – The history and cultural offerings of Belize is met to be told as a story, preferably by a local guide raised within traditions of the Mayan people. The heritage of today's Belizean tends to be a blend of more Spanish than Mayan tradition, yet the latter is not to be forgotten. 
Xunantunich Mayan Ruins, situated along the Mopan River in the western region of Belize is a spectacular display of architecture.  Xunantunich (meaning "Stone Lady" in the Mayan language) stands perfectly, so much that it is difficult to call this landmark a ruin.  Atop the temple are stunning views of San Ignacio and Guatemala.  For a more adventurous experience, you can travel to Xunantunich on horseback.
Close to San Ignacio is another archaeological reserve, Cahal Pech as shown below. Our local tour guide educated us about the ancient Mayan culture, as we explored and climbed the multiple structures of this ancient site.  
We learned about the daily lives of Mayan society (both now and then) and gained a deeper understanding of the once sacred beliefs of this ancient culture.  We discovered the significance of the universe to Belizeans, which remains profound to this day.  There is an overwhelming appreciation of nature and for wildlife.  On display, all around you in Belize are diverse species of birds and other creatures.  You may even be lucky to catch glimpses of hanging monkeys who like to avoid being seen (we managed to experience a few monkey sightings). While in the western parts of Belize, you will also want to take a guided visit across the border into Guatemala to explore the ruins of Tikal (the "City of Echoes").  Many visitors to Belize will venture to Caracol which is the largest Mayan city and home of the grandest manmade structure in the country. 
Adventure into Caves – Cave exploring was among the highlights of our trip.  The most adventurous cave to visit in Belize is the Actun Tunichil Mukna ("ATM").  The journey into ATM involves wading across three rivers before reaching the ancient burial grounds, a tribute to the underworld.  Skeletal remains and other artifacts align the walls of the cave, where these sacrificial ceremonies once took place. 
Due to the intensity of this experience, I opted to take my mother and children on a less rigorous cave adventure.  The voyage to Barton Creek Cave provided scenic views of mountains and rivers.  On our way, we passed by a large Amish settlement. My children were intrigued as they had no firsthand knowledge of this international society.  We experienced Barton Creek Cave by paddling in canoes. This is a perfect excursion for most ages, as it is not an overly challenging activity.
Canoeing into the dark caves, our local guide from the day prior, told us ghost-like stories (of course with my permission) about the underworld and afterlife of the Mayan religion.  These tales may have slightly contributed to the boys having some level of difficulty falling asleep that night.    
Cave Tubing and Ziplining in the Jungles – Cave Tubing and ziplining are great family activities.  There are a plethora of cave tubing adventures and ziplining courses throughout Belize.  
Many tour operators combine these two activities into one full-day excursion.  The zipline course that we chose offered changes in elevation (i.e., hiking and climbing was required) and zips of different speeds and varying lengths.  Some courses are more challenging than others.  Be sure to choose options with captivating views of landmarks, rivers, waterfalls and wildlife.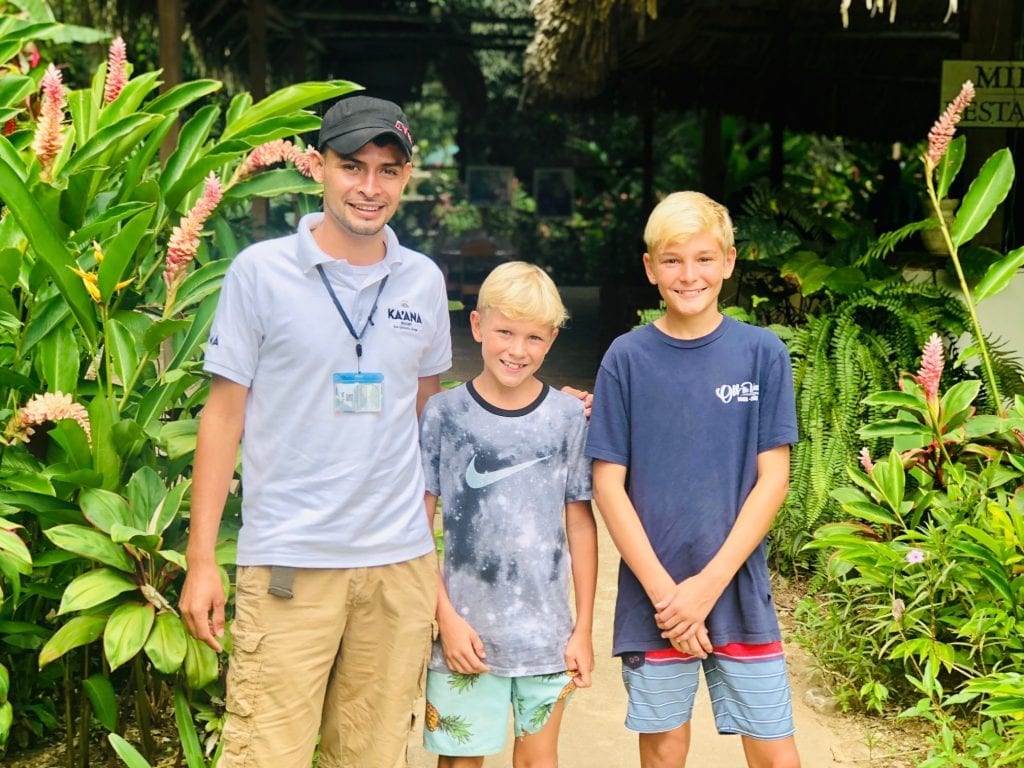 By day three, we became more fond of our local guide, Brandon, who was great with children, having a young son of his own.  He provided the opportunity for us to meet his family in the small village they called home.  We enjoyed our healthy lunches prepared and packed by our resort nearby a schoolyard.  The school aged children closeby were overheard laughing and cheering.  They played soccer and other traditional games.  I embraced this opportunity to expose my children to how differently Belizeans live.  I was humbled by my children's admiration of everything that stood before their eyes.  During our short time in Belize, they showed an appreciation for simplicity and the natural beauty of the world.
While my sons enjoyed spending time along the coastline of Belize, they were most captivated by the peaceful surroundings of the Belizean jungles.  They enjoyed interacting with the locals throughout our trip, including our tour guide and his family, the wonderful instructors along the zipline course, their fishing coach, our dive instructors, the sisters who taught us about Mayan cooking and others we met along the way.  They were happy to be away from modern-day life for at least the moment.
Fishing – My active preteen and teenager love to fish.  My husband and I have taken them fishing many of places, many of times and let's just say, fish don't always bite.  Not in Belize.  Here the fish bite.
Each of my sons must have caught at least ten to twenty fish during our half day fishing excursion.  I caught a few myself.  Our attentive fishing instructor had the boys participating in every aspect of fishing.  They were thrilled from the start which involved hunting for bait.  They enjoyed the hunt for bait as much as casting and reeling in a multitude of different types of fish. 
Our fishermen taught the boys different techniques to catching fish, i.e., how to specifically catch a grouper, snapper and even a shark.  They also attempted to scale fish, at least enough to ensure we would be able to eat the catch of the day.  If we had one more day on the water, I can assure you it would have been spent fishing.  Even travelers not inclined to fish will be entertained by this activity in Belize.   
Scuba and Snorkeling in the Caribbean Sea – While most travelers to Ambergris Caye were there to experience some of the best scuba diving in the world, those that opted for snorkeling (including ourselves) were not disappointed. 
My dad, back in the day was an advanced scuba diver  and in my late teens, our vacations were often centered around diving.  I wish he had the chance to dive the Blue Hole – which is another reason why I will visit again, so I can partake in this experience.  While most of my personal scuba and snorkeling experience has been in the Turks & Caicos Islands, our scuba and snorkel excursion off the coast of Ambergris Caye was equally (if not more) impressive.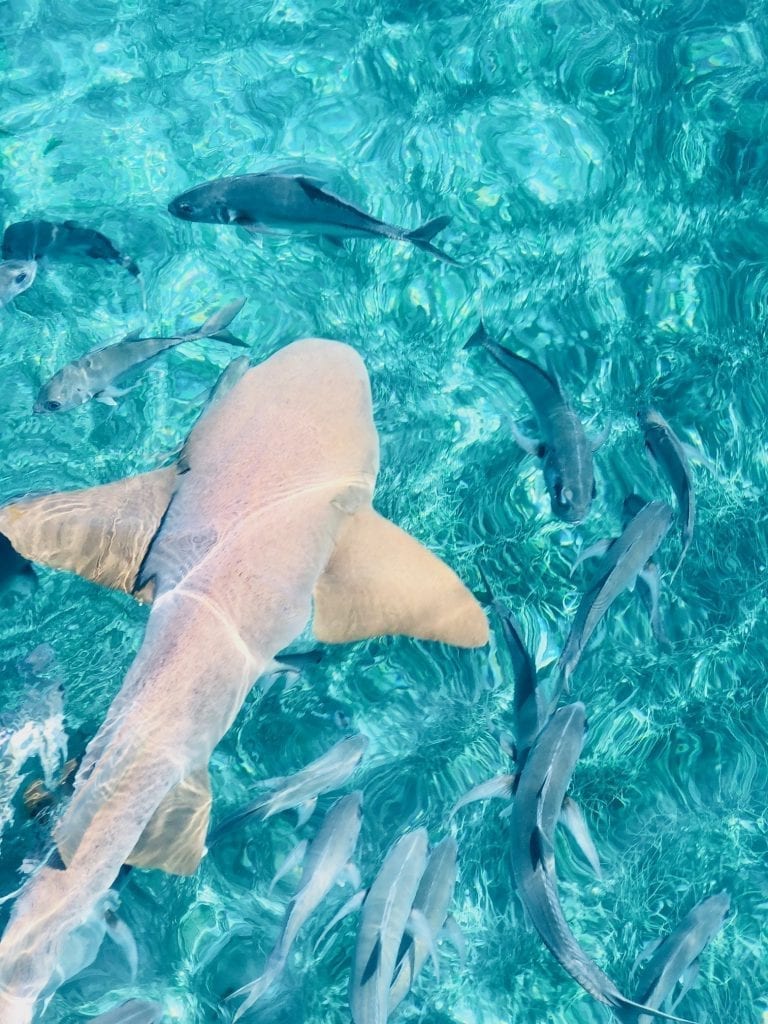 Under these waters live colorful coral reefs and other plant life. We saw an array of sea life including turtles, sea urchins, manta rays, sting rays, barracuda, angel fish and schools of triggerfish and other tropical fish.  To test our fear, we swam with the sharks at Shark Ray. 
Enrich Yourself in the Surroundings  – Another way we learned about Mayan life was through a demonstration on how cocoa is made and the evolution of chocolate.
We also enjoyed an evening of Mayan cooking, a class taught by two sisters.  This course was conveniently offered by the resort and is a popular activity on the property.
The environment around us was so picturesque, including the beautiful tropical flowers.
Places to Stay
For your time along the coastline, the decision will be whether to stay on the island of Ambergris Caye or on the mainland, most likely in the vicinity of Palencia (an area which has grown in popularity due to increased development and new construction).  We ventured by boat from Ambergris Caye to Caulker Caye for a short day trip which was fun, but overall this island does not cater as well to families. 
Belize is very casual, even at the more luxurious resorts and establishments.  The Belizean atmosphere has comfort and relaxation in mind.  You are truly meant to feel at home while in this country.
Ambergris Caye
Mahogany Bay Resort & Beach and Victoria House Resort & Spa are among the most luxurious accommodations in the town of San Pedro on Ambergris Caye.  These two resorts provide special amenities to BTA clients including a welcome gift, generous food, and beverage credit, as well as early check-in, late check-out, and upgrades subject to availability. Coco Beach Resort a less expensive yet very nice family-friendly option is where we stayed while on Ambergris Caye.  This resort offers one and two-bedroom condos and is equipped with multiple pools and different dining options.  Situated about 3.5 miles on the outskirts of San Pedro, it is close enough for you to take a fun ride by golf cart into town or to a place known as Secret Beach. 
Cayo District
For our accommodations in the Cayo District of Belize, we stayed at the lovely Ka'ana Resort in San Ignacio, where we were provided a high level of service, hospitality and privacy.
We especially enjoyed the exclusiveness of this bungalow style resort and its scenic pathways, organic vegetation, flower gardens, intimidate infinity pool with waterfall features and the relaxing rainforest atmosphere.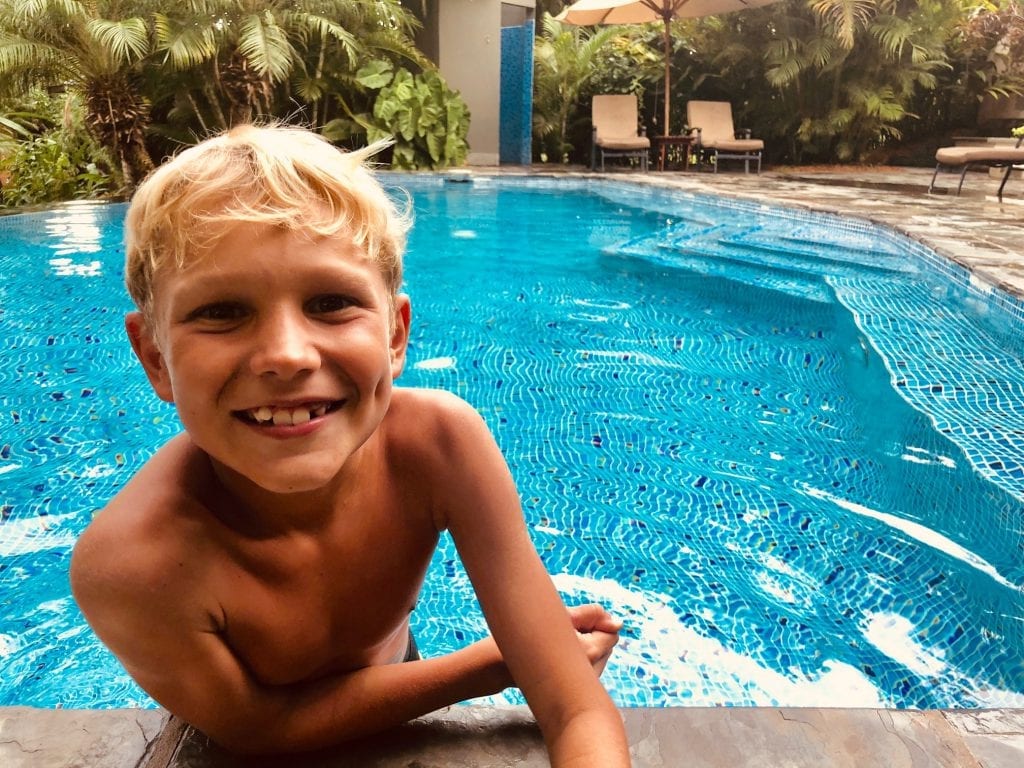 My sons also enjoyed the farm animals they discovered while walking around the property.  They paraded through the organic gardens on-premise.   A large percentage of the food served by the resort is proudly sourced internally.
Ka'ana Resort's dining scene is an indoor-outdoor concept, designed with a functional yet contemporary ambiance. Fresh organic foods ordained the breakfast, lunch and dinner menu.  Be sure to visit the bartender, who serves up splendid cocktail concoctions made with fresh fruits. 
Nestled into the hills above the Privassion Creek is another trusted resort, Coppola Hideaways' Blancaneaux Lodge.  It offers two-bedroom suites, as well as cottages and deluxe cabanas with plunge pools.  This resort also offers exclusive amenities to those that travel with BTA.
Palencia
On our next trip to Belize, we will incorporate staying in the town of Palencia, located in the southern coast just under three hours from Belize City.  I would like to stay at the newly constructed Itz'ana Resorts & Residences  (a sister property to the Ka'ana Resort).  Itz'ana Resort, now open for booking, makes for a perfect base camp for anyone looking to explore the wild wonders of Belize. 
Another favorite resort in Palencia is Turtle Inn (also a Coppola Hideaways property).  At this resort, you are just steps away from white sandy beaches.  Enter the waters and explore the coral reef near the shoreline. Inland hikes to hidden lagoons and short bicycle into town are other activities enjoyed by guests staying at this five-star resort.  
For a couple's getaway, we encourage dividing time between a luxurious eco-lodge in the jungles, and possibly including a stay on the exclusive private island of Cayo Espanto. 
The country of Belize is easily traveled by taking a domestic flight or by car.  Upon our arrival, we took a Tropic Air flight from Belize City to San Pedro, and then flew from San Pedro to San Ignacio for the remainder of our trip.  For our return, we enjoyed the scenic drive from San Ignacio to Belize City by way of hiring a private driver.   From the United States, there are direct flights from Miami, Houston, Los Angeles and New York.  We spent a full six days in Belize; however, an ideal itinerary would allow for seven or more days.
—
Boutique Travel Advisors is a full-service, luxury travel agency. We specialize in creating bespoke itineraries for discerning clients around the world. Please visit our website or call 480-787-1477 to speak with a dedicated travel expert. 
Are you planning an international or domestic trip? Check out our other articles to help you come prepared!
We highly recommend the purchase of travel insurance to protect your financial investment and health while traveling internationally. To purchase a policy with our preferred travel insurance company Chubb click here.
At this time, anyone that resides in CA, CO, KS, MN, MO, MT, NH, NY, PA, TX or WA is unable to purchase an insurance policy online. If you would like assistance purchasing a travel insurance policy, please get in touch with a BTA advisor.