On our recent European adventure, we discovered the authentic side of Portugal in the Algarve and magical Alentejo. When I started planning my trip to Portugal, I received more mixed information and varying opinions than any trip in my recent memory. From some, I heard that Portugal was incredible, unspoiled, and beautiful with all the best features of Europe without the massive crowds, tour groups, or exorbitant prices.
I listened to stories about the outstanding food with delicious fresh fish, enormous lobsters, seafood stews, homemade desserts, and crisp wines. Friends raved about the stunning scenery, clean beaches, well-preserved medieval towns, and beautiful cities.
I got feedback from others that the country was crowded, overdeveloped, and nearly devoid of charm and authenticity. I heard that it was hard to find a spot on the beach, almost impossible to get truly local food and that the hotels, condos, and apartment buildings had overtaken the once stunning coastlines.
I was determined to find out how one relatively small country could conjure such mixed emotions and opinions. When we arrived in the airport of Faro and headed to the rental car agency, the man who checked us out was surprised that we could drive a manual vehicle, would be venturing out past the tourist meccas of Algarve, and that we aimed to see and experience an authentic, off-the-beaten-path side to his country.
When we mistakenly arrived in Lagos because our navigation could not register the address of our hotel, I immediately understood where the negative comments arose from. The city was large, overbuilt, and crowded. While the marina held some lovely stores and the historic streets were clean and organized, there was no indication that we were actually in Portugal.
For all the construction, apartment buildings, and fish and chip shops, we could just as quickly have landed in any of the other sadly overdeveloped coasts of Europe. Everyone spoke English. Few spoke native Portuguese. It was a cliché and disappointment, but I was determined to look deeper.
To find our hotel location, we had to take down handwritten directions from the receptionist who spoke moderate English and told us that navigation could not register the address as it did not actually exist (yet). We would have to drive along the coast. When we were approximately halfway past the signs for the beach of Luz, turn off and look for a billboard with directions toward Dona Maria and an unmarked yellow building containing the reception. Disorganized and slightly maddening? Sure, but this was a far better alternative for us than the town from which we had just come.
It took us many wrong turns and some interpretative requests for directions from older Portuguese passersby's who spoke no English to locate the correct "yellow building" without a sign amongst a sea of other yellow buildings on a beaten-down road.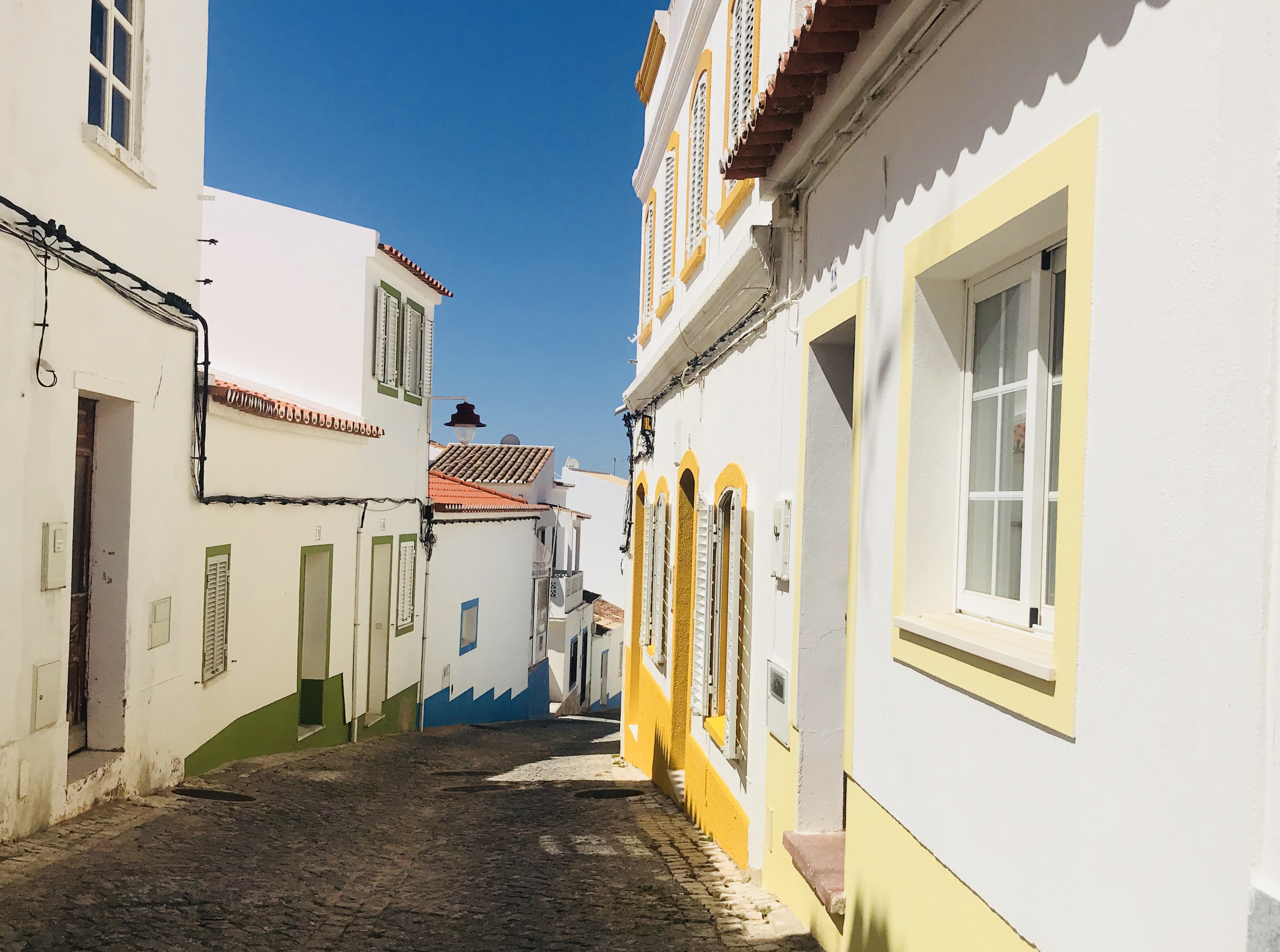 The hotel we had chosen was a bit of a disappointment, the result of last-minute changes to our itinerary when I decided to add the Algarve region to our Portugal adventure. The rooms were run down and did not live up to their 4* claims (something that frequently happens in Europe, stars are a relative designation open to interpretation), but it had a glorious view and a perfect location. If you are looking for an authentic Portugal experience in Algarve, our recommendation is to stay in Carvoeiro or one of the other nearby towns.
The development was lovely and clean, with some spectacular homes clinging to the hills and overlooking the ocean. But the best part was the hiking path in front of our room that ran along the ocean's cliffs, connecting two tiny and perfectly authentic villages. Turn left, and a ten-minute walk brought us to a spectacular little town of Luz with a glorious beach, delicious seafood restaurants, tiny cafes, and a few gelato shops. Turn right, and another 15-minute walk brought us straight down the side of a cliff into the tiny village of Burgau. This is precisely the authentic side of Portugal's Algarve and magical Alentejo we were looking for.
This was the Portugal I had imagined.  Intimate cobbled streets, pastel-painted houses, clothes hanging on lines outside the windows, and locals playing with their children in the waves. Undoubtedly, there were tourists, but for a day in mid-July, we could have our pick of spots on the beach, never waited more than 10 minutes for a table, and had some of the most incredible and inexpensive seafood of our lives.
We spent our time exploring the villages by our hotel and the stunning beach towns of Carvoeiro and Salema, where we had the best meal of our entire trip at Agua Na Boca, a quaint restaurant where the owner was our waiter. We ventured into Sagres in search of surf-worthy waves but finding instead the remains on an ancient fortress and nearly abandoned beach. We took a precarious boat ride to explore the famous Caves of Benagil and swam in the chilly waters of the wild Atlantic Ocean. Choosing to enter Lagos only for the necessity of catching our boat ride, we clung to the yet unspoiled villages and tiny coved beaches.
On our drive to Cascais, we explored the remote, off-the-beaten-path region of Alentejo. This area, mostly known for wineries and vineyards, contains some of the country's most stunning beaches and coastlines, yet few visitors are lucky enough to see them. Instead, there are remarkable traces of long-lost civilizations, Roman ruins, Arab forts, and the simple churches of early Christianity.
Sadly, we did not have the time to explore the Rota dos Castelos (Castle Route), which connects the lovely medieval villages of Nisa, Castelo de Vide, Marvão, Portalegre, and Alter do Chão, but we did visit the beaches.
Straddling the Northern border between Algarve and Alentejo, in the natural park of the Costa Vicentina lies one of the beautiful beaches in the world, Odeceixe. We spent a day here, but one could easily spend a summer and maybe even a lifetime. Bridging the gaps between past and present, tradition and progress, the town of Odeceixe clings to its roots as steadily as the homes clinging to the cliffs.
From there, we ventured on to one of the most charming towns in Europe in Zambujeira do Mar, where most of the menus were in Portuguese, and our waiter had to grab a friend so we could place our order, not entirely sure what we would be getting. Locals and tourists were co-existing everywhere we went in a blissful display of holiday relaxation and authentic happiness.
Our children played in the ocean and got yelled at by lifeguards who they could not understand but could gather that they had ventured too far into the unpredictable sea. They made friends with children who were curious to hear my children speaking a language usually reserved for television cartoons.
We went off the beaten path, never feeling unsafe, unwelcome, or disappointed. Instead, finding charm, culture, history, and challenges brought us closer as a family and as people in this big world. This was Portugal  – the way we imagined and one who will have us coming back to over and over again. Discovering the authentic side of Portugal's Algarve and magical Alentejo gave a true sense of the beauty and charm of this country.
Of course, it would have been simpler to book the trendy hotels found in Albuferia, Lagos, or Faro, which many travelers are happy to call home.  However, for our family, avoiding the chaos and frustration of getting lost along unmarked roads would have meant missing out on the beauty of a country hidden just around the corner and the charming locals anxiously awaiting to share their culture, cuisine, and boundless hospitality.
—
Boutique Travel Advisors is a full-service, luxury travel agency. We specialize in creating bespoke itineraries for discerning clients around the world. Please visit our website or call 480-787-1477 to speak with a dedicated travel expert. 
Are you planning an international or domestic trip? Check out our other articles to help you come prepared!
We highly recommend the purchase of travel insurance to protect your financial investment and health while traveling internationally. To purchase a policy with our preferred travel insurance company Chubb click here.
At this time, anyone that resides in CA, CO, KS, MN, MO, MT, NH, NY, PA, TX or WA is unable to purchase an insurance policy online. If you would like assistance purchasing a travel insurance policy, please get in touch with a BTA advisor.