Telluride is appealing because a little off the grid and has a relaxed vibe. You shouldn't feel like you have to be fancy, and it's generally less commercialized than other CO vacation destinations.
When to go?
Year-round. You get a different appreciation for the mountain in each season.
Winter feels like you're in an isolated and charming snow globe, and summer feels like you're on an epic life adventure.
How to get there?
Assuming you don't have a private jet, take a flight to Denver, jump on a commuter flight to Montrose, then drive 45 minutes to Telluride. It's worth every extra minute.
Where do you stay?
We are lucky to have our own home on the mountain. There are two central areas in Telluride: Mountain Village and the town of Telluride. Mountain Village is where many of the luxury resorts and condo rentals are located. If you stay here, I'd recommend The Peaks Resort & Spa, Ice House,  or the charming smaller, Inn at Lost Creek. If you are stying with a group, check out the 3 & 4 bedroom ski-in ski out residences offered at Lumiere Hotel.
During the Summer, it might be best to stay in Telluride town, where I suggest the New Sheridan Hotel or Hotel Telluride. The Gondola in Telluride is the first and only free public transportation of it's kind in the US. They offer free rides between Mountain Village and the town of Telluride, early morning until midnight and it takes less than 15 minutes. Super easy and a beautiful ride.
What should we do?
Since we are gearing up for ski season I'm sharing all the details for what to do in Telluride in the winter.
We ski Telluride which is located in Mountain Village, CO adjacent to the town of Telluride. The Trail Map does a good job of helping you understand the layout and proximity to town. The ski resort is unique because 60% of the terrain is dedicated to beginner and intermediate skiers/snowboarders. If you find yourself on a trail that's too challenging, you can access at least one intermediate run off of every lift on the mountain. The lines are minimal and the chairlifts are so peaceful with breathtaking views. The ski school is absolutely amazing. You can do a half-day or full day, groups, or privates, snowboarding or skiing. They also have a fun childcare for kids activities all day and sometimes they organize kids-night-out activities so parents can have a night alone. It's worth mentioning that the ski resort offers guided snow biking tours and lessons.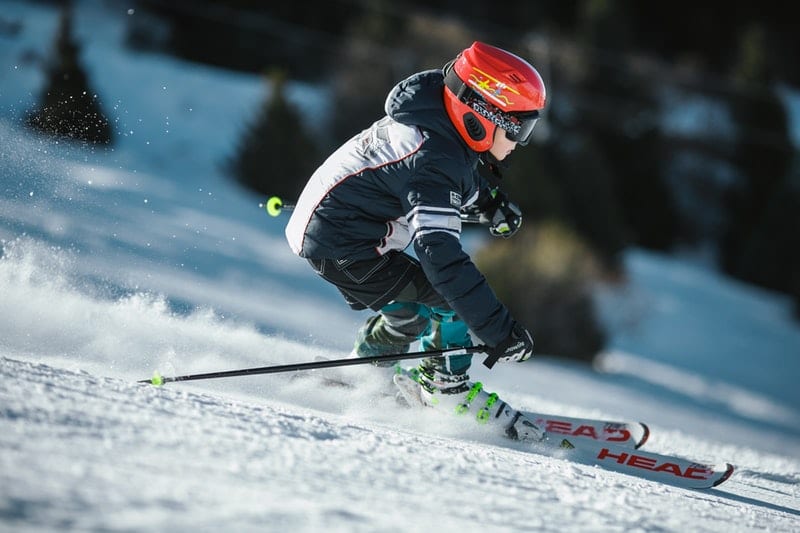 Apre-ski we love grabbing crepes from Bertrand Marchal's Place des Crepes cart and sitting outside by the fire pits at the base of the mountain.
Ice skating is the quintessential winter activity and there are two options to choose from — the Hockey grade rink in Telluride Town Park and the newly opened rink at Hotel Madeline in Mountain Village. There are skate rentals available directly at the hotel or at the Telluride Nordic center, which also rents sleds and snowshoes.
Rtip: While watching the kids ice skate think about enjoying a Bloody Mary and splitting an appetizer at The Black Iron Kitchen & Bar at Hotel Madeline. Afterwards you all can roast s'mores fireside while taking in some live music outdoors.
Other winter adventures like ice climbing and snow shoeing can be arranged through San Juan Adventures. Another activity to consider is to take a guided snowmobiling trip through Telluride Outside. If you are there over New Years eve there is a torchlight parade down the mountain and fireworks – that's incredible.
There is so much to do in the Summer as well.
One of my favorite things to do is visit the Farmer's Market in town. All the goods are produced within a 100 miles of Telluride. It's open every Friday, June to October.
If you're staying a week or longer, I suggest looking into some of the awesome camps available. The Ah Haa School for the Arts offers a variety of workshops for artists of all ages and skill level. They have great skate parks in Telluride, and my son took skateboarding lessons through The Drop Boardshop and Telluride Skate Camp. Another enrichment opportunity is through the Pinhead Institute's Summer STEM program.
We hiked quite a bit, and I have a couple favorites you can access right from town. We love the Jud Wiebe Trail , which is a moderate hike through groves of Aspen trees with panoramic views of Telluride. We often take the kids on the Bear Creek Trail which is an easier hike that leads along the cliffs to the falls at Box Canyon. Smugglers Brewpub is located at the base of the trail and is a great place to enjoy a post hike refreshment. If you are up for it, go see the tallest free falling waterfall in CO via the Bridal Veil Falls Trail. Undoubtedly you'll want to sit under the falls, cool down and take in its splendor.
It's exhilarating to see my kids accomplish a more a difficult hike.
Another great family activity is tubing down the San Miguel River. You can rent tubes at Bootdoctors and walk straight to the river. Float the 3 mile stretch to Lawson Hills and  hop on the free public bus back to town, or hike back on the river trail. Don't worry, the rental company is okay with you deflating your tube on the return.
Our favorite adventure was camping on Lizard Head Mountain. We hired a guide through San Juan Outdoor Adventures and they completely outfitted us for a night on the summit. They provided equipment, made a fire, prepared food, and took us on a hike. Perfect for people traveling without their camping gear.
Our kids learned to use Old Man's Beard as fire tinder. They were fascinated.
Where should we eat?
Go to the Grilled Cheese Cart, parked in front of Elks Park and order the bacon, apple brie. You won't be sorry. If you want a good meatball sandwich (or a donut) try Baked in Telluride, where they also offer gluten-free bread. If you are in the mood for Mexican, head to La Cocina De Luz and don't forget to order a Margarita. Finally, grab a healthy breakfast at The Butcher and Baker Cafe. They make a great cup of joe and a wonderful frittata.
It's the best grilled cheese in the world. Diki puts butter, cheese and lots of f'ing love into her sandwiches.
Particularly nice in the Winter are the dining options on and at the base of the mountain. First you can take the gondola up to Allred's. It's on the fancy side but the views up there in the winter can't be beat. At the base of chair 8 you'll find Oak, a local favorite, where you can finish your day with a po' boy sandwich or fish tacos. Finally, there is nothing better after a day in the cold than a hot bowl of Pho from the Flora Dora Saloon in Telluride Town.
What is the one can't miss item on your itinerary?
Spend a day in town and talk to people. It's so interesting to hear how people drop everything to move to Telluride. Learn about their lifestyle. It makes you slow down and think about your priorities.
You know how you move to Telluride? You can come with a couple million or work your butt off as a barista.
Tell us something we don't know?
The town of Telluride is situated at 8,750 feet. Mountain Village is even higher with accommodations between 9,400-10,000 feet. To break it down in simple terms, there is almost 30% less oxygen in the air in Telluride than at sea level. Speaking of getting high, CO is one of the nine US states where recreational marijuana is legal, and you will find 5 pot shops in town.
What should we shop for, or bring back with us?
We aren't in Telluride for the shopping, but there are a number of great places to find unique goods. I like T.Karn Imports for artisan throws, journals and jewelry. I enjoy Mixx (next to the furniture gallery) for art and jewelry, and Two Skirts or Scarpe for women's clothing and accessories.
Scarpe is where I bought my most favorite cowboy hat. Check it out.
What should we take on the trip?
Take the obvious things based on the weather. It's a casual town where you can wear jeans everywhere, or the same clothes every day. You can also purchase anything you forget. In the summer I bring my favorite cowboy hat, a flannel layer, a bikini (it's easier to pee) and some sunglasses. Winter has us packing ski layers and warm socks. Leave the electronics at home and visit Between the Covers bookstore or the amazing public library instead.
My husband and I challenge each other to see who can pack the least amount in a backpack for a week in Telluride.
This article first appeared on Ready and Roam on November 13, 2018. It has been shared with the express permission of it's writers. Please visit their amazing blog and share their insightful guides and stories.
About Heather Corndorf is the founder of mXe (pronounced moxie) Movement Studio and currently lives in Minneapolis, MN with her husband, son, daughter and two dogs. She is a loving mom, a diabetic and a red lipstick junkie. It is virtually impossible to embarrass her. Just try. Seriously. When she's not running the mXe empire, she's freestyle rapping in her kitchen, dancing like nobody's watching, or howling at the moon. And if you're in Minneapolis, swing by mXe for a class, she WILL hug you.
Boutique Travel Advisors is full service luxury travel agency, specializing in creating bespoke itineraries and creating unforgettable trips for individuals, groups and families.