BY IGNACIO MAZA
The next stop on my Down Under Expedition was Kangaroo Island, South Australia. This relatively small island, about 1,700 square Miles, is Australia's answer to the Galápagos. If you are interested in wildlife and unspoiled landscapes, Kangaroo Island is a 'must see' . In recent years, KI (as Kangaroo Island is known locally) has also become a hub for fine dining, farm-to-table menus, and innovative cuisine using local ingredients. KI is a veritable open zoo, with teeming colonies of seals and great concentrations of Koalas, echidnas and other native species, and of course – over 200,00 kangaroos in all sizes.
Overview:
KI is roughly shaped like a rectangle, with Kingscote (the capital city, main town, and location of the airport) at the NE end. Some of the most emblematic sites are on the SW of the island, especially Flinders Chase National Park . Despite the recent increase in visitors, KI still has a slow, unhurried pace, and the island has a laid back,  rural feel to it. During your stay, don't miss seeing Seal Bay Conservation Park, the various wilderness trails, and Flinders Chase National Park, the island's top attraction, home of the Remarkable Rocks (massive granite boulders weathered over millions of years), Admiral's Arch, and the park's remote lighthouse.
Where to stay:
Southern Ocean Lodge, a Signature partner property on the SW coast, is by far THE premier place to stay in KI. The property is one of three Baillie Lodges and  a member of Luxury Lodges of Australia group. Southern Ocean Lodge recently celebrated its 10th anniversary and is looking better than ever. The lodge sits on the edge of a cliff facing the ocean, and is anchored by the Great Room, which consists of a spacious living, lounge, bar, and restaurant area. This is the hub of the resort, and where you gather for drinks, catch up with other guests, enjoy your meals, speak to the reception team, read a book, or just look out towards the Southern Ocean. The lodge offers rooms and suites, starting at a very spacious 700 square feet of space, with a terrace. All room categories have floor to ceiling glass, a separate living and dressing room areas, and enormous bathrooms. Rooms and suites have ocean views and privacy – as the property is built with the rooms side by side, connected by a long hallway. Sothern Ocean Lodge is surrounded by national parks and nature reserves, so you do not see another soul in any direction, other than the lodge's guests.  The lodge is all-inclusive. This means your transfers, meals, drinks, excursions, and superb accommodations are all included. Southern Ocean Lodge also has a spa, featuring native Australian botanical products. One of my favorite things about Southern Ocean Lodge are the boardwalks, going in every direction – to the beach down below, leading west to stunning coastal walks, or going east to catch the sunrise, as I did every morning I stayed here. Dining is outstanding, and features fresh and locally sourced products. Don't miss the seafood dishes – always a highlight. Most of all, I loved the staff on property – warm, welcoming, funny, intuitive, and very helpful. When you stay at Southern Ocean Lodge you feel you at home. The lodge features a warm and contemporary design that showcases local artists and craftsmen. The one problem, as with other Baillie Lodges, is that you don't ever want to leave.
Excursions and Unique Experiences:
Southern Ocean Lodge offers a wide range of activities and excursions, either on your own, with a group of guests with one of the lodge's guides (included in your stay), or on a private, bespoke basis.
On your own options:
Take scenic walks, ranging from 30 minutes to two hours, on trails starting on property. Go out on one of the lodge's mountain bikes on a number of loops. Follow the boardwalk to the beach below the property or the lower viewing platform. The lodge can also arrange for you to rent a 4WD vehicle to explore the island on your own.
Excursions and experiences with other guests and a lodge guide:
Offered daily. Choose from a guided clifftop walk, enjoy the 'Wonders of KI' excursion visiting Flinders' Chase National Park, get up close and personal with the seal colony, or – my favorite – enjoy drinks and canapes surrounded by kangaroos and wallabies that come to graze a nearby estate at sunset.
Bespoke Options:
Southern Ocean Lodge can arrange private quad bike safaris (half or full day), kayak adventures, beach fishing, nocturnal wildlife tour, a tasting tour of KI visiting local farms and providers, or perhaps a private guided hike ranging from 2 to 4 hours, exploring various parts of the island. During my stay, I arranged a private kayak excursion and a guided hike. Both were outstanding, and I learned a great deal from the expert guides who accompanied me, Poppy and Michael.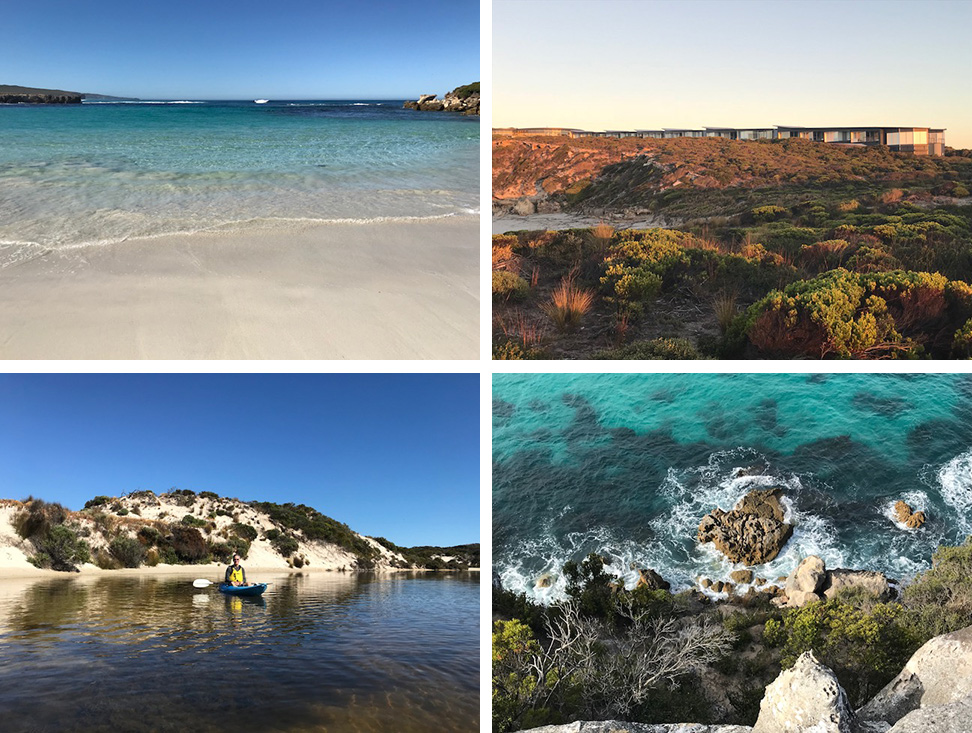 Boutique Travel Advisors is a full-service, luxury travel agency. We specialize in creating bespoke itineraries for discerning clients around the world. Please visit our website or call 480-787-1477 to speak with a dedicated travel expert. 
Are you planning an international or domestic trip? Check out our other articles to help you come prepared!
We highly recommend the purchase of travel insurance to protect your financial investment and health while traveling internationally. To purchase a policy with our preferred travel insurance company Chubb click here.
At this time, anyone that resides in CA, CO, KS, MN, MO, MT, NH, NY, PA, TX or WA is unable to purchase an insurance policy online. If you would like assistance purchasing a travel insurance policy, please get in touch with a BTA advisor.