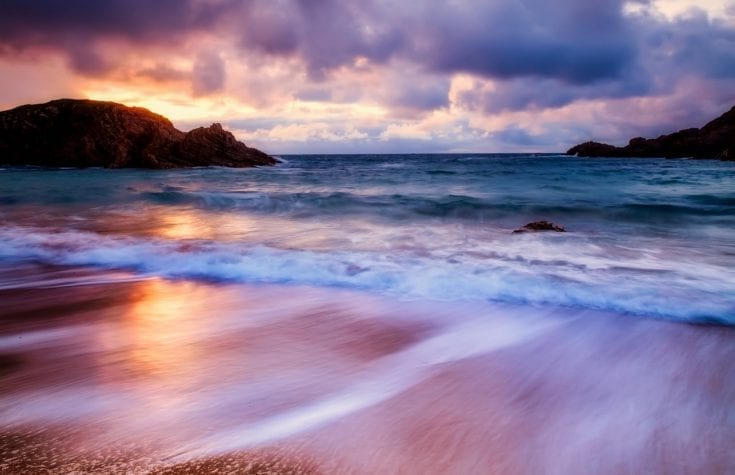 Recently my husband and I, along with our dear friends, had the great pleasure and privilege of exploring a place we had long wished to visit. We took a week to rejuvenate and unwind in Ireland, breaking away from our daily routine, jobs, and caring for children.
On our trip, we quickly learned that the Irish are inherently charming, unpretentious, and very welcoming to tourists, despite past invasions, religious conflicts, and other significant losses.
The beautiful and mesmerizing landscape, friendly locals, and jubilant social scene of Ireland kept us enchanted and engaged as we explored different regions of this fairytale land. Due to its vast greenery, Ireland is often referred to as the Emerald Isle. Tales, folklore, and mythology led our journey and helped us understand the uniqueness of each kingdom. Wherever you are in Ireland, castles and tower houses are only a stone's throw away, and a new adventure awaited us at every turn in the road.
Our Guide to a 9 to 10 Day Itinerary to Ireland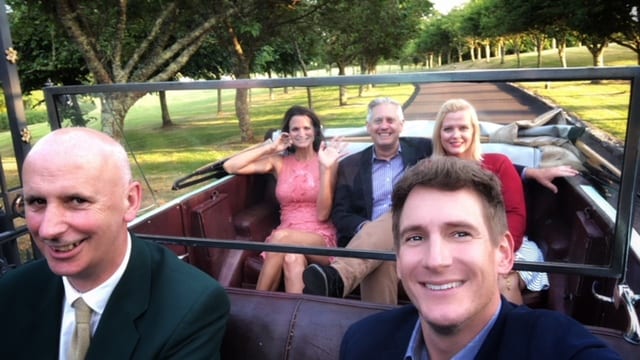 Our itinerary involved exploring the most captivating scenery, from coastlines to open fields filled with grazing sheep, cows, and horses.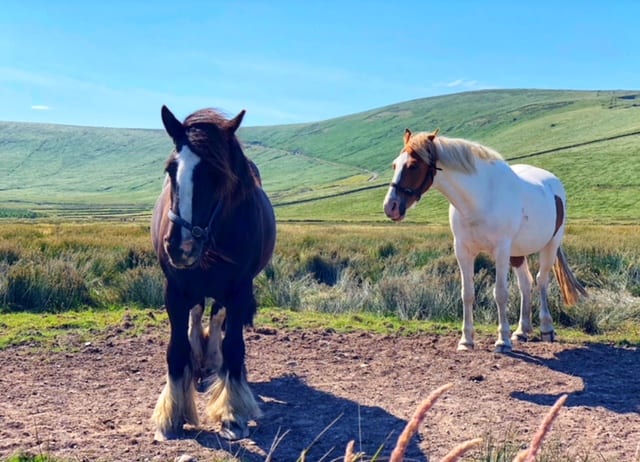 We enjoyed pubs and live music in neighborhood-like towns while locals convened with violins and drums, playing eclectic yet classic Irish tunes.  Abbeys, castles, and churches emerged around unforeseen curves in the road, causing tourists like us to detour and break away from our carefully planned itineraries suddenly.
Although we had been thoroughly prepared to embrace the classically rainy Irish weather, our trip consisted of warm sunny days and beautiful crisp mornings.  To our amusement and excitement, the locals declared that we were enjoying Ireland's "best" weather since 1976.  We were thrilled and grateful to have long days to explore the many wonders we encountered.
Although Ireland is ideally visited from mid-May through September, the weather is typically rainy and chilly, even during peak season.  Tourists expecting sunshine and short sleeves might be disappointed to learn that summer on the Emerald Isle typically brings afternoon rains with temperatures lingering in the 50s and 60s. Plan on packing rain gear and layers and embrace the weather as part of the charm and identity of this country.
Although we had carefully planned our route to maximize our time, a week is not long enough to see and experience all we had hoped.  Preferably, plan for 9-10 days to explore several counties like Dublin, Kilkenny, Cork, Kerry, Clare, and Galway.
Dublin
Dublin is a vibrant city on a river.  A walk along the enchanting Liffey River gives a sense of everyday life in this metropolis.  Tourists, politicians, and business professionals mingle with local crowds patronizing the more than 100 pubs which line the banks.  On the Northside of Liffey, stroll the trendy street of O'Connell.  South of Liffey is Trinity College and the trendy (but old streets) of Temple Bar.  For beer enthusiasts who wish to tours the Guinness brewery or whiskey fans excited to experience the Jameson Distillery, keep in mind that you are not alone, and Dublin tours are best booked well in advance.
While walking in Dublin, explore the campus of Trinity College (including its extravagant library and plush gardens). Next, visit the grounds of St. Patrick's Cathedral and the adjacent Christ Church Cathedral. Next, go to Phoenix Park, arguably the most beautiful park in Dublin (not to mention one of the largest parks in Europe). Meander to the Hole in the Wall for a refreshment, maybe two.  If traveling with small children, you will also want to stop by the Dublin Zoo, conveniently located in Phoenix Park.
While it is tempting to choose the touristy Temple Bar area to quench your thirst and hunger, we recommend that you venture further out to experience a more authentic side of the bustling city. For modern Irish-European cuisine, try Winding Stair or Woolen Mills, sister restaurants located on the north side of the Liffey on Ormond Quay.  For fine dining, The Greenhouse, Shanahan's, Stoop Your Head, and Mulberry Tree also comes highly recommended by our Irish friends.
Our preferred suppliers in Dublin include the Westin, Fitzwilliam Hotel, Merrion Hotel, and Westbury.  Book your stay at any of these properties with BTA and receive additional amenities such as complimentary breakfast daily, food & beverage credits, welcome amenities and upgrades, early check-in, and late check-out upon availability.

Day Trip to Northern Ireland from Dublin
Northern Ireland is a popular full-day trip from Dublin, with tours starting at 6:45 am and returning to Dublin around 8/8:30 pm.  Tours typically include the romantic Dark Hedges, spectacular Giant's Causeway (a UNESCO World Heritage Site), scenic Ballintoy Harbour, mysterious Cushendun Caves, and the metropolitan city of Belfast. Many visitors to Belfast stop to honor and remember the many lives lost at the Titanic Memorial Garden.  Allow two to three nights in Dublin to incorporate an experience of Northern Ireland into your itinerary.  Consider spending the night for a more relaxed and unhurried excursion or booking a day or multi-day tour of Northern Ireland.
Kilkenny
Undeniably we fell in love with Kilkenny. A beautiful and charming, quintessentially Irish town with a population of just over 26,500 and a reasonable drive from Dublin (less than 2 hours heading south), it is not to be missed! This town is also home to one of the finest castles in Ireland, also of the same name – Kilkenny Castle.
St. Canice's Cathedral is equally impressive.  Plan on spending a full day in the downtown area. Travelers quickly lose sight of time walking along the cobblestone streets of Kilkenny, exploring art galleries and boutique shopping and the medieval ruins around town.
Kilkenny, not surprisingly of Ireland, offers a lively pub and food scene. For example, take Langton's Restaurant and Bar voted Pub of the Year by various outlets so many times it no longer participates in competitions.  Left Bank is another hot spot with live music and different dining scenes within the same establishment, from casual to more upscale.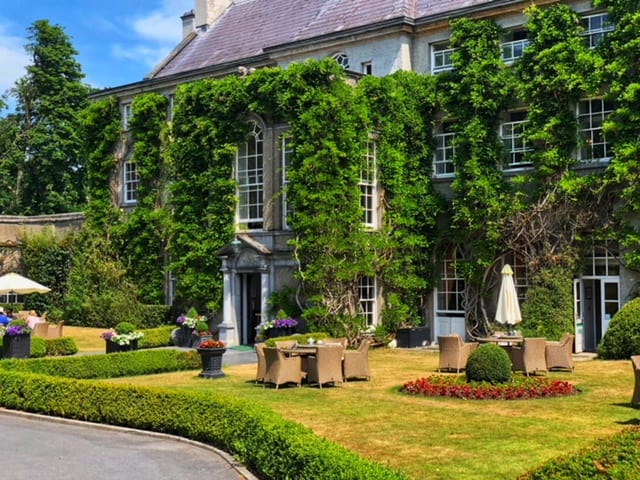 Situated 20 minutes outside of Kilkenny is the charming Mount Juliet Estate.  This spectacular property is also home to a Jack Nicklaus golf course, which proudly hosted the 2002 and 2004 WGC-American Express Championship and the European Tour's Irish Open on three occasions between 1993 and 1995.  Despite its worthy namesake on the golf circuit, this luxury retreat equipped with a spa, lavish gardens, archery, horses, and other recreational activities is "a hidden gem" to most foreign travelers.  When traveling from downtown Kilkenny provide yourself enough time before dark to make way to your hotel. It truly is a maze spanning from the main drags onto the single-lane roads to your fortress for the night.
Expect to meet local and other Irish travelers.  We met folks who reside within the vicinity of Kilkenny and other Irish visitors from Cork and Clare, enjoying a weekend holiday away.  Oblivious to the passage of time, we became obsessed with learning how to see this great country like the Irish.  Our new friends, Mary and Mike, both well-traveled winos and foodies (as well as hurling enthusiasts, the "national" sport of Ireland), kindly shared their wealth of knowledge and personal experiences. Let's say we learned the "craic." A common phrase used in Ireland to describe whether you have any news or gossip is "What's the craic?"
If staying two nights in Kilkenny, consider a day trip to Waterford (about 30-minute drive south).

Cork
This 800-year old city (population approximately 195,000) is a city worth stopping to see on your trek from coast to coast.  Cork is probably best known internationally for its proximity to Blarney Castle, where visitors are invited to kiss the famed stone. In return, they are said to receive the gift of eloquence. Unfortunately, our time did not permit an overnight in Cork; however, this place should be on your itinerary for the culinary experience alone.
The Ring of Kerry
It's said in Kerry that "There are only two kingdoms, the Kingdom of God and the Kingdom of Kerry." Ring of Kerry is best traveled by car in a counterclockwise direction, but any traveler to this magical place should make it a goal to get lost here.  Hotel accommodations and bed & breakfast populate Kenmare, Killarney, and Dingle.  Kenmare is a village town with an intimate setting; whereas, Killarney or Dingle is a bit more touristy but still maintains their unique identities.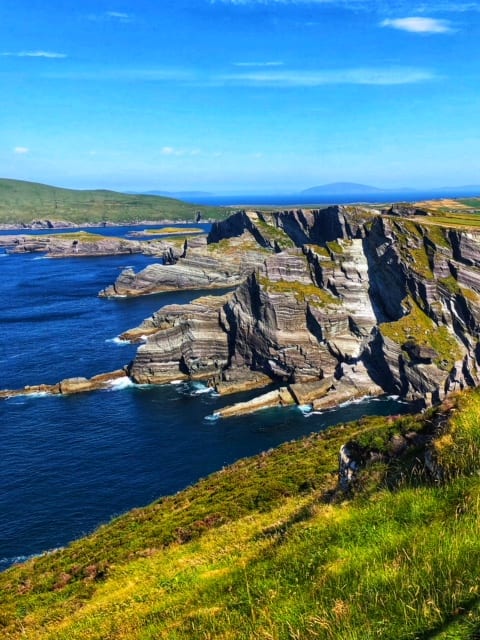 A must-do for the active hiker and Star Wars fan is a tour of the UNESCO World Heritage Site, Skellig Islands.  On the summit of this breathtaking rock is a well-preserved sixth-century monastic settlement, standing 714ft above sea level.  The landing tour to Skellig Islands sells out months in advance, with only a limited number of boats allowed daily onto the island.
Stay in Killarney or a surrounding area for a minimum of two to three nights, and arrive at least a day before you tour Skellig Islands.  Plan on enjoying time at Killarney National Park, visiting the lively downtown, and, if time permits, take a day trip to Dingle (which is further northwest along the coast).
Clare
UNESCO Global Geoparks, Cliffs of Moher, and Burren are must-sees during your time in Clare.  Expect murky weather, but in our opinion, the fogginess along the hike up the cliffs only adds to the mystery of this magnificent site.  Our accommodations in Clare provided us the royal treatment and exceptional amenities.  We stayed at the recently renovated Dromoland Castle, which has been welcoming guests since the 16th century.
Although not in Clare County, another great castle to experience royal accommodations in Ireland is the Adare Manor Hotel, located just about an hour further south.
Galway
Our next trip to Ireland will undoubtedly include visiting Ireland's bustling 5th largest city, Galway.  This city is popularly known as the "City of the Tribes" in honor of its founders – 14 families from distinctly different backgrounds.  Galway continues to be a place of celebration of individuality and diversity.  Venture about 45 minutes further north from Galway to experience a captive stay at Ashford Castle's 13th-century building.
Transportation
Many tourists prefer a self-driving itinerary through Ireland.  While driving in Ireland is a little intimidating, traveling on these narrow, winding roads is part of the excitement.  Before you leave your trip, be sure to seek guidance on rental car insurance.  Major landmarks and directions to cities are well marked. However, the traffic and conditions of the roads, not to mention driving on the other side of the road, can be challenging for some tourists.
Consider your driving comfort level, and don't be afraid to ask for advice.  Many travelers opt for customized itineraries that include private drivers or pre-arranged tours. BTA can arrange an itinerary based on your specific needs directly with our preferred suppliers based in Ireland.
Travel by air is also possible.  Itineraries flying in and out of different cities, including Dublin, Cork, and Shannon, and returning to the United States are viable options.
Ireland's History
A land of contradictions and invasions, Ireland has experienced rises and falls over centuries. Celtics led the earliest raids from Europe around 300 BC.  The continuation of invasions further marked territories and shaped the people.
The rise of Christianity greatly influenced by St. Patrick began 600 years later, and in 700 AD, Viking and North invaders began to settle on the island. But, as with most of Europe, peace was fleeting and unpredictable. England's long involvement with Ireland began following an intervention between two Irish kings in dispute.  At the top of Ireland's worst sufferings was the Great Famine of the 1840s and 1850s.  The horrifying potato famine killed a million people and forced another million to emigrate from the country.  Many believed that the English should have done more to aid the starving people.  This common belief propelled the resistance against English rule.  A long and bloody struggle for independence was fought until 1922, when a free state was born.  The free state was named Ireland in 1937 and officially declared a republic in 1948.  Ireland consists of twenty-six counties, and separately there are six other counties, known as Northern Ireland, which remain part of the United Kingdom.
During the 70s and 80s, Ireland's economy was amid decline, and emigration was again on the high.  However, the 90s was a time of unprecedented economic growth until the global crisis of 2008.  Today, Ireland's economy is on the rise. Immigration is in flux, and tourism is booming, giving BTA every reason to make Ireland one of our destinations for Summer 2019.
Boutique Travel Advisors is a full-service, luxury travel agency. We specialize in creating bespoke itineraries for discerning clients around the world. Please visit our website or call 480-787-1477 to speak with a dedicated travel expert. 
Are you planning an international or domestic trip? Check out our other articles to help you come prepared!
We highly recommend the purchase of travel insurance to protect your financial investment and health while traveling internationally. To purchase a policy with our preferred travel insurance company Chubb click here.
At this time, anyone that resides in CA, CO, KS, MN, MO, MT, NH, NY, PA, TX or WA is unable to purchase an insurance policy online. If you would like assistance purchasing a travel insurance policy, please get in touch with a BTA advisor.